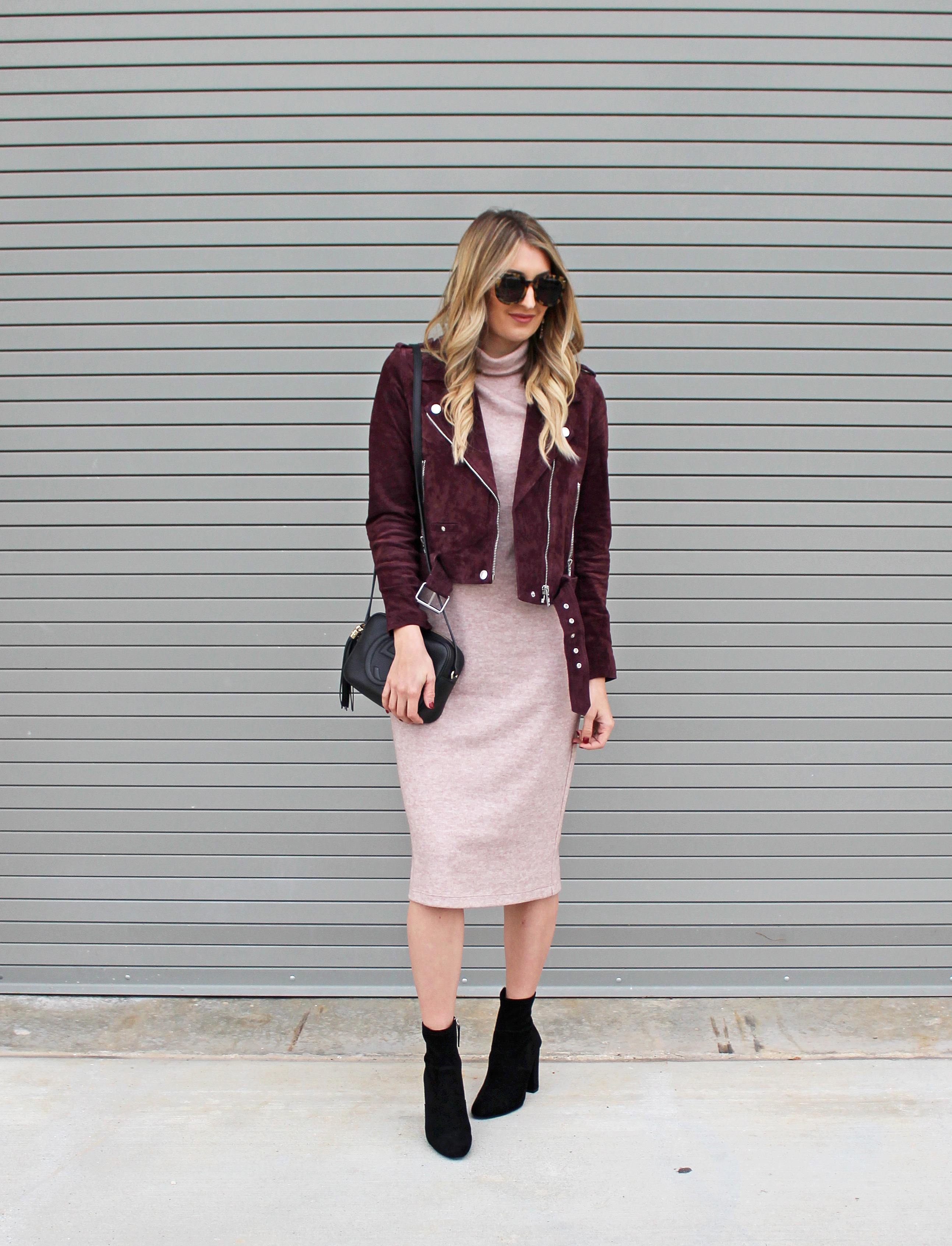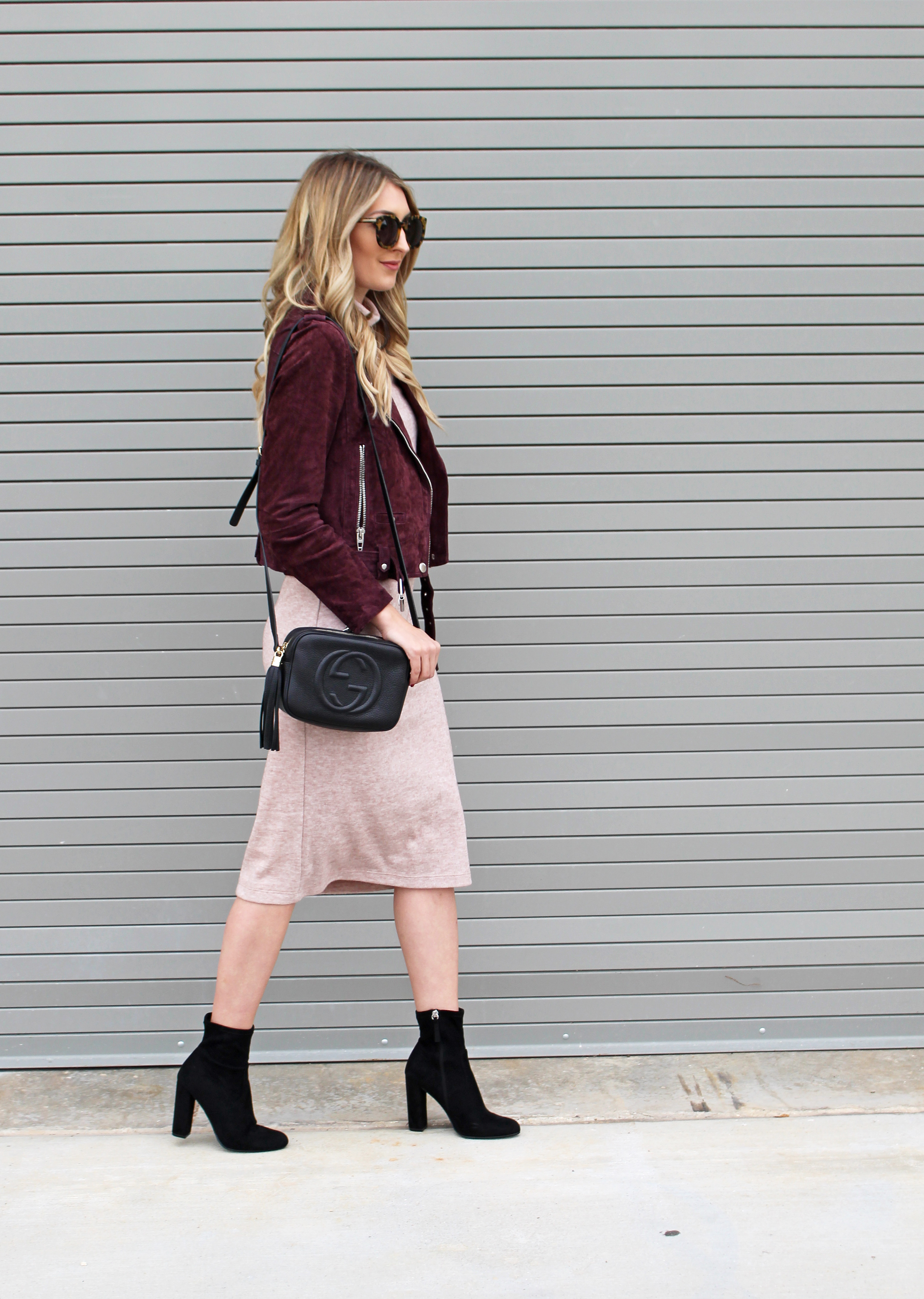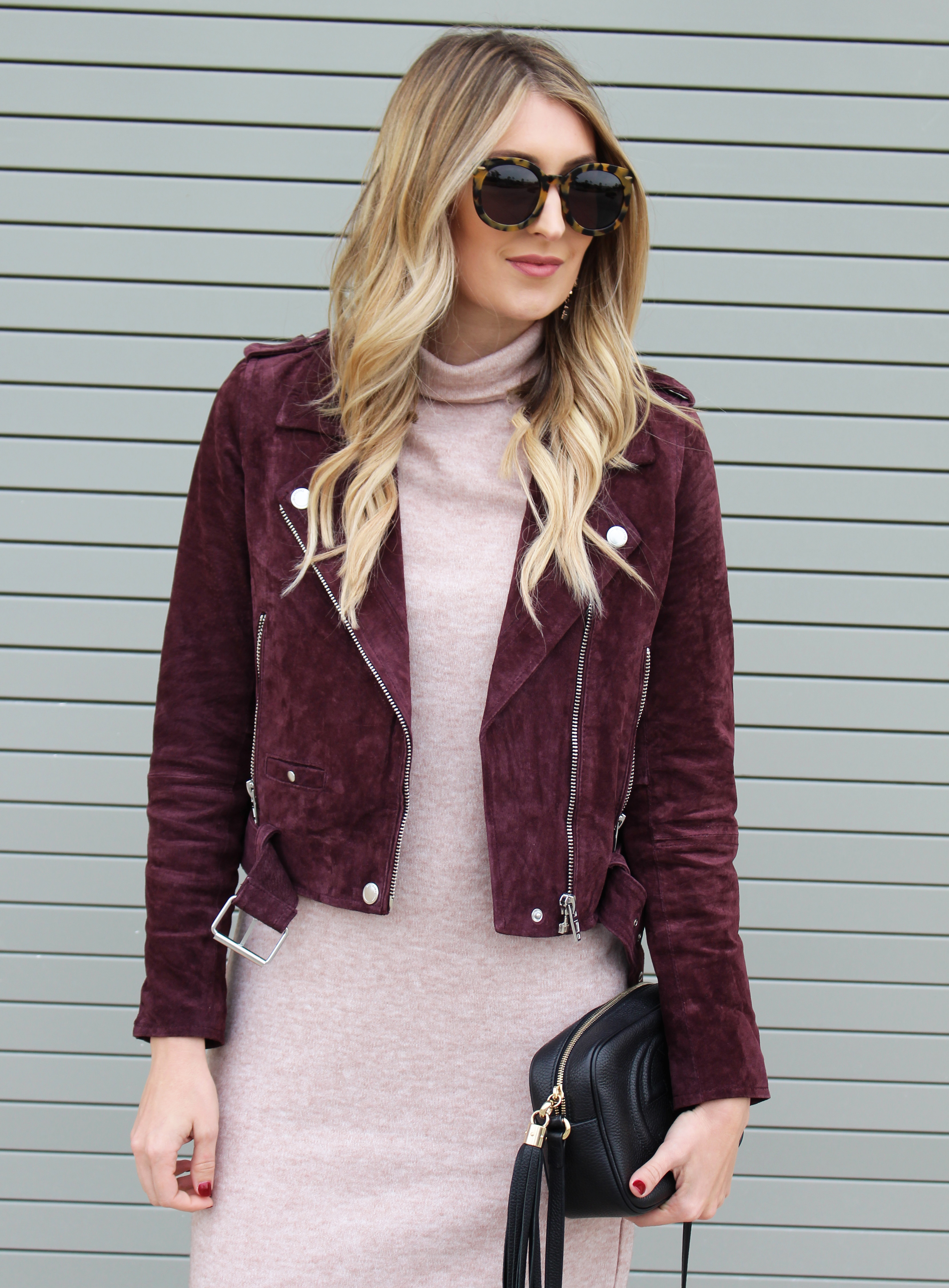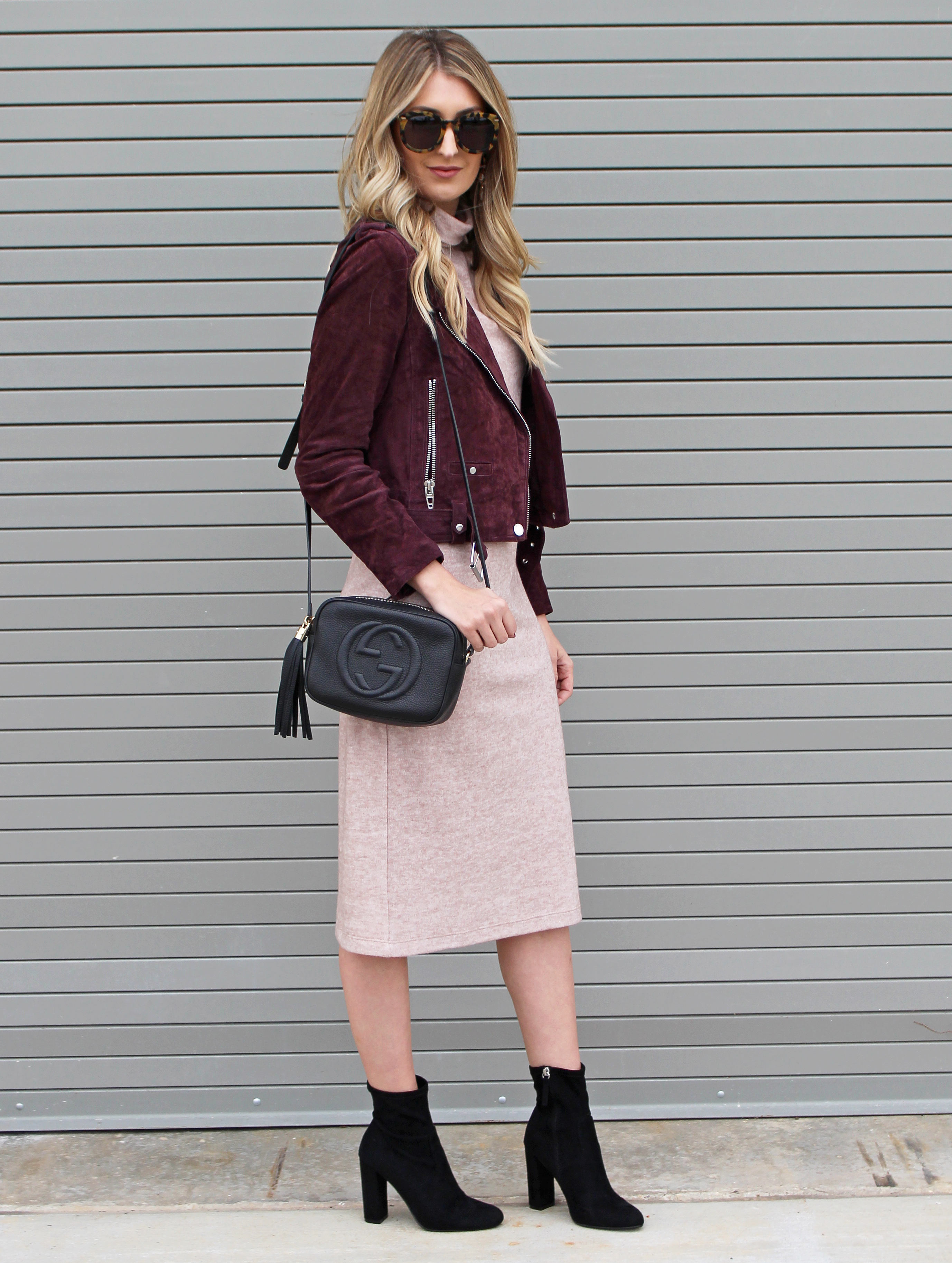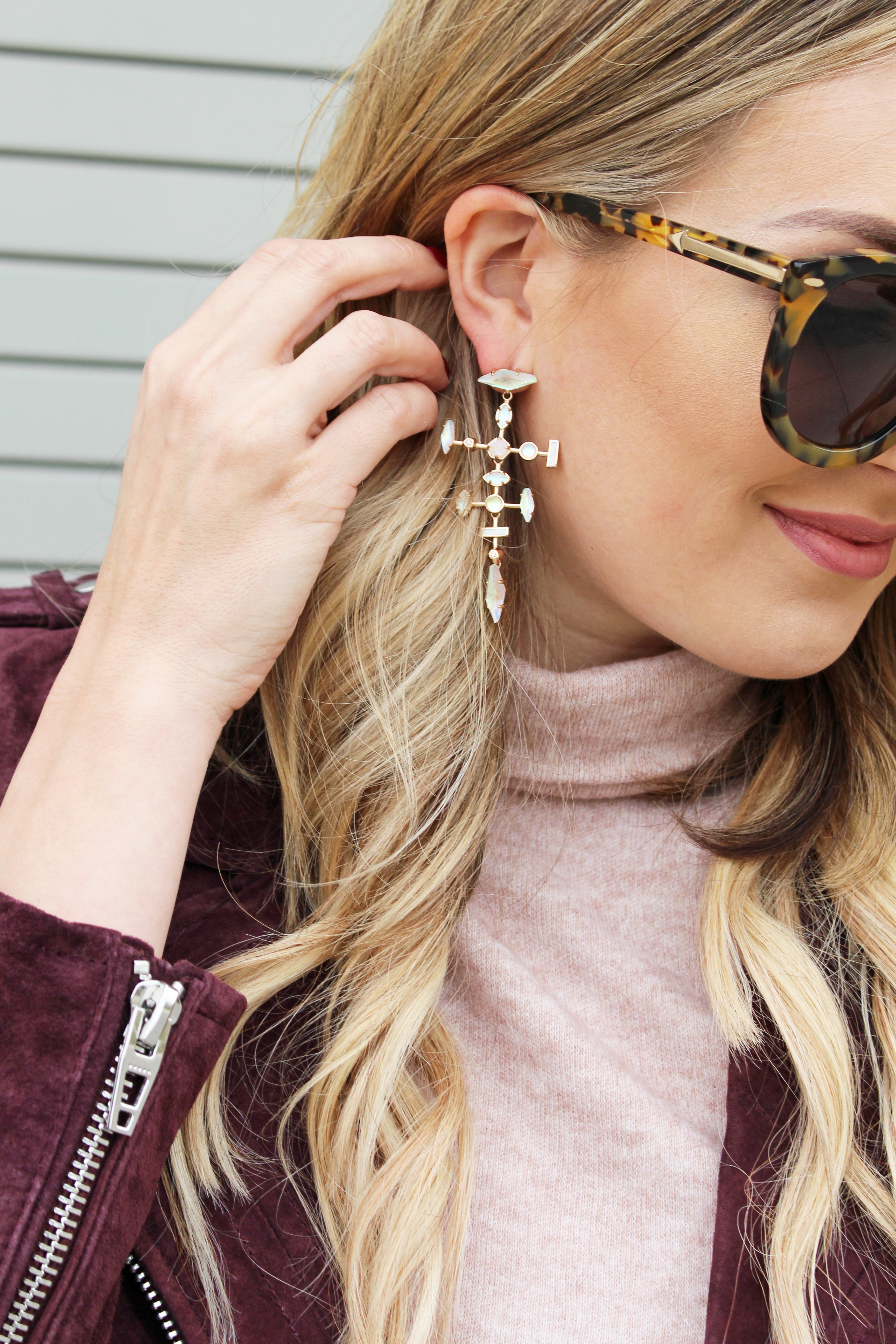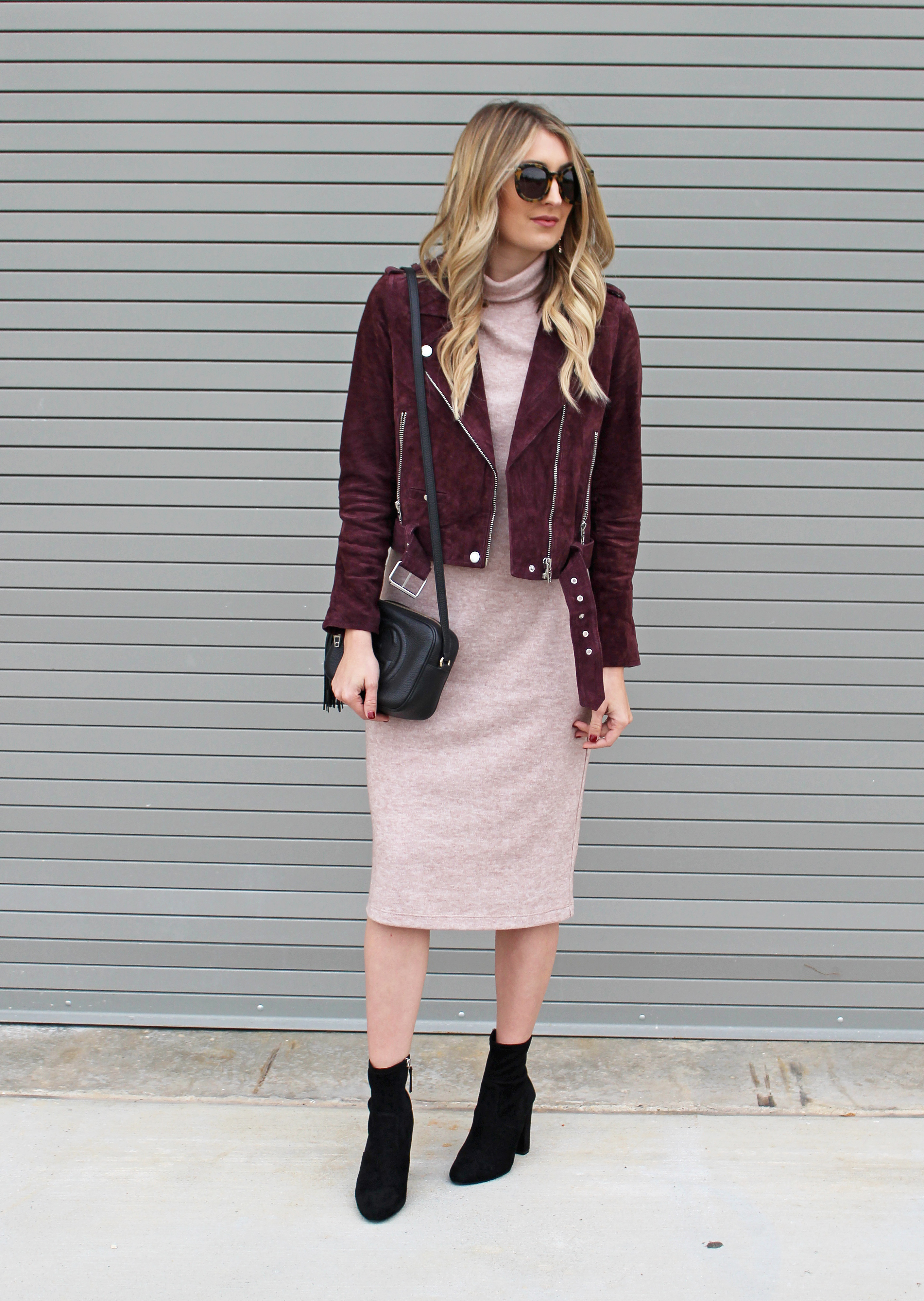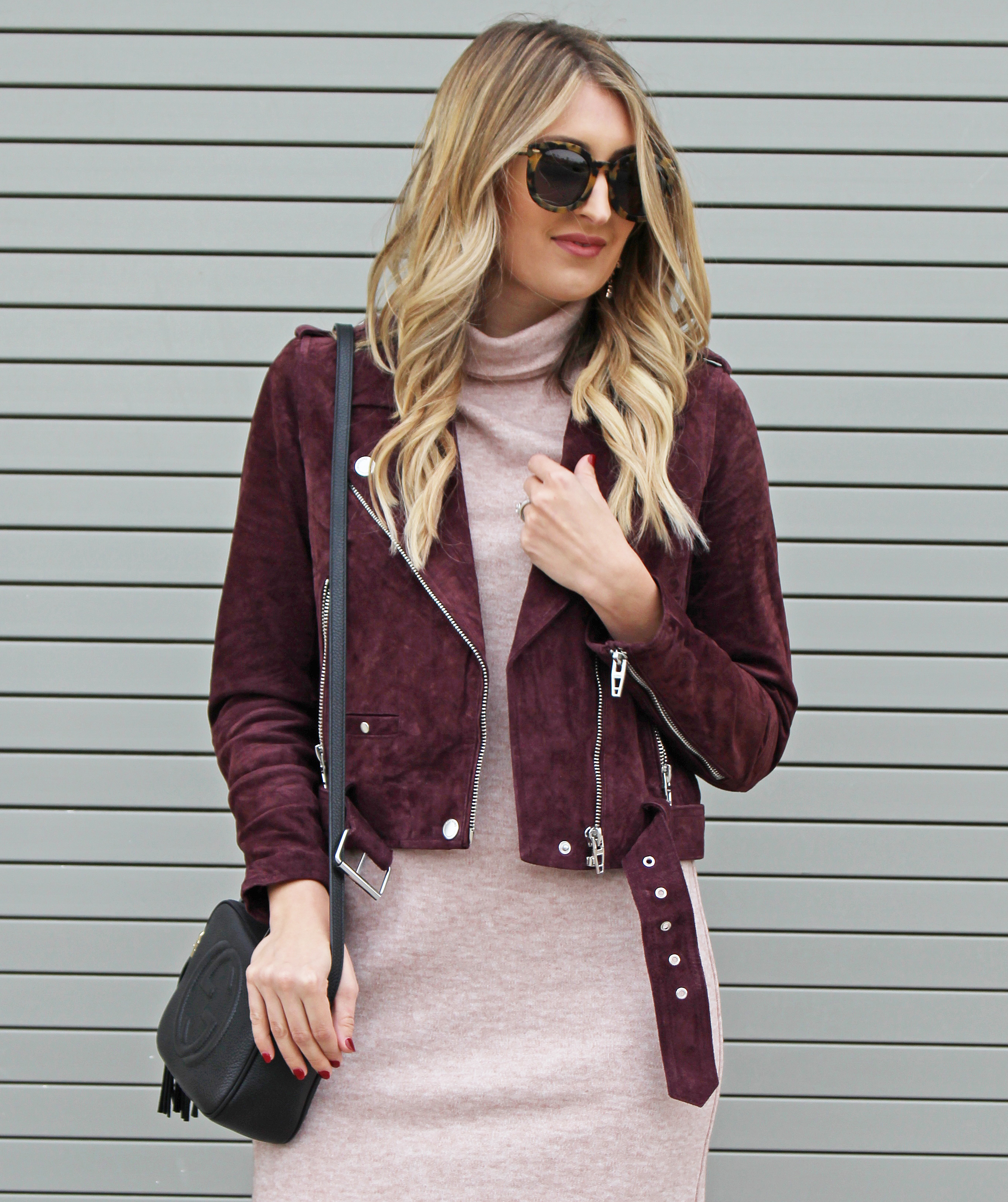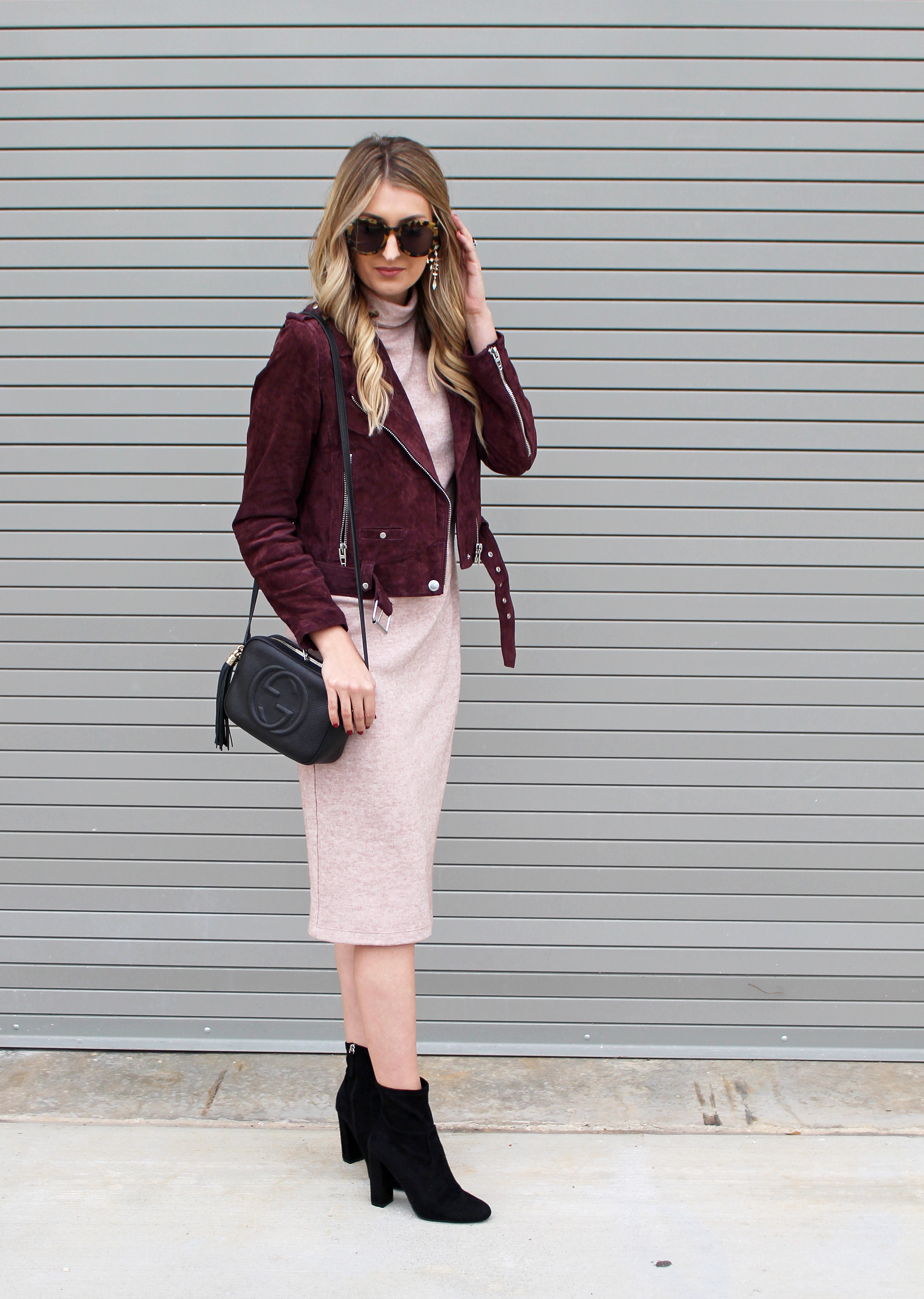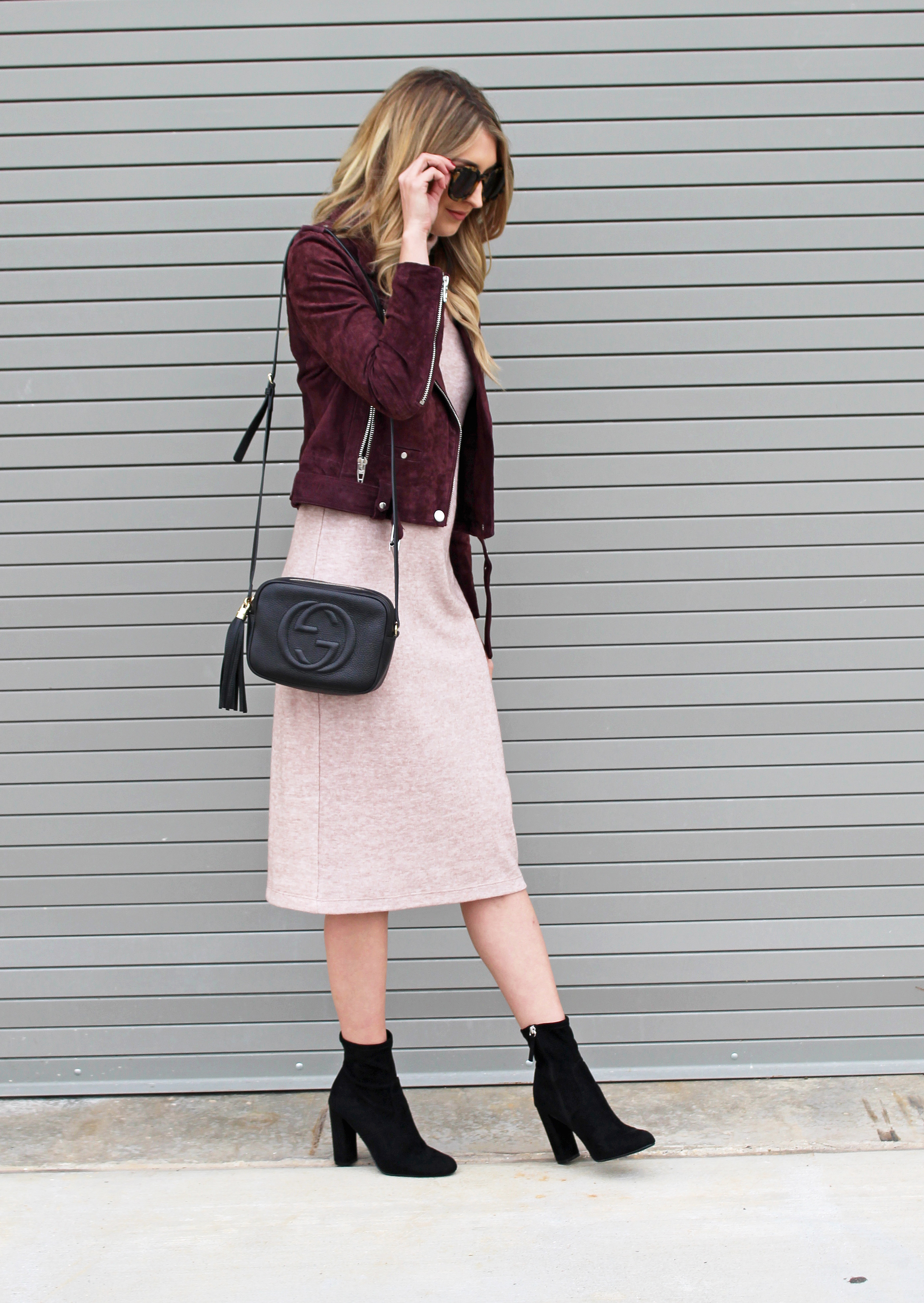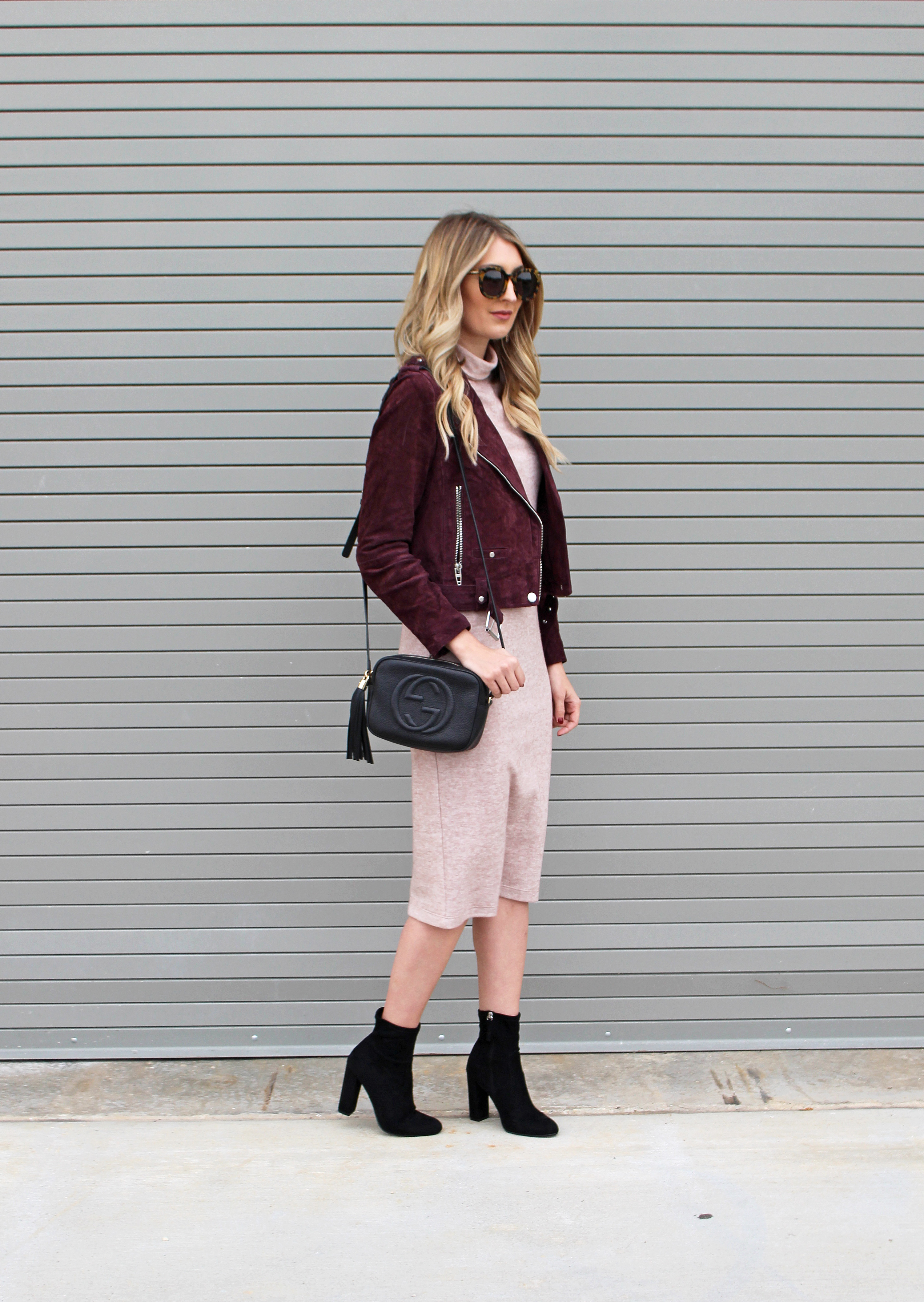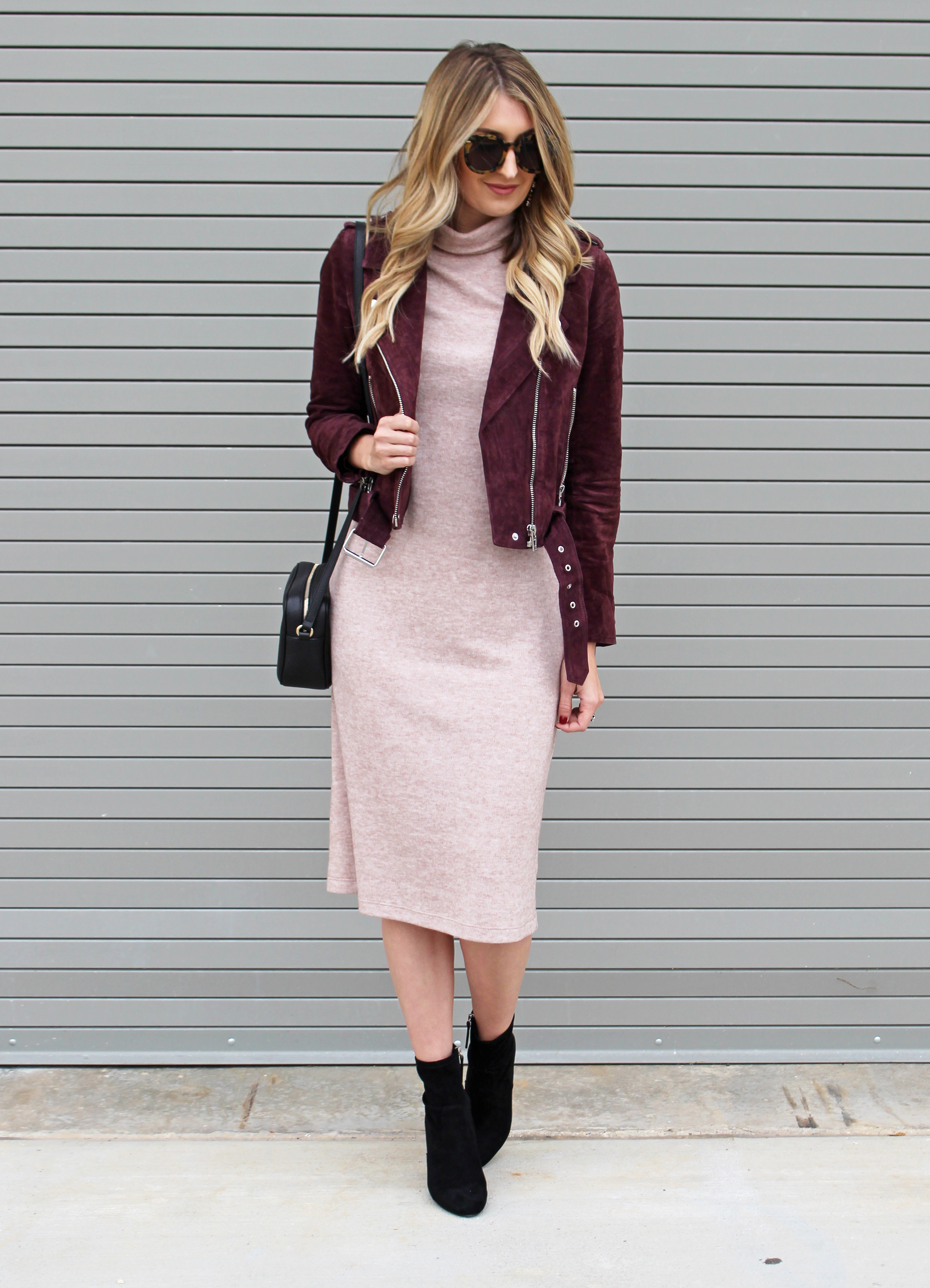 Jacket: Blank NYC / Dress: Wayf (similar here) / Booties: Steve Madden / Bag: Gucci / Sunnies: Karen Walker / Earrings: Kendra Scott / Ring: Kendra Scott
Happy Monday y'all! It's the first "real" Monday of the New Year, and the first full week of work. No, I don't work, but my husband does. And as a stay-at-home mom, I love when he has days off as much as he loves having days off because it means I get an extra set of hands for the day, and a little extra energy to go toward my two toddlers! 🙂
So I wore this look last week for a girls' night with my BFF Barbara. She is the best gift giver y'all, her Christmas present to me was tickets for the two of us to go see "The Book of Mormon" (the musical)! Many of y'all probably don't know this about me, but I LOVE musicals. My paternal grandmother is a huge theater buff, so much so that she regularly directs shows at her local community theater (and is really good at it)! So I spent a lot of my childhood in and out of the theater, whether I was just there because she was babysitting me, or just because I loved to watch rehearsals, or because I was in one of her shows. Musical theater is just so fun and so fascinating to me. So this gift from Barbara was definitely a good one. For those of you who haven't seen "The Book of Mormon" (and who aren't easily offended)…it. is. hysterical. Like, we were literally laughing from the opening scene to the closing scene. There are definitely some parts that are offensive, crude, and inappropriate, and it is definitely not a show for children. But I'm telling you, if you want to laugh,  you have to see this show. SO funny!
Anyway, now about my outfit! This burgundy suede moto jacket was a Christmas gift from my hubby. Pretty sure I haven't stopped wearing it since I got it. It comes in a bunch of colors, and I actually wish I had it in several of them! But I really love this burgundy color, I find that it looks good with a lot!
The dress I'm wearing underneath is a super soft sleeveless turtleneck dress that was a Christmas gift from my parents. I particularly love this dress because it's still a nice, soft, sweater material but it's thin, so it's perfect for Houston's mild winters. Something else I've been obsessed with since I got them are these black sock booties (under $100). I wear them with everything. In my opinion, than can immediately make an outfit look a little edgier which I love.
Last but not least, another one of my favorite pieces I've gotten recently…these gorgeous statement earrings. I am obsessed with these. I have really been loving rose gold jewelry lately, plus the stones in these earrings are so pretty, and can perfectly transition into spring!
Hope you all have a good week!
xo, Loren
Shop the Post:
[show_shopthepost_widget id="2316932″]