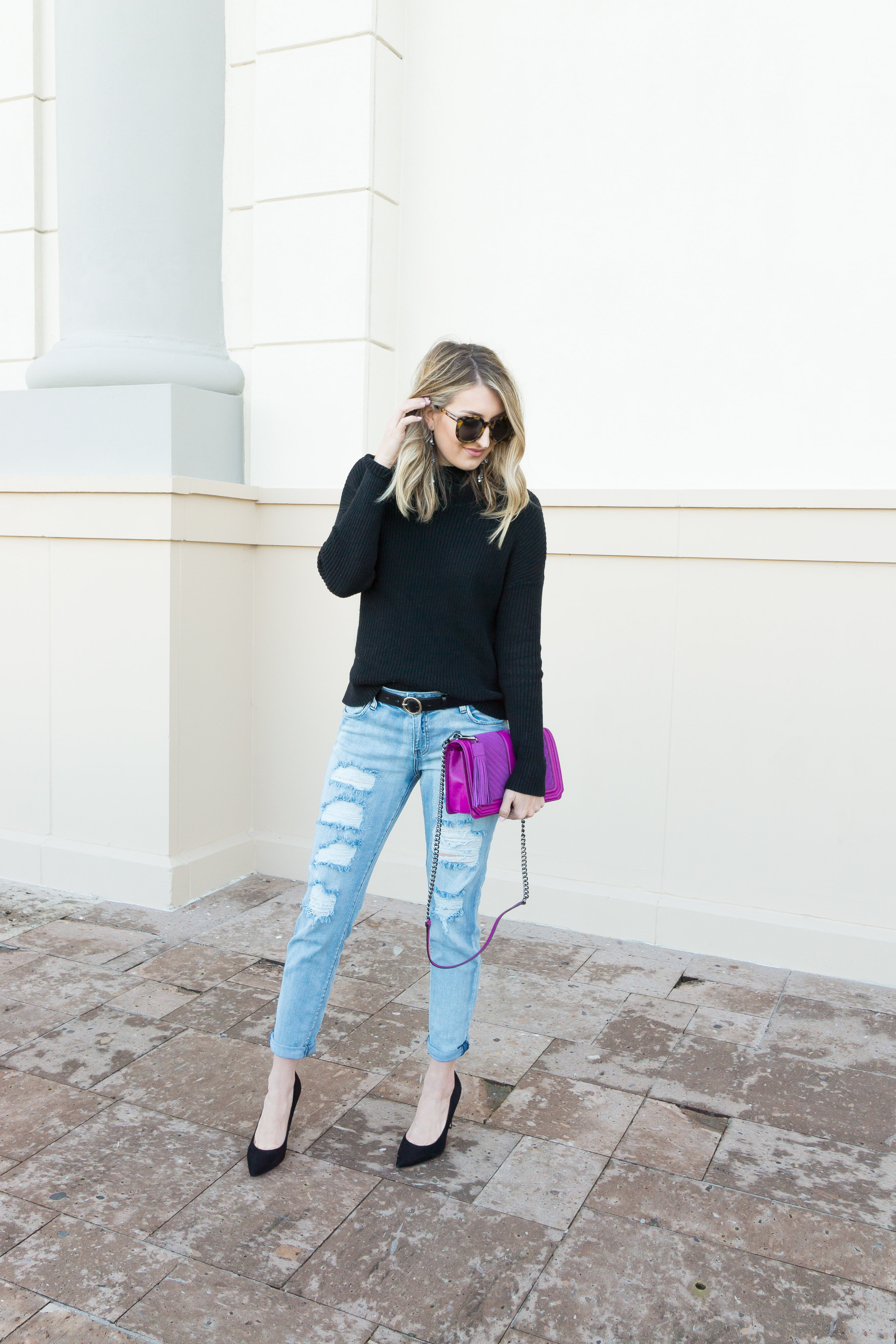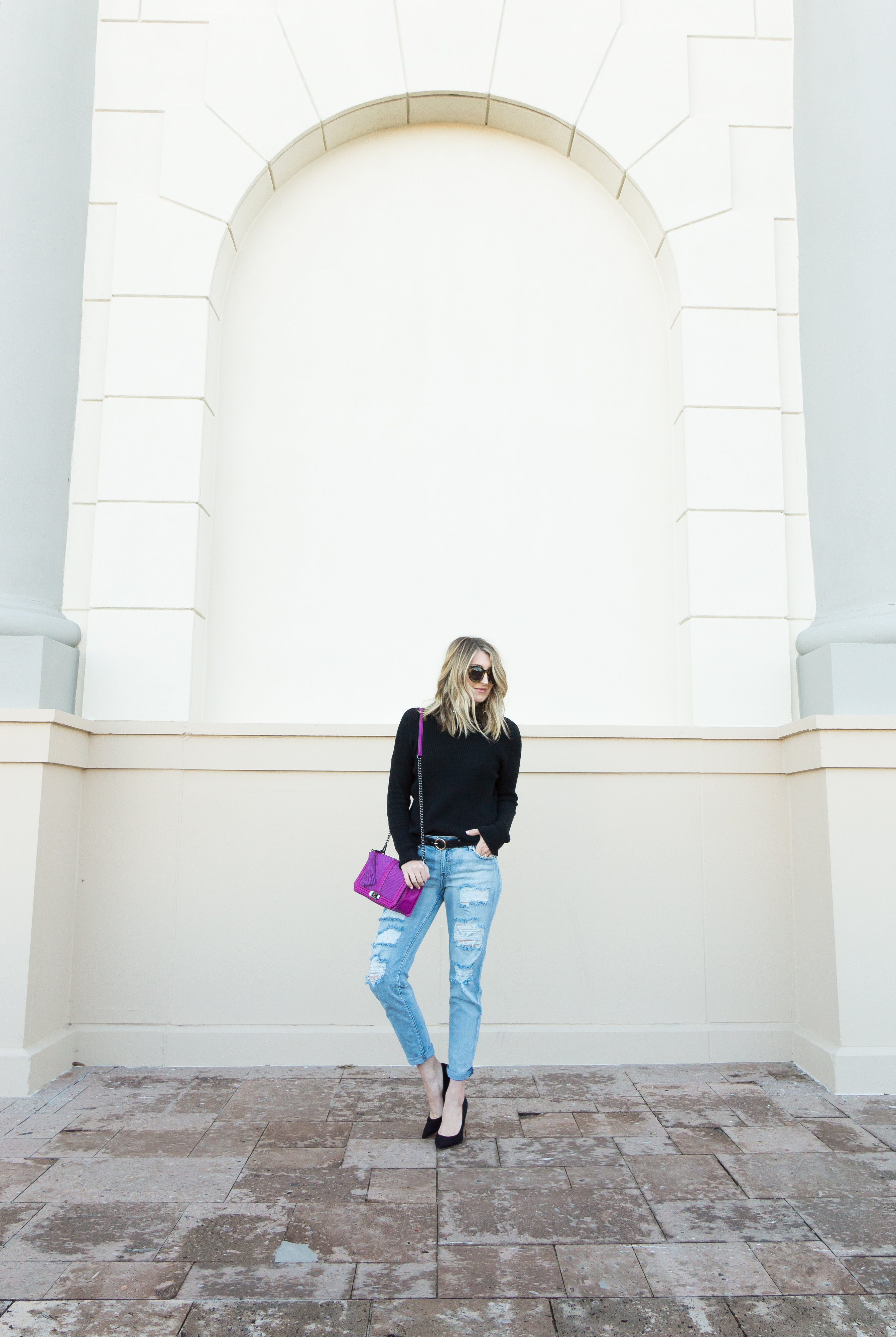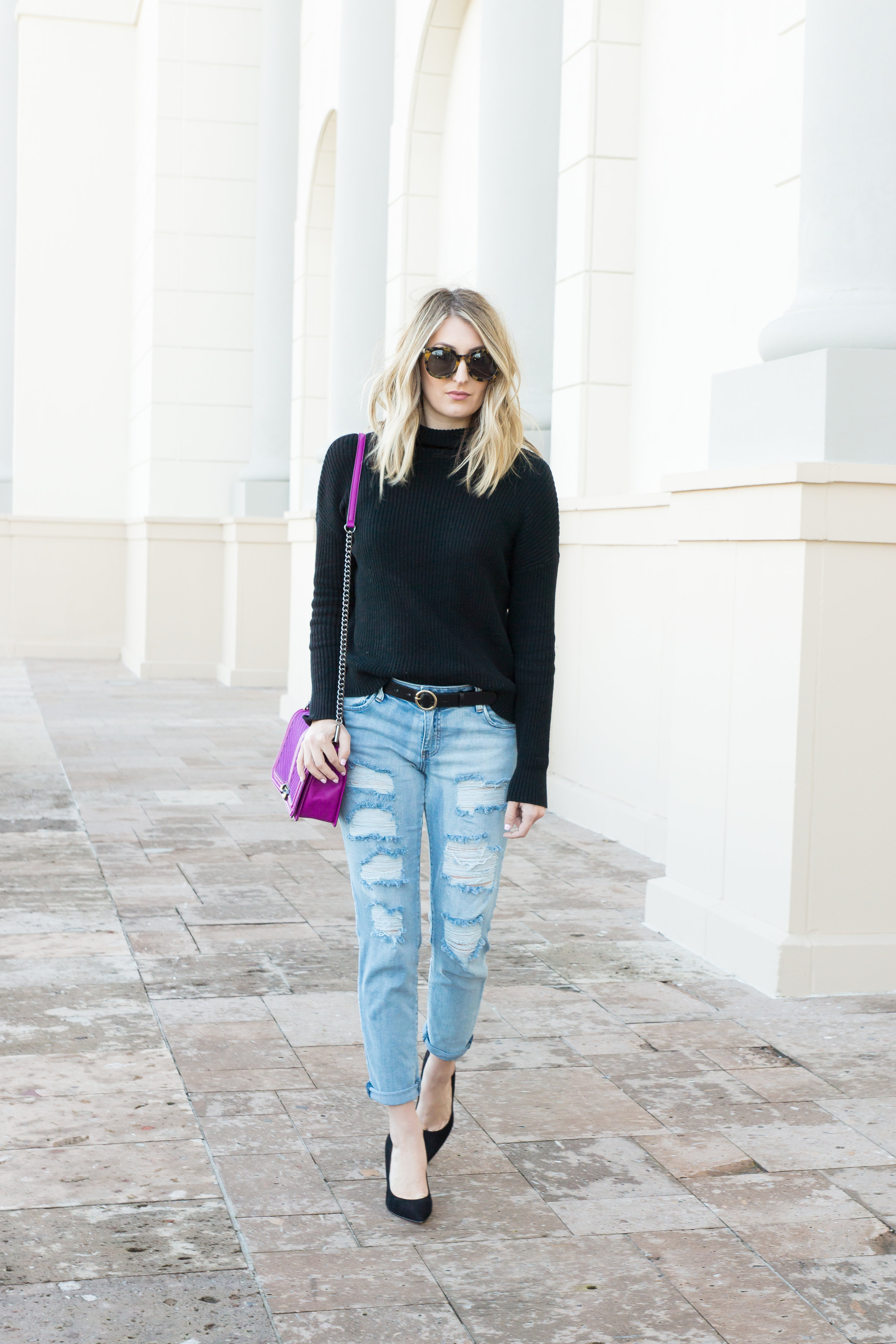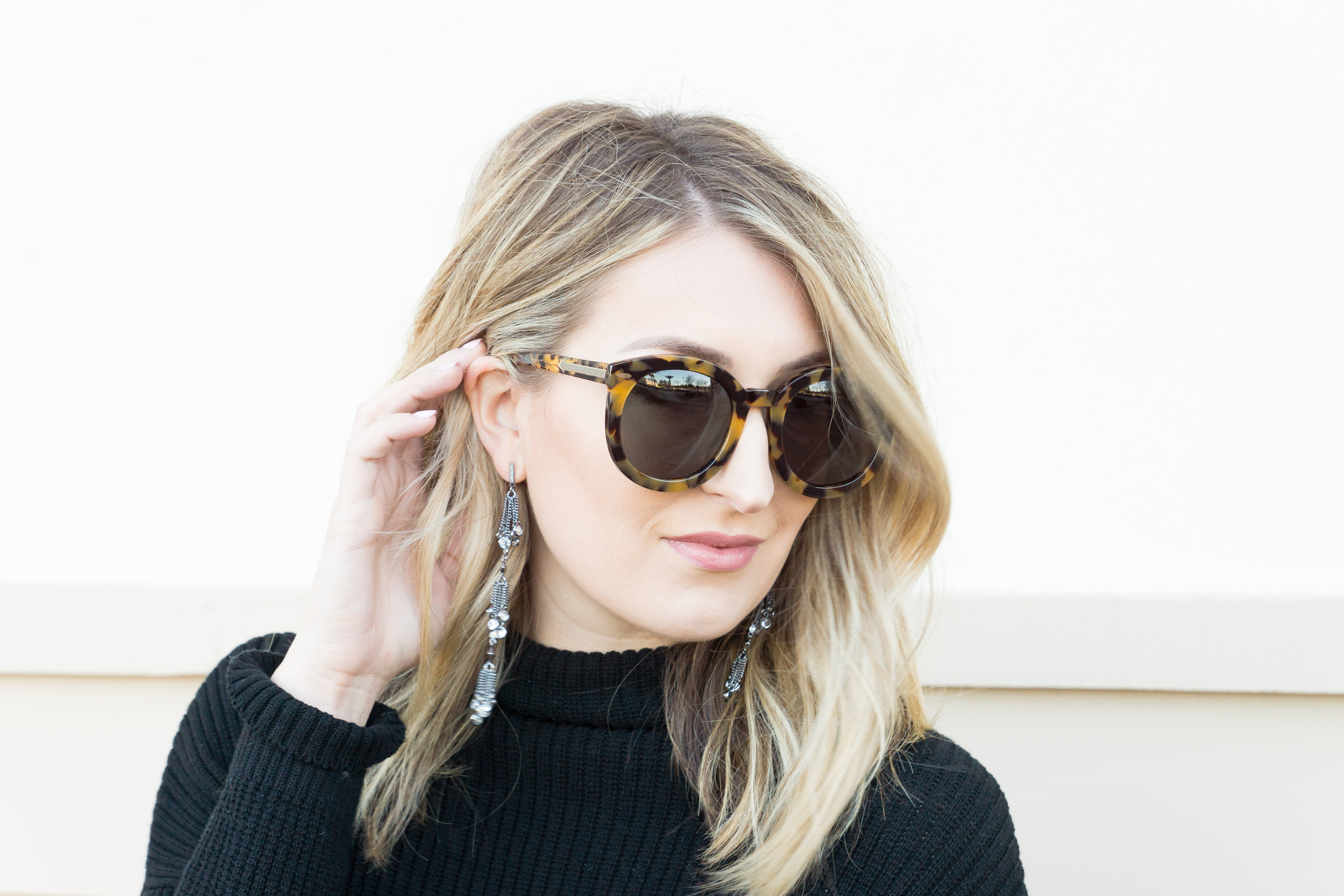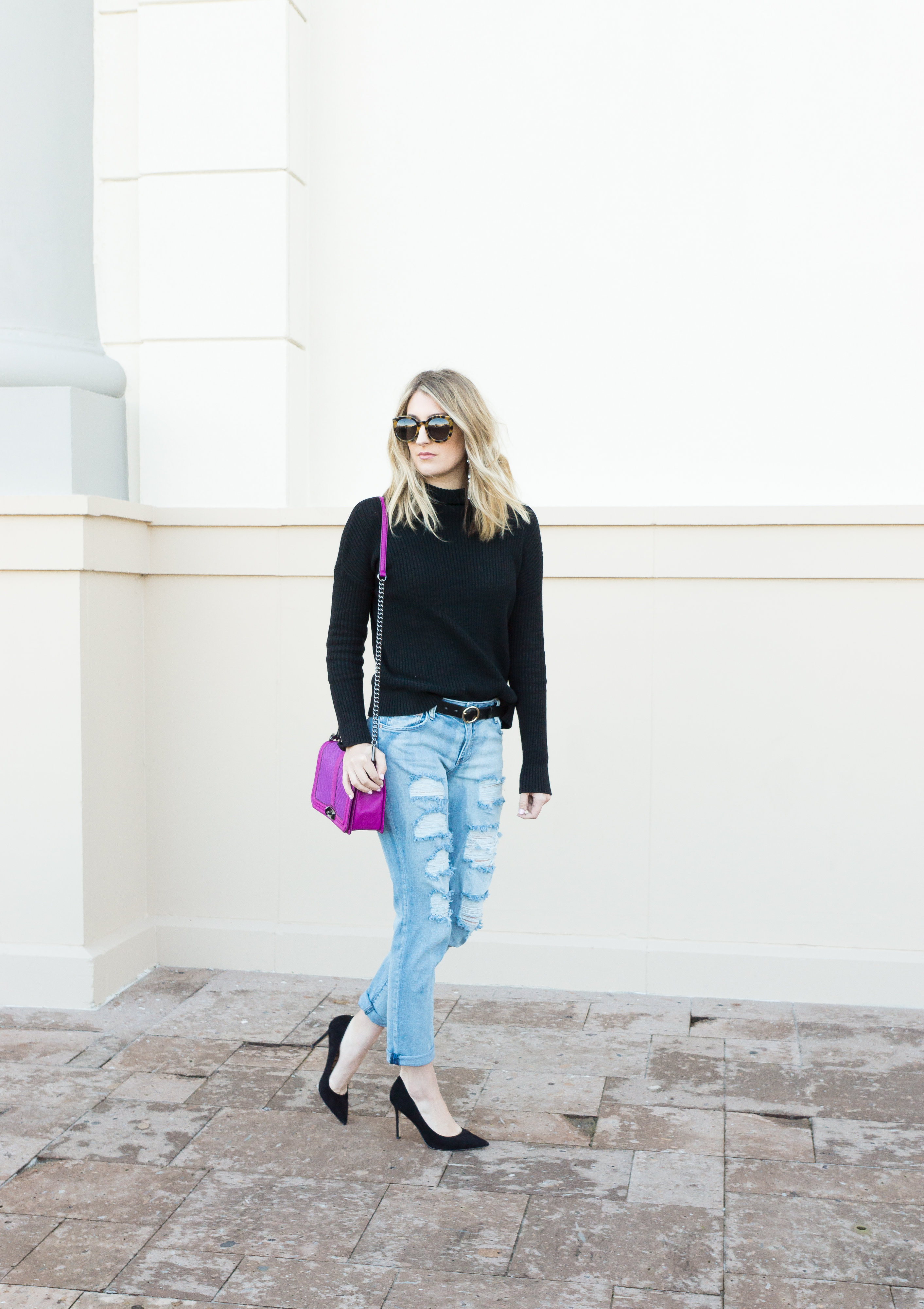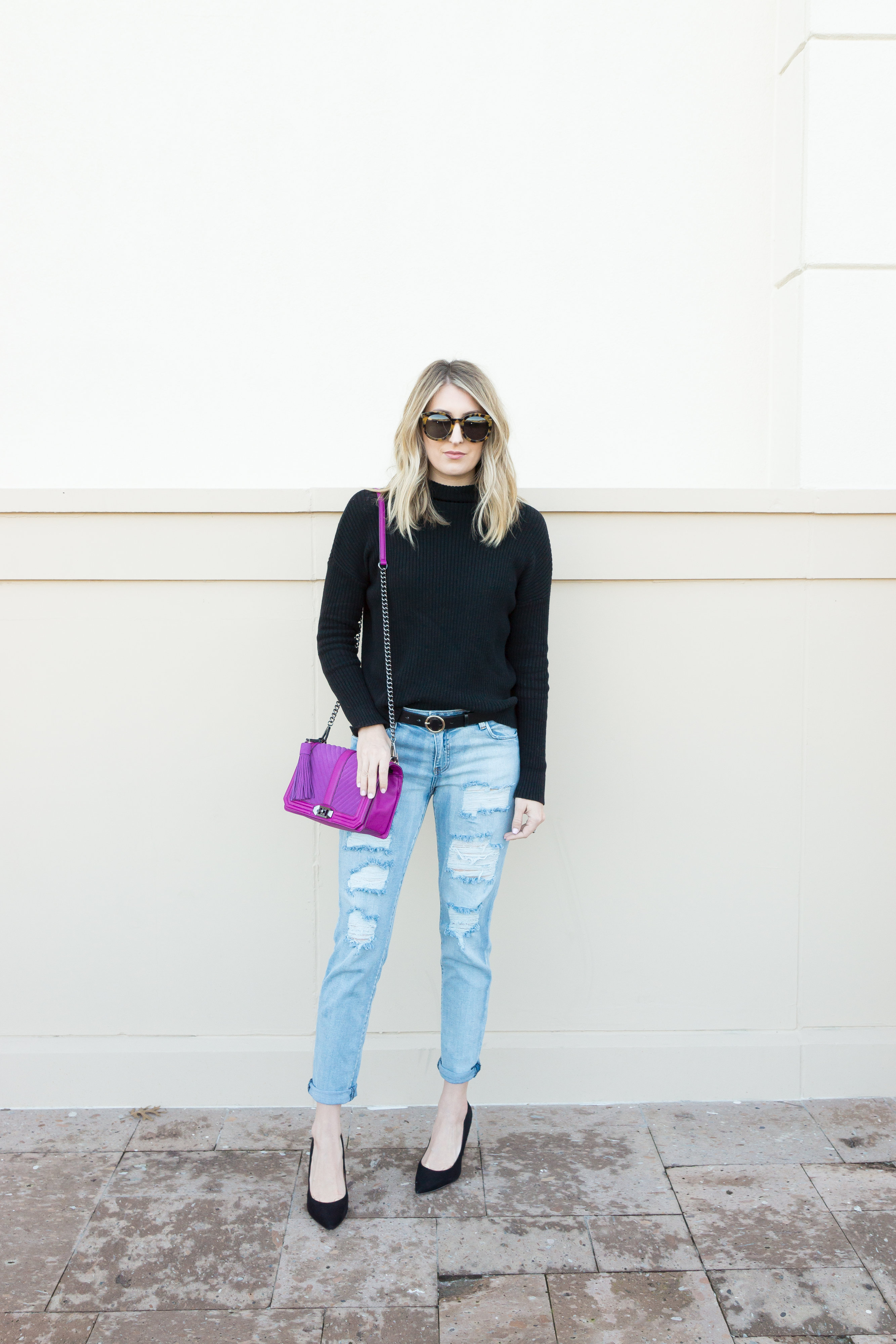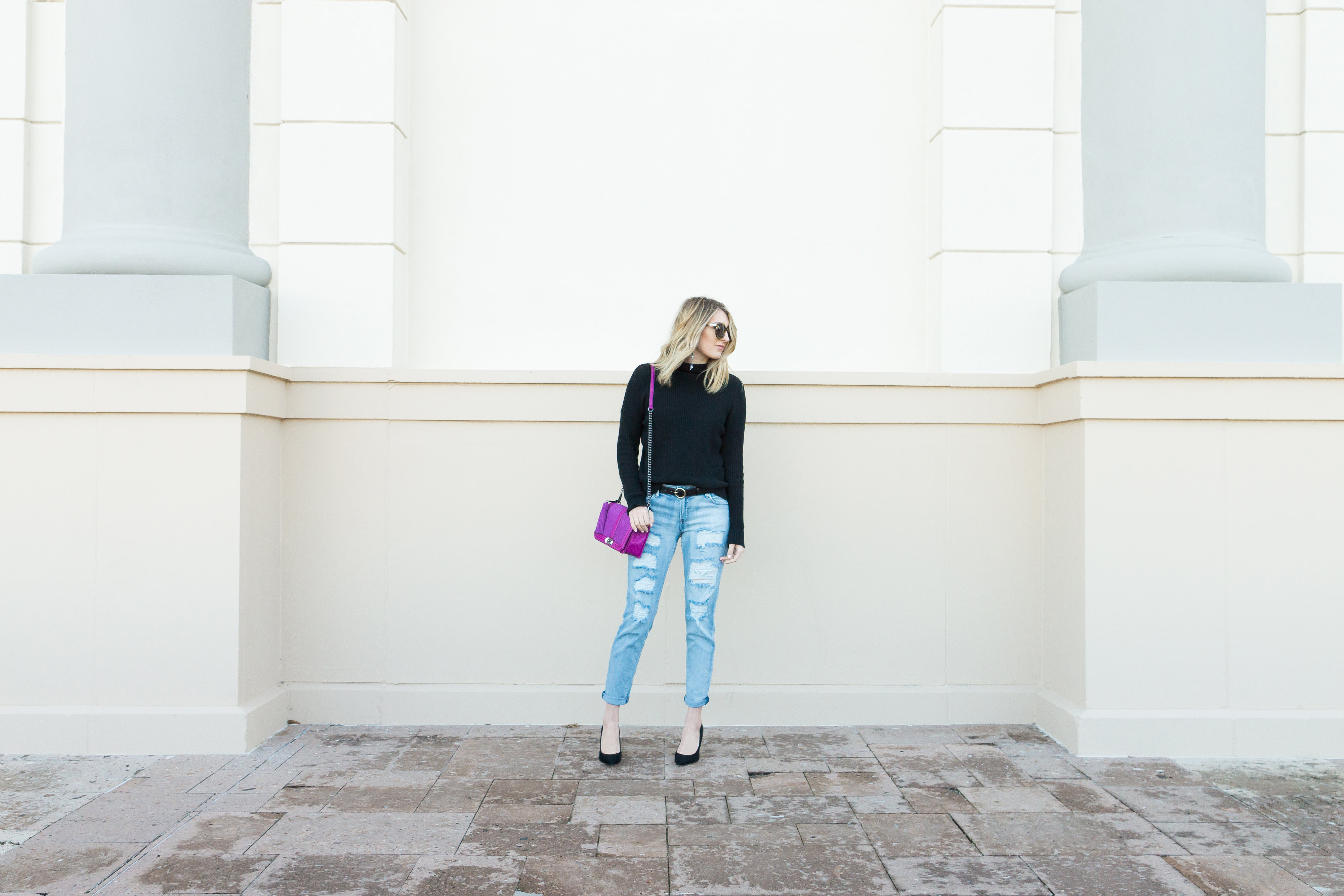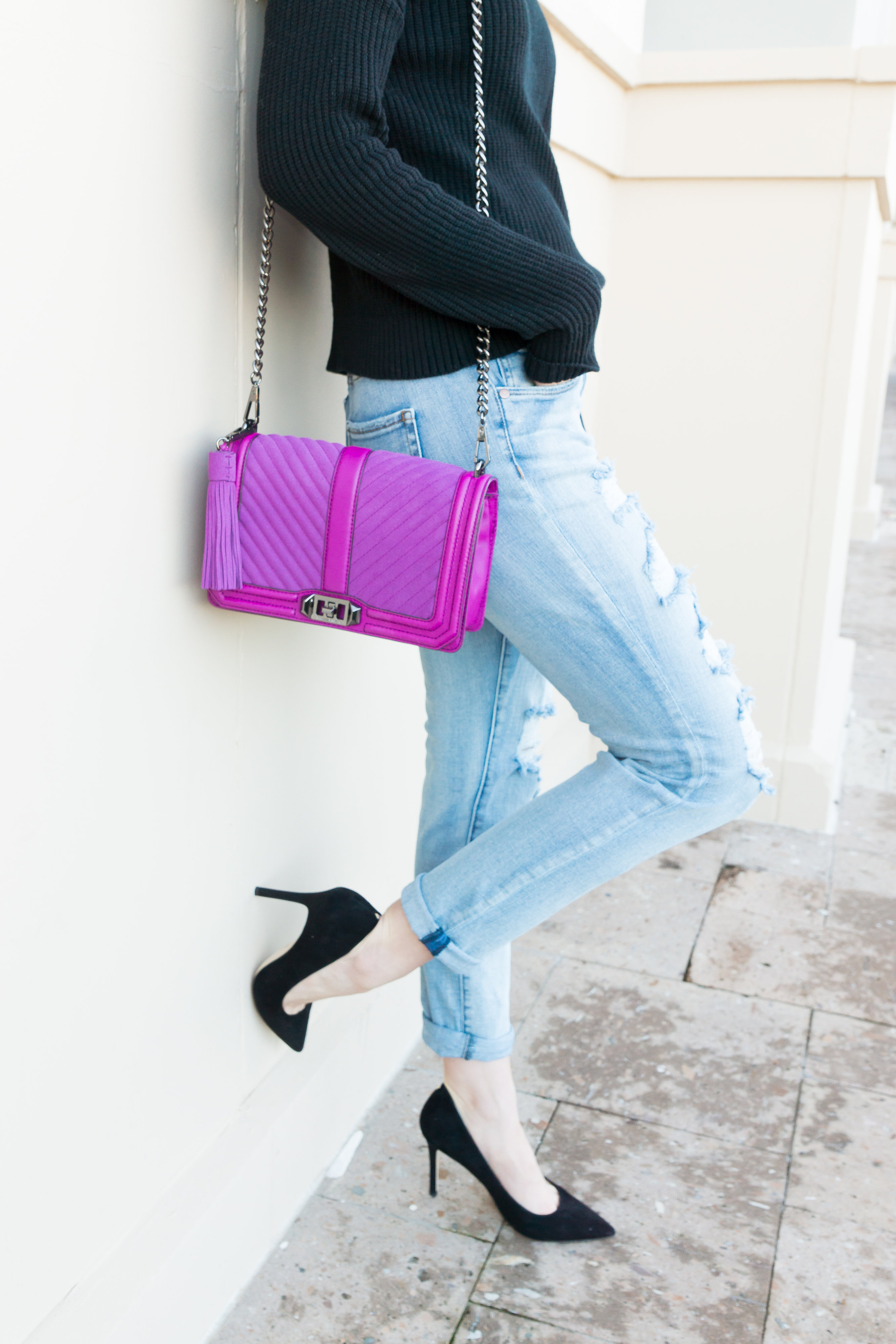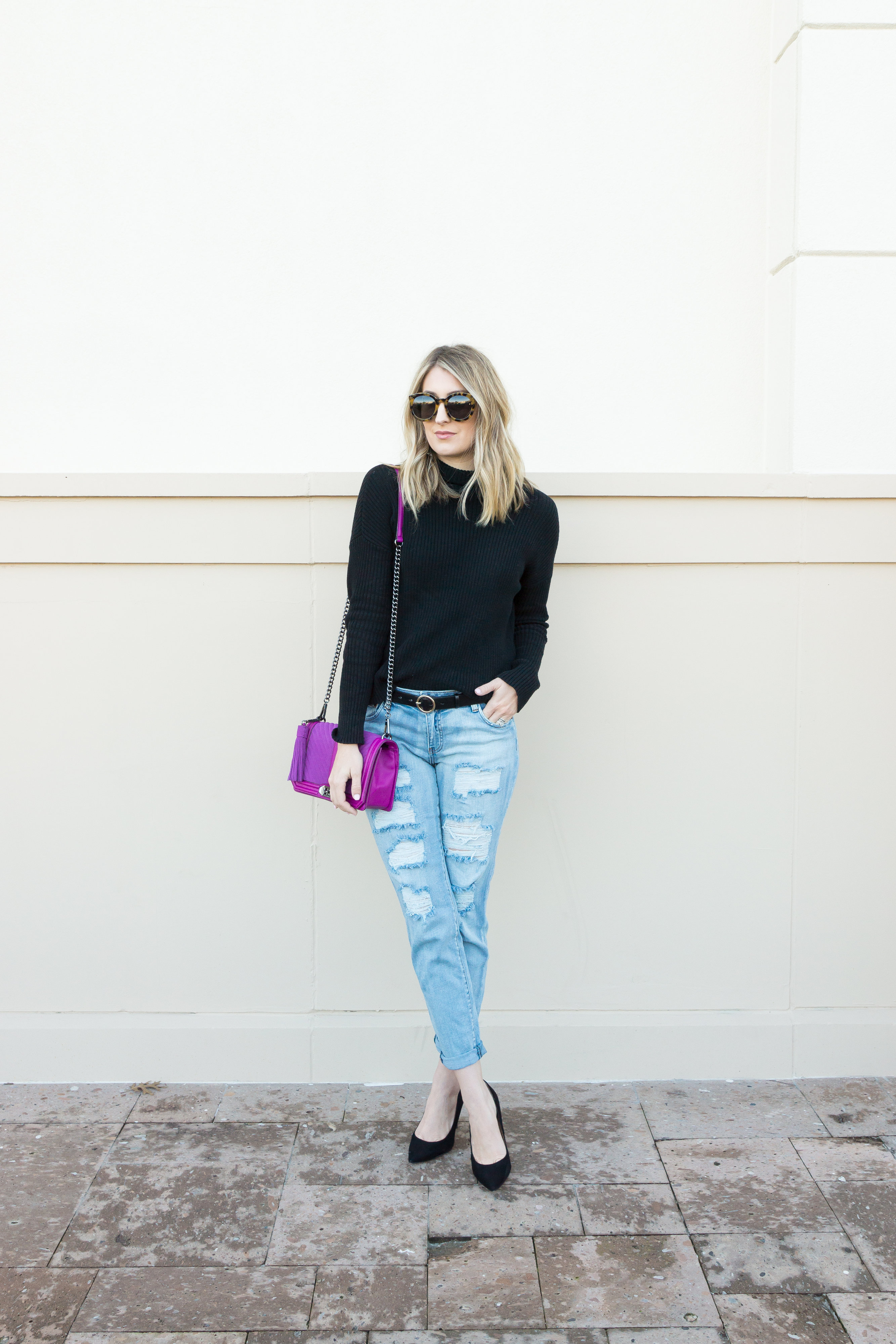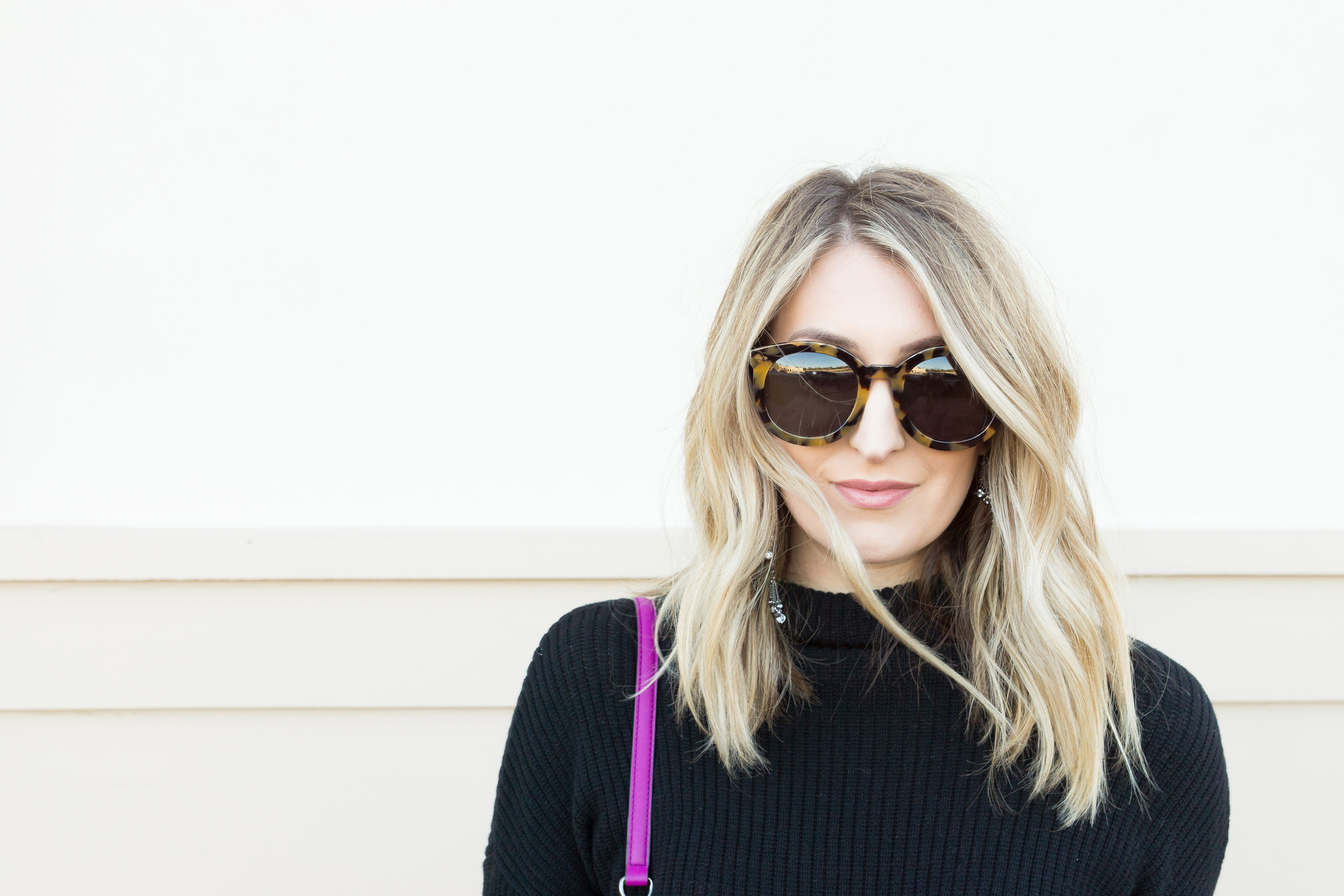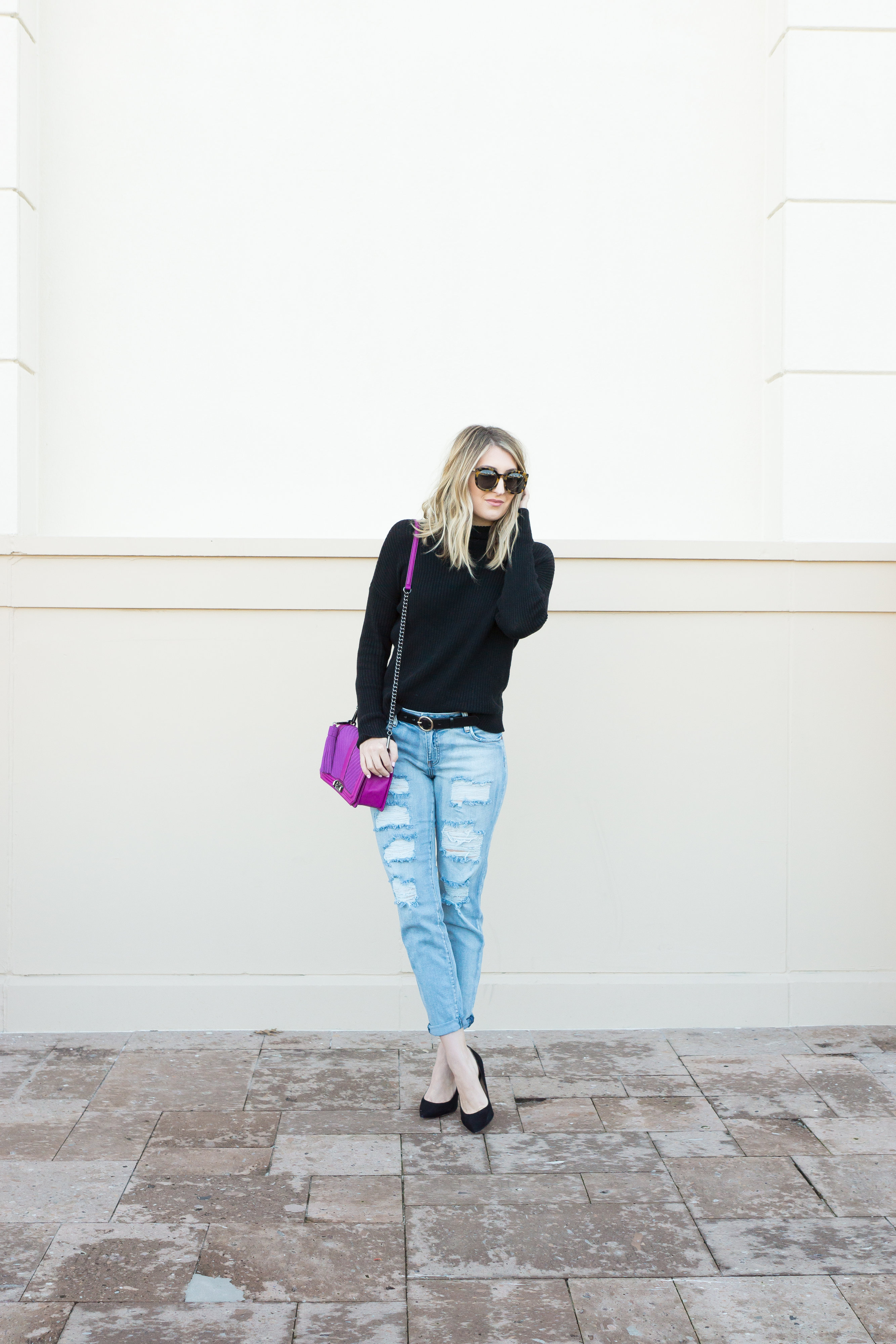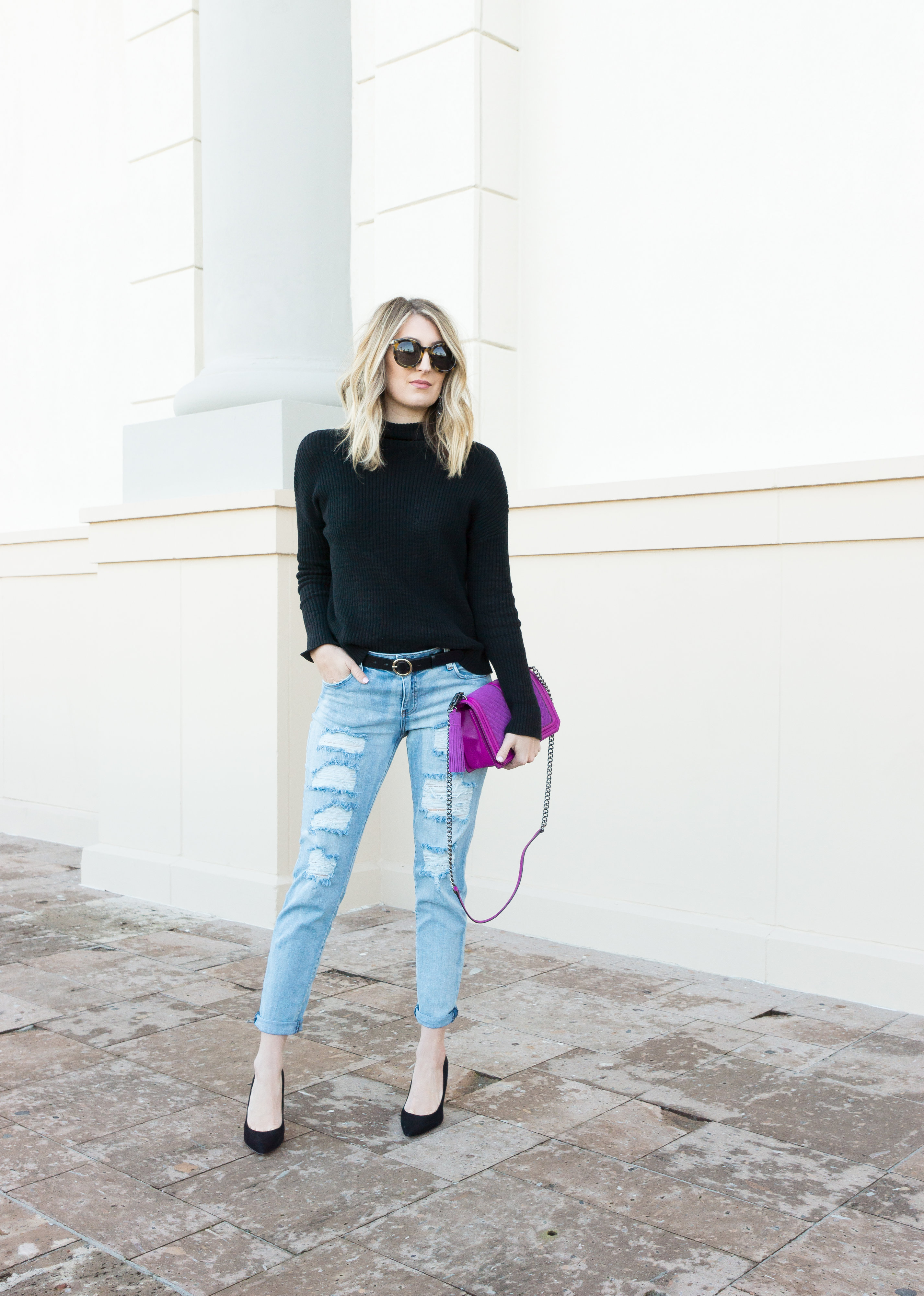 Sweater: B.P. (similar here) / Denim: B.P. (only $65!) / Heels: Sam Edelman / Bag: Rebecca Minkoff (similar here and here) / Sunnies: Karen Walker / Belt: Halogen / Earrings: Kendra Scott
So uhh…who's pumped that it's Friday?! Because I definitely am! I am headed out in a few hours to Austin for a bachelorette party. And though I'll be the oldest one there, and probably a little bit out of my league, I'm excited for a girls' weekend! My husband has been working late and traveling a lot since the New Year (as is normal for him during this time of year, but still every year, it's a lot!) so I'm ready to take a little break from every day life and have some kid-free fun!
You know…it's funny (though not all that suprising), my simplest outfits tend to be my favorites. They are the ones I always go back to and repeat time and time again. I say this isn't surprising because my family has made fun of me for YEARS for never wearing color. I always joke that grey is my favorite color. If you saw my house, you'd understand. 🙂 But I think there is a reason I always go for neutral and basic pieces. They can be re-worn a million different ways, because they aren't too specific. Don't get me wrong, I love a good print or a fun color here and there (hence my purse), but my tried and true looks always involve pieces that are a little more simple and maybe even (dare I say) boring before they are styled.
This sweater is one of my best recent purchases. I have gotten so much use out of it and I find myself reaching for it ALL the time. It's not too heavy, so it's good for Houston weather. I love the mock turtleneck neckline because it gives it such a chic and classy feel, but the slouchy feel keeps it comfortable and modern.
Okay and now for these jeans. I had been searching for months for a good pair of boyfriend jeans. My struggle was that I wanted them to be really distressed, but I didn't want them to be too short. Boyfriend jeans are always rolled at the hem, so a lot of styles end up being too short on my 5'8″ frame. One evening, when I really didn't need to be shopping (but isn't that how it always works?!) I stumbled across this pair, so I tried them on. I loved them. The perfect amount of slouch, the perfect amount of distressing, and they are under $100! So yeah, these were coming home with me. #finally 🙂
Another funny thing about this look…these pumps. Well not the pumps, per se, but the fact that until about two weeks ago I didn't even own a pair of plain black pumps. Yeah. Weird, right? But because I wear neutral colors so much, I've always gone with a leopard pump or a shoe with a fun detail. I finally decided this was a little ridiculous and bought this pair. Turns out, I LOVE these pumps. I prefer a suede pump, because I am most likely not going to wear it in the summer, and I think the fabric always looks nicer than leather. It's a softer look. But my favorite thing about these is that they are actually somewhat comfortable. They are by Sam Edelman, and recently I have purchased a lot of his shoes. In his heels, there is extra padding where the ball of your foot sits. Genius! This is always the area that hurts when you wear heels. I've pretty much decided that Sam Edelman heels are the way to go!
Because this look is so simple with just black and denim, I added a pop of pink with this gorgeous handbag that I got for Christmas. I think it's currently sold out (though it keeps popping in and out of stock), but I've linked a few similar styles too.
I hope you all have a good weekend! 🙂
xo, Loren
Photos by Diamond Oak Photography
Shop the Post:
[show_shopthepost_widget id="2369480″]