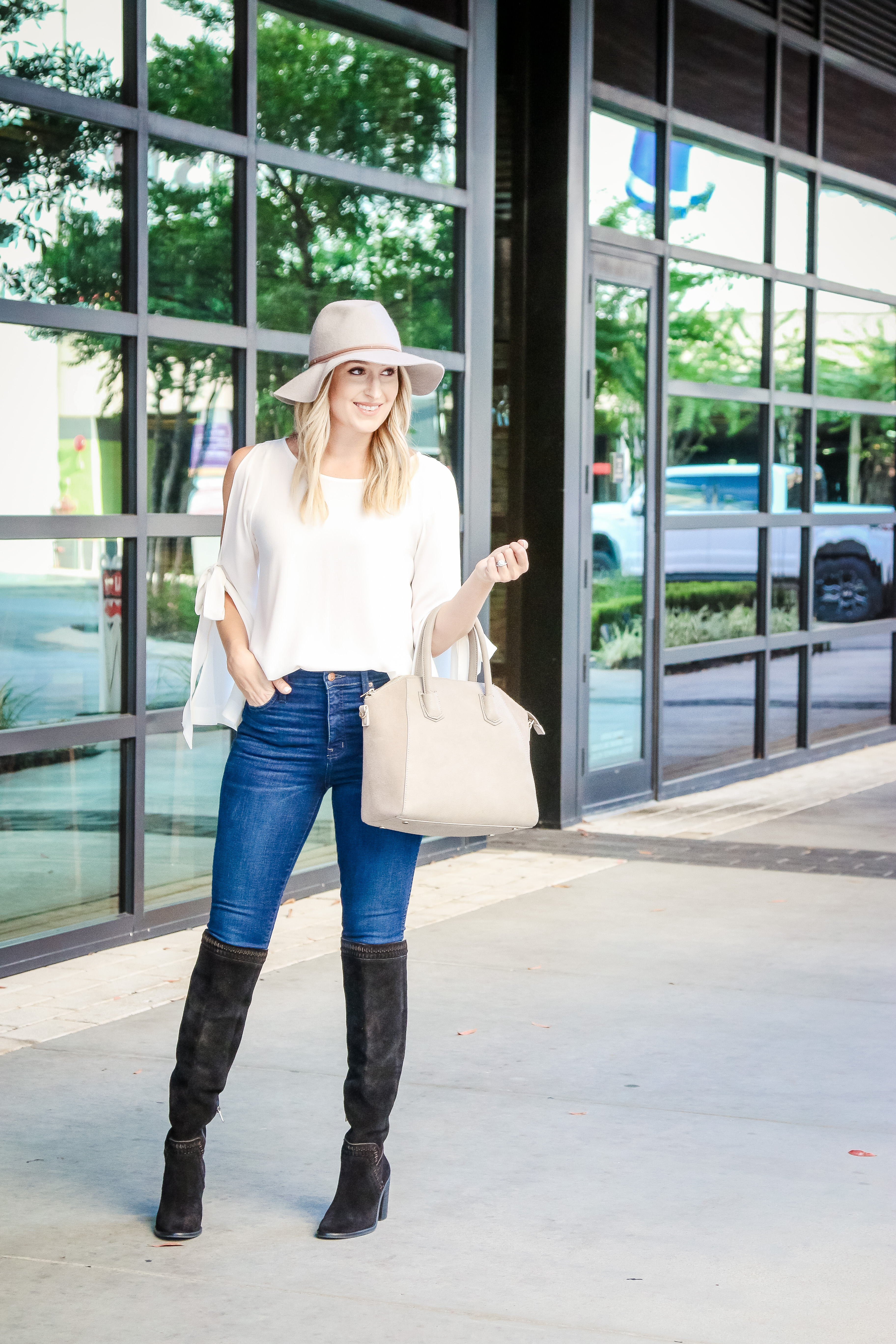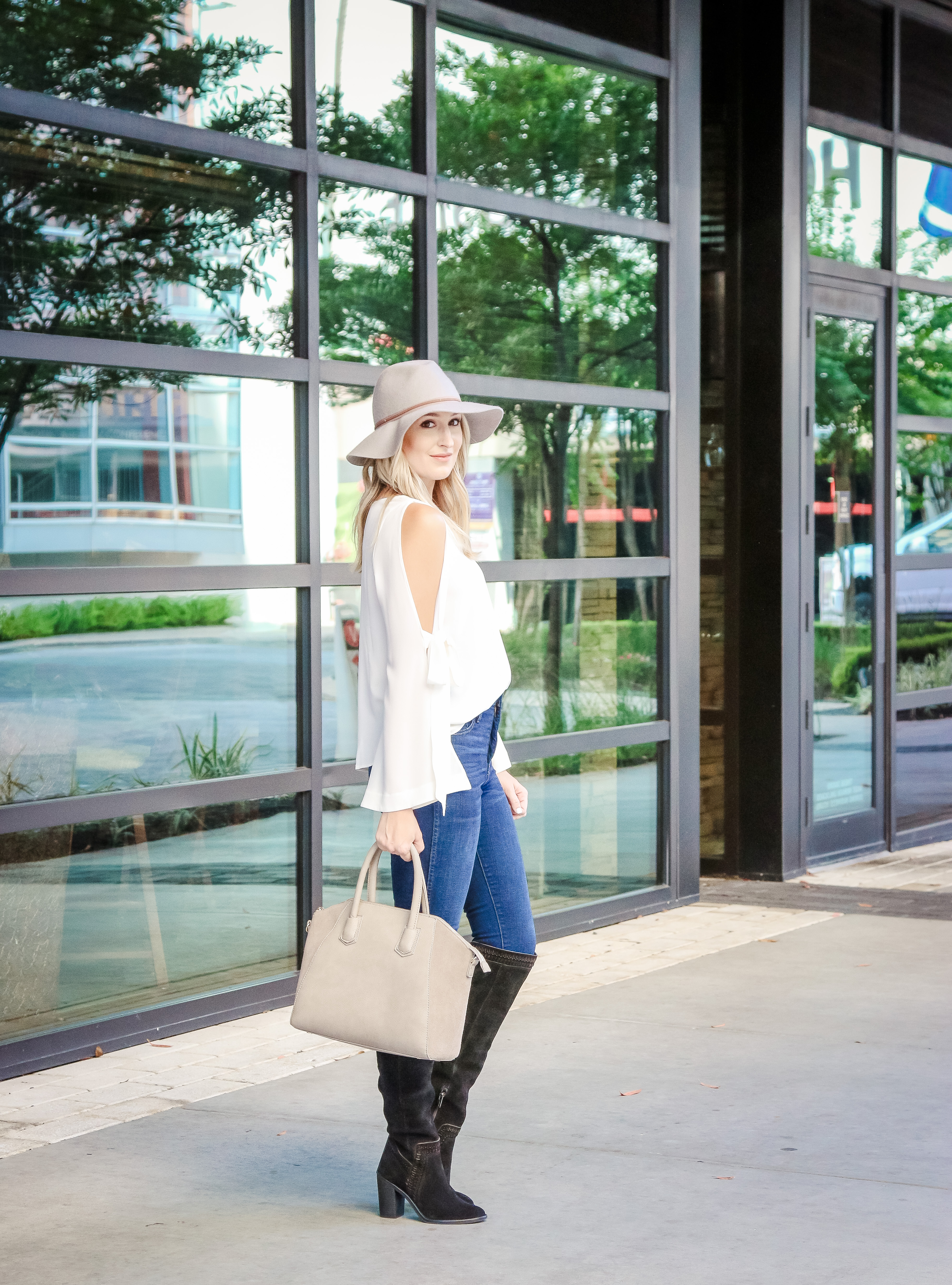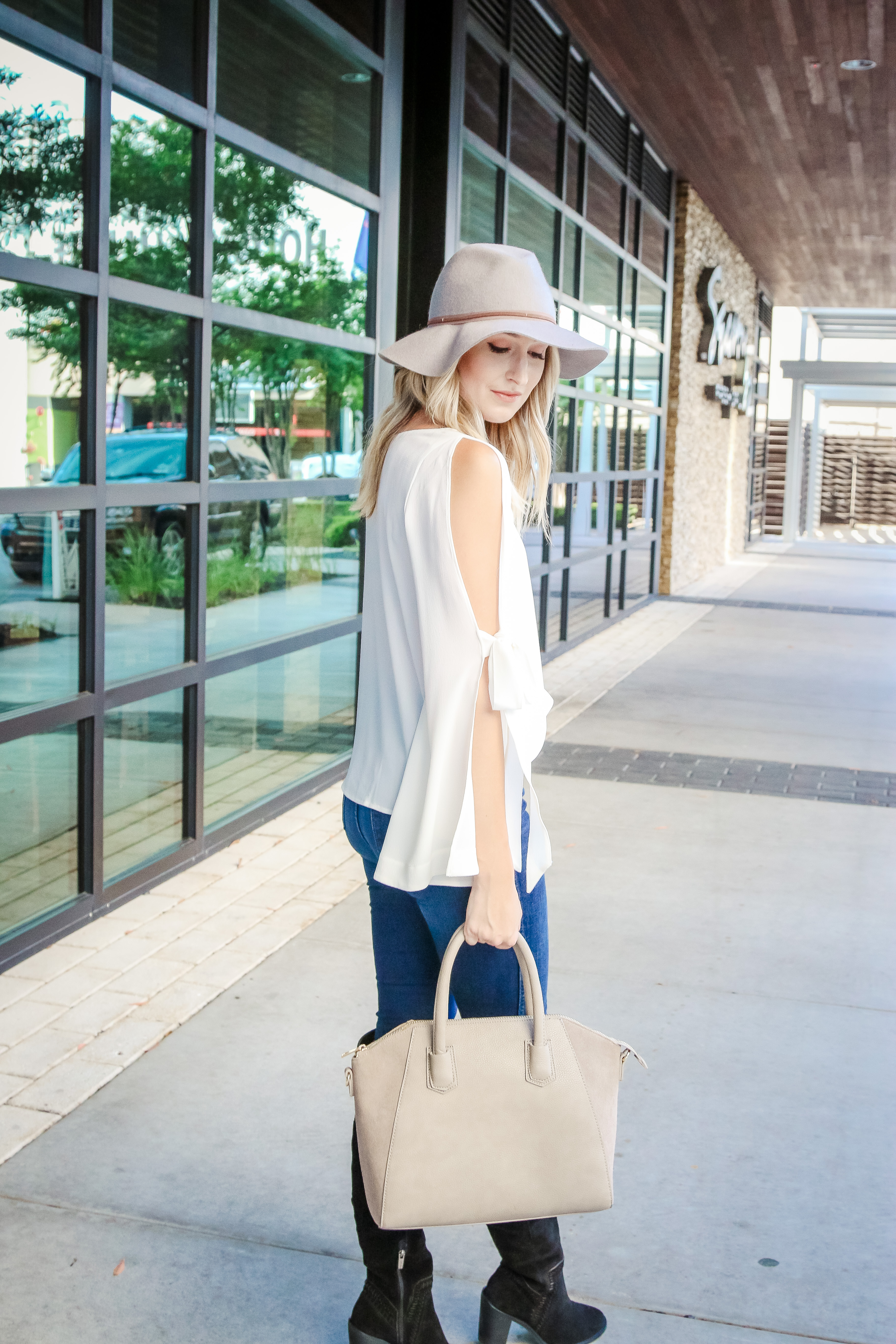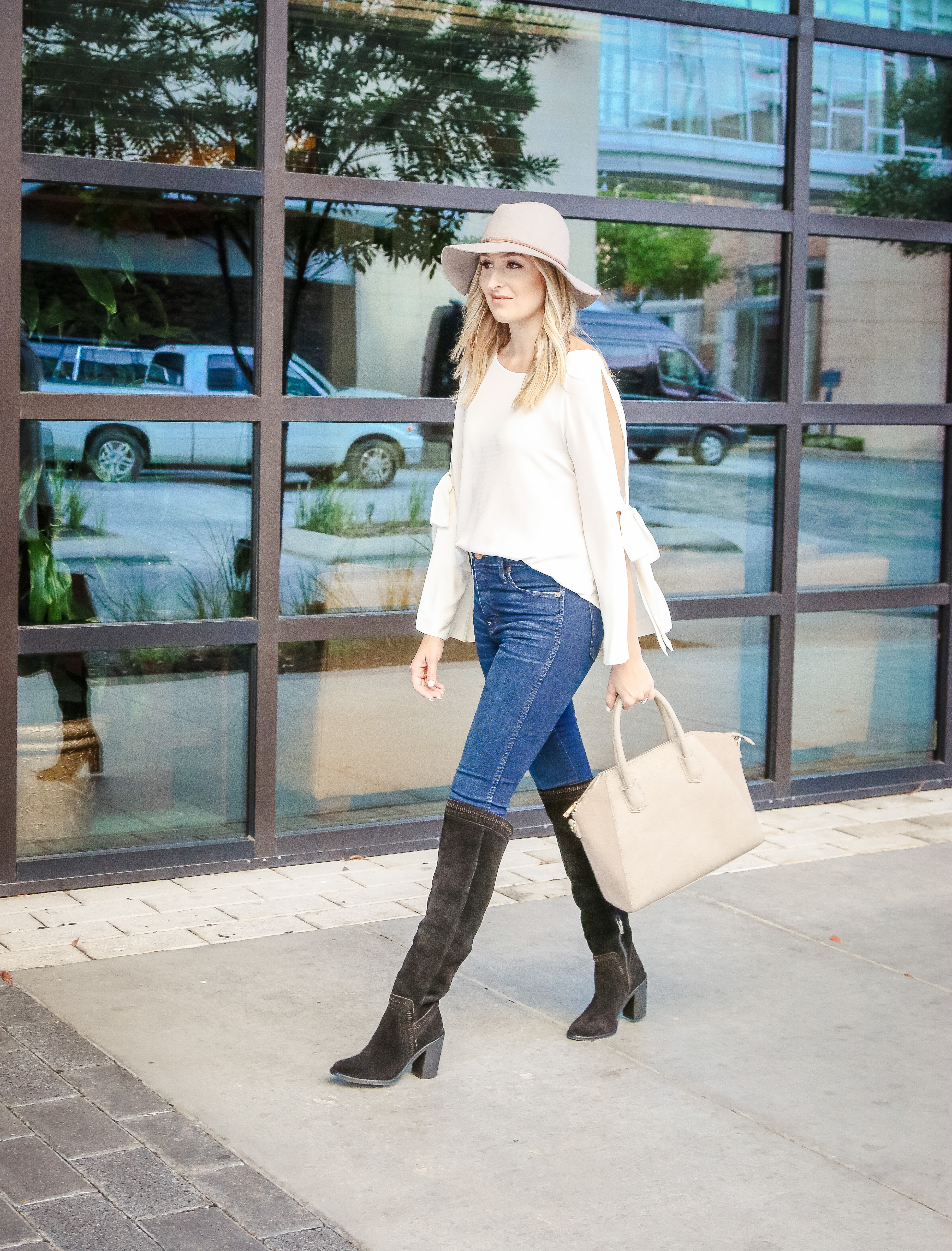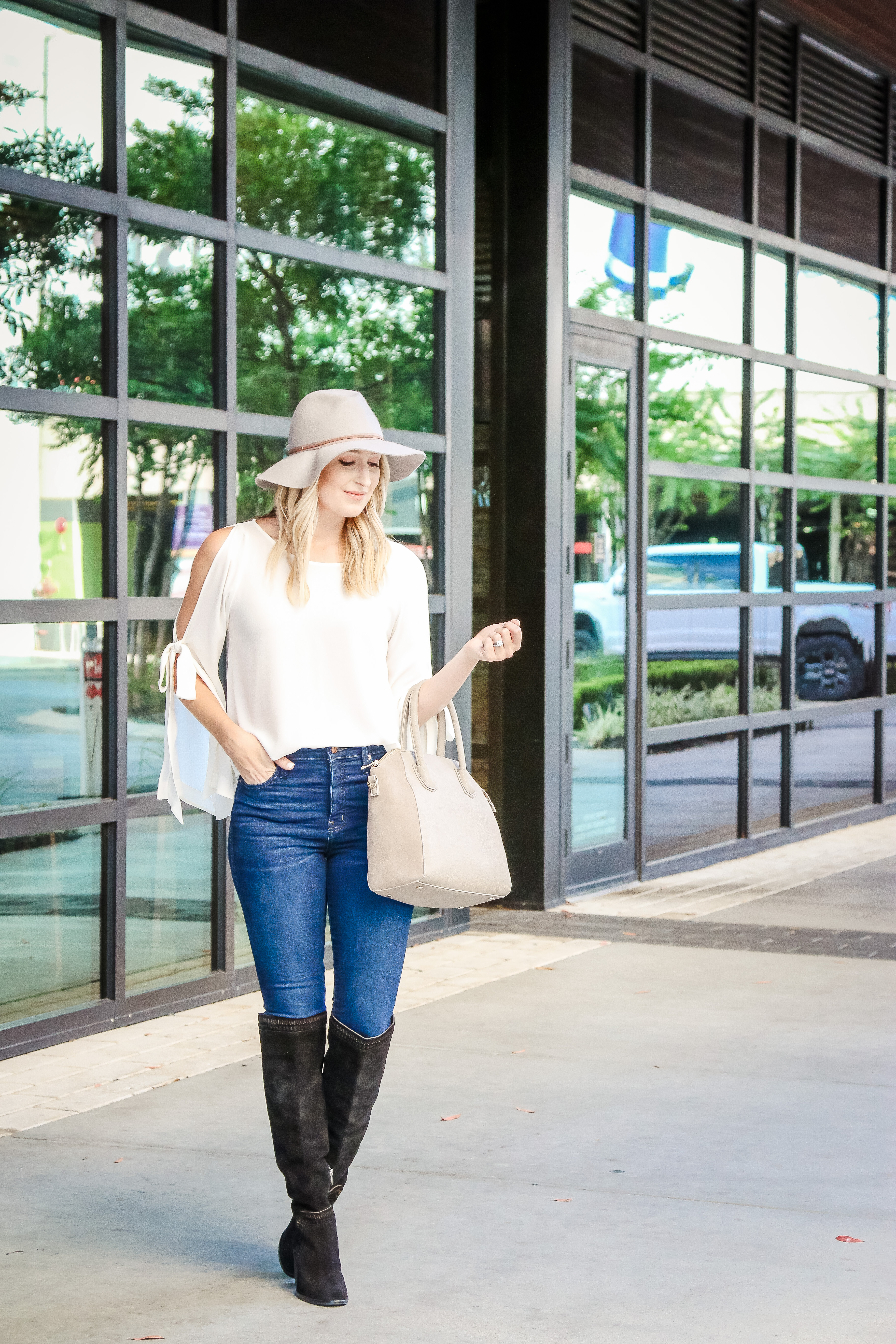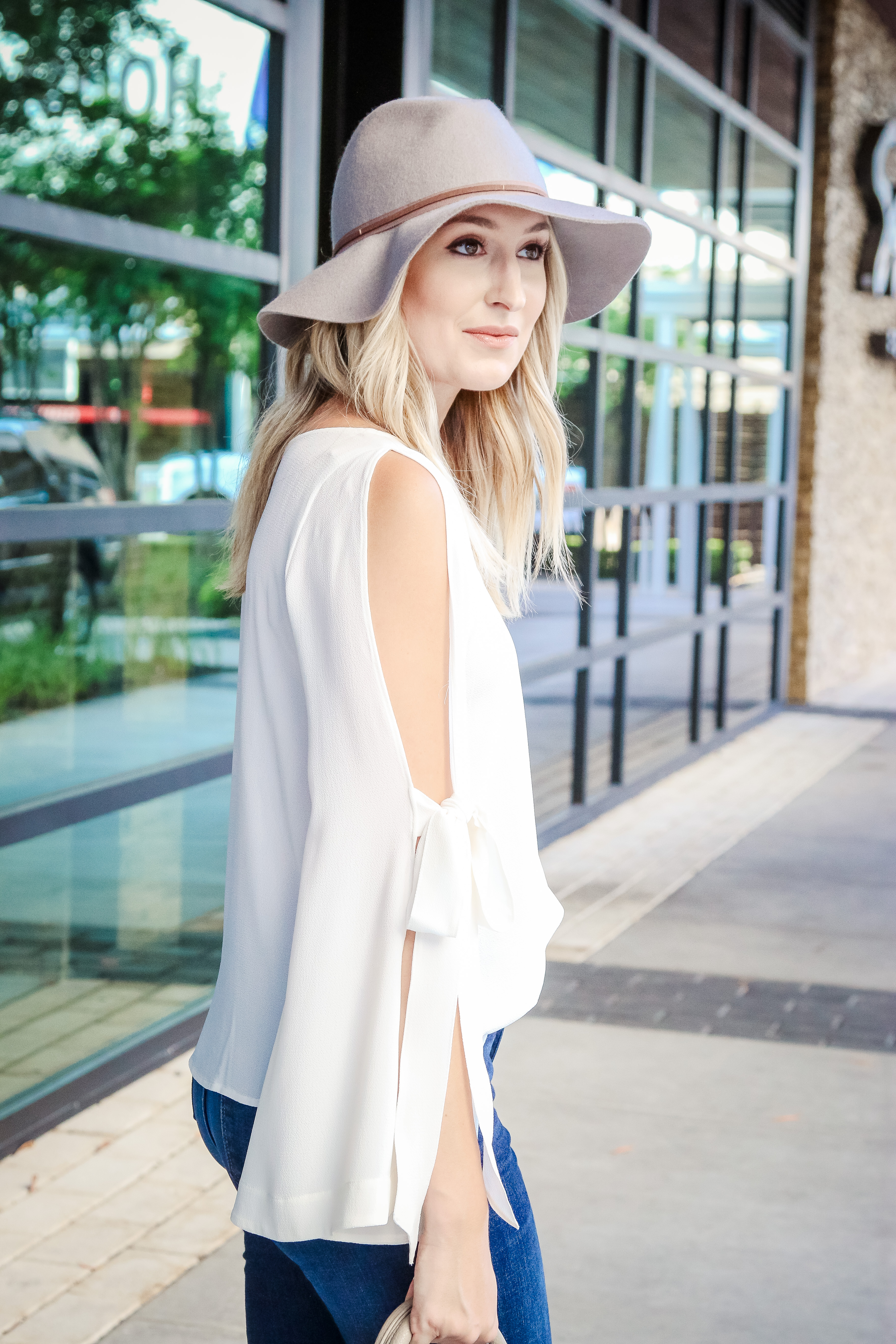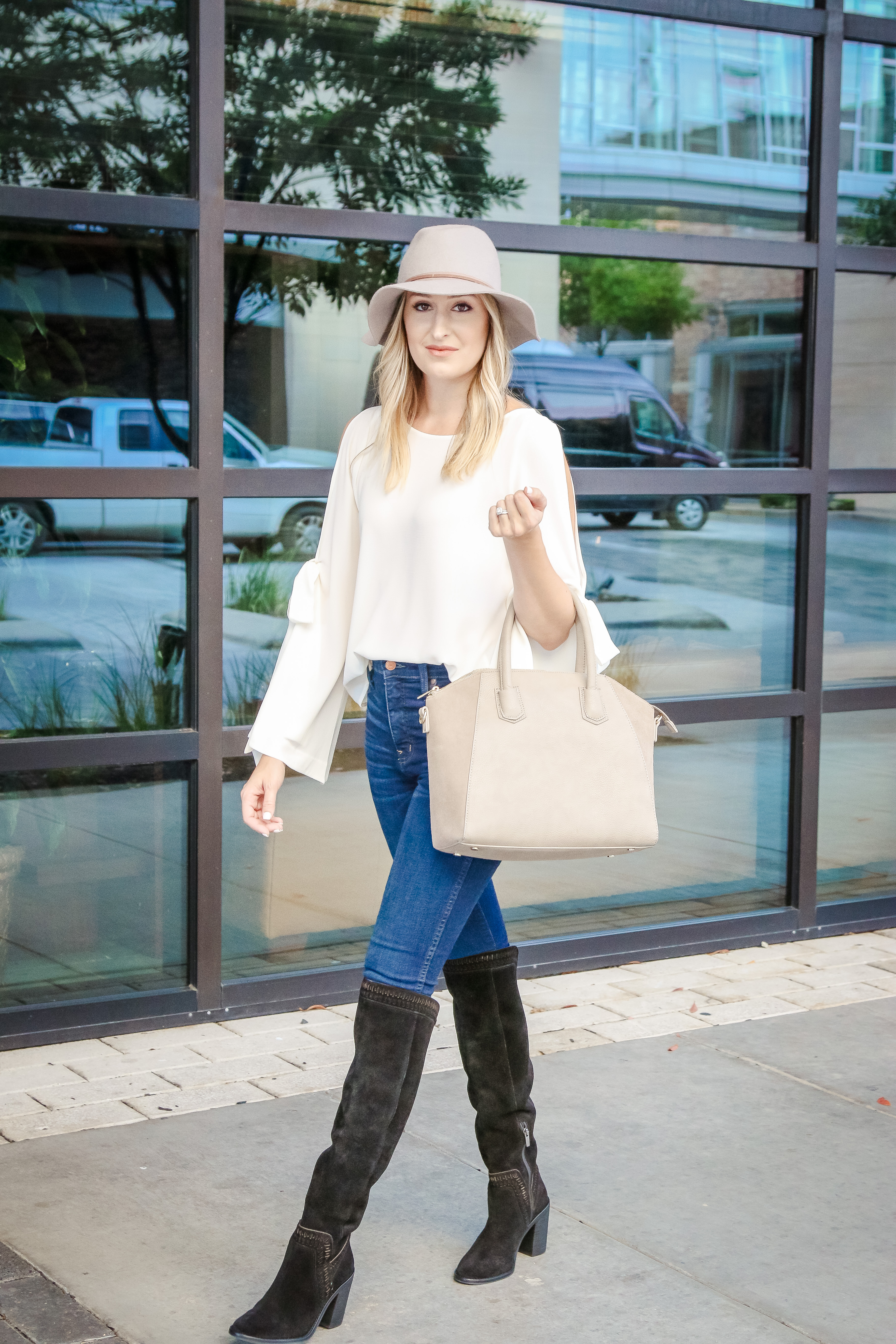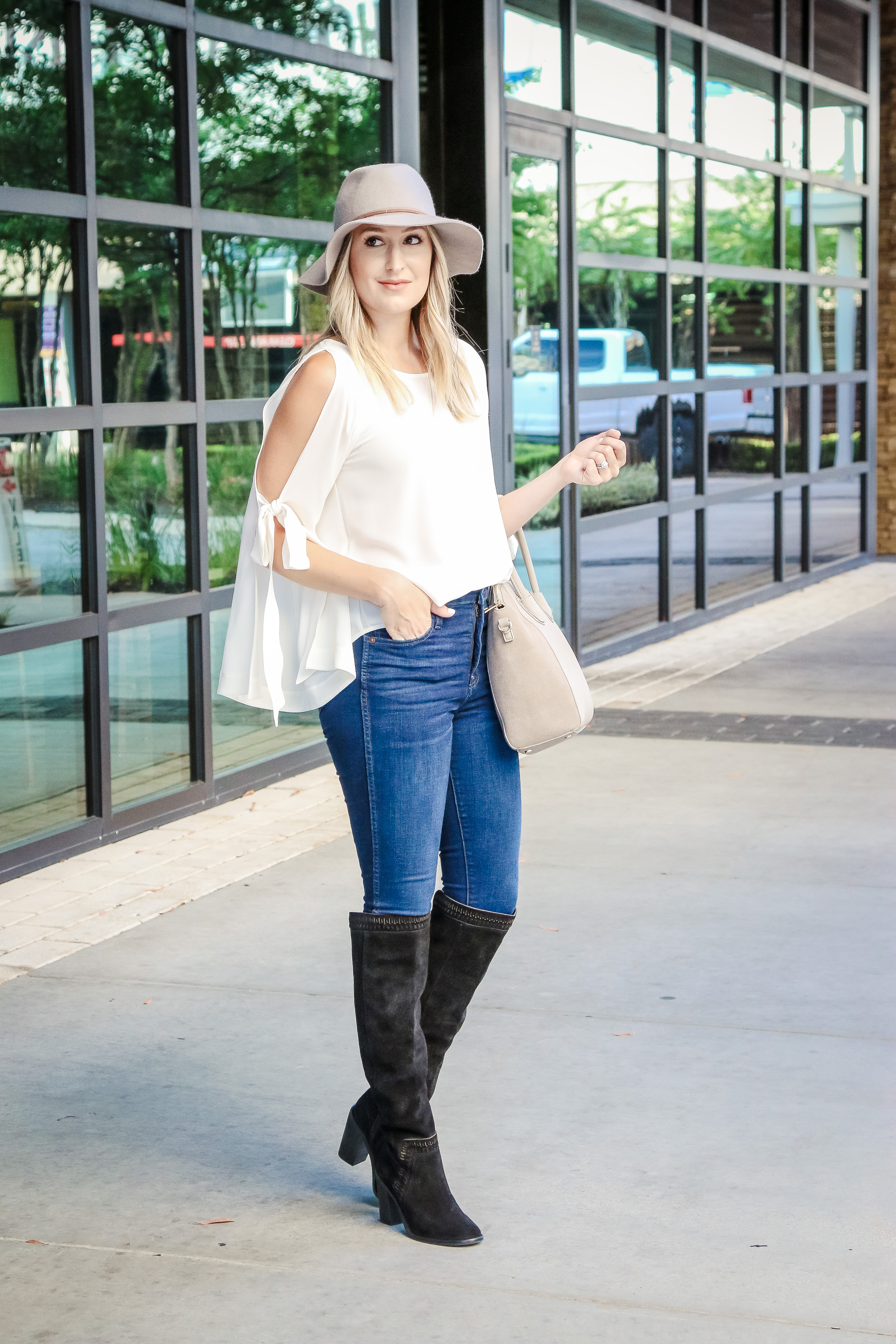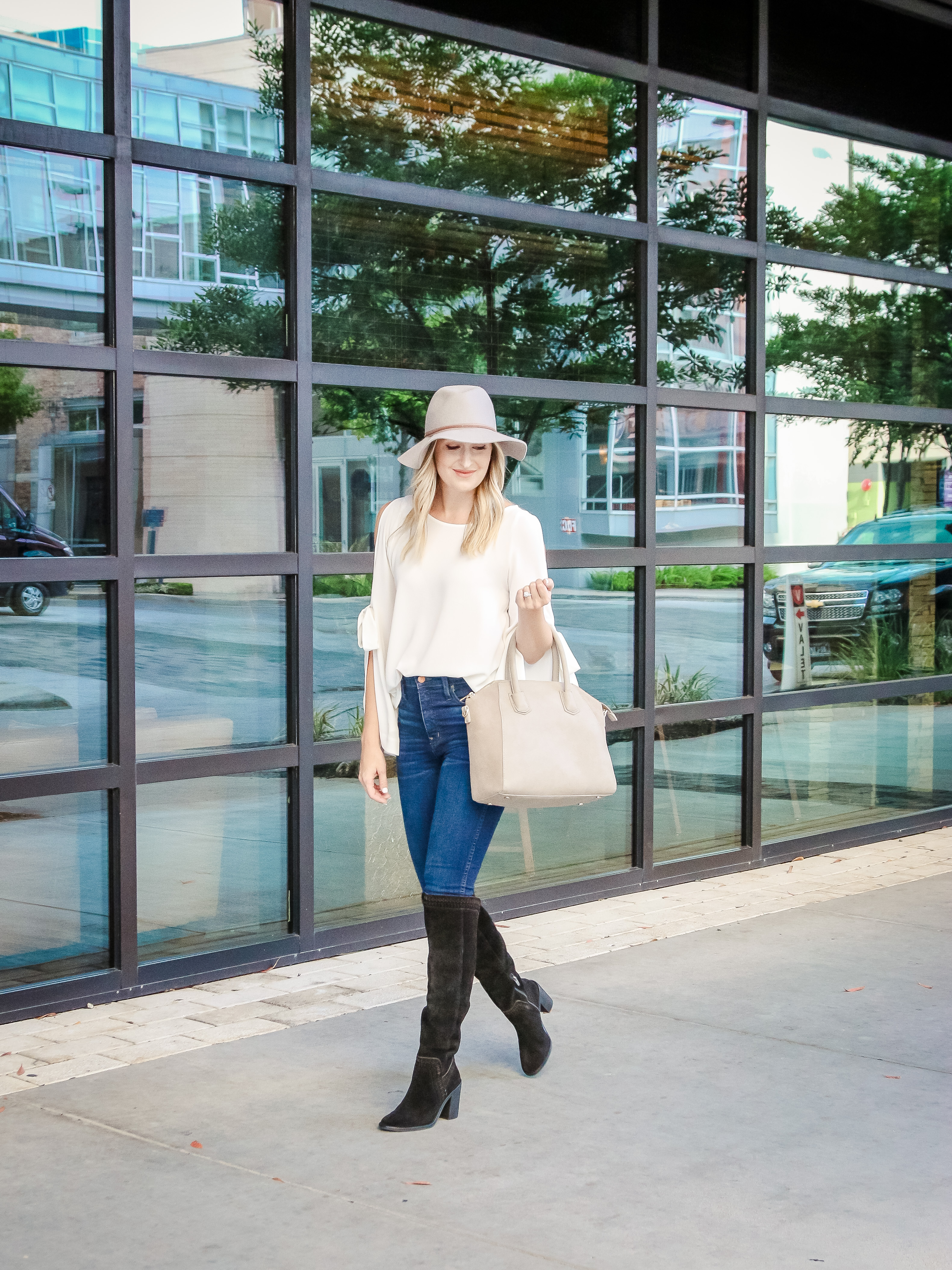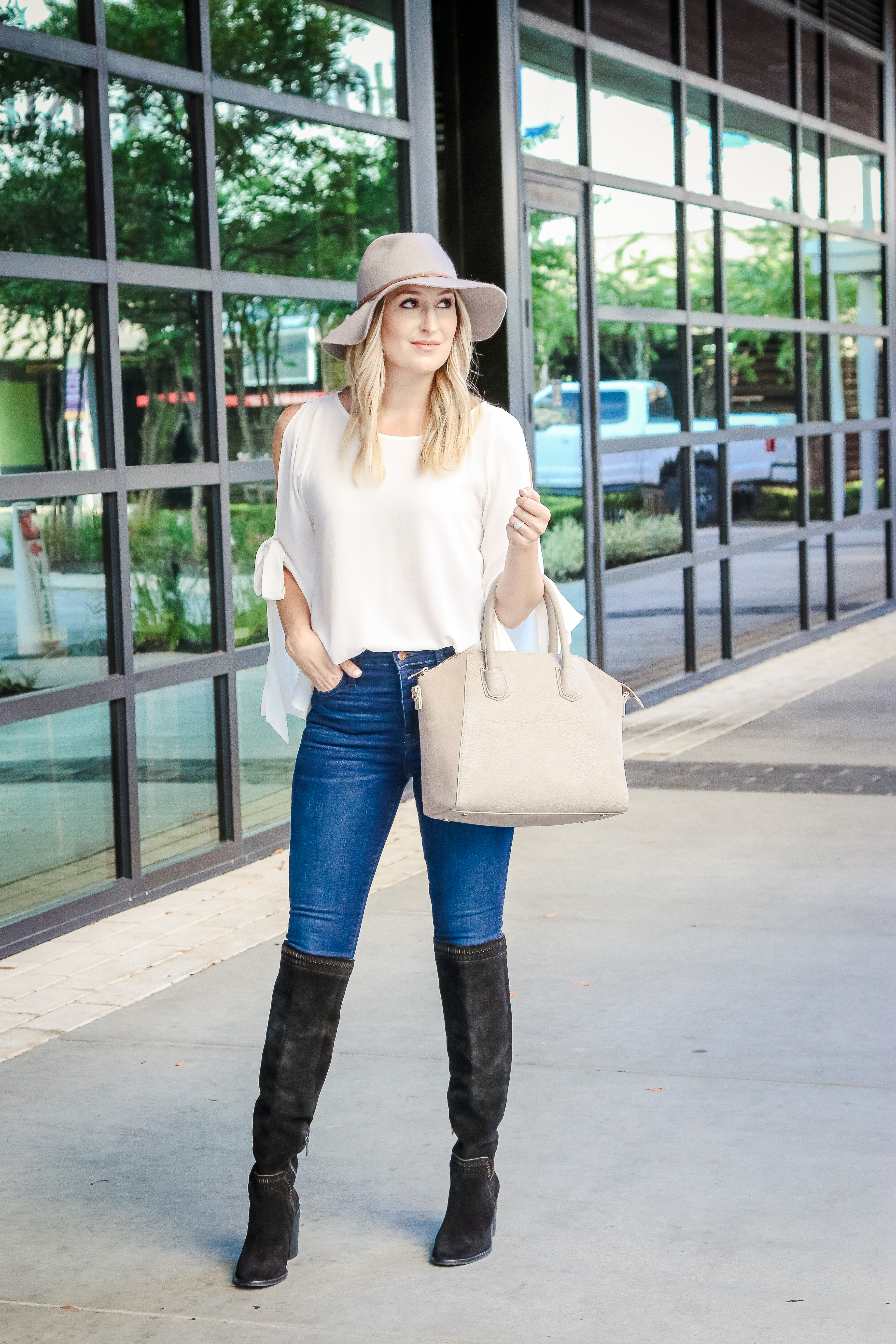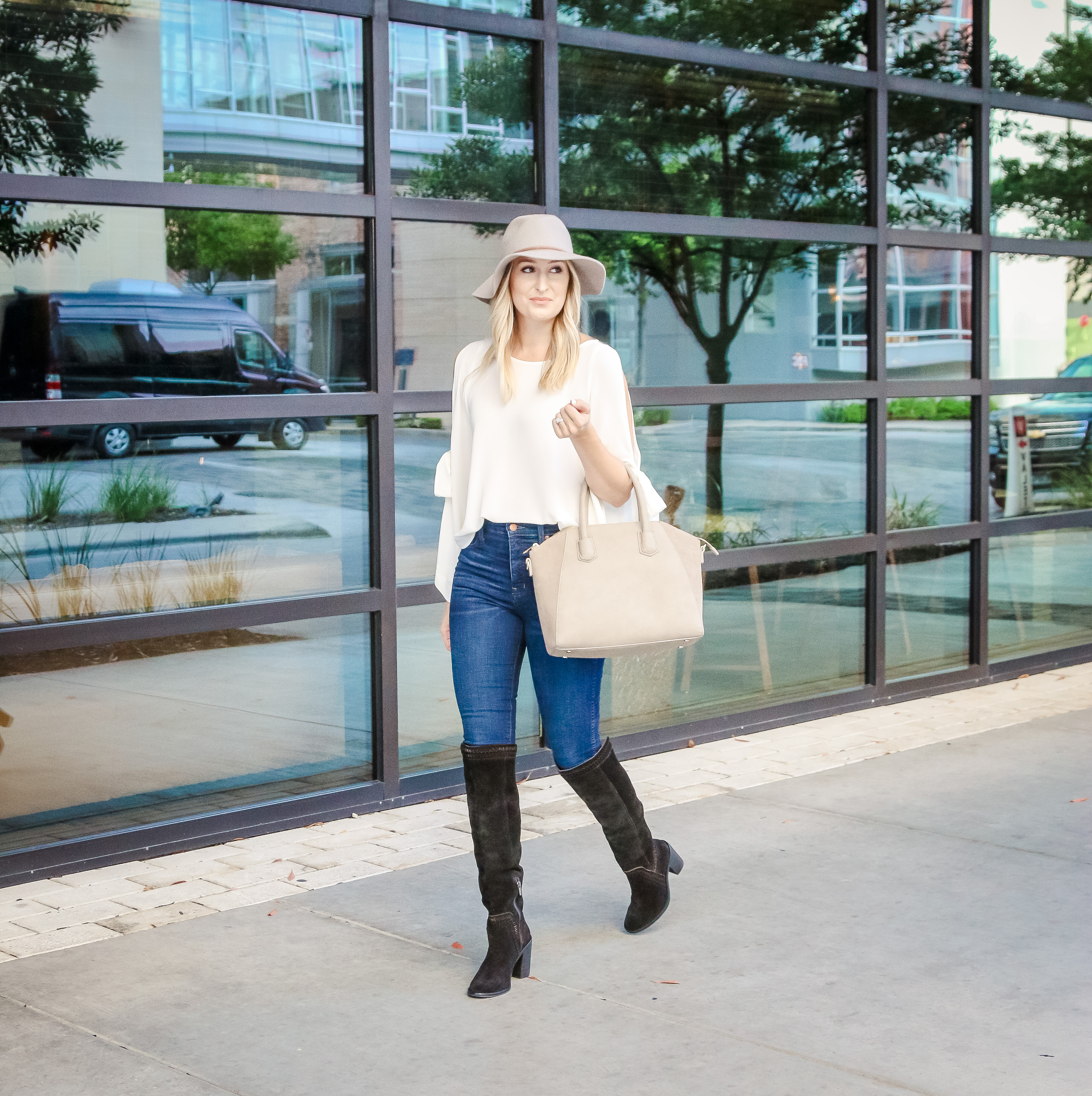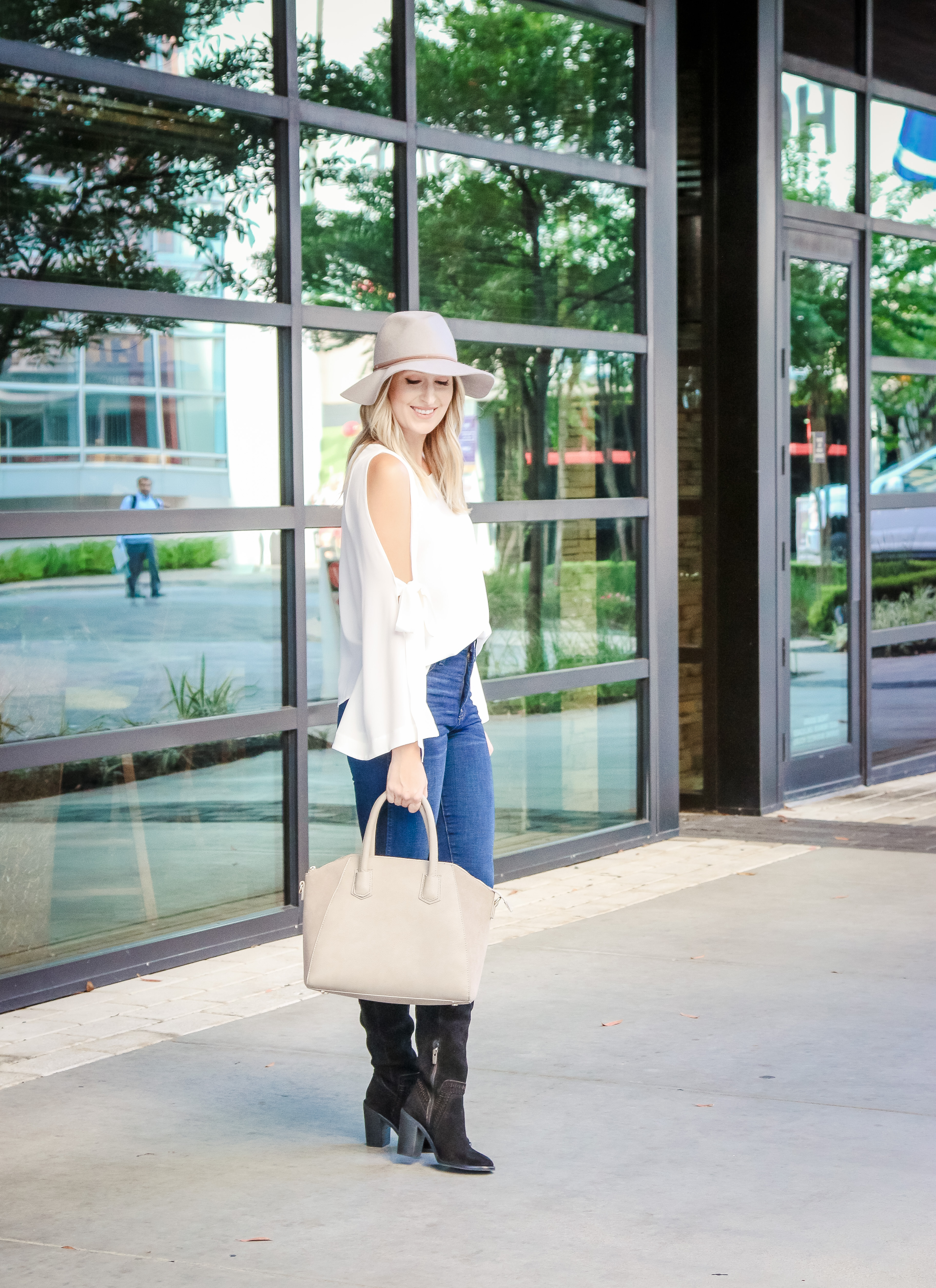 Top: Nordstrom (sold out, similar here) / Denim: Madewell / Boots: Vince Camuto / Bag: Sole Society / Hat: old, similar here and here
Happy Monday y'all! Hope you all had a nice relaxing weekend! We spent the weekend hanging out as a family and relaxing before our big trip to Disneyland next week! I swear y'all, I don't think I've ever been so excited for a trip in my life. I have been to Disneyland several times, but it's been about 10 years. Brad has never been, though he has been do Disney World in Florida a few times (but really just for day trips) since his family is from the Tampa Bay area. Liv has been to Disney World once for a short day trip, but she was 8 months old, so she doesn't remember, and Mason has never been. We also have my parents and my brother and his wife coming with us (my sister-in-law has never been either), so it should be pretty fun!
A lot of people always ask me why I prefer Disneyland in California to Disney World in Florida (I have been to both at least 3 times). My family loves Disneyland so much for a few reasons. You can't beat the weather, for one. You can go to Disneyland in the dead of summer and still not sweat too badly, especially if you compare it to the crazy hot and humid summers in Orlando. No joke, one year in Disney World, my little cousin (who was like 6 at the time) wanted some ice cream in the middle of the Tarzan show, in the afternoon. This show is located in this aluminum open air building that I swear just traps heat. The poor kid's ice cream melted so fast I'm not sure how much he actually managed to eat.
The other big reason we prefer Disneyland is the convenience. Disney World is SO big, and while it does have a few more attractions that Disneyland doesn't offer, it can take a while to get around. When we go to Disneyland we stay on the property (pricey, but worth it if you can make it work) at the Grand Californian Hotel. The walk from there to the Disneyland park (what Disney World's "Magic Kingdom" would be) is like 5 minutes or something, and you basically just walk through Downtown Disney to get there. My favorite thing about this is that we never have to rent a car. The shuttle picks you up at the airport, takes you to your hotel, you enjoy your trip, then the shuttle returns you to the airport for departure. Seriously, so amazing, especially since I hate riding in cars. And with two little ones, this makes everything so much easier.
Anyway, that's enough about Disney. I'm sure I'll share more about our trip once we actually go on it! So I have some bad news about this outfit. I kind of waited too long to post these photos and this top is sold out. I didn't get it all that long ago, but it must have been a popular one. I tried linking a few similar options though, because this would be a really easy look to recreate. Any white or ivory cold shoulder top or even just a bell sleeve top would totally give you the same vibe!
Here I am wearing my 10-inch high rise jeans.  I swear y'all, if you haven't tried on Madewell jeans yet, go do it. Their jeans are magical. I don't know what they do, but they always have the most flattering fit, particularly in the front rise. I think it has something to do with the way they construct their pockets. I don't know, but they are so good. I swear they also lift my butt. I'm telling y'all, you have to try them.
I got these black boots during Nordstrom's Anniversary Sale this year and they were definitely one of my favorite purchases. I wanted a pair that was over-the-knee and had a little bit of a heel, so these are perfect. Plus the detailing on them is so pretty, and keeps them from being super basic. I've worn them with leggings, skirts, and jeans so far. You will probably be seeing them a lot this season!
Hope you all have a good week!
xo, Loren
Photos by The McRaes Photography