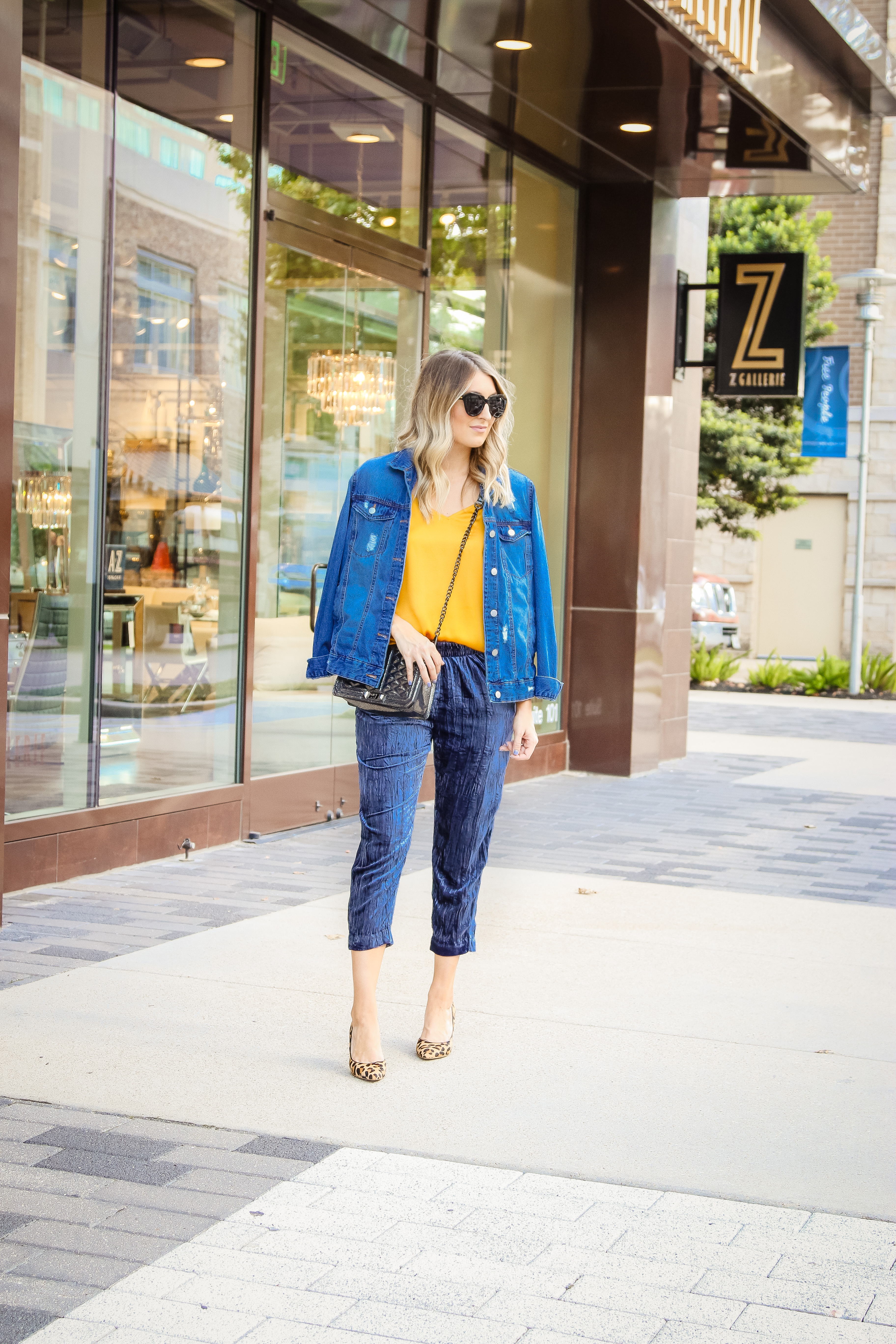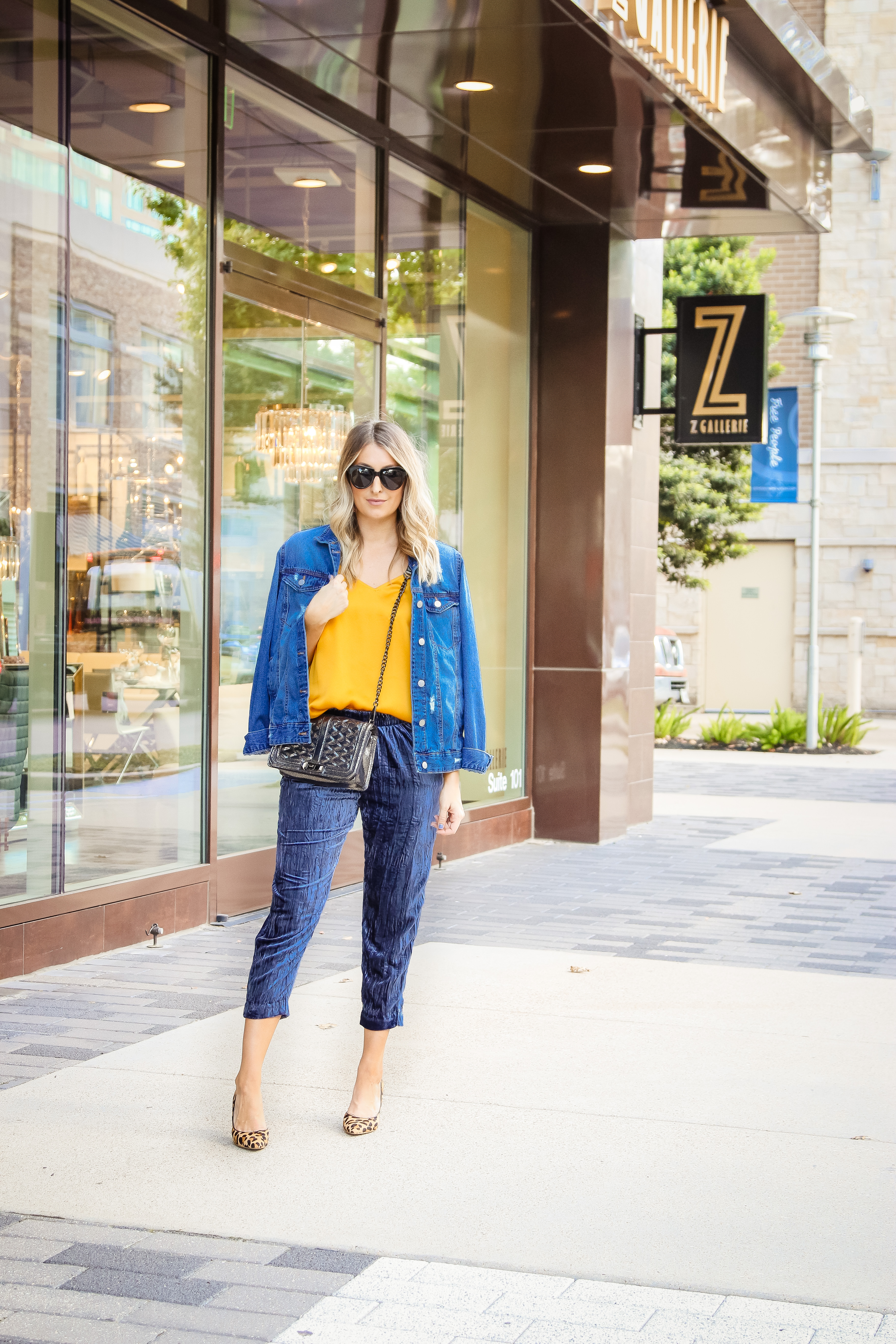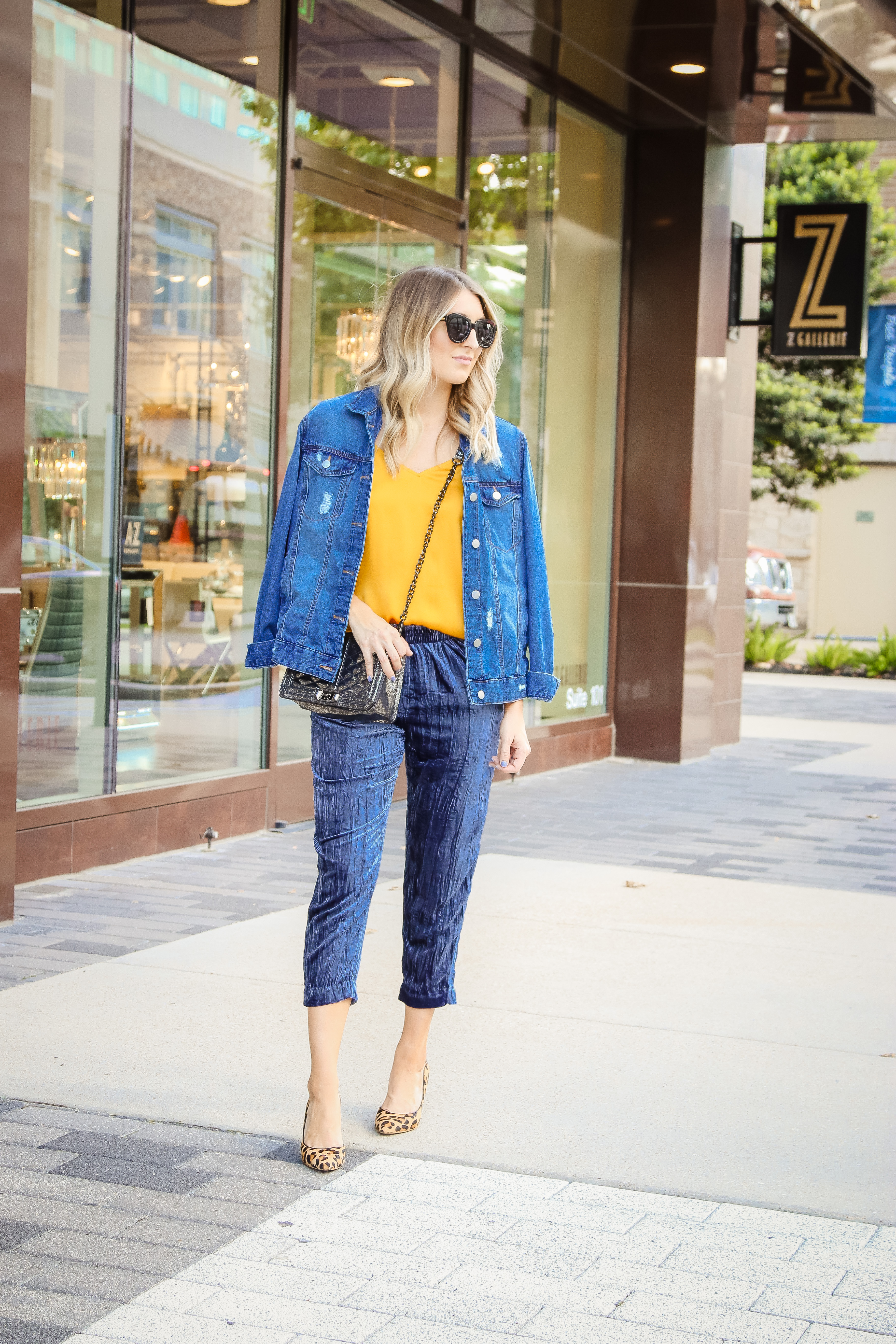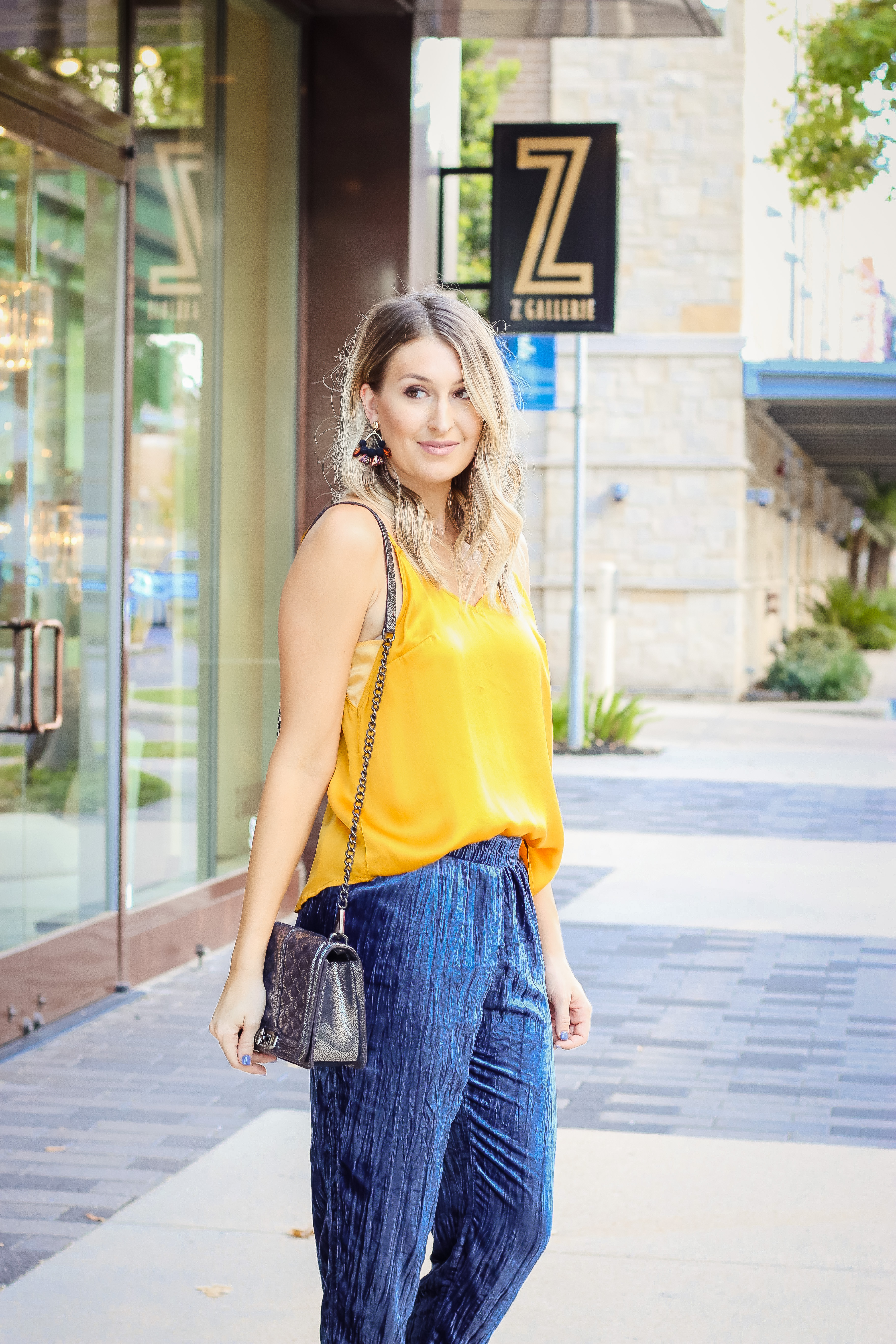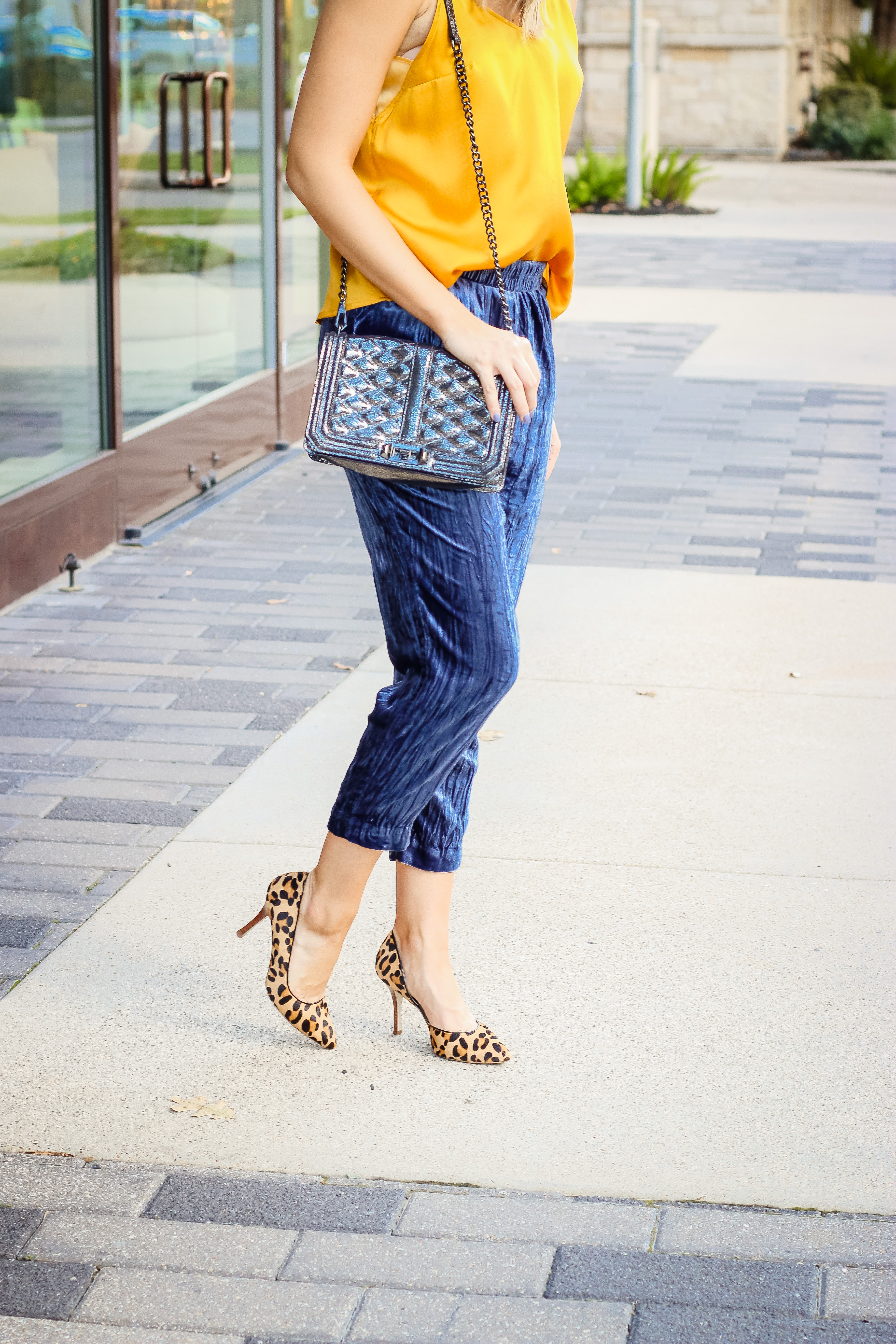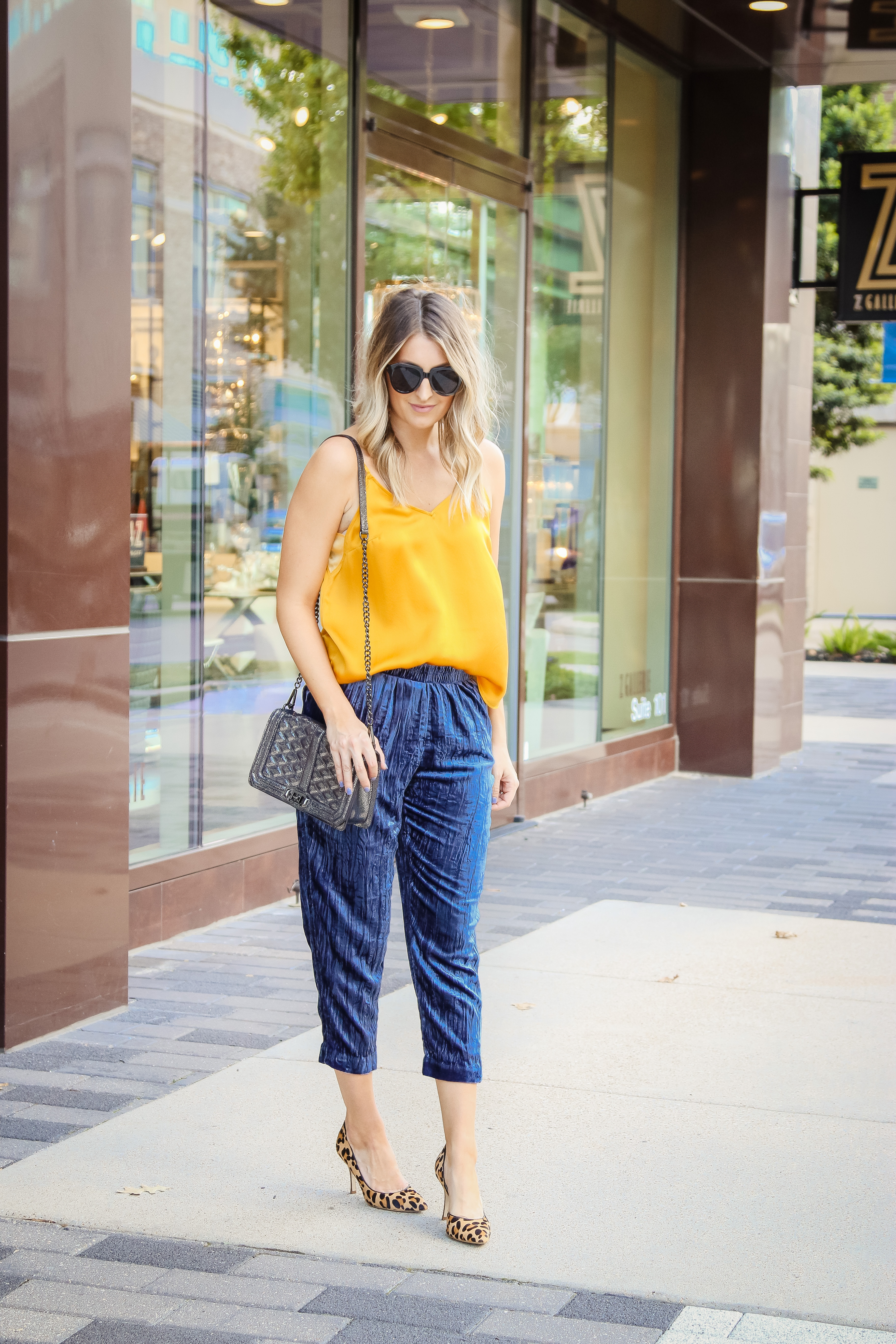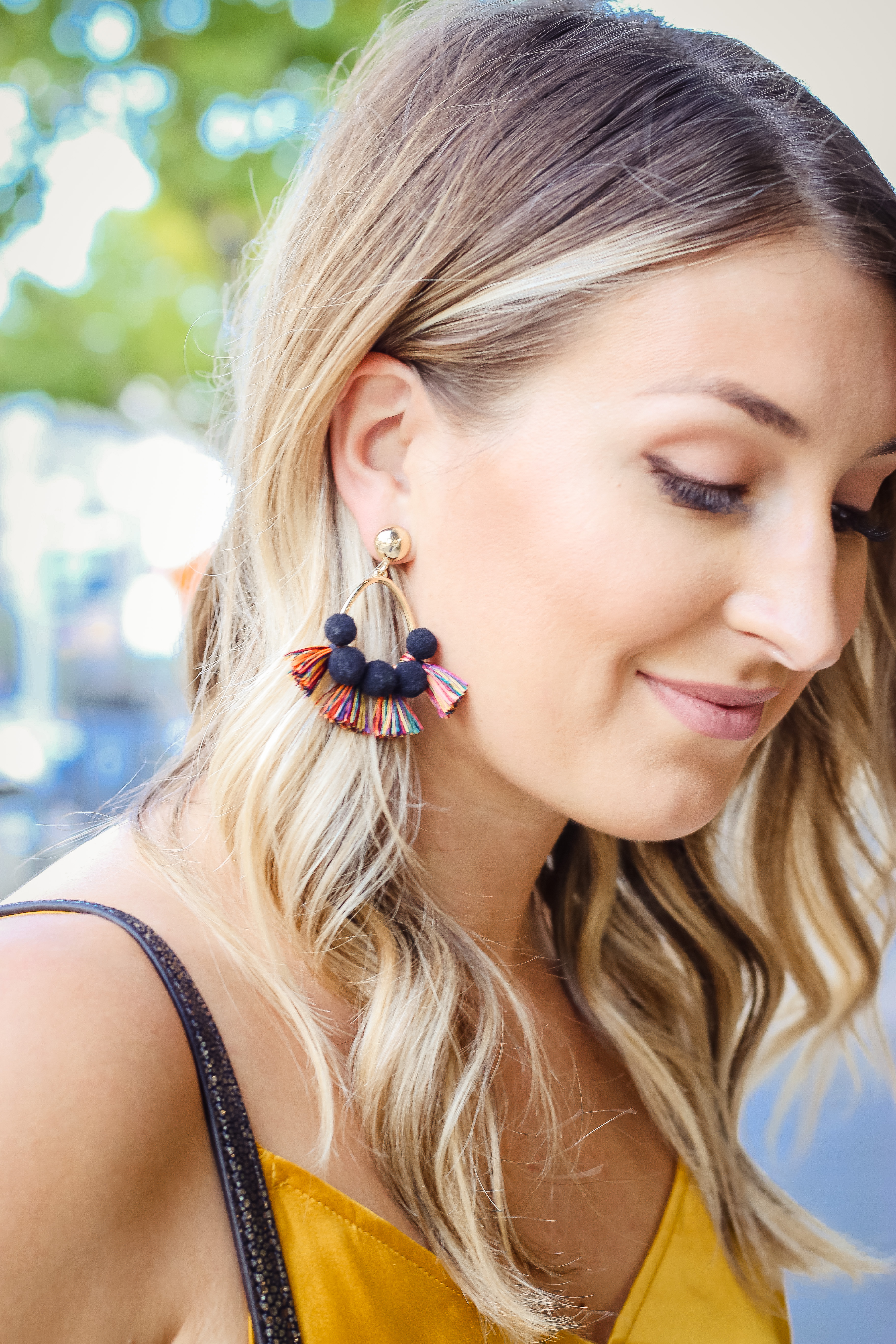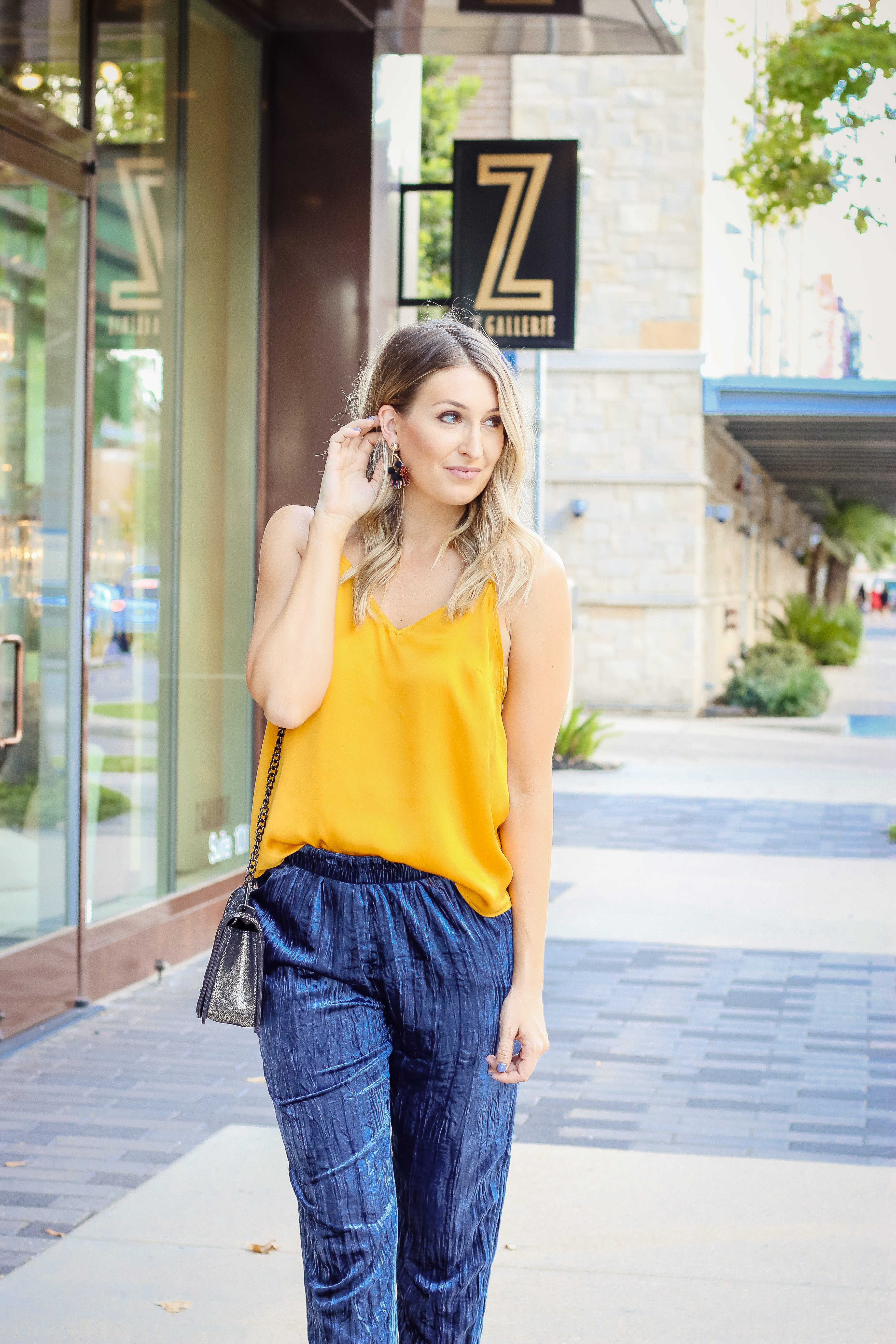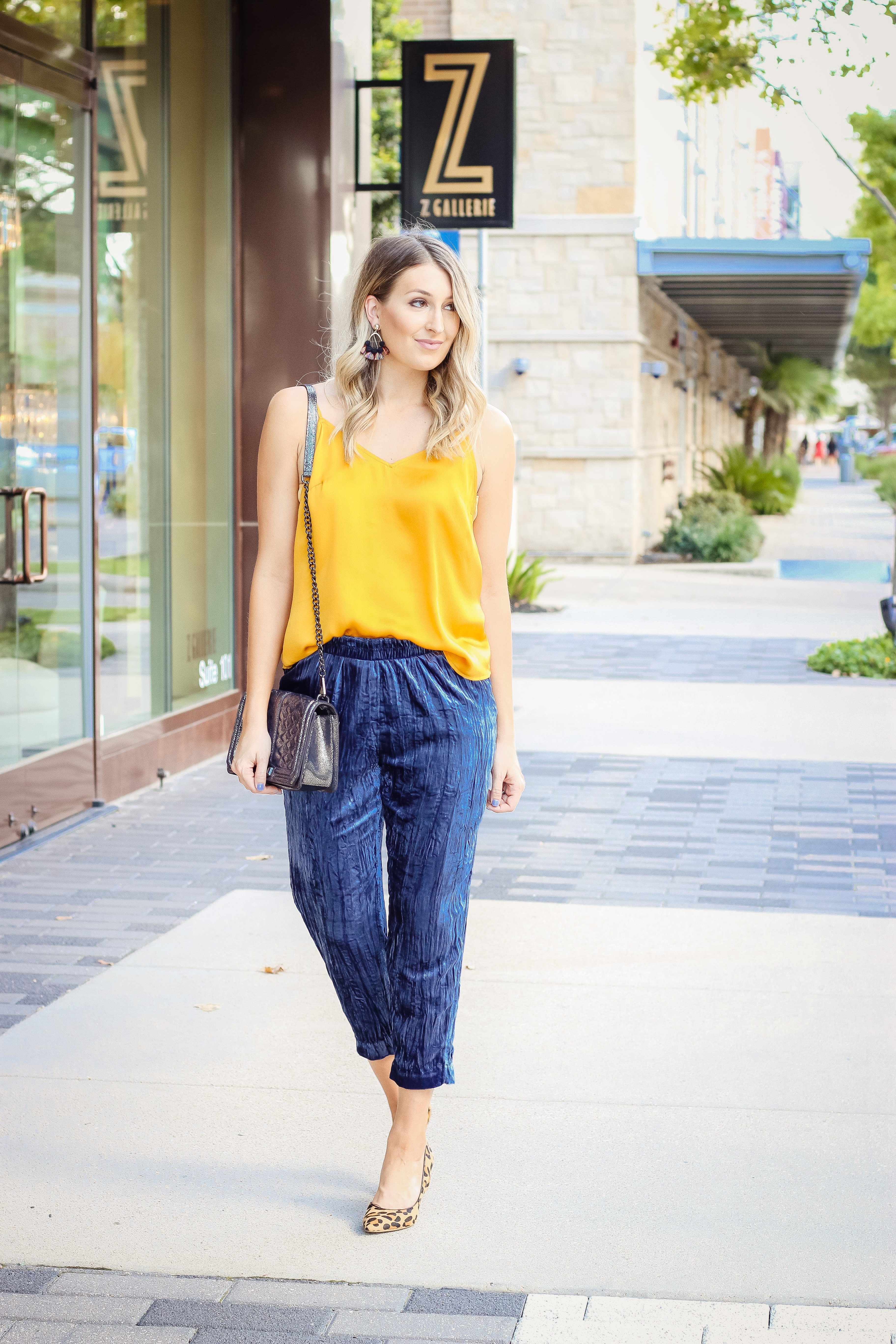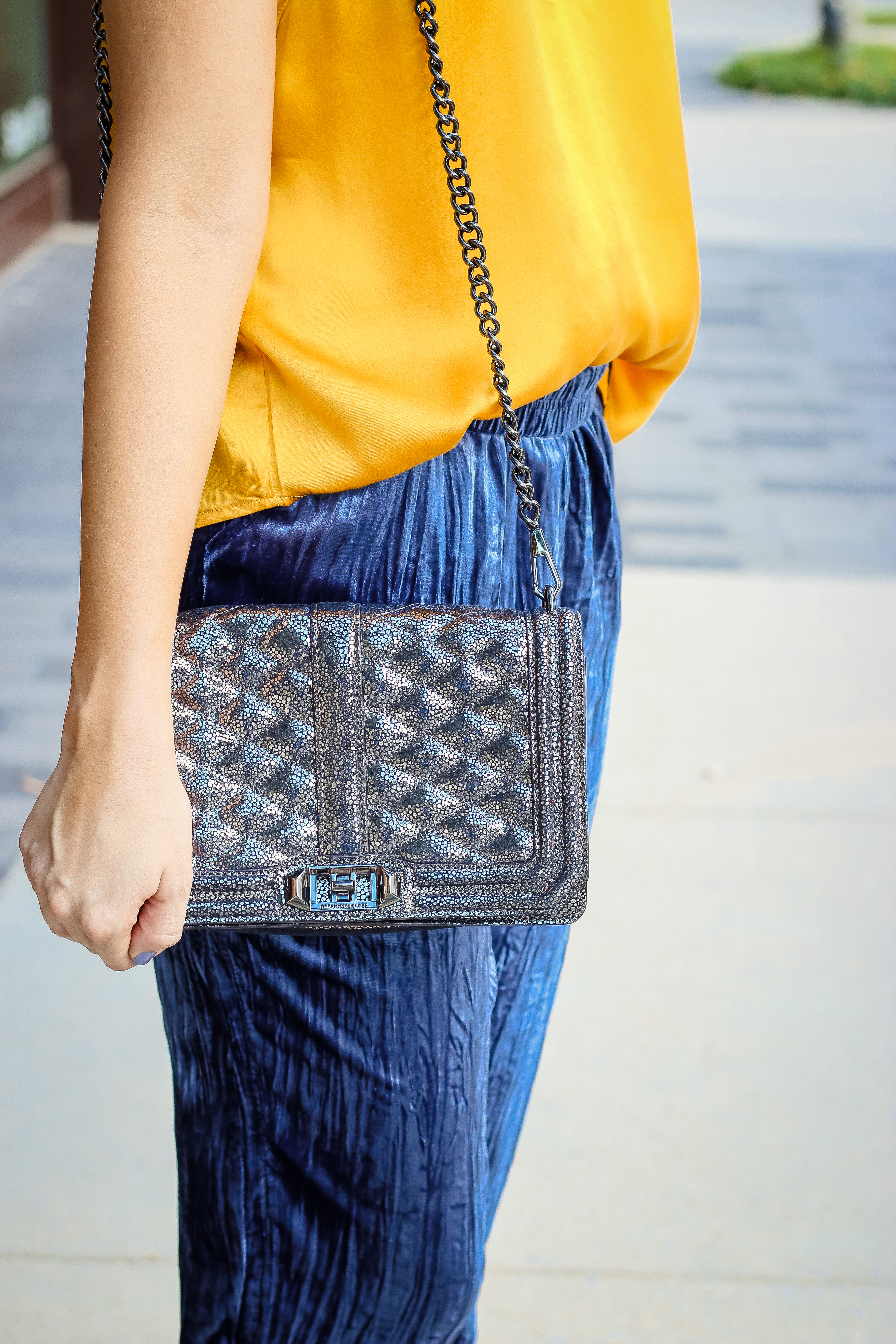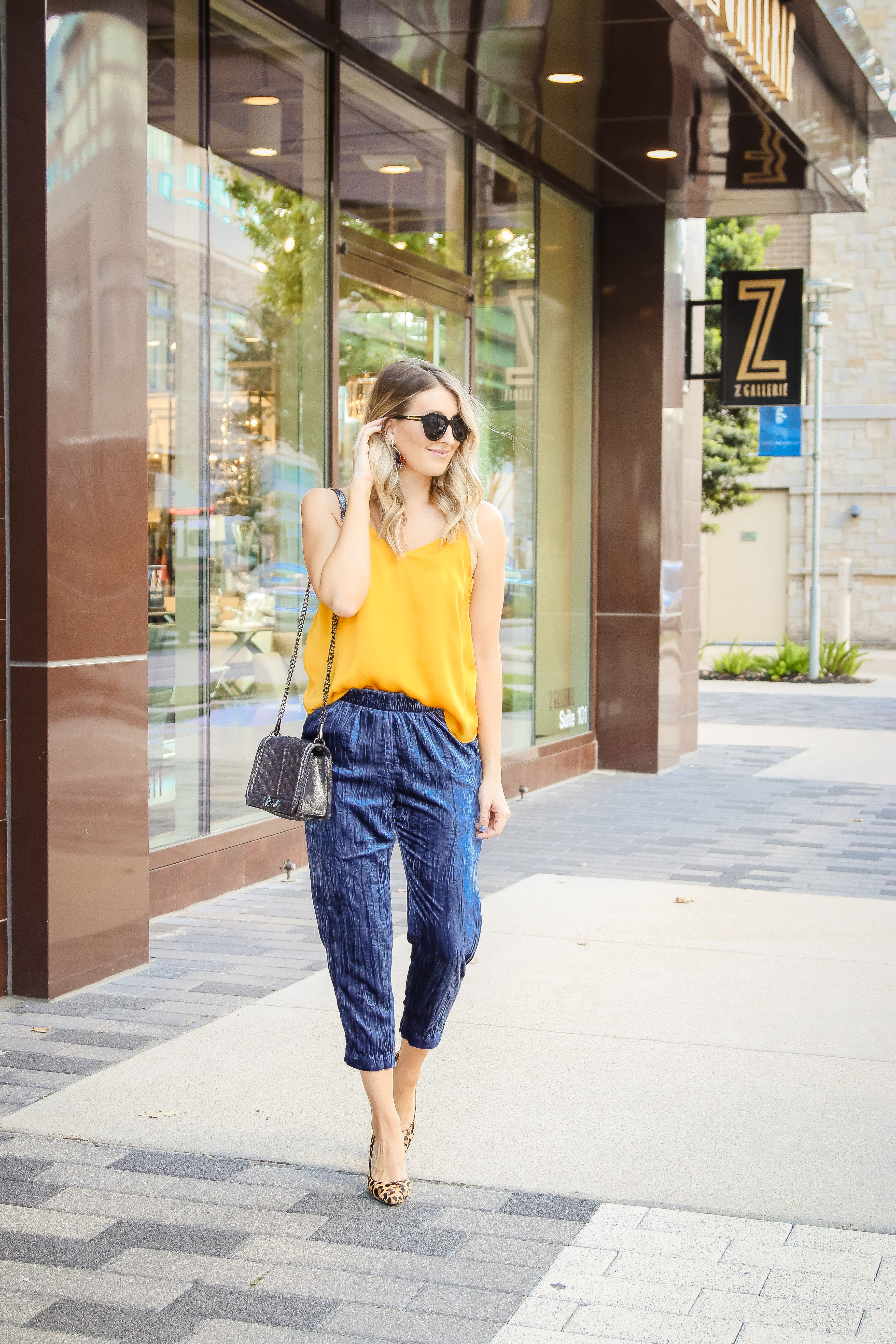 Jacket / Cami / Joggers / Similar Shoes / Similar Bag / Sunnies / Earrings
Happy Monday loves! Hope your week is off to a good start! I totally meant to have this post live by this morning for y'all, but I stayed up a little too late last night binge watching Game of Thrones, so you know.
Also, anyone else ever feel like they need a vacation after a vacation? We got back from Disneyland (recap post coming soon) last Wednesday and I swear I'm STILL tired from it. I mean, I guess that's what happens when you have a two hour time change and stay up with two toddlers until 10pm or later for four nights in a row! Today was at least a somewhat relaxing Monday. The kids had school and I had no plans so I just leisurely did a little Christmas shopping today!
Okay so this outfit just might be my all-time favorite outfit. I am SO glad the velvet trend stuck around for this fall because I love it! I got these velvet joggers a few weeks ago, and of course paid full price for them, and now they are ON SALE for $70, plus an additional 25% off! At least I can let y'all in on the deal, right?! I do recommend sizing down on these. I bought them in an extra-small, and my normal size is a small. Many of you have asked me to style these for a more casual outfit, which I swear I'm working on!
I have decided that good layering camis are hard to come by. For me, I want them to be long enough, have just the right amount of slouch to them, and have the perfect neckline. This one is a great option for layering or to wear on its own, especially if you're looking for a cami in a color besides ivory/white and black. This gold color is huge for fall, and looks good with a lot of other fall colors! I am actually wearing a medium in this, because that's just what they had in the store and I decided it worked, but I probably COULD wear a small, so I'd say it runs true to size.
I feel like I went a little crazy with accessories for this look, but I kind of love how it turned out! I feel like whenever I don't know what shoe to wear with a look, a leopard pump always looks good. I'm sure there are situations where it wouldn't, but it seems to be a good rule of thumb for me. This exact pair is old, but I'm currently loving these, especially with the block heel!
When I purchased these tassel earrings I honestly got them because I thought they'd be fun for when I wear black, but I love them with this look too! My favorite thing about the tassel earring trend? (At least the ones made of yarn) They are so lightweight you can wear them every day!
The bag I'm wearing here is an old one as well. I had a really hard time finding a bag to pair with this look, and I honestly thought this one would be too much, but I kind of love it! I found a couple of similar options here and here.
xo, Loren