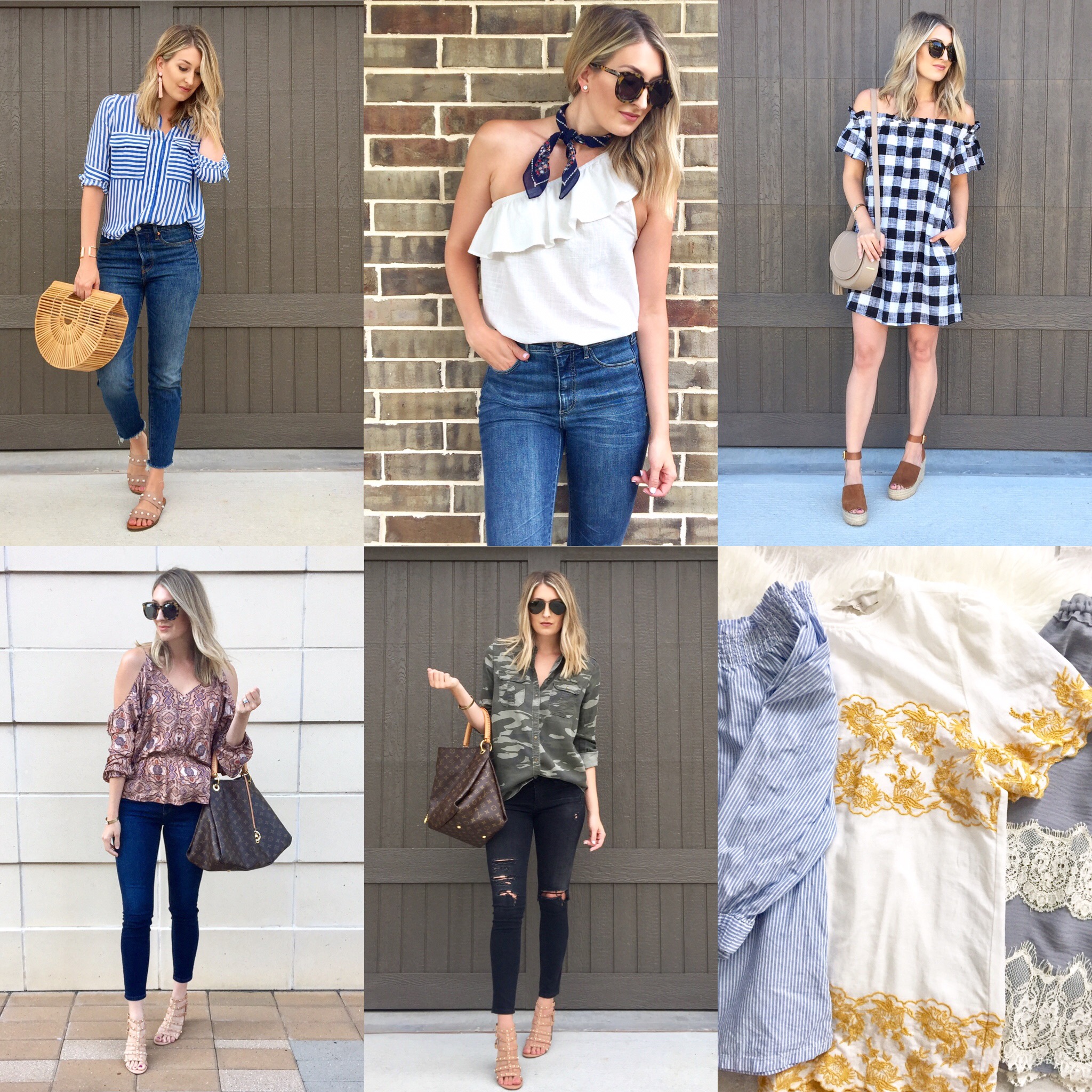 Happy Friday babes! I am SOOO happy it's finally the weekend. It's been a tough week for this momma! Plus, today I am celebrating 5 years of marriage with my hubby, so we've got a fun date night planned for later that I'm looking forward too! And, of course, it's Easter weekend, so there's all sorts of fun celebrations going on! We are taking our kids to a HUGE easter egg hunt at our church tomorrow morning. Like, they are dropping 30,000 eggs by helicopter…how cool is that?! I am so excited to take them!
I finally got around to doing my first ever Instagram Roundup…hope you guys enjoy! Oh, and ignore the Liketoknow.it symbol in the bottom corner of some of the pics. I had already deleted some of them from my phone so this was all I had to use for the post haha!
Off the Shoulder Tee / Embroidered Shorts / Tassel Earrings
These are quickly becoming my favorite pair of shorts I own. I am so into embroidered denim lately, and I just love these for spring!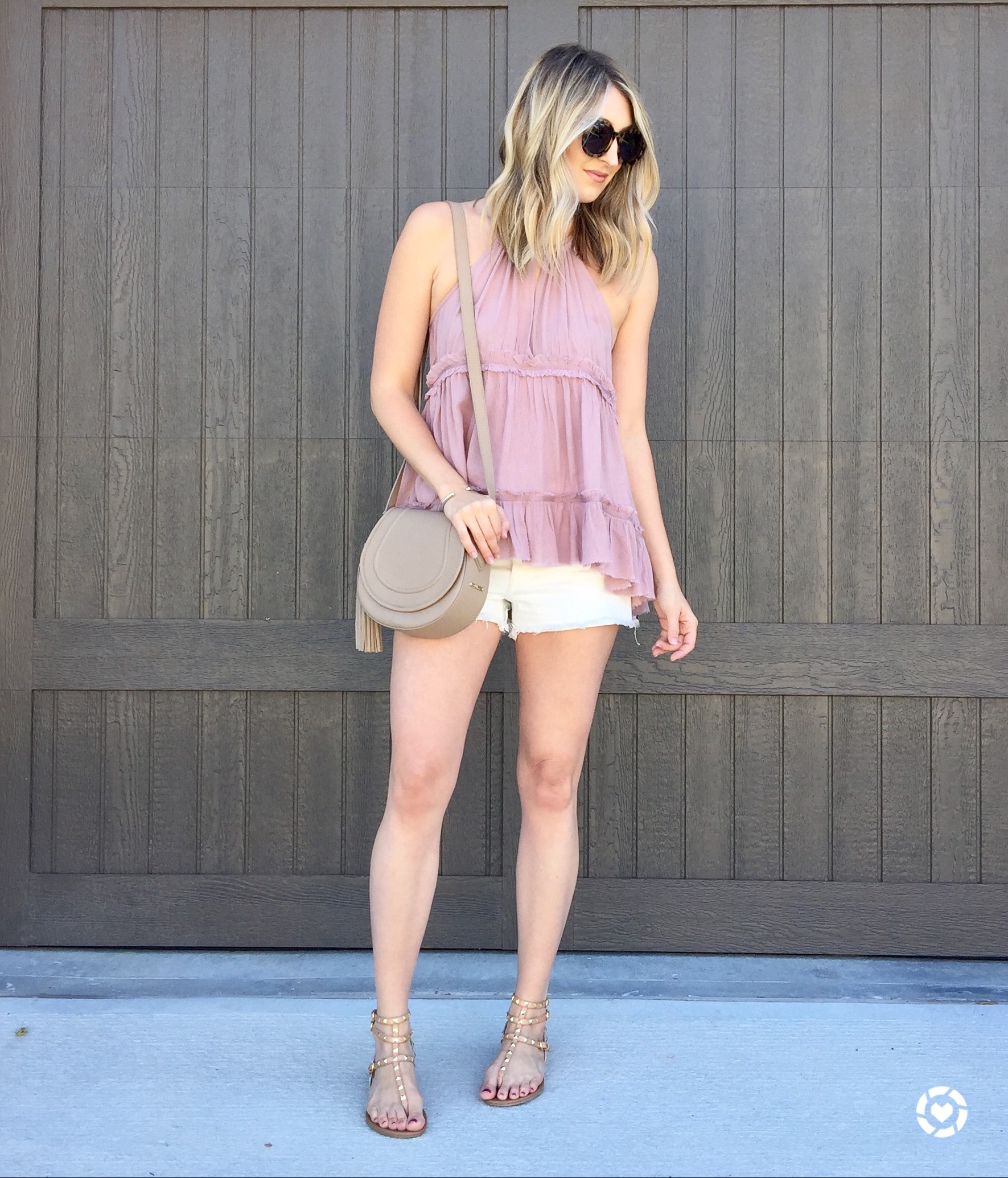 Tiered Top / White Cutoffs / Studded Sandals
This top was just too pretty not to buy! Plus, I needed it in an XS because it runs a bit big, and who can say no to that?! (Especially after two kids haha!)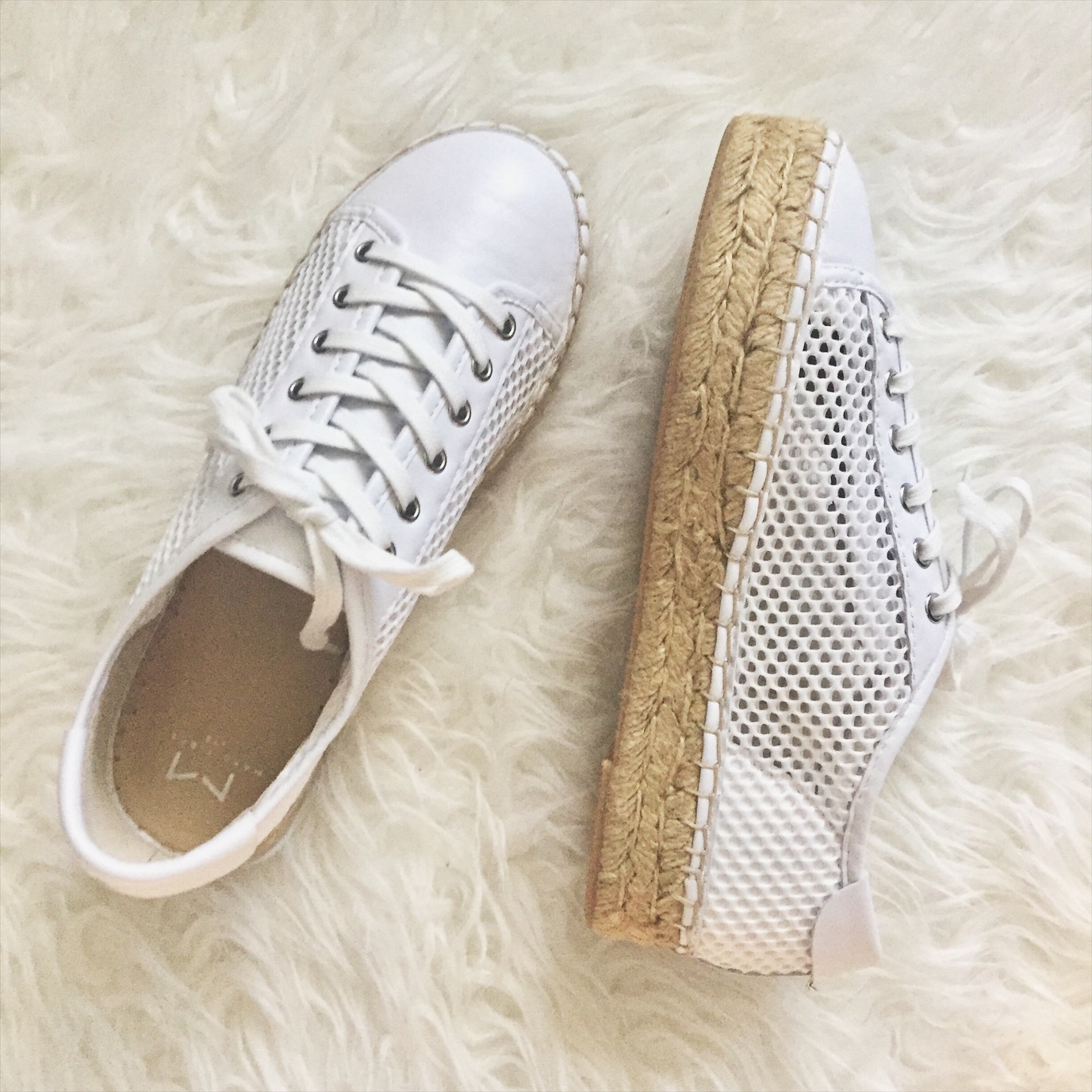 You guys, I LOVE these shoes. An espadrille meets sneaker, with perforated leather detailing?! YES.
Ark Bag / Pearl Embellished Sandals
I have been DYING to get my hands on one of these coveted ark bags. When I found one in stock I about freaked. My husband ended up ordering it for me for an anniversary gift, since year 5 is wood. Okay, technically the bag is bamboo, but close enough, right?! And these sandals…I mean…obviously.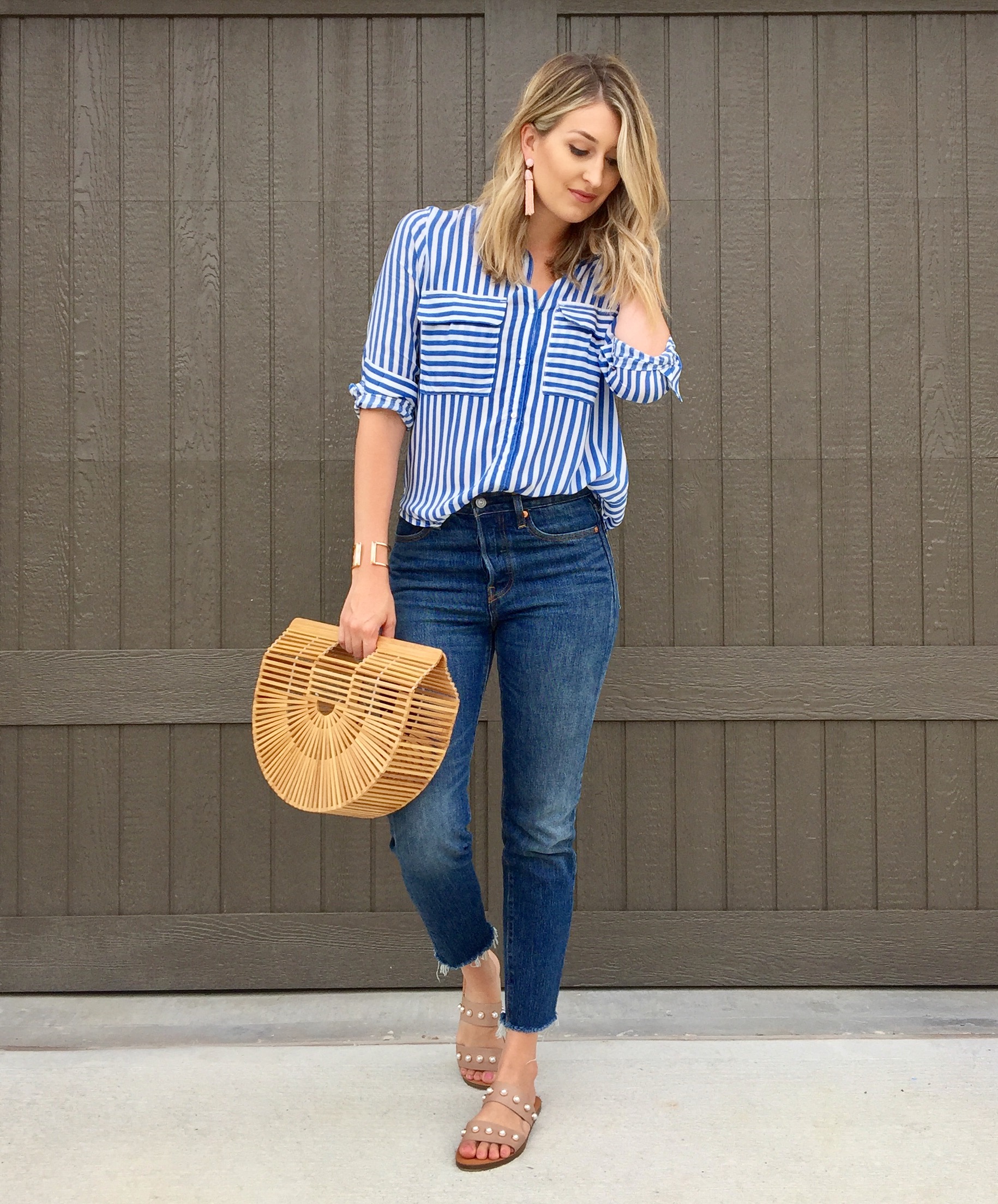 Striped Blouse / High-Waisted Cutoff Jeans
I am a sucker for stripes. I am also a sucker for button-down shirts that fit well. This one was a no-brainer!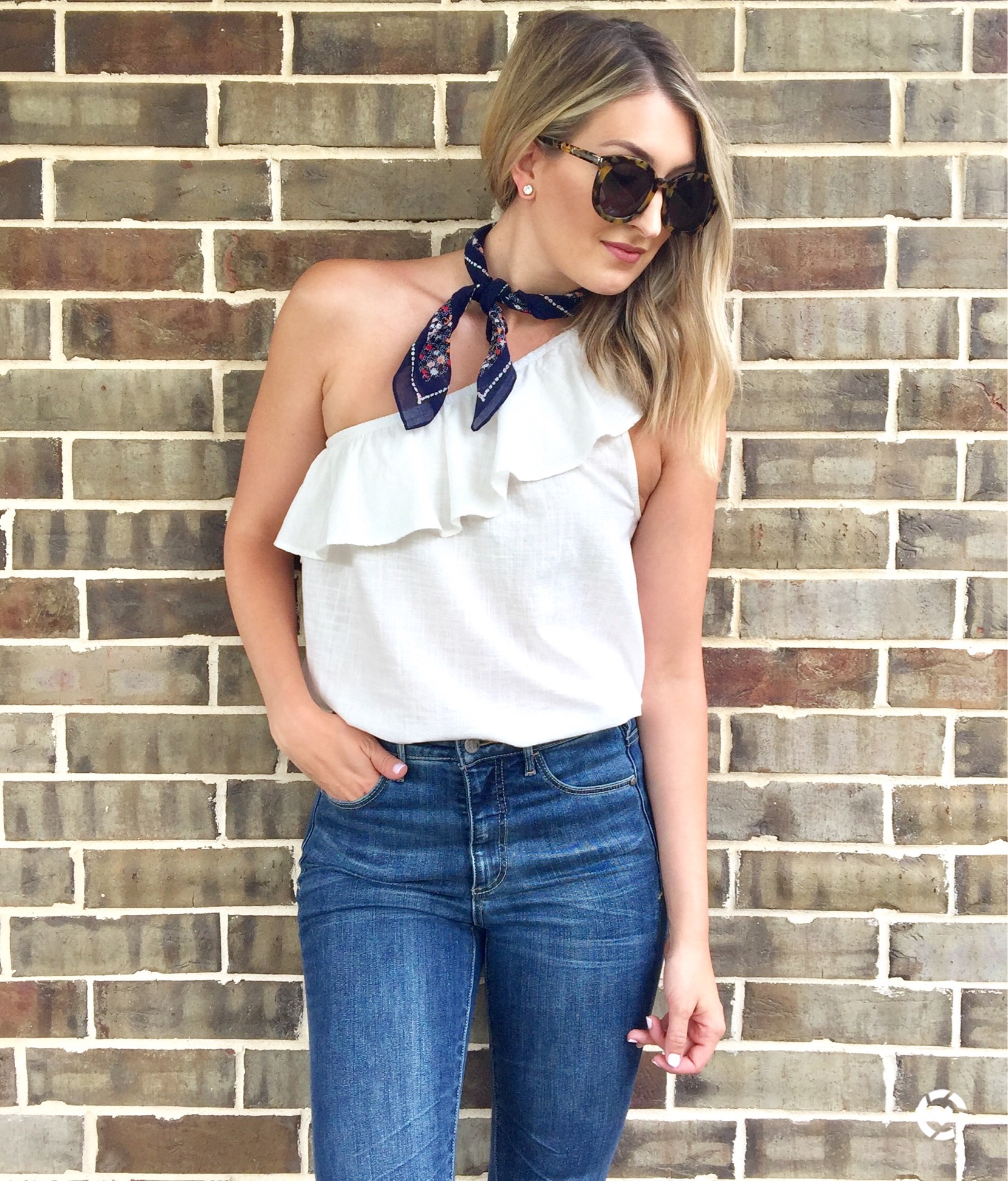 Scarf / One Shoulder Ruffle Top / High-Rise Skinnies
I had been really wanting to try out this scarf trend for a while. I have to say, I kind of love it!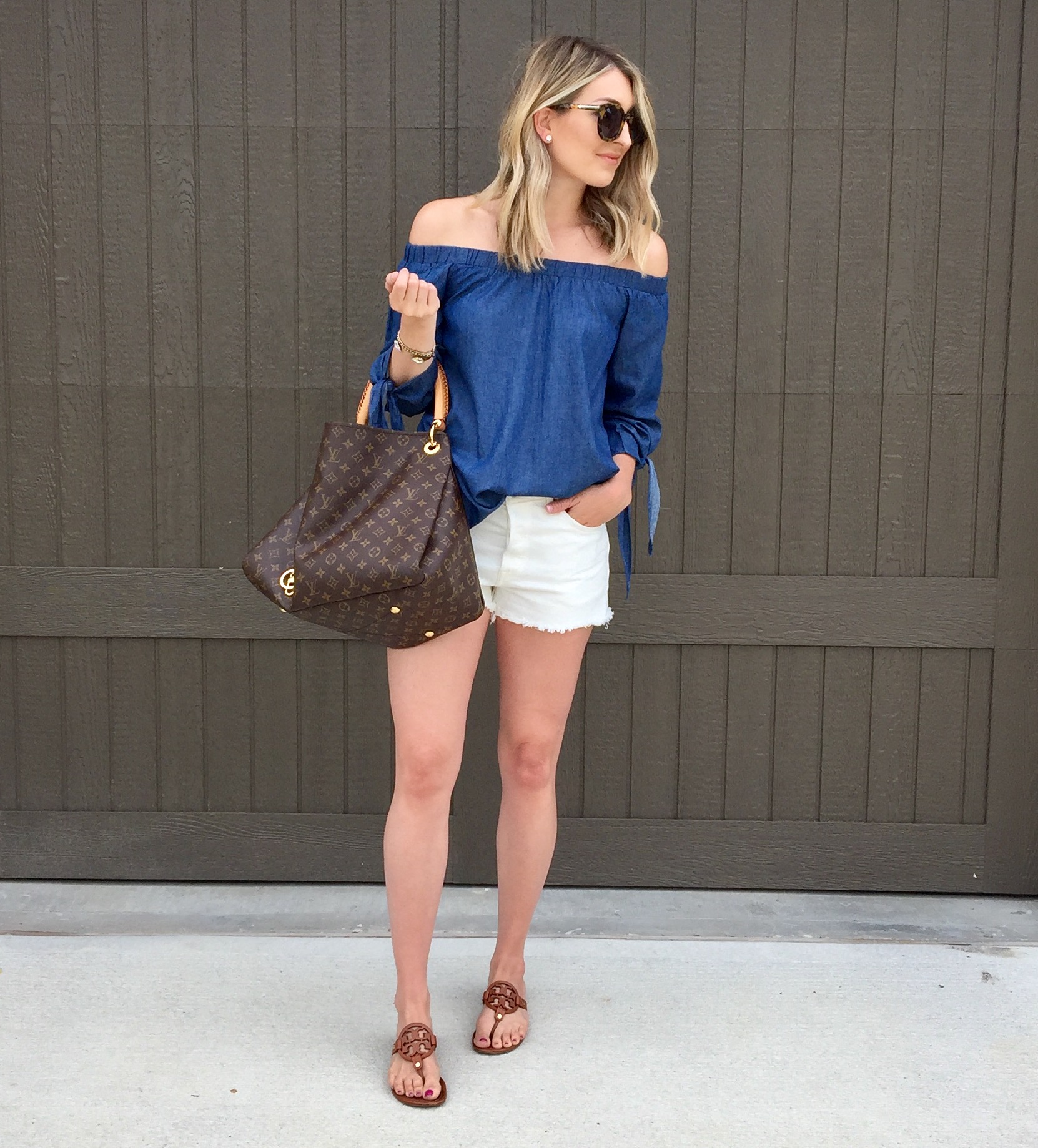 Off the Shoulder Top / White Cutoffs / Sandals
A couple of weekends ago I wore this look out while shopping. My hubby let me have the day to do whatever I wanted, by myself (kid-free), so I went shopping ALL day. I love this outfit for a casual weekend look!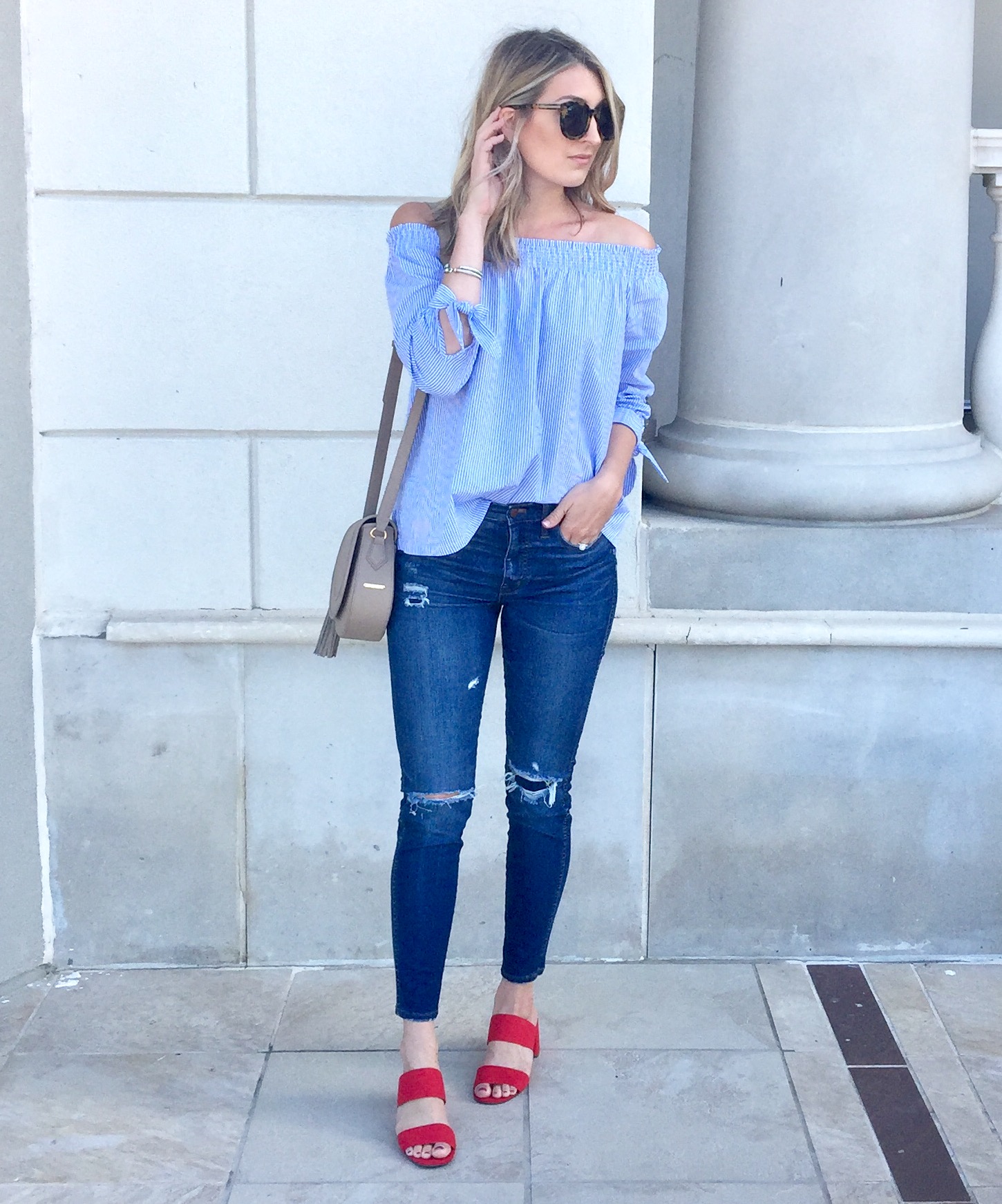 Striped Off the Shoulder Top / Ripped Skinnies / Red Mules
This is my favorite off the shoulder top I own. I find it to be the most comfortable one I've found.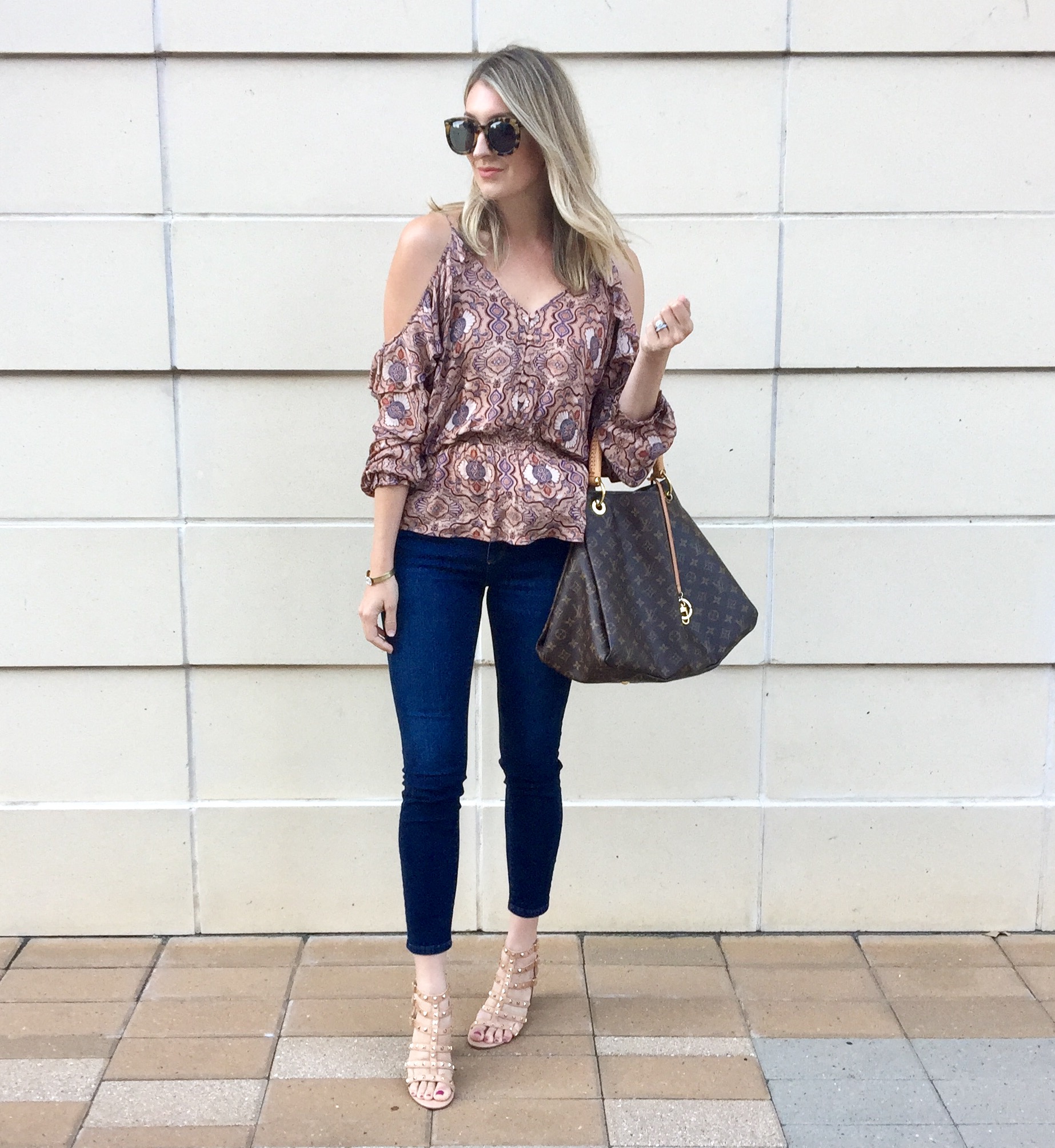 Cold Shoulder Top / Jeans / Studded Heels
I wore this look out for date night last week to a sushi restaurant. I will be repeating this outfit, a lot. I love the print of this top too, because I don't have anything like it!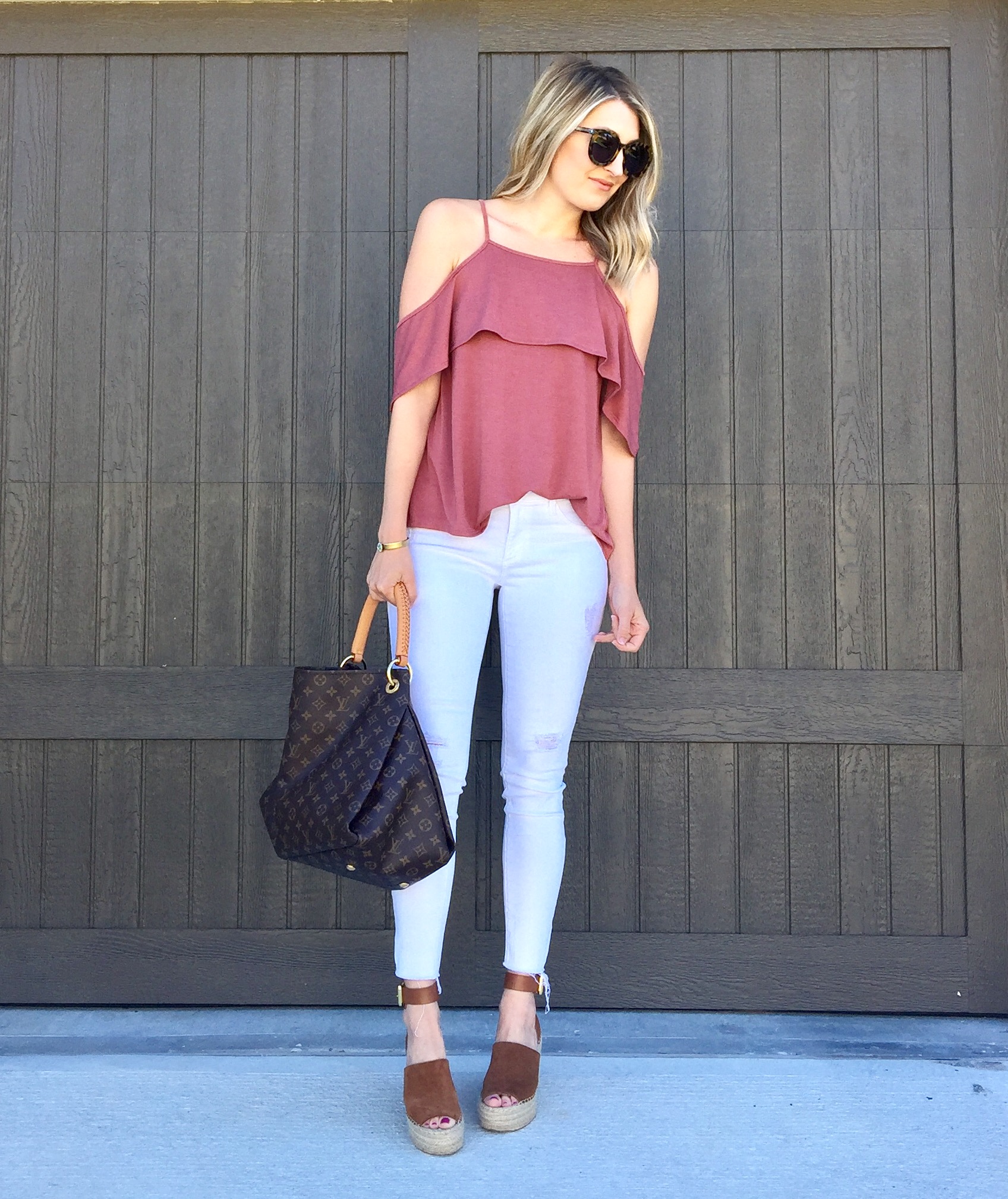 Cold Shoulder Top / White Jeans / Wedges
I've said it before, but I'm always on the hunt for good tops. I love the color of this one, and the material is perfect for Houston once it starts to get crazy hot!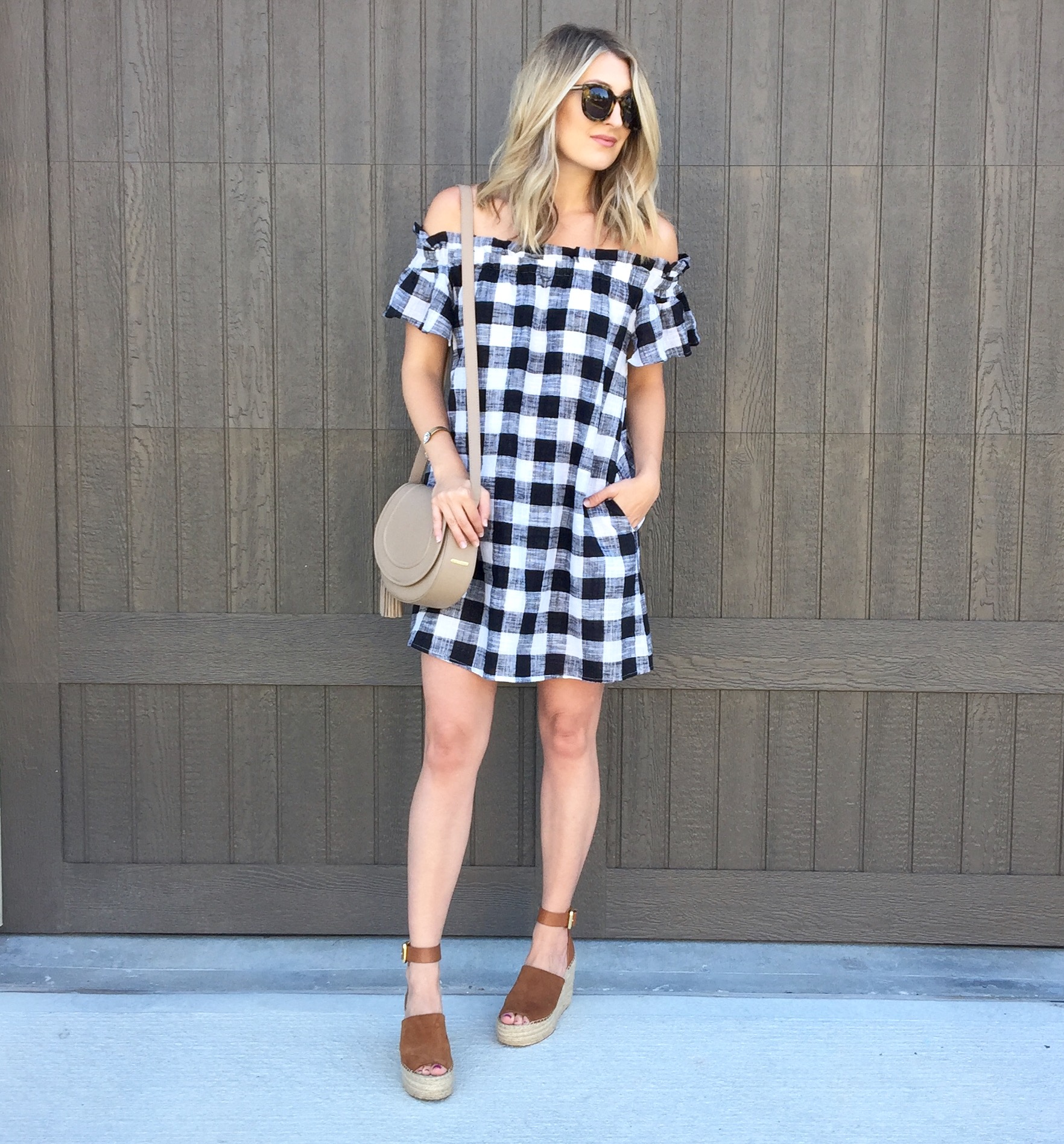 I've posted this dress to the blog before, but it tends to be a follower favorite. I mean, it's gingham and off the shoulder…two of almost everyone's favorite trends right now!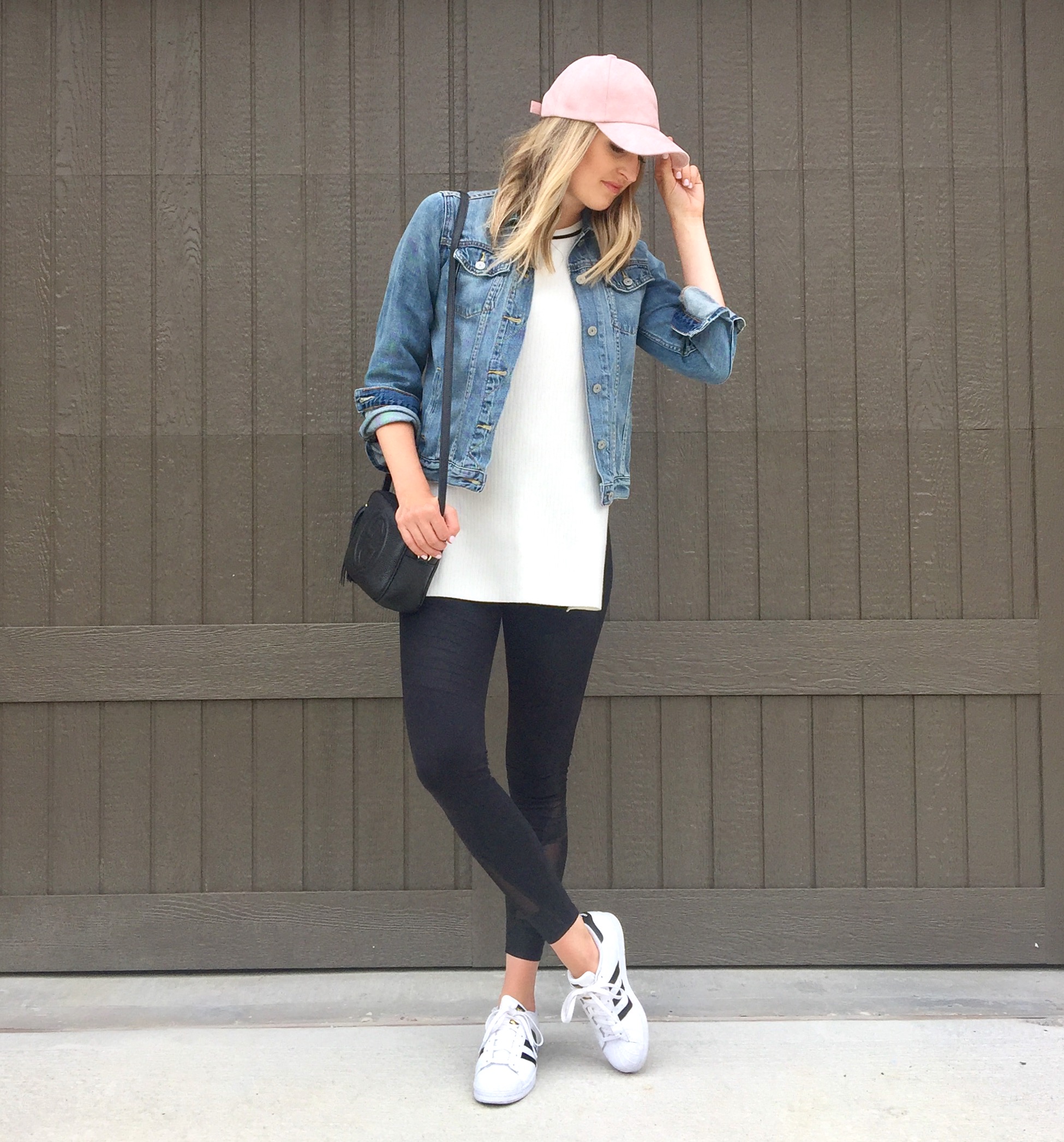 Denim Jacket / Tunic Sweater / Leggings / Sneakers / Hat
I wore this outfit on Monday…becuase, well, it was Monday. Haha! It was also raining, and I was also too tired to wear "real" clothes. This look will be on repeat for sure as well. Plus, a pink suede baseball cap is the perfect reason to wear athleisure.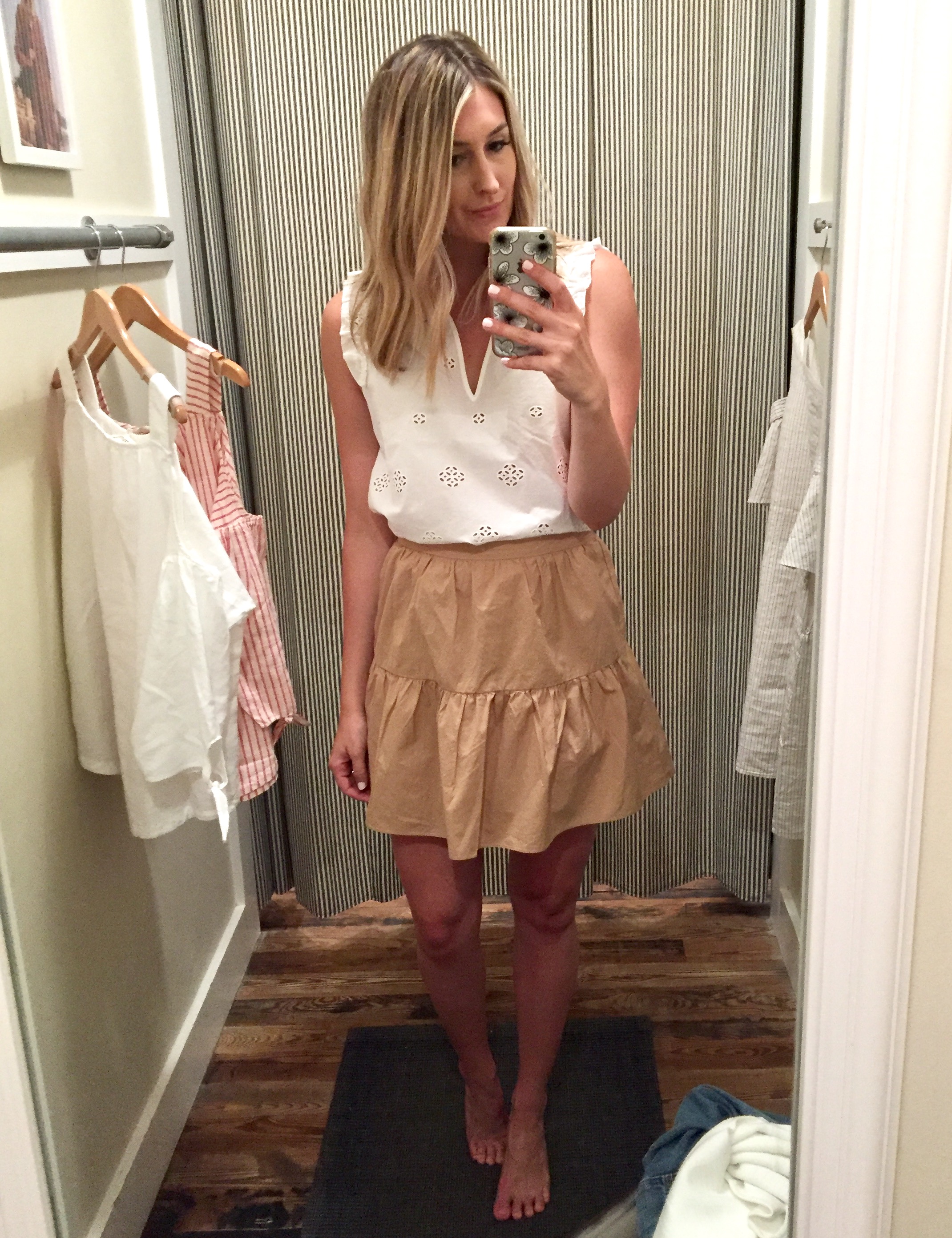 This is one of my favorite outfits from my shopping trip this week. I didn't buy the top, only because it was too short on me to wear with anything other than this skirt. I did get this skirt though, and I can't wait to style it!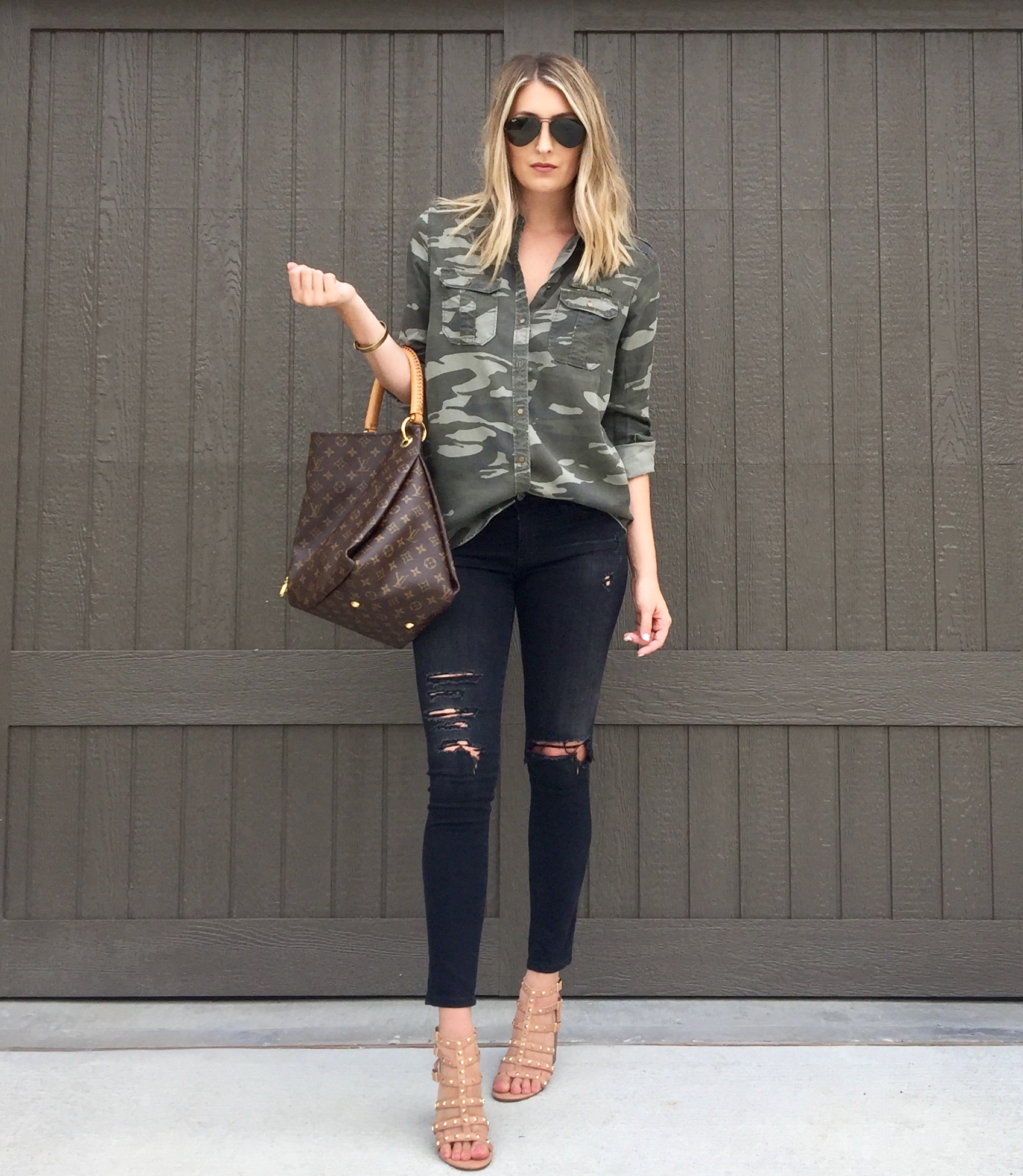 Camo Shirt / Black Skinnies / Studded Heels
Who knew a boyfriend-fit, camo, button-down shirt could make a girl feel so sexy?! That's exactly how I feel in this outfit. Like, I kind of want to wear it every day. This picture on Instagram is also my most liked photo of all time. So I had to include it, even though I just posted it yesterday!
Wishing you all the best Easter weekend. And happy shopping!
xo,
Loren