Okay, so I know this isn't a fashion related post, but I had SO much fun planning Liv's first birthday party that I couldn't help but post about it! Often times when I plan things like this I wonder if it will actually come out the way I think it will in my head. Well, to my surprise, everything turned out to be exactly as I had hoped for this party (assuming you take the crazy rain that day and the fact that we totally forgot to sing Liv "Happy Birthday" out of it)!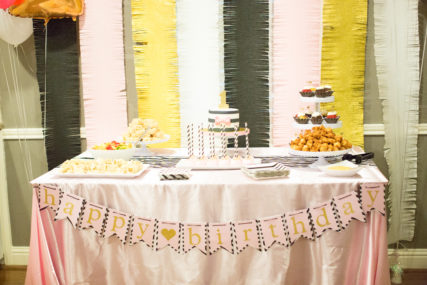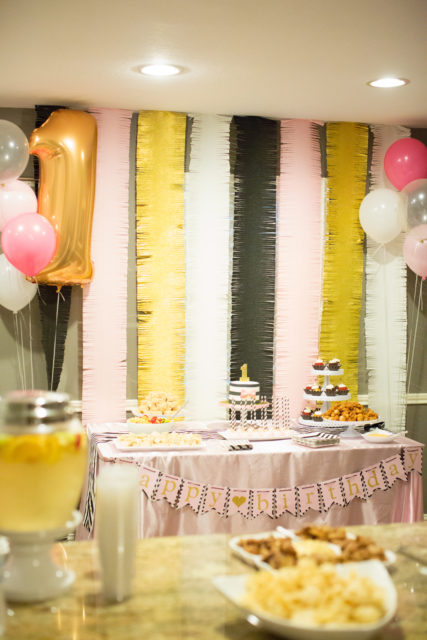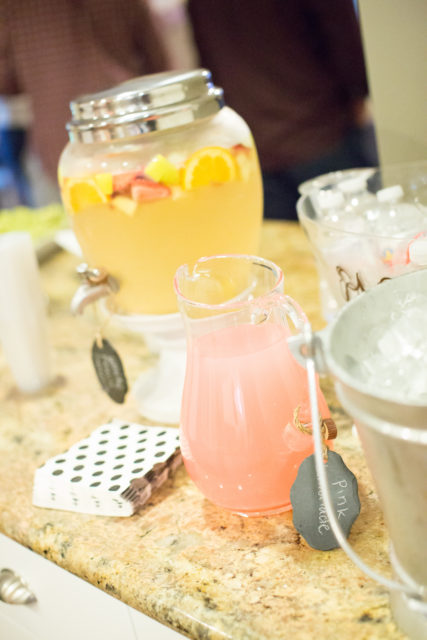 My favorite part about planning this party was definitely picking out/making the decorations. For the backdrop behind the food table, I used large rolls of crepe paper cut in half and just cut the sides of each half in toward the middle to make it fringed. My mother-in-law made the adorable banner you see draped across the front of the table. I added balloons to each side of the table to finish it off. I added a few more balloons throughout the house, as well as a few flower arrangements and a small strand of fringed garland to keep the decor going throughout our main living area.
The party started at 2:00 so we kept it on the lighter side with the food, serving mostly snacks and desserts. I served nuggets from Chick-Fil-A, fruit, soft pretzel bites with a spicy mustard dipping sauce, Mexican pinwheels, and my "famous" guacamole (at least according to my family), cake pops, Bundtinis from Nothing Bundt Cakes, and rice Krispies treats. For drinks I served a white peach sangria (get the recipe here), pink lemonade, beer (for the dads), and mini bottled waters.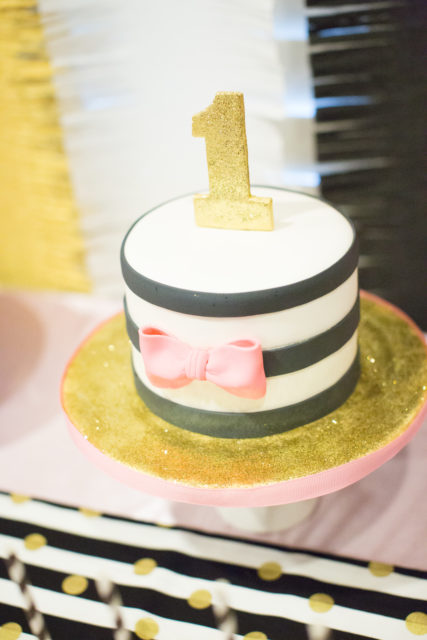 I saw this cake on Pinterest a while back, and knew I loved it for Liv's first birthday. Instead of doing a large cake for everyone, I just did a smash cake for Liv, then had all the other desserts for the party-goers. I kind of planned the whole color scheme (I'm not that into set "themes" so I just wanted to focus on colors) around this little striped cake. By the way, the baker who made this cake, Bethany of Betnie Bakes, is incredibly talented. Check out her other amazing cake designs here.
I opted to make my own cake pops. I was SO nervous about doing this, but I found some super helpful tips via a Google search. The most helpful tip was to use paraffin wax when melting the candy coating to dip the cake balls into. It helps smooth out the candy melts, making them not quite as thick and easier to dip into. My other favorite trick I learned is to dip the actual stick/paper straw into the candy coating BEFORE inserting it into each cake ball. This helps the cake ball to stay attached to the stick/paper straw while dipping into the melted candy.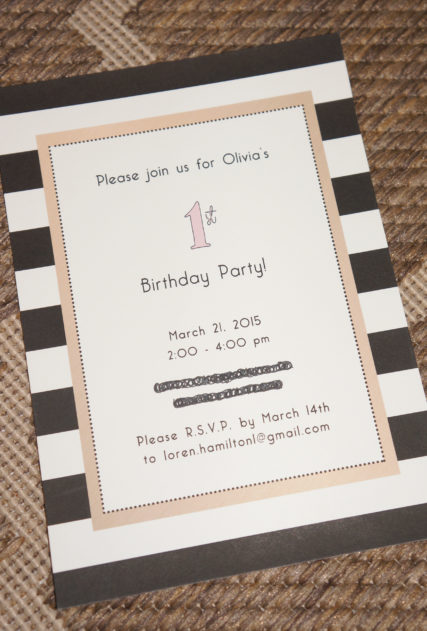 The invitations I chose went perfectly with the look I was going for, with the striped background and pink and gold accents. The version that I saw originally had a really cute little Paris themed stamp at the bottom, but since I wasn't going for a set theme, I chose to leave the stamp off. I ordered these from Paperwork Envy via Etsy.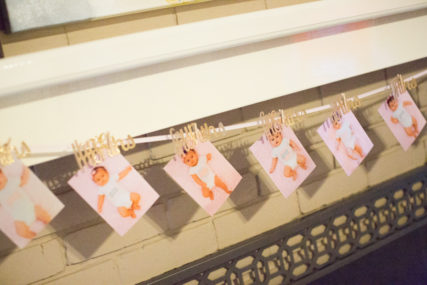 One thing I definitely knew I wanted to have was a banner of Liv's monthly photos. I had been adamant all year about making sure I take every photo on exactly the 21st of each month. I ordered this one from Confetti Momma via Etsy.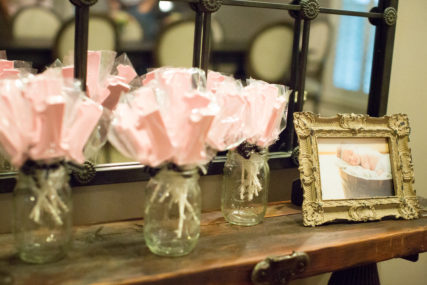 For the favors I decided to make pink "1" lollipops. I also used candy melts for these and just ordered the mold off of Etsy. They were so easy to make, and tasted pretty good too!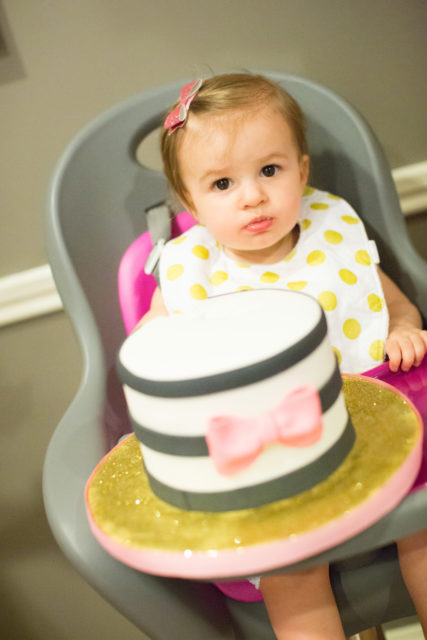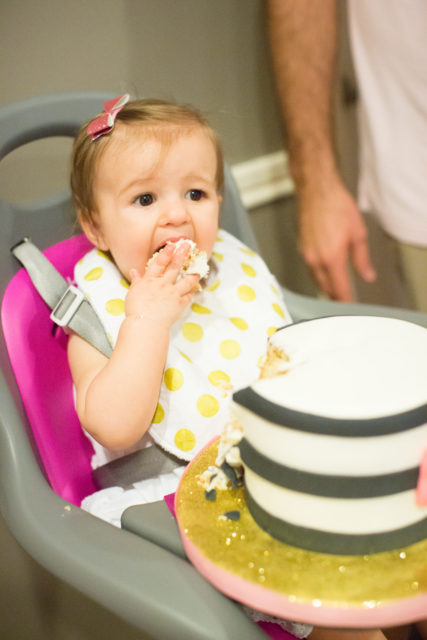 I think it's safe to say, Liv enjoyed her 1st birthday party, even if she didn't totally grasp what exactly was going on!
xo, Loren
Photo cred: Momma's Gonna Snap Photography