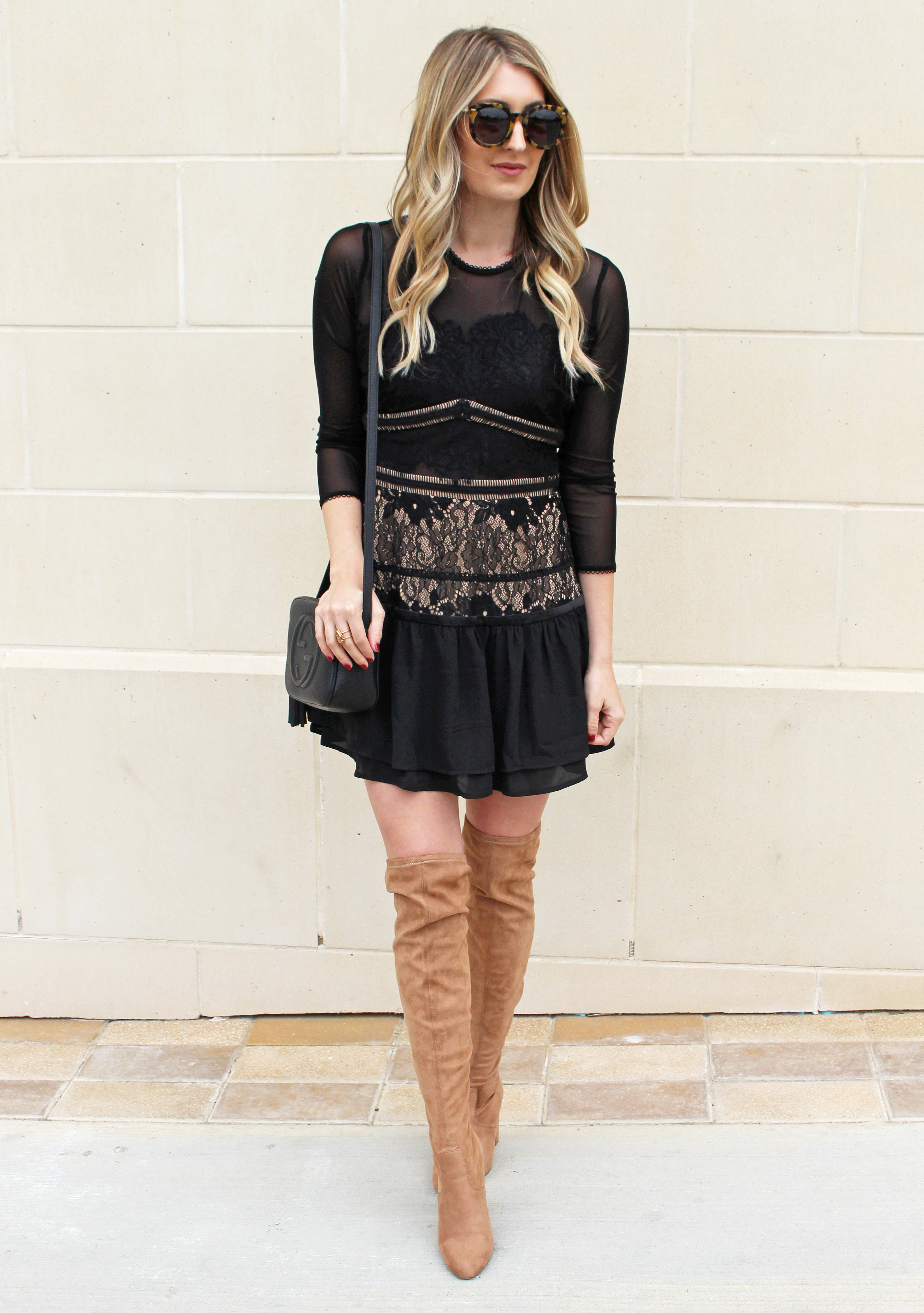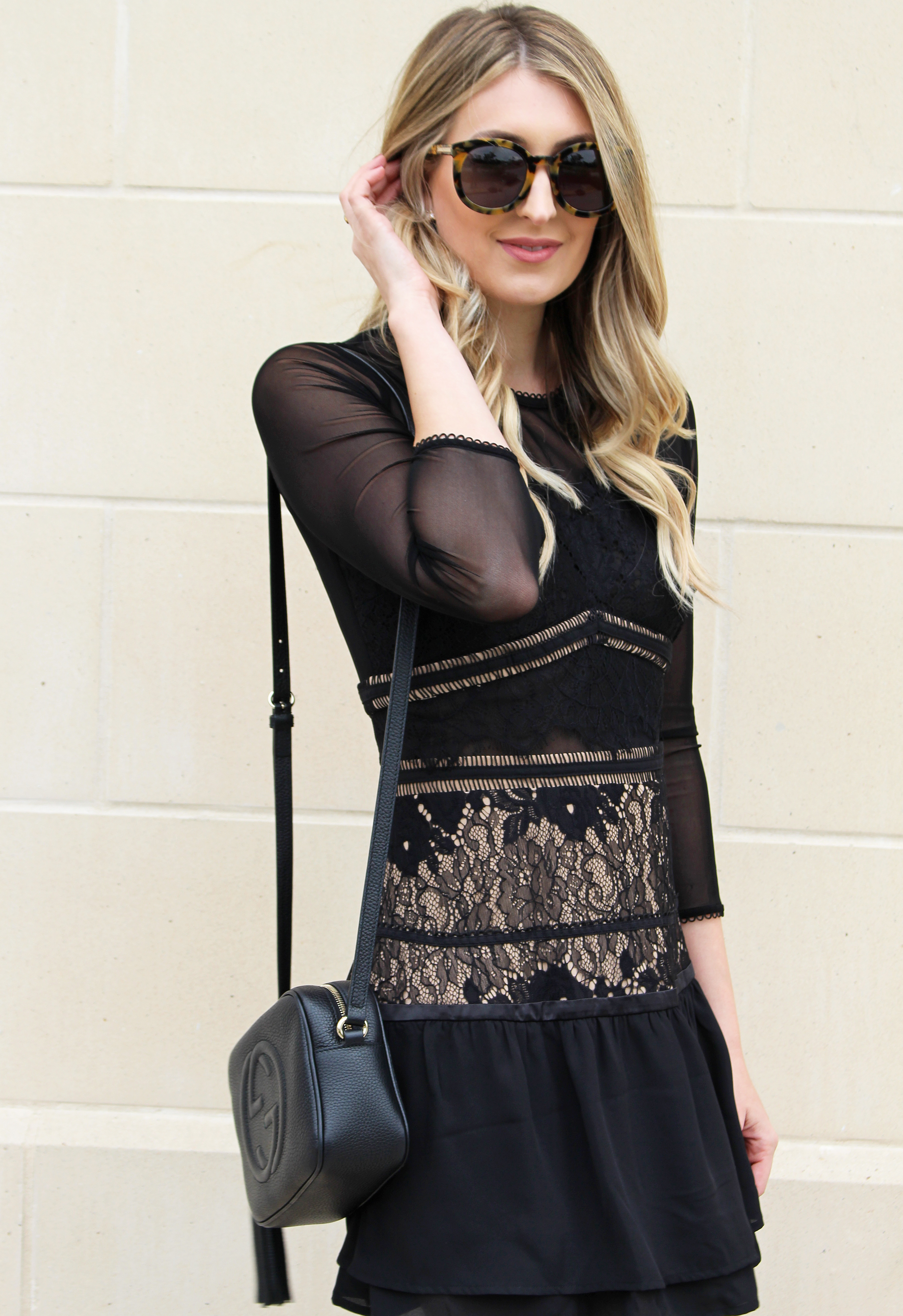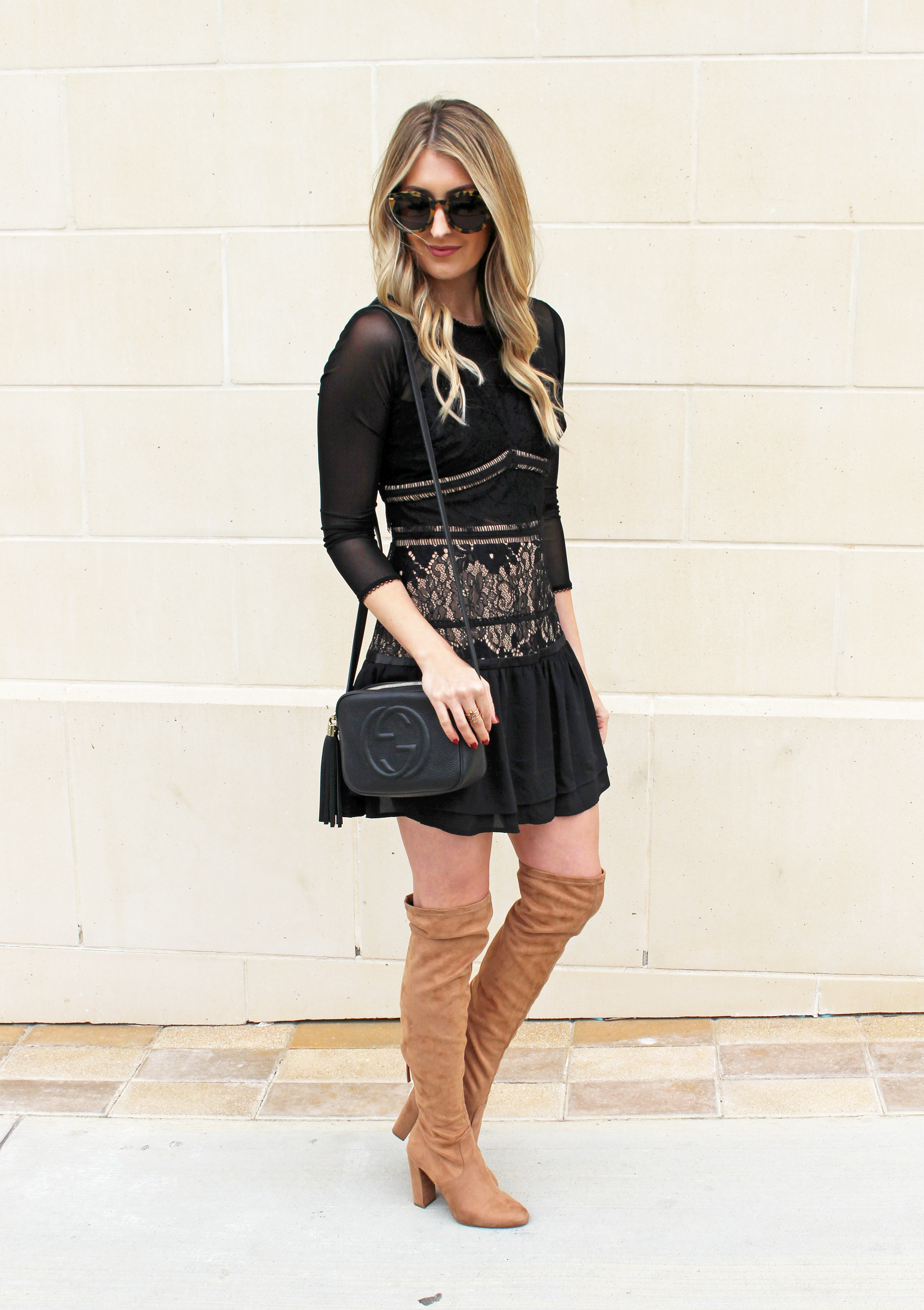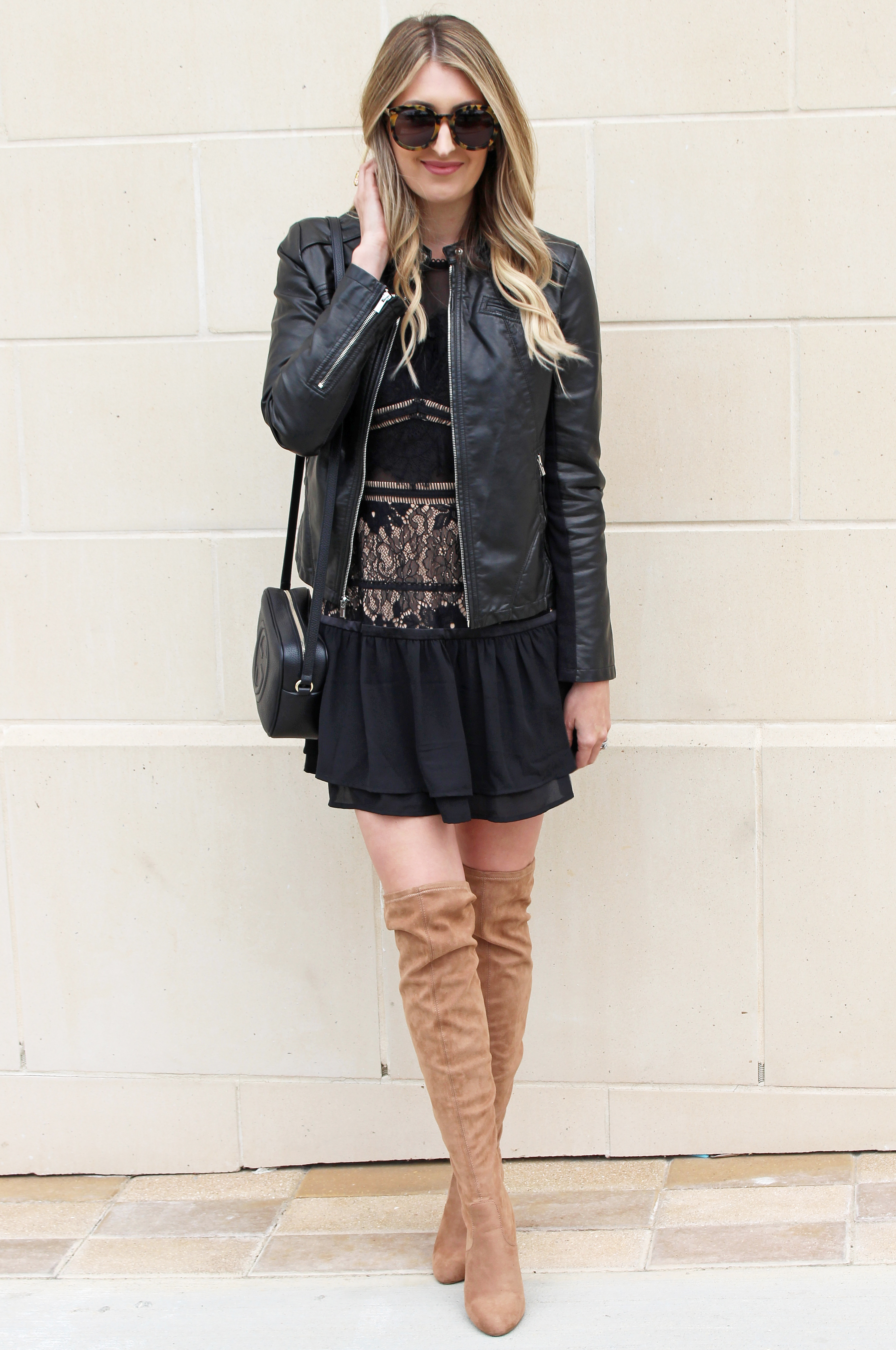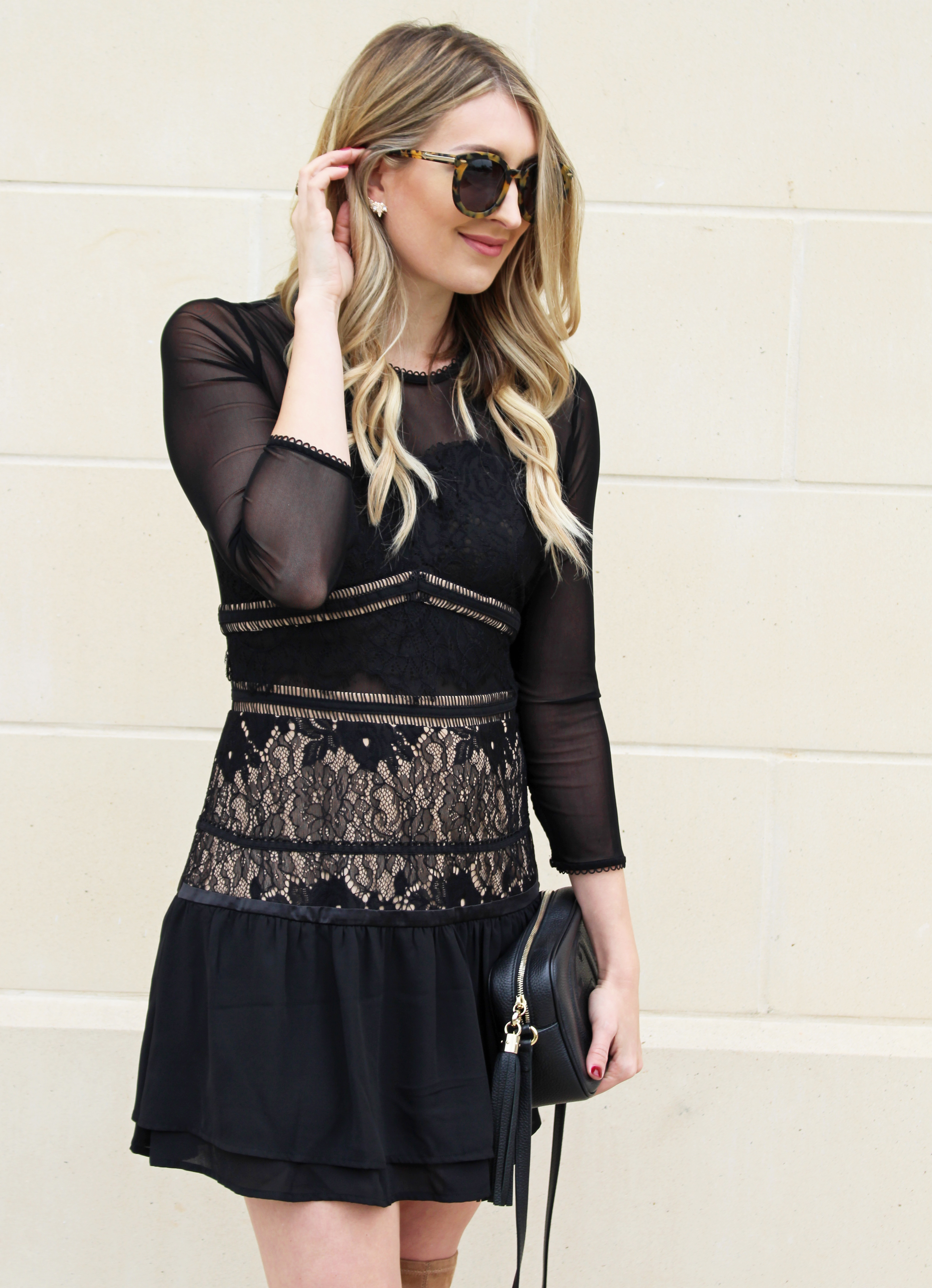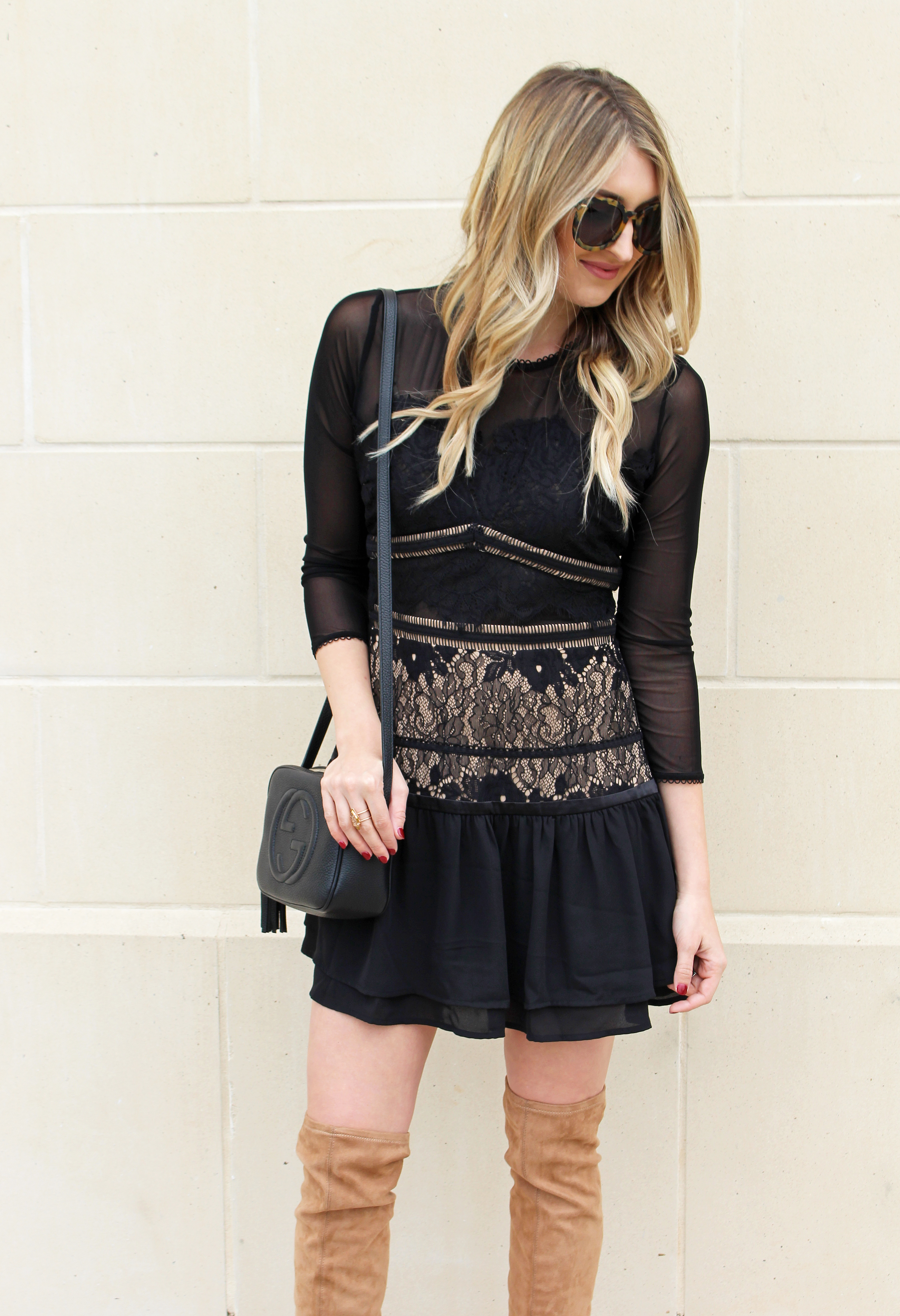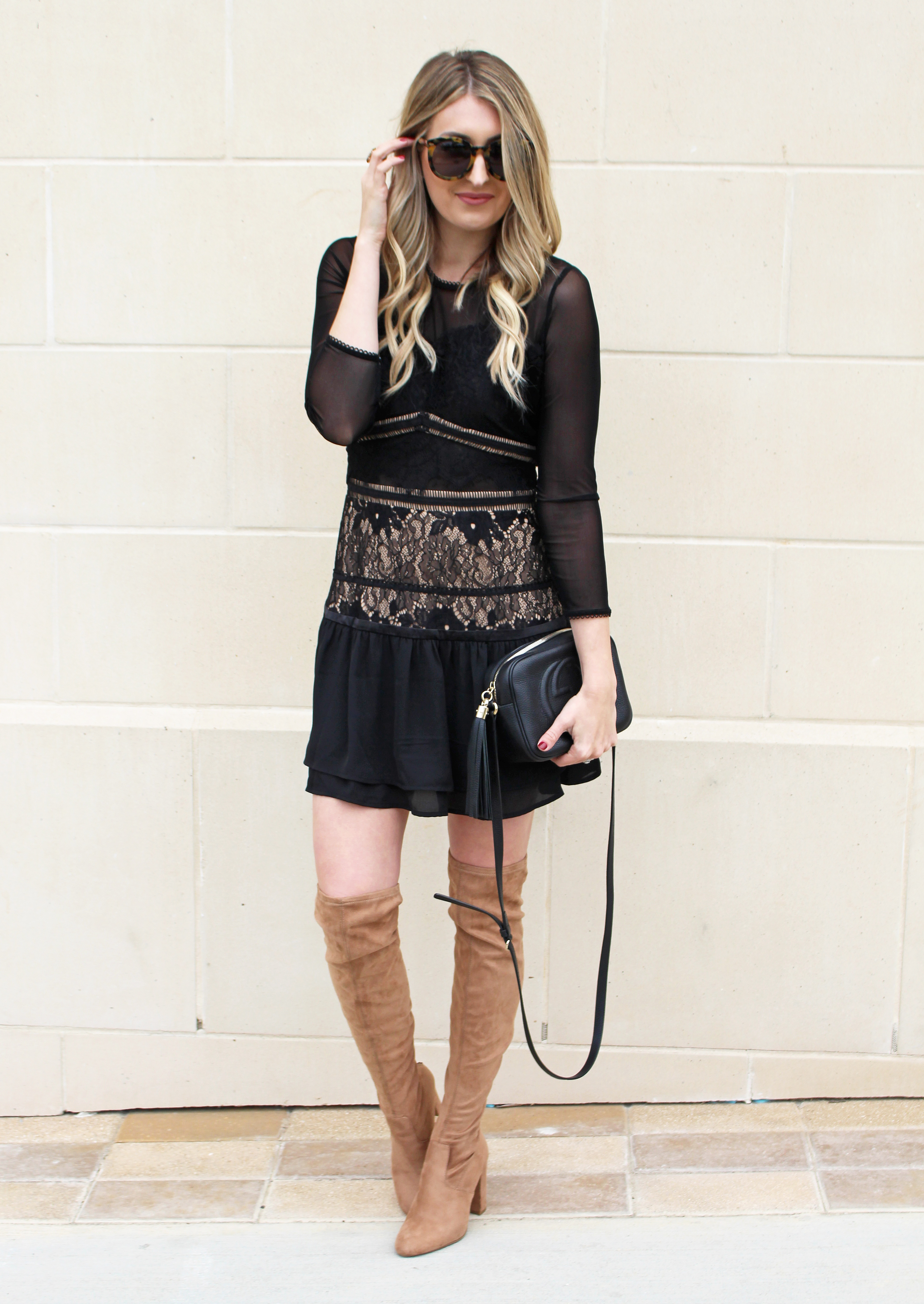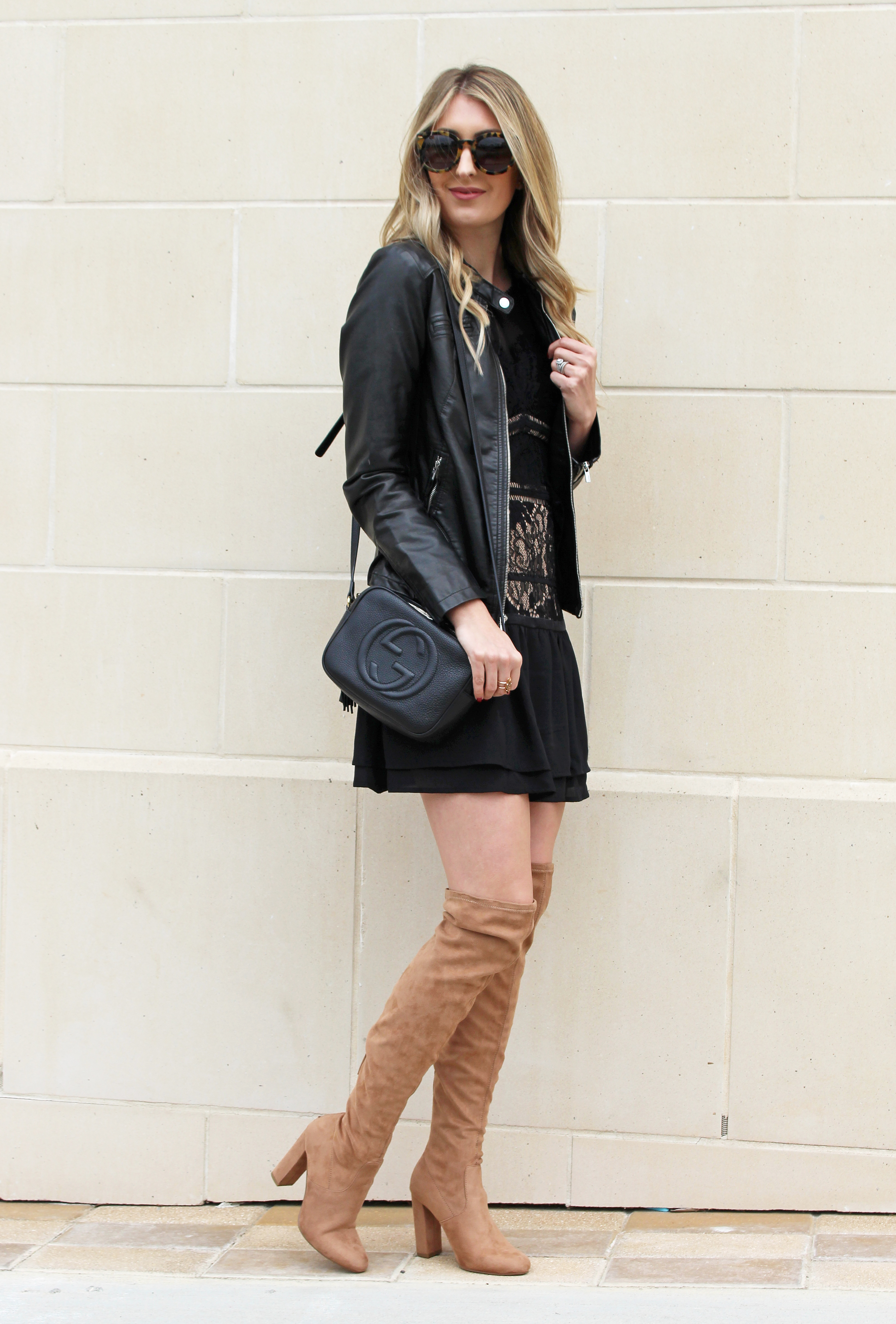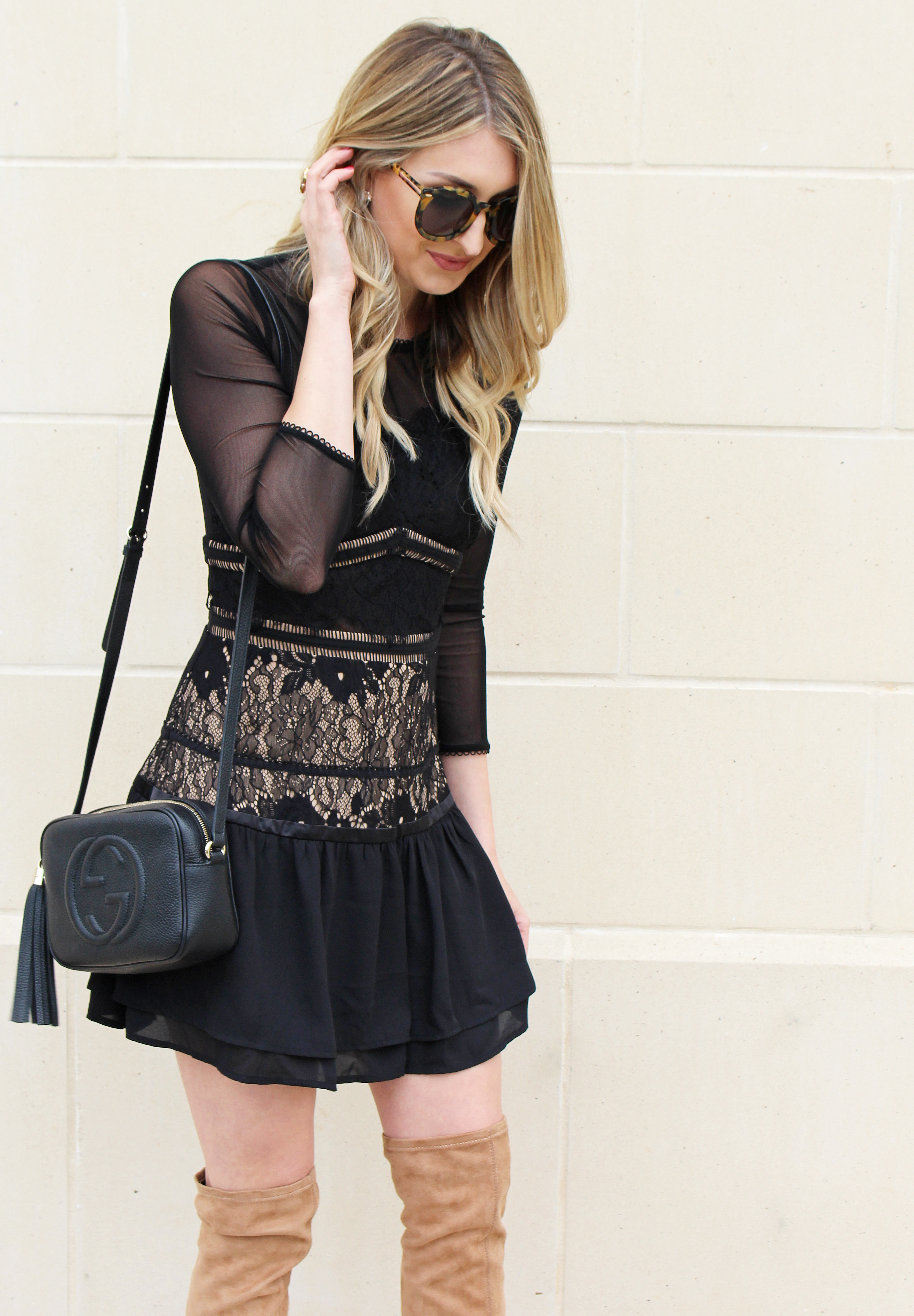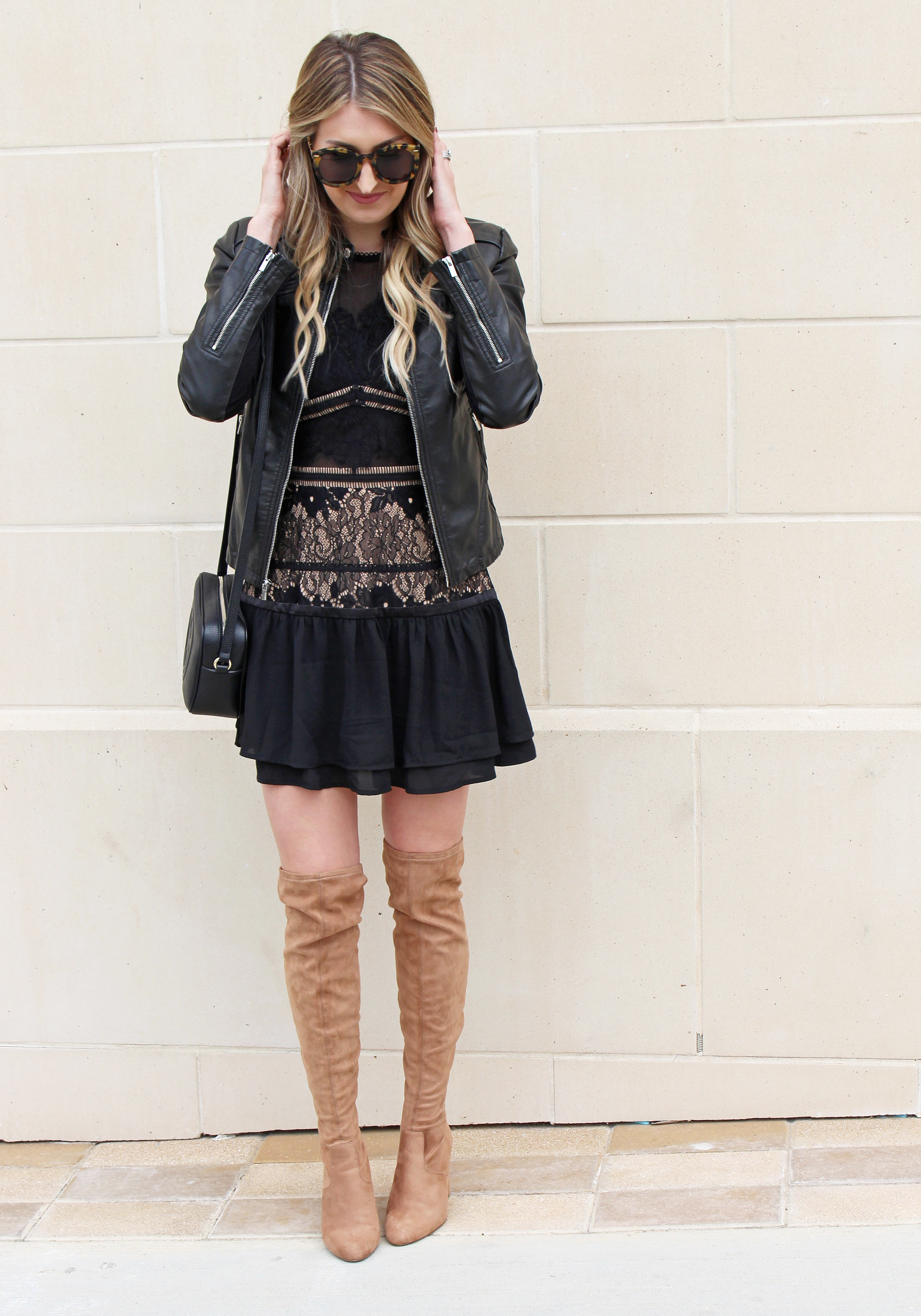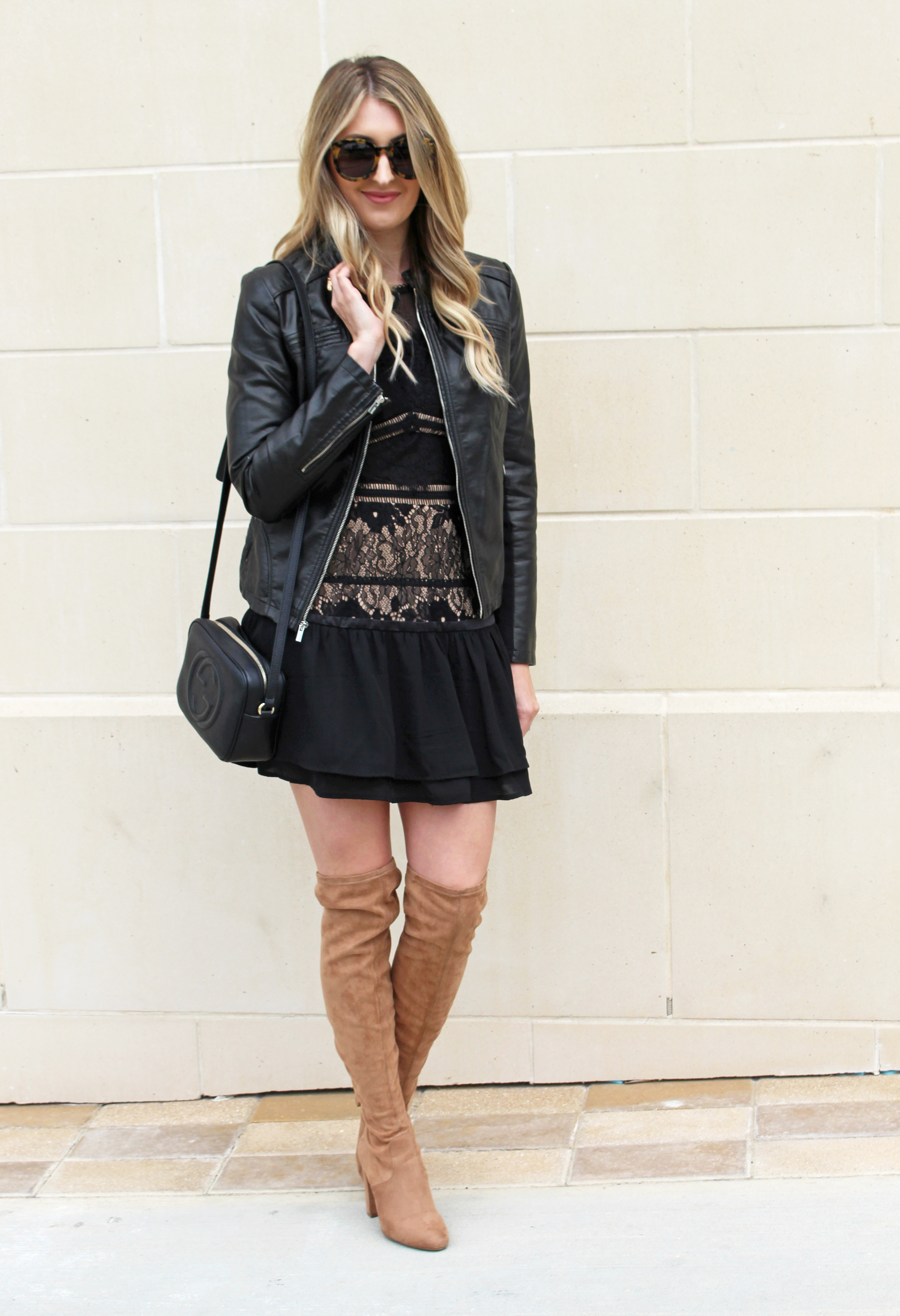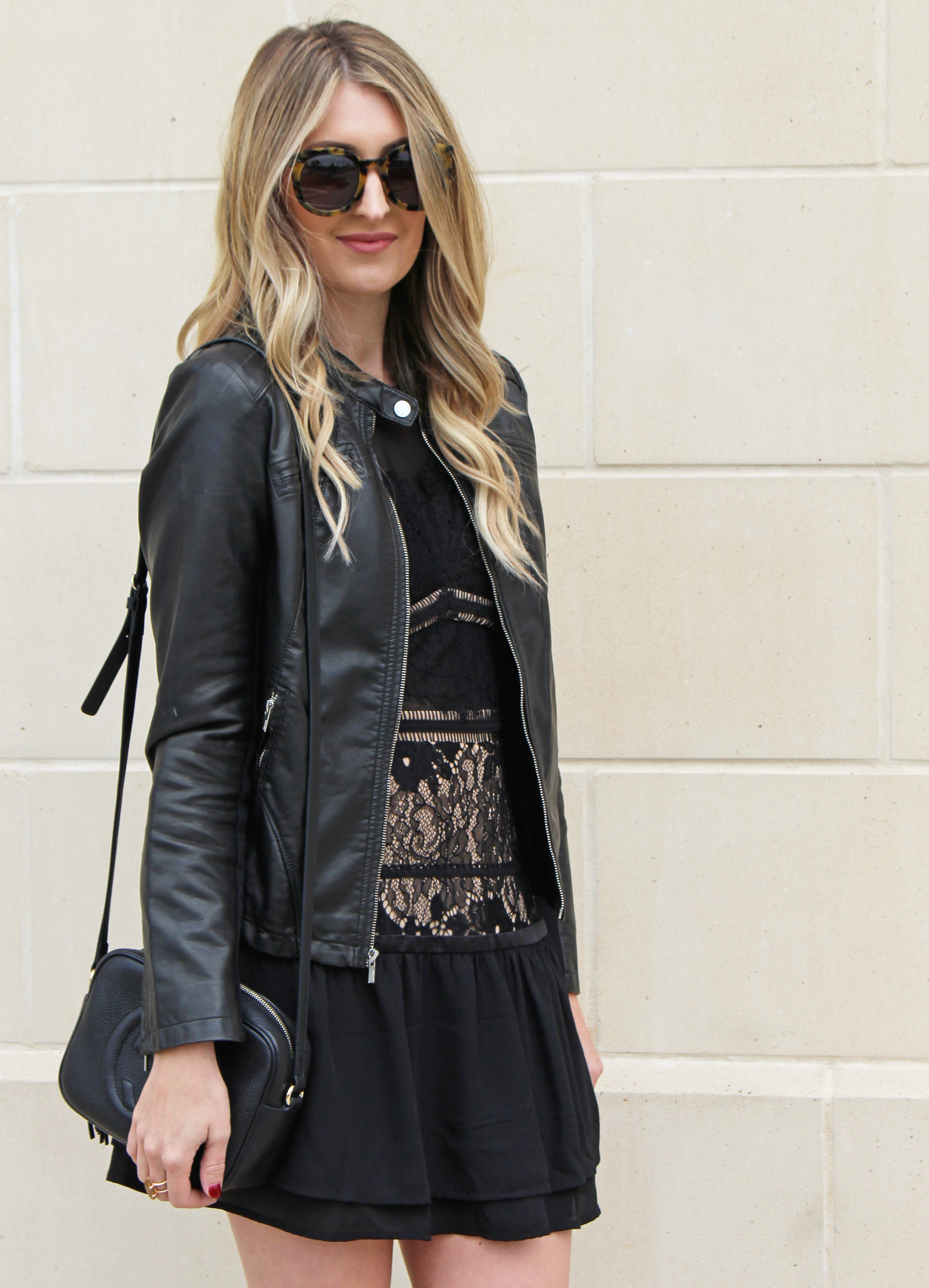 Jacket: Express / Dress: Gianni Bini (On sale! Also loving this style and this style) / Boots: Steve Madden (under $100!) / Bag: Gucci / Sunnies: Karen Walker / Earrings: Kendra Scott / Ring: Kendra Scott
Soooo funny story. I bought this dress to wear for my future sister-in-law's bachelorette party. A couple of days before Christmas I freaked out because I was thinking the bachelorette party was a couple of weeks away, the weekend just after New Year's. So I ran over to the mall to hunt for a couple of outfits to wear to this type of shindig. (As a stay at home mom, a lot of my stuff is pretty casual.) Turns out, I'm a dork, and the party isn't until the last weekend in January. The good news is, I now have outfits for the weekend of the bachelorette party in plenty of time, without having to rush to come up with something! Haha! 🙂
I picked this gorgeous lace and mesh dress up from Dillard's of all places. I almost never actually shop there, but the mall was SO crowded that day (two days before Christmas) so I parked in their lot because it is usually the least crowded, and decided to browse for dresses for the bachelorette party. I didn't find a bunch of options, but this one was one of them, and I loved it as soon as I tried it on! Makes me thing maybe I should take a look at Dillard's more often!
I wouldn't usually go for a dress like this, especially for a bachelorette party. I tend to go for something a little more fitted, and less of a flouncy skirt. I loved the illusion neckline, and the black lace over the tan underlay, which is what got me to even try it on in the first place. This bachelorette party is in Austin (as opposed to the last one I went to in Vegas), so I felt like I didn't want to go too crazy "sexy" with my outfits. I feel like Austin is a bit more low-key than Vegas, so anything with a lot of sparkle or a super low neckline just felt like too much. Plus, I could actually wear this dress again because it's not too specific!
When I bought this dress I had originally planned on wearing it with my black sock booties. I did try it on with them at home and really liked it the look, but I thought my legs might get cold so I wanted to try it with my over-the-knee boots. I have to say, I really like this look because I feel girly, sexy, and covered up all at the same time, so I don't feel uncomfortable in it.
I can't wait to wear this in a couple of weeks to celebrate gaining a sister next month!
xo, Loren
Shop the Post:
[show_shopthepost_widget id="2327068″]