Please excuse the poor quality of these photos, obviously they were just taken with my phone in the dressing room! Also please excuse Mason crawling around on the dressing room floor. He was OVER sitting in the stroller, so since were in a larger room I let him crawl around. And don't judge me for letting him crawl on the floor. I'm sure it's no dirtier than the floor in my house that he crawls around on all day long!
Okay, so for those of you who don't know, early access to the Nordstrom Anniversary Sale started today. So basically, if you are a Nordstrom cardholder, you can shop the sale before the public is able to on July 22nd.
This is, in my opinion, the BEST sale of the year. Why? Because they put select fall items on sale (like REALLY good sale) at the beginning of the season. For those of you who are regular Nordstrom shoppers, you know they don't typically run promos, unless they are price matching another retailer. So normally, you would have to wait until the end of the season to snag these pieces at a discount. But the Nordstrom Anniversary Sale gives you a discount on select items at the start of fall!
Confession: I tried on A LOT of clothes while shopping today. There was seriously so much to choose from. So I am going to go through all of the items I liked in some way. The first half of this post is what I did buy. The second half is what I didn't, but still kind of liked. Of course, I couldn't buy EVERYTHING! 🙂
What I DID buy: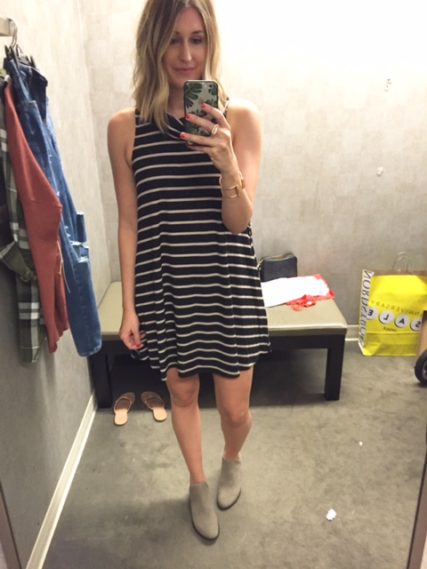 I love this little striped swing dress! It is great for transitioning into fall in Houston since the heat sticks around so late. It's a steal at only $25!
Also pictured: I am obsessed with these open side booties. They are another one of my favorite purchases, and they go with everything! The are normally $140, and are currently on sale for $90.
Apparently my love for off the shoulder styles is going to push it's way into fall as well. I guess this is technically "cold shoulder", but you catch my drift. 🙂 I don't normally go for colors this bright, but once I put it on I kind of liked the orange! This lightweight sweater is on sale for $53.
Also pictured above, I love these jeans, but I actually didn't buy them because I have a couple of pairs of black jeans already. They are normally $258, currently on sale for $172. I might have to go back and get them later though!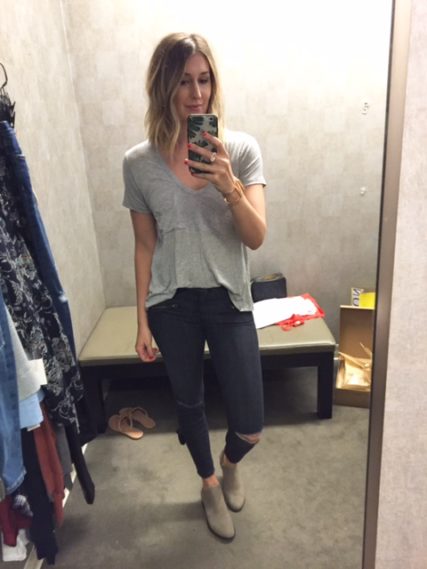 This gray tee is a steal at only $16. I know it's just a basic tee, but I really liked the fit of it!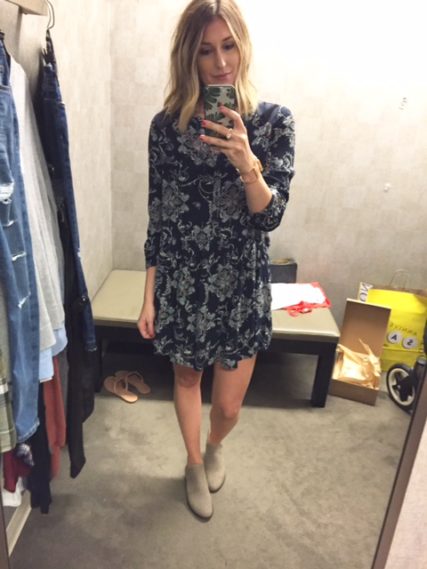 I love the bohemian vibe of this printed dress! It's kind of hard to tell what it really looks like from the picture, but I can't wait to wear it with some over the knee boots and a floppy hat! It's on sale for just $60.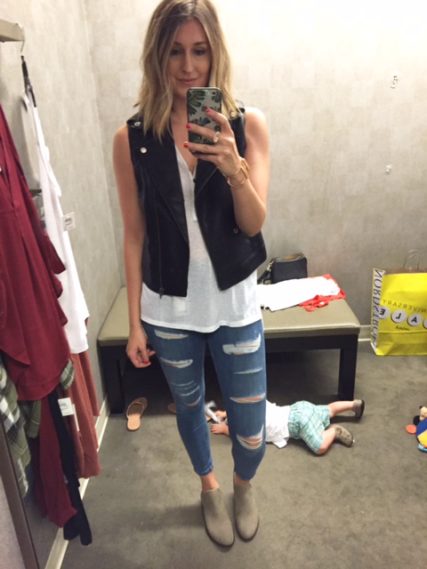 I love to layer, but the majority of the year, it's just too hot here. Vests are how I get around the extra heat that comes with actual sleeves. This faux leather vest is one of my favorite purchases from the sale, and it's only $60!
Also pictured: This white henley tank. I really liked this as a good layering piece, but I didn't buy it. I figured it's one of those things that I could easily go back later and purchase. It's on sale for $20.
Also pictured: I'm kind of loving these high-waisted jeans. Distressed denim is my favorite, and I had been wanting to try out a high-waisted pair. These were perfect on sale for only $53, so I went ahead and got them!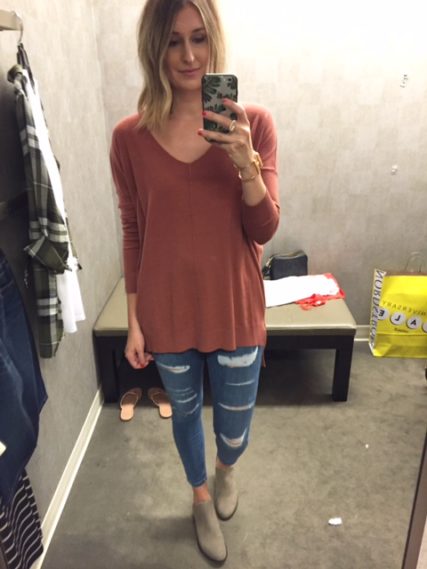 You guys, this sweater is SO soft. I probably have a ton of stuff like this, but I did at least try to get a color I don't have much of. This comfy little number is only $30!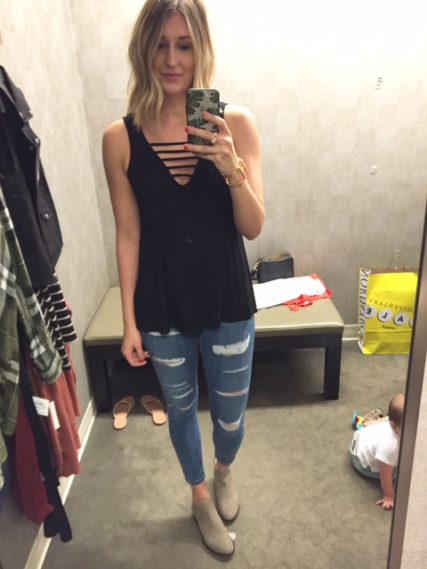 This strappy tank is a perfect basic without being too plain. It looks great alone or layered, and it's on sale for just $20!
What I DIDN'T buy (but still kind of wanted to!):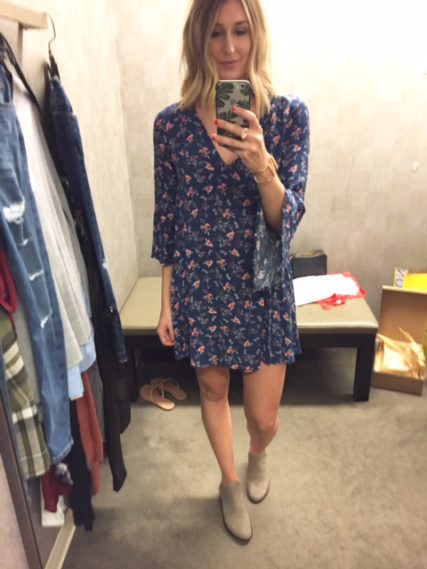 I actually really loved this little swing dress. The only reason I didn't buy it is because it was just a tad shorter than I feel comfortable in. It's on sale for just $32.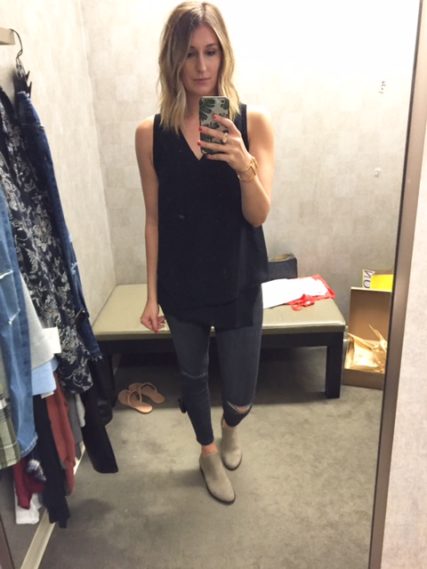 This asymmetrical silk tank is another great basic for layering, but also cute on it's own. It's got a cool side detail too, that you can't really see from this picture. I didn't buy it just because I already had a black tank in my "purchase" pile, but it's a great deal for $46.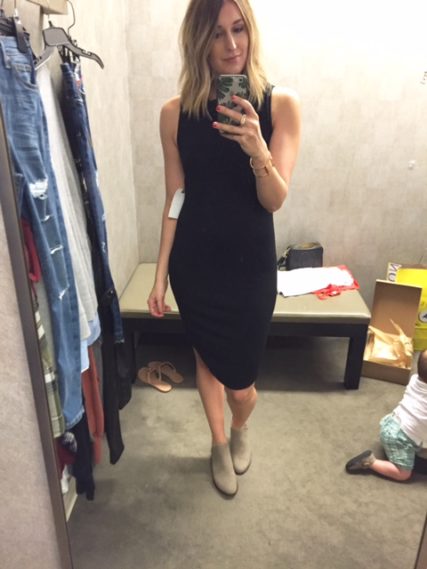 The more I look at this dress, the more I wonder if I should have bought it! It's super comfortable and flattering. The only reason I didn't is because I have a couple of other dresses similar in color and style. It comes in several other colors though, and is just $36.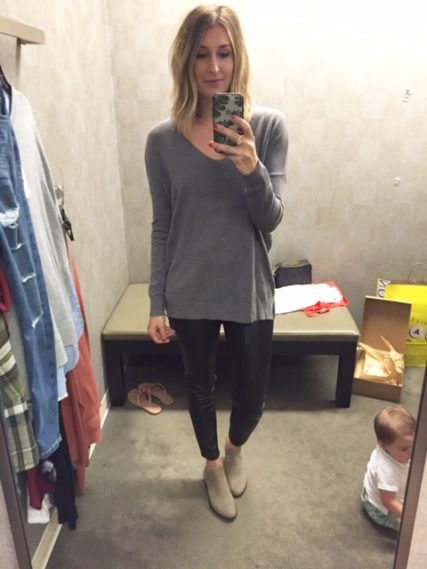 This is the same sweater as the rust one that I did buy. I didn't buy it in gray because I have a LOT of gray sweaters already!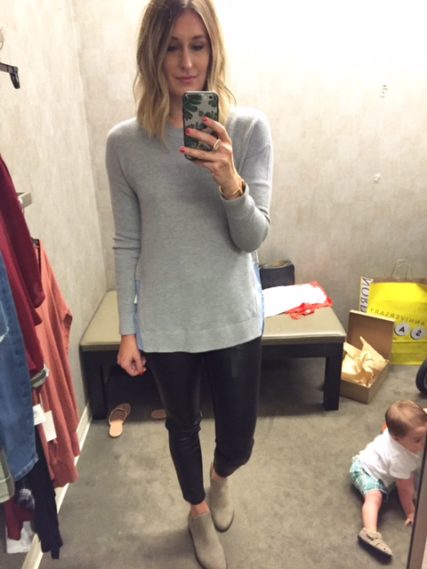 I love the ease of this layered sweater (gives the look of two pieces but is just one piece). I didn't buy it just because I wasn't in love with it and found other things I liked more. But it's only $60 right now!
Also pictured: These faux leather skinny pants. I didn't buy these just because I was afraid I might get too hot in them, but they are a great deal at only $65!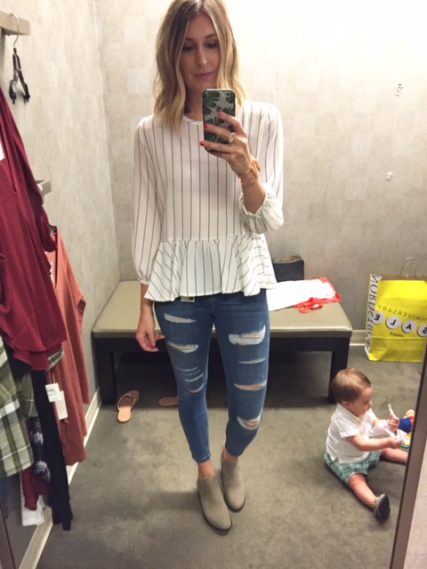 I actually really liked this top, but it's a slightly dressier material. As a stay-at-home mom, I just didn't think I'd wear it much. It would be great for work though! It's on sale right now for only $28!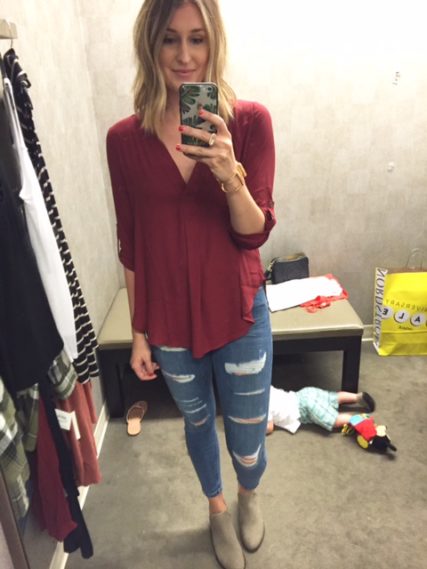 This is another great top that is a good basic, but not too boring. It comes in tons of colors and is only $28 right now! I didn't buy it because I have a few tops like this already!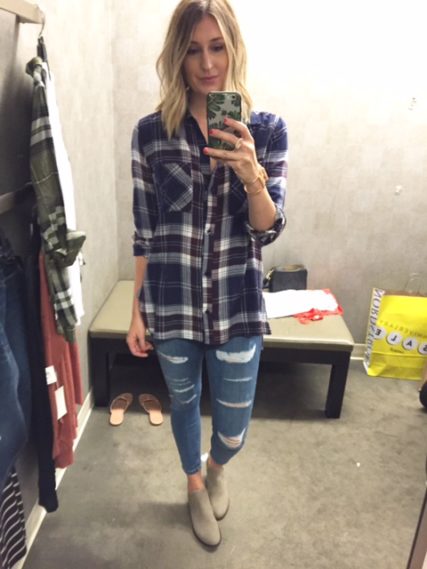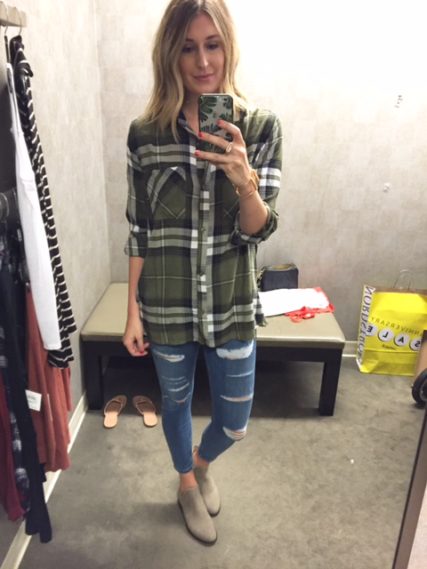 These plaid tops are actually the same top but in different colors. I really liked both, especially the green color, but I didn't buy either because I have a bunch of plaid flannels and needed to double check what I already have! Haha! These are a steal though at just $29!
This is the same as the bright orange sweater above that I did buy. I love the gray too, but they only size they had left in the store was a large (which I'm wearing here), and I preferred a medium! It's on sale for $53.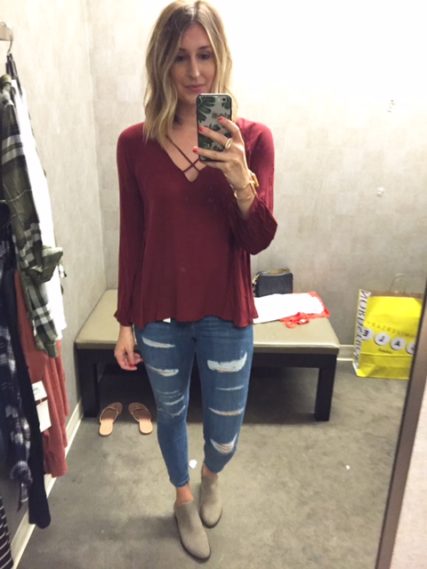 This little top was super cute. The only reason I didn't buy this one is because the material doesn't stretch much, and since I'm constantly wrangling littles it can be a bit restricting. But it's on sale for only $32!
I also bought a gorgeous new handbag and some really cute flats, but I'll share those with y'all in another post since I don't have pictures yet!
Don't miss out on these amazing prices y'all! They go back up on August 8th! Happy Shopping!
xo, Loren
Shop the Post:
[show_shopthepost_widget id="1770087″]