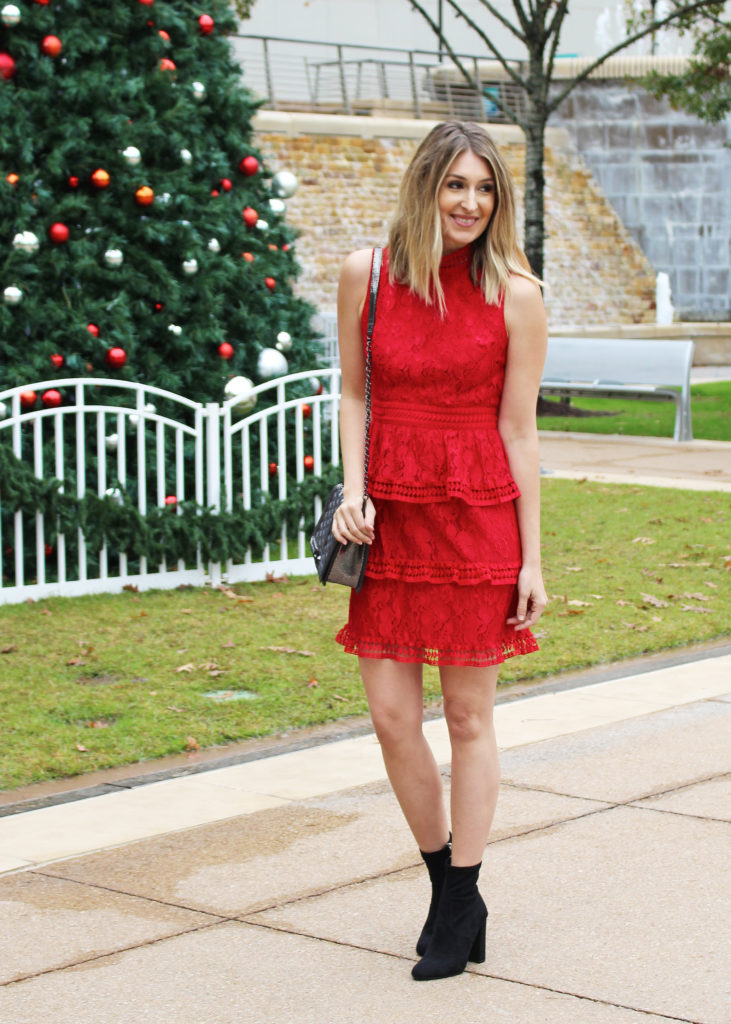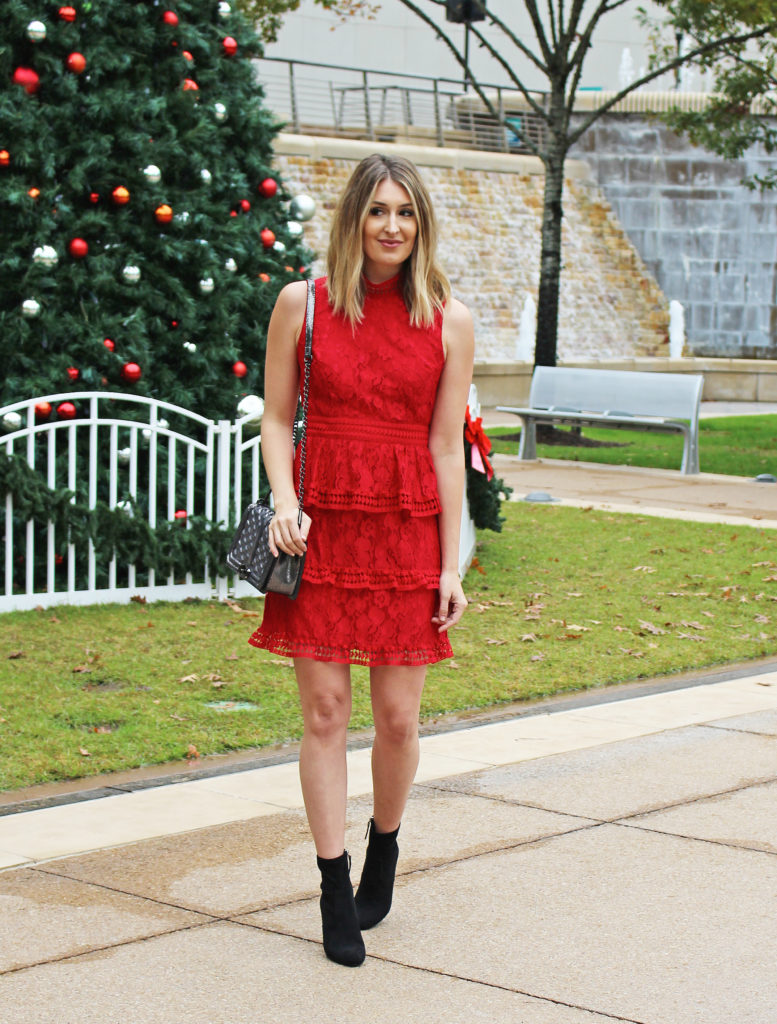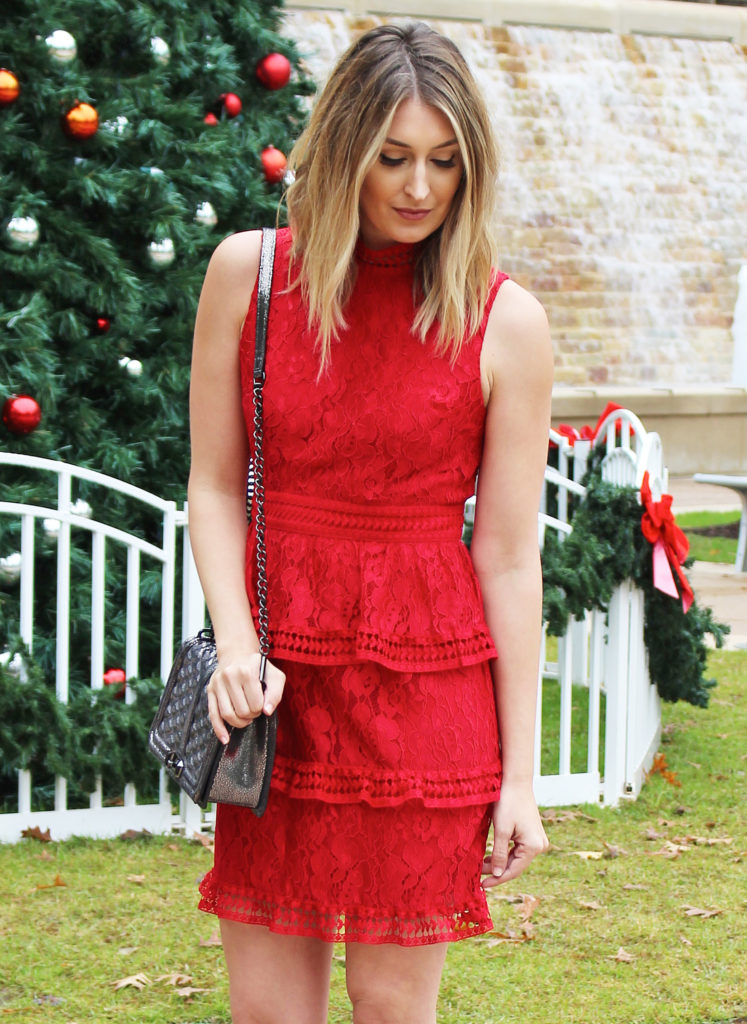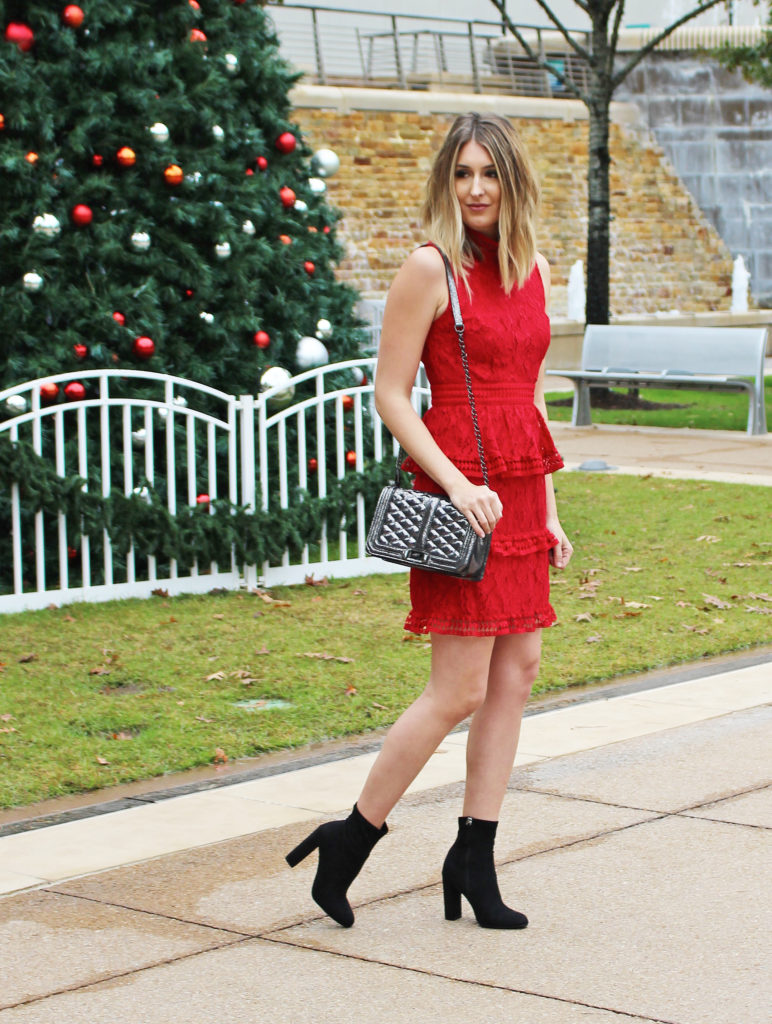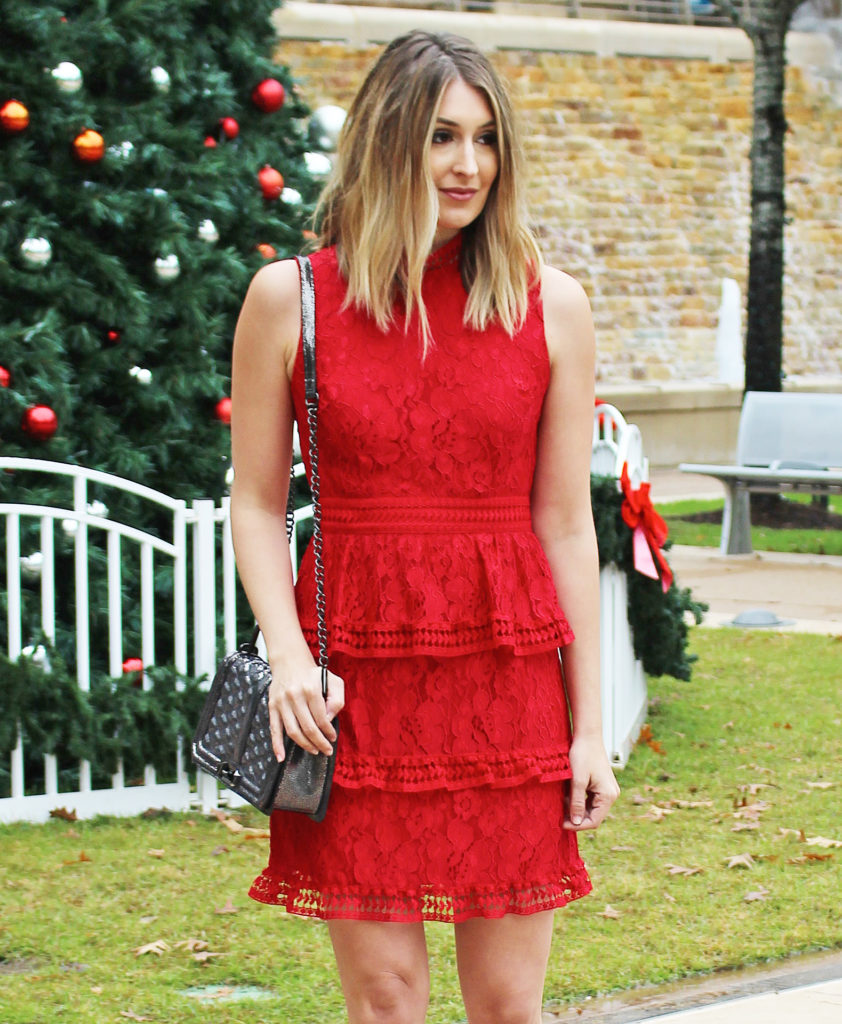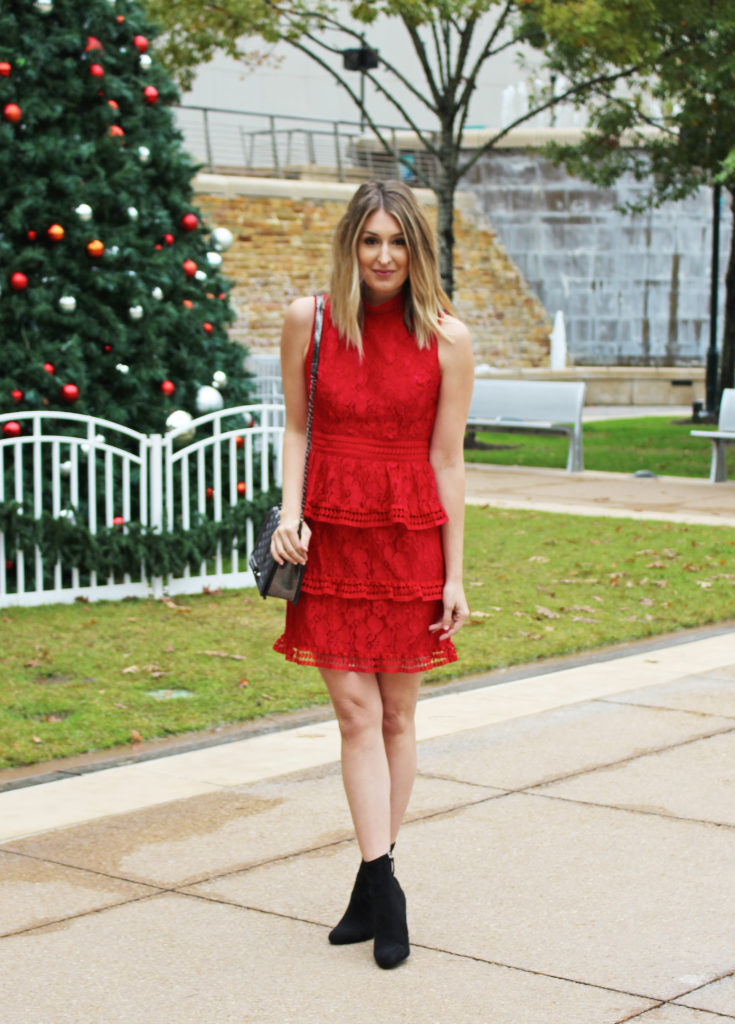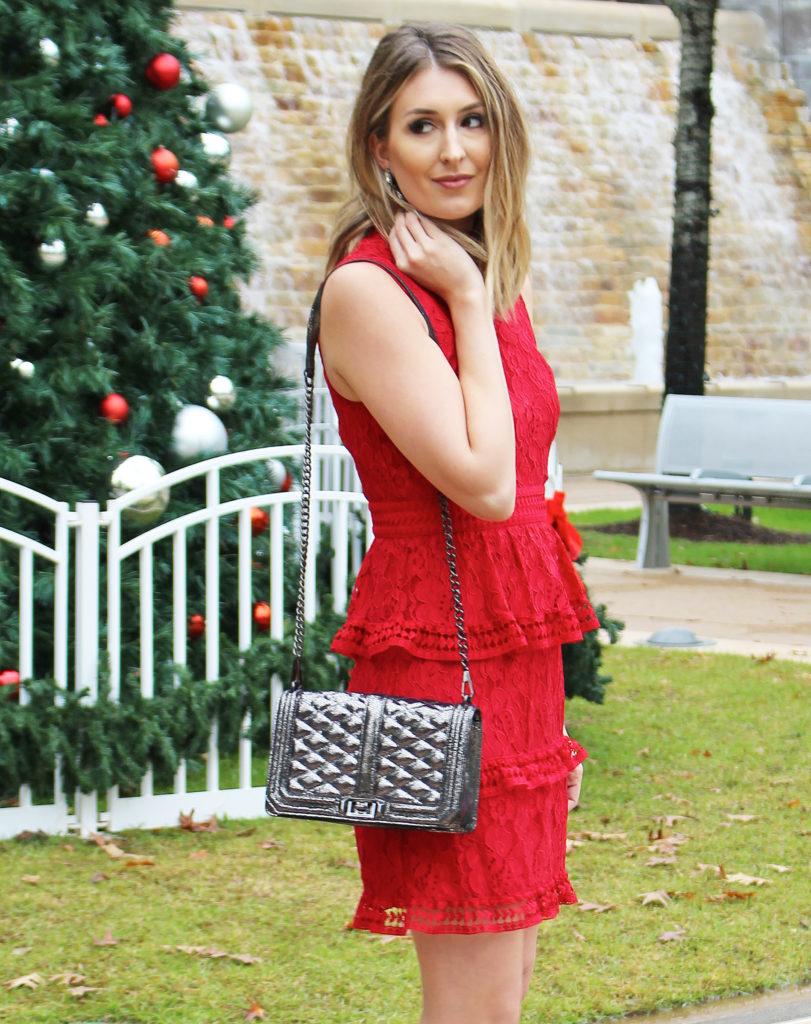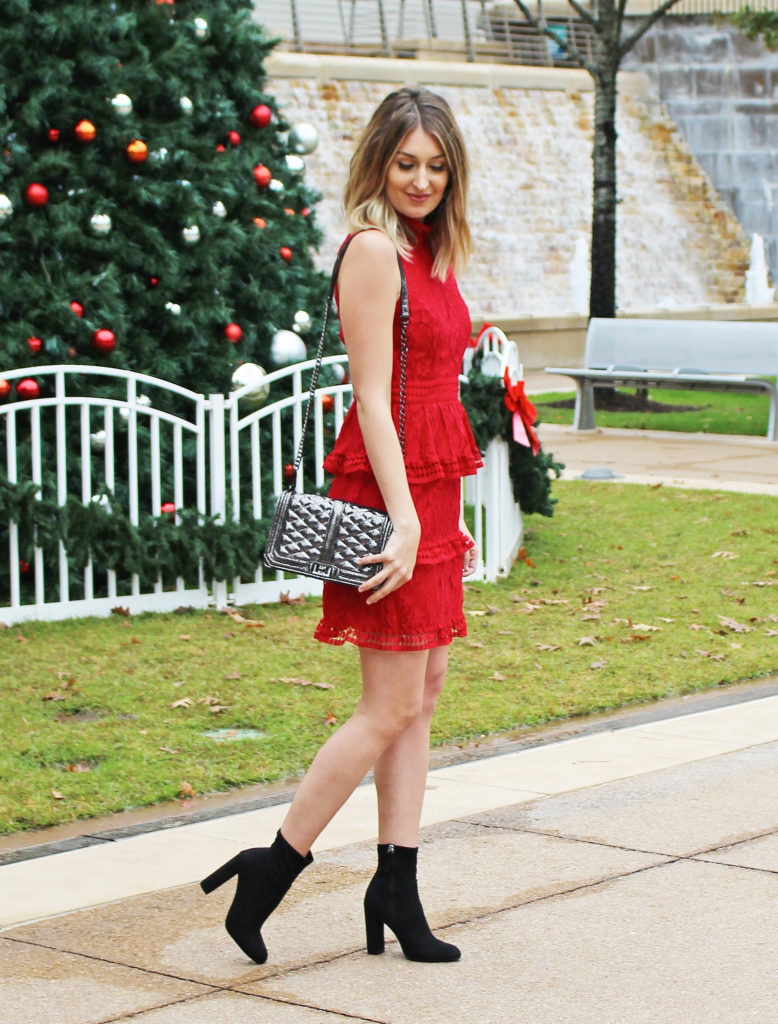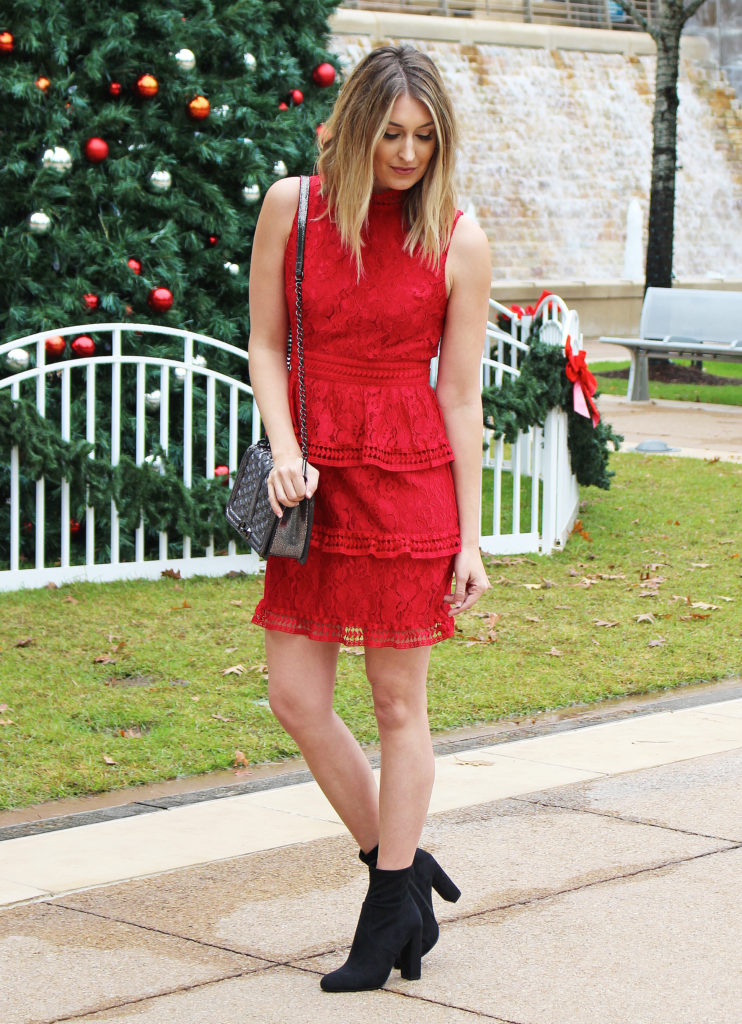 Dress: CeCe / Booties: Steve Madden / Bag: Rebecca Minkoff (no longer available, similar here and here) / Earrings: Loren Hope
Okay, full disclosure…I'm that person who plans out holiday outfits like WAY in advance. Like, I plan for Christmas Eve and Christmas Day around Thanksgiving! Haha…yeah…I'm not kidding. I LOVE to get dressed up, especially for the holidays. In fact, I love it so much, that I almost wish I could plan for more than two outfits. I'm not going to lie, I was slightly disappointed when I found out my husband's company wasn't doing a big holiday party this year because I wanted an excuse to get dressed up and have a kid-free night! 🙂
So between all of my family (who all lives in Houston) and my husband's family (it's technically their year for Christmas this year) we have TONS of get togethers between Christmas Eve and Christmas Day. As of right now, our plan is to have a gift exchange with my immediate family Christmas Eve daytime, then go to church, then go to my mom's mom's and stepdad's house for a big family gathering. Then Christmas Day we will wake up and exchange gifts (and do the whole Santa thing!) between the four of us, then go to my brother-in-law's house to have Christmas with my husband's family, then from there go to my dad's parents' house for a big family gathering with that side of the family. Yeah, it's crazy! But I'm so thankful that we still get to see all sides of our family for the holiday!
ANYWAY, so this is what I plan to wear for Christmas Eve. I usually get a little bit more dressed up for Christmas Eve than Christmas Day just because we usually go to church at some point. I had actually planned a completely different outfit, but when I put it together, it was awful! When I went shopping on Black Friday, I spotted this dress and just tried it on for fun really, thinking it would be way to dressy. Once I got it on I fell in love with it, and quickly decided to change my outfit plan for Christmas Eve!
There are so many things I love about this dress. The neckline, the lace, the tiered skirt, and of course the color is so perfect for Christmas. Since it does feel like sort of a dressier piece, I wanted to dress it down slightly so it didn't feel so cocktail-partyish. To do that I opted for my black sock booties instead of a pump or heeled sandal. I love the look it gives it. Not only does it dress it down, but it also makes it feel a little more trendy and unexpected, so that's always fun! And, because it's a holiday look, I just had to add my new sparkly bag!
xo, Loren
Shop the Post:
[show_shopthepost_widget id="2222320″]