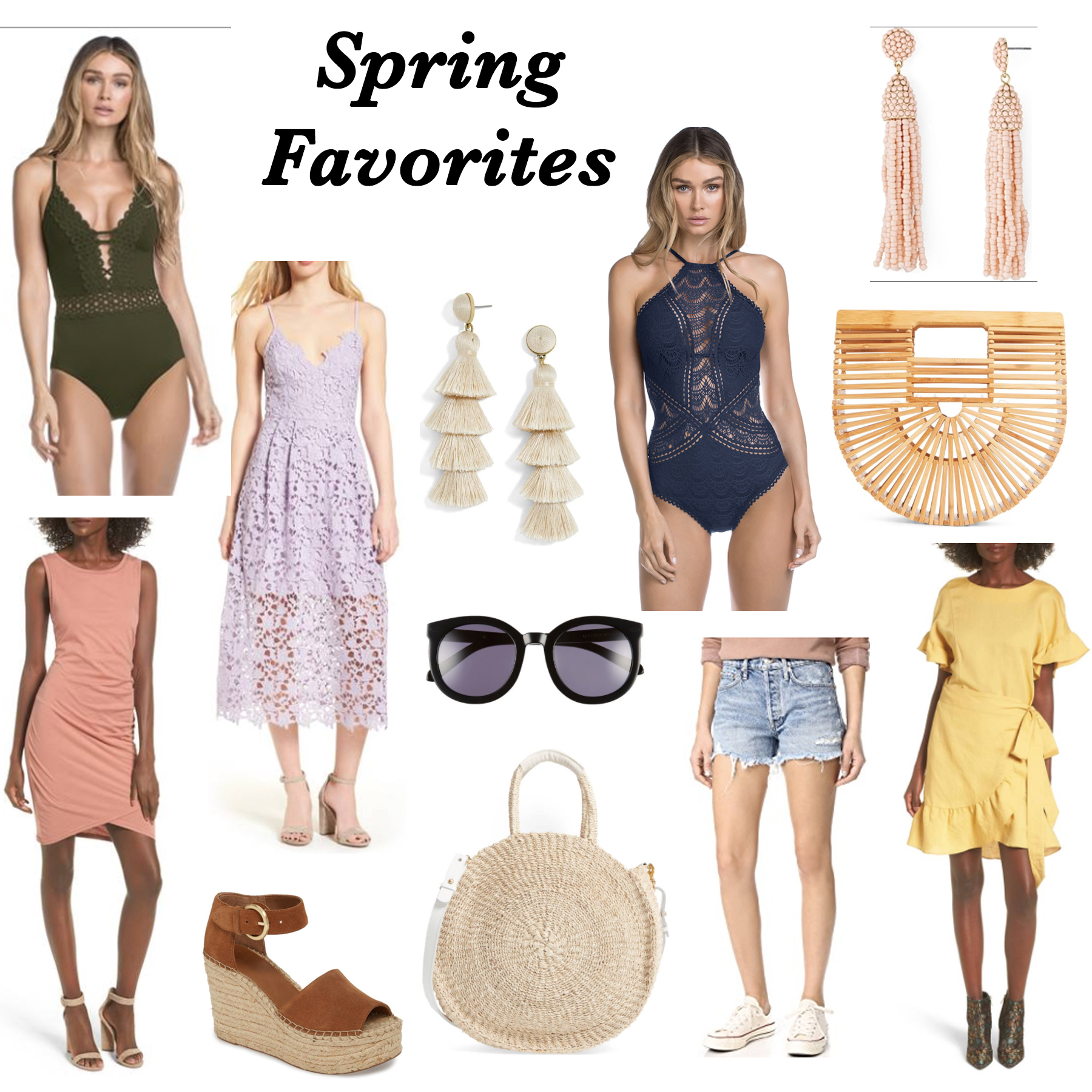 I don't usually do a Sunday night post, but my husband told me he didn't want to watch Game of Thrones tonight (we've been getting caught up), and apparently he was serious. So I'm sitting here half-heartedly watching the Grammy's and putting together this post for y'all!
Most of these items are items that I purchased last spring and summer that were favorites of mine. Many of them are back for this year, so I figured I'd share my tried and true spring picks with y'all.
The two swimsuits pictured here are both styles that I bought last year. I bought the plunging neckline one in white (but I'm loving this olive green), and the high-neck one in navy. I still have a little bit of a "mom pooch" (fingers crossed I get rid of that soon) and I found these two swimsuits to be much more flattering than most. And apparently a lot of other people did as well, because they sold like hotcakes last summer.
Midi length lace dresses like this one seem to be on repeat season after season, and it's easy to see why. They are elegant, flattering, and perfect for so many occasions. I had a yellow one very similar to this one that I wore last year for Easter and I loved it. I felt so springy and feminine. I kind of have my eye on this lavender one for this year.
This ruched body-con dress is another crowd-pleaser. It's universally flattering, comes in a bunch of colors, it's comfortable, and it's super affordable. Honestly I could rave on and on about this dress, but take my word for it, you need one in your life.
If you haven't seen these wedges somewhere on the Internet you have likely been hiding under a rock. I swear, these wedges have been "the shoes of Instagram" two springs in a row, and they are back again this year. I have these and love them. They are comfortable and go with sooo many different things.
Okay y'all, let me tell you about this round sisal tote bag. If you want it, buy it now. This thing was so hard to come by last year. I wanted one so badly and waited too long. It happened to come back in stock for like less than 24 hours so I snagged one, and it is one of my favorite bags of all time. It's so cute with every outfit, even a swimsuit and cutoffs. I also love that it can be carried as a tote or a crossbody.
Both of these pairs of earrings were go-to's for me last spring and summer. I love the neutral fringe pair because the colors goes with everything. I also found myself reaching for this blush beaded tassel pair a lot because they color is so soft and pretty, it almost works as a neutral as well.
These Karen Walker oversized sunnies are the pair I reach for the most. They are one of my more expensive pairs of sunglasses, but by far my most worn.
Does anybody else HATE shorts? Since having kids, I seriously hate wearing shorts. My legs are relatively thin, but they do have a lot of cellulite, which is seriously the most frustrating thing and by far my biggest insecurity about my body. So yeah, I hate shorts. This pair, although a little bit of a splurge, is my favorite BY FAR y'all. I actually, dare I say, like the way I look in them (as opposed to just tolerating the way I look in them). I actually have them in this color, and the darker wash as well.
Another go-to for me last spring and summer was this ark bag. This is another one that, if you've had your eye on it, snatch it now while they are in stock. I was actually shocked how often I reached for this bag when putting looks together. It's not the most functional, I'll be honest, but it's a total outfit maker. It's also a great conversation starter. I've actually been asked before if I was carrying around a birdcage, so there's that.
This last dress, is not something I have had since last year, I actually just purchased it. I was immediately drawn to it because of the gorgeous yellow color. I love the style of it because it's comfortable and flattering, and a little longer in the back. I plan to wear this one with wedges and flats for a lot of different occasions.
xo, Loren