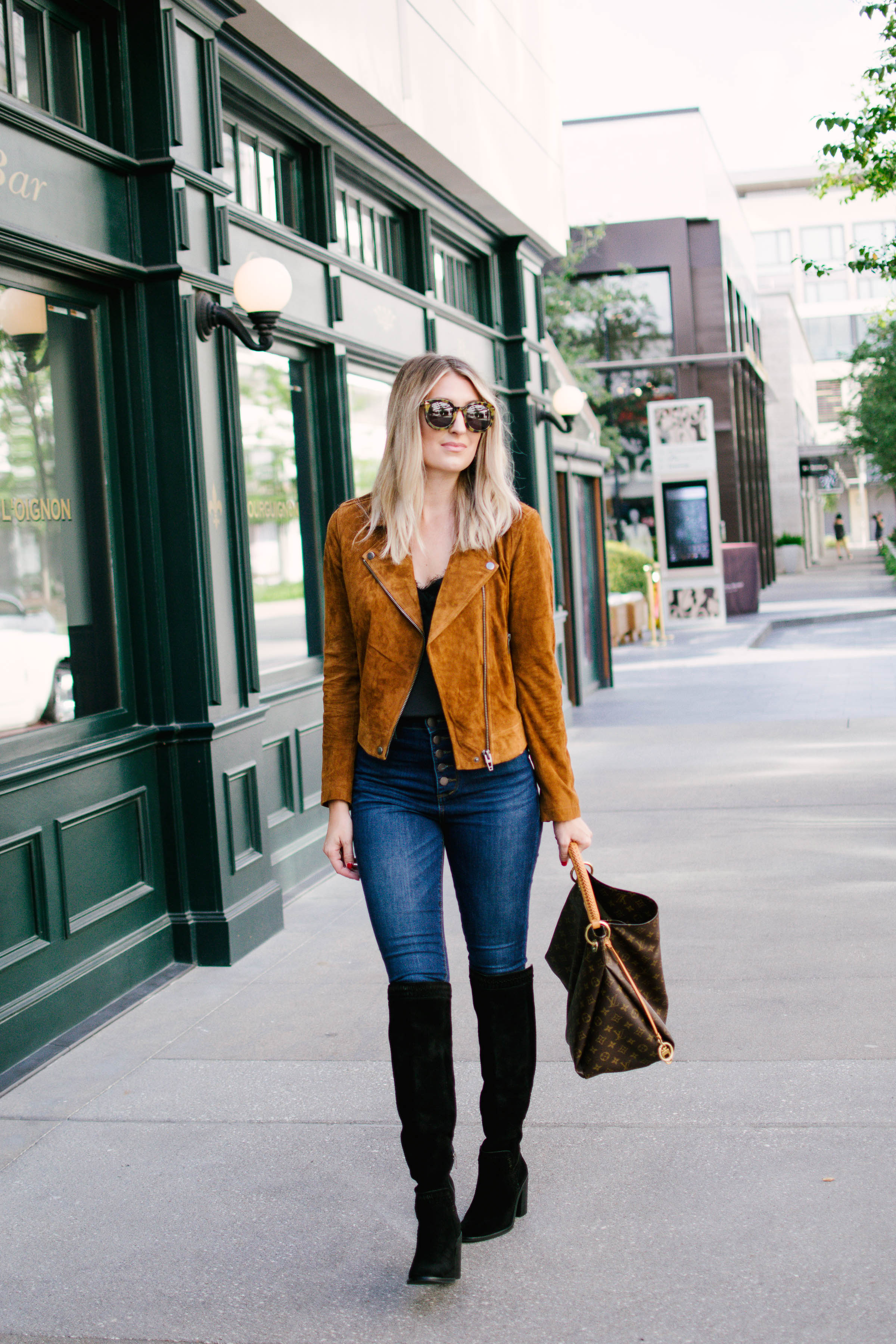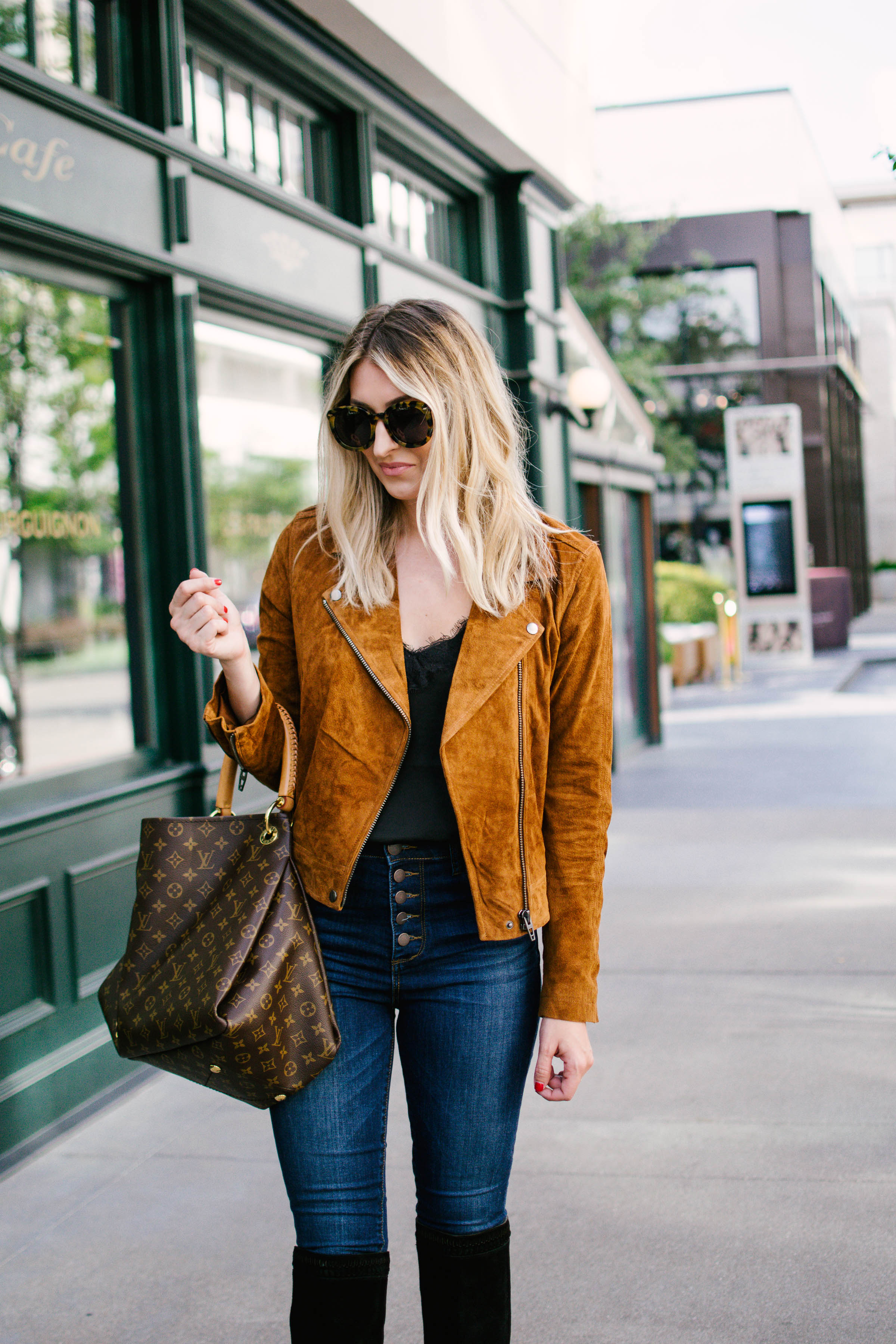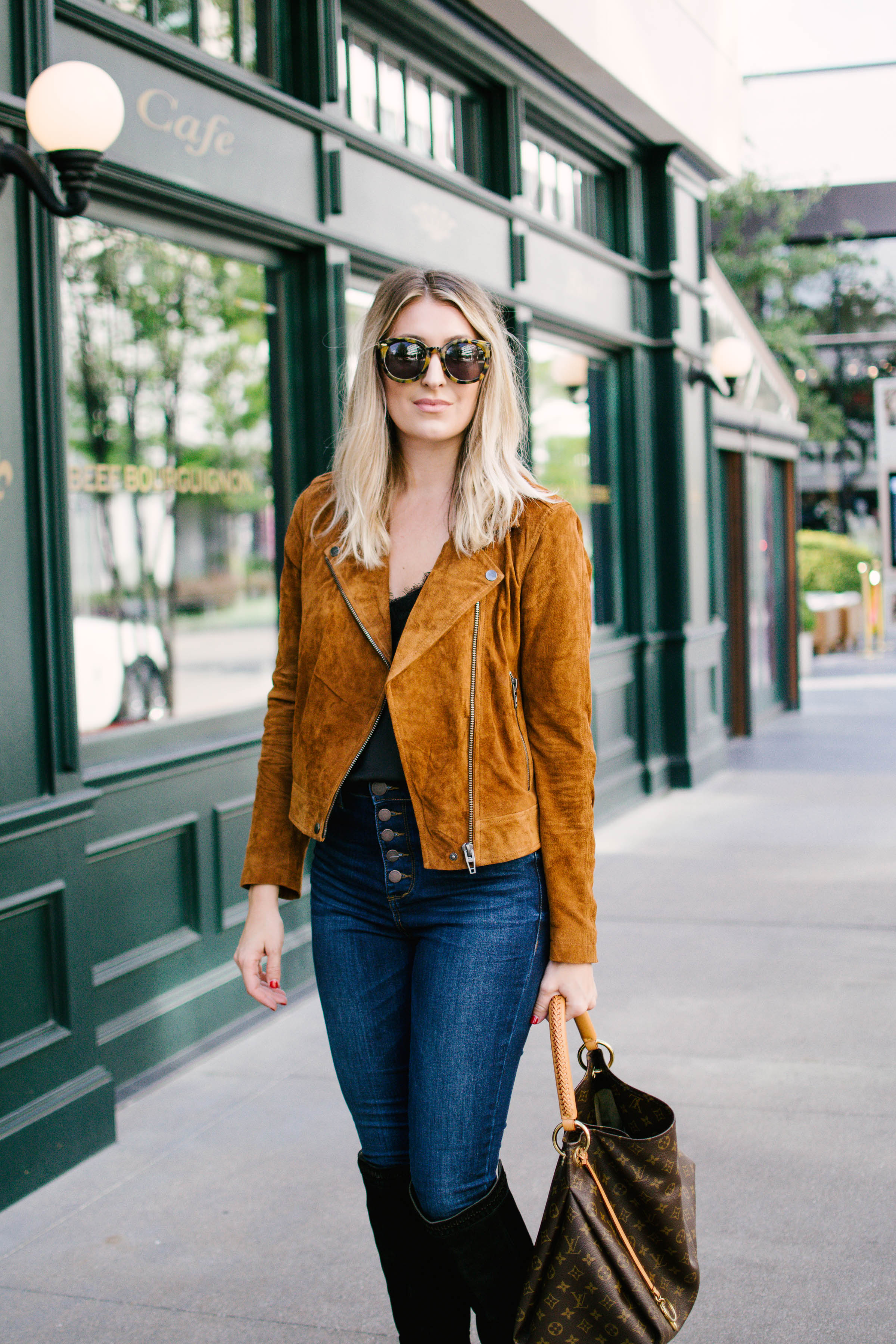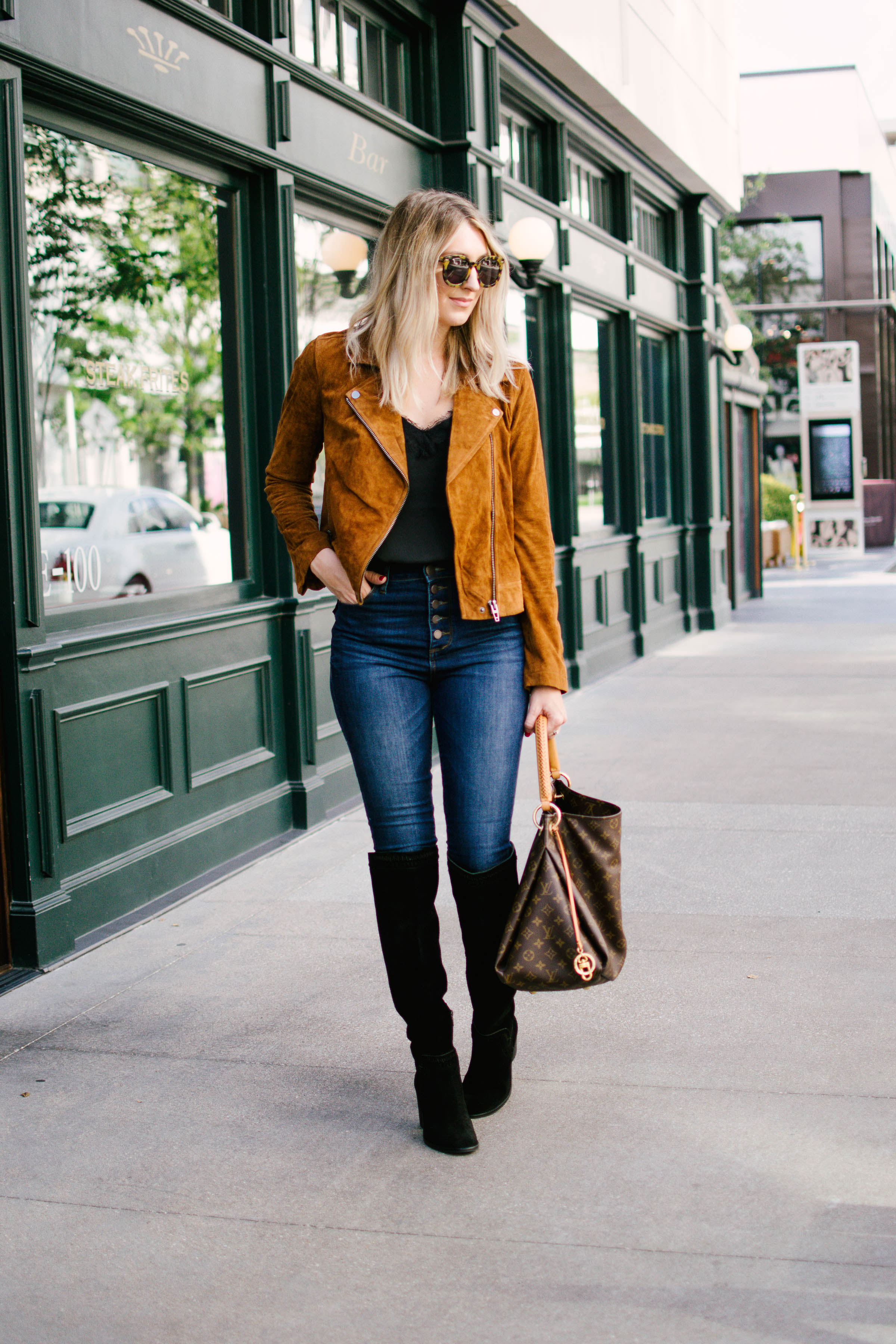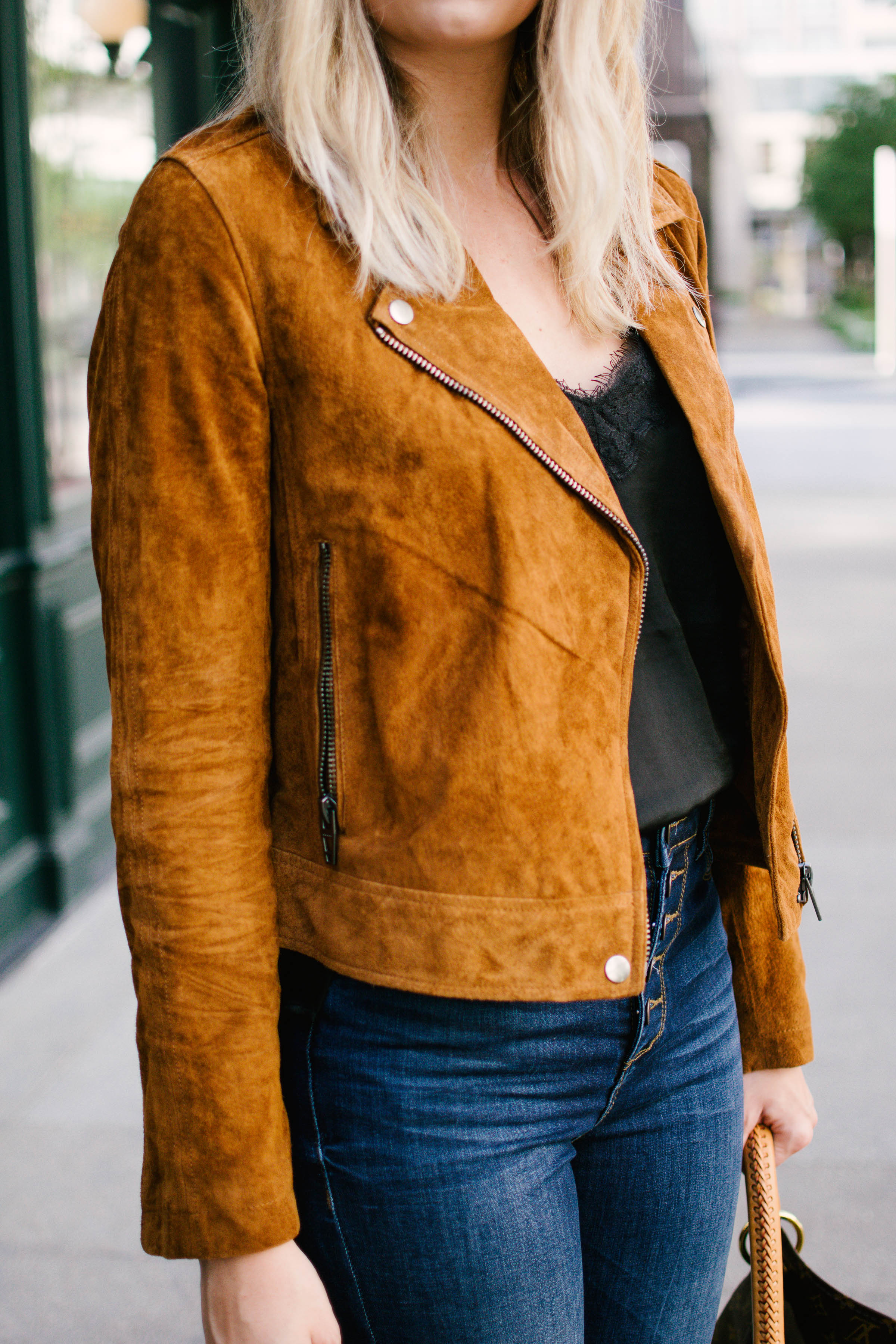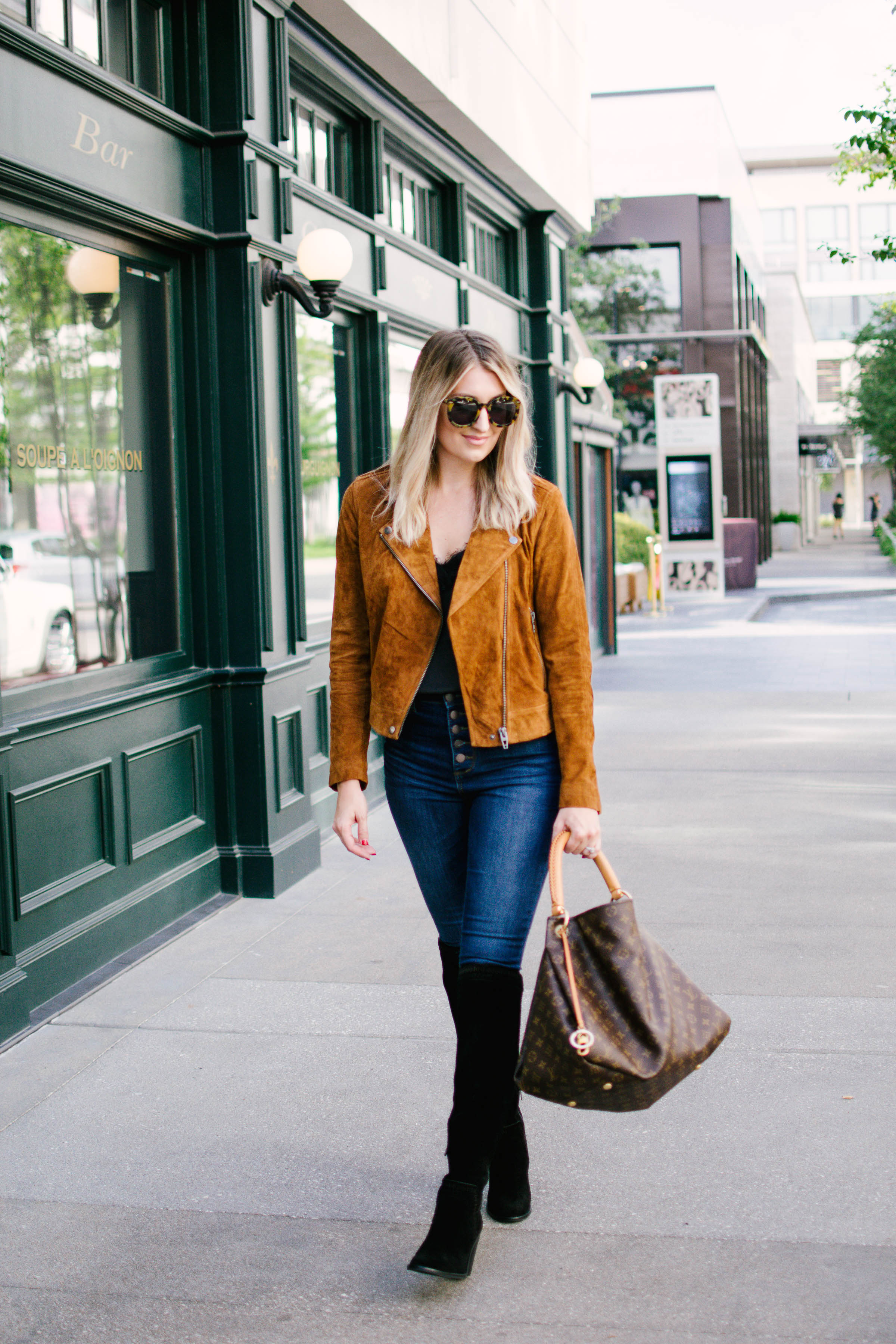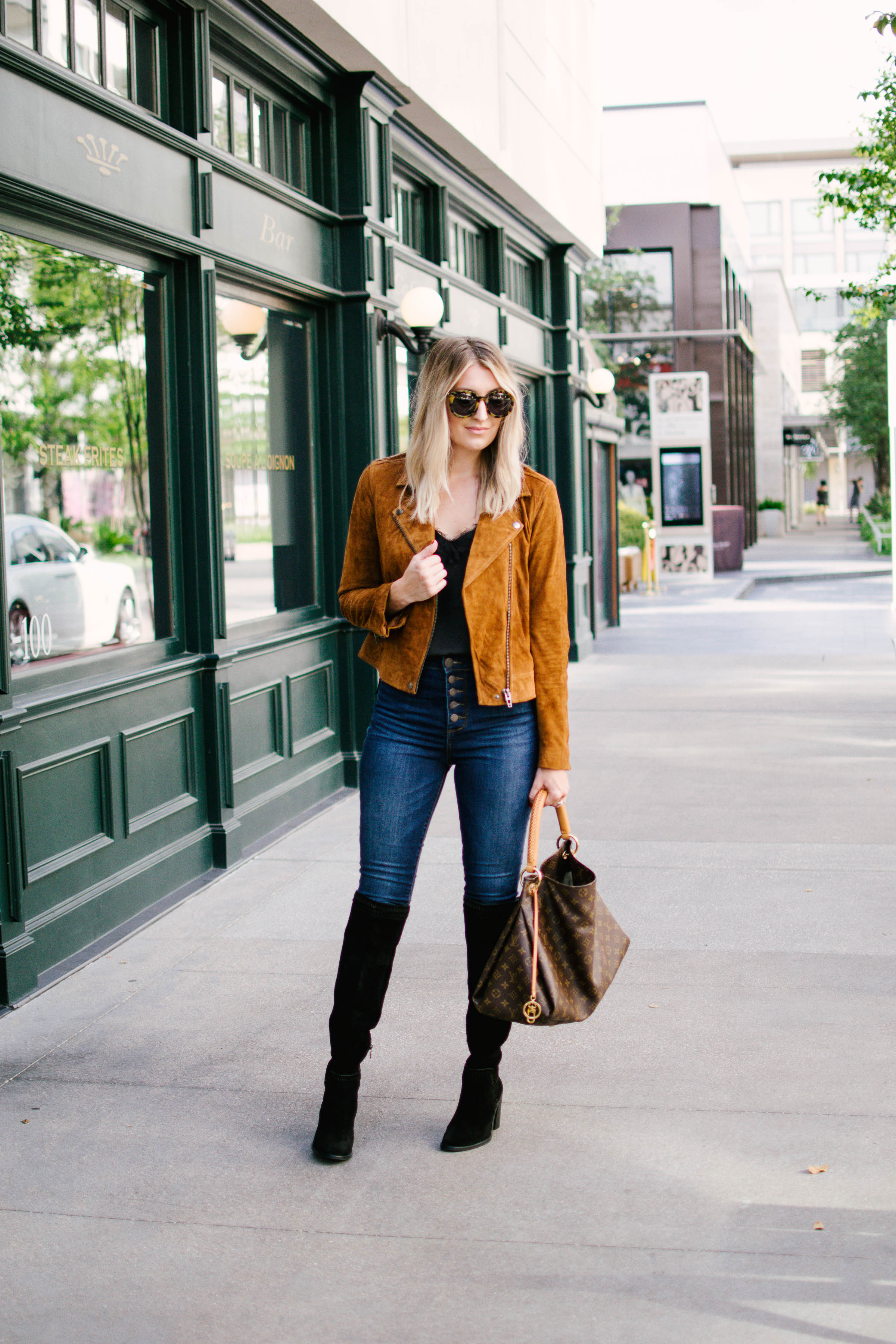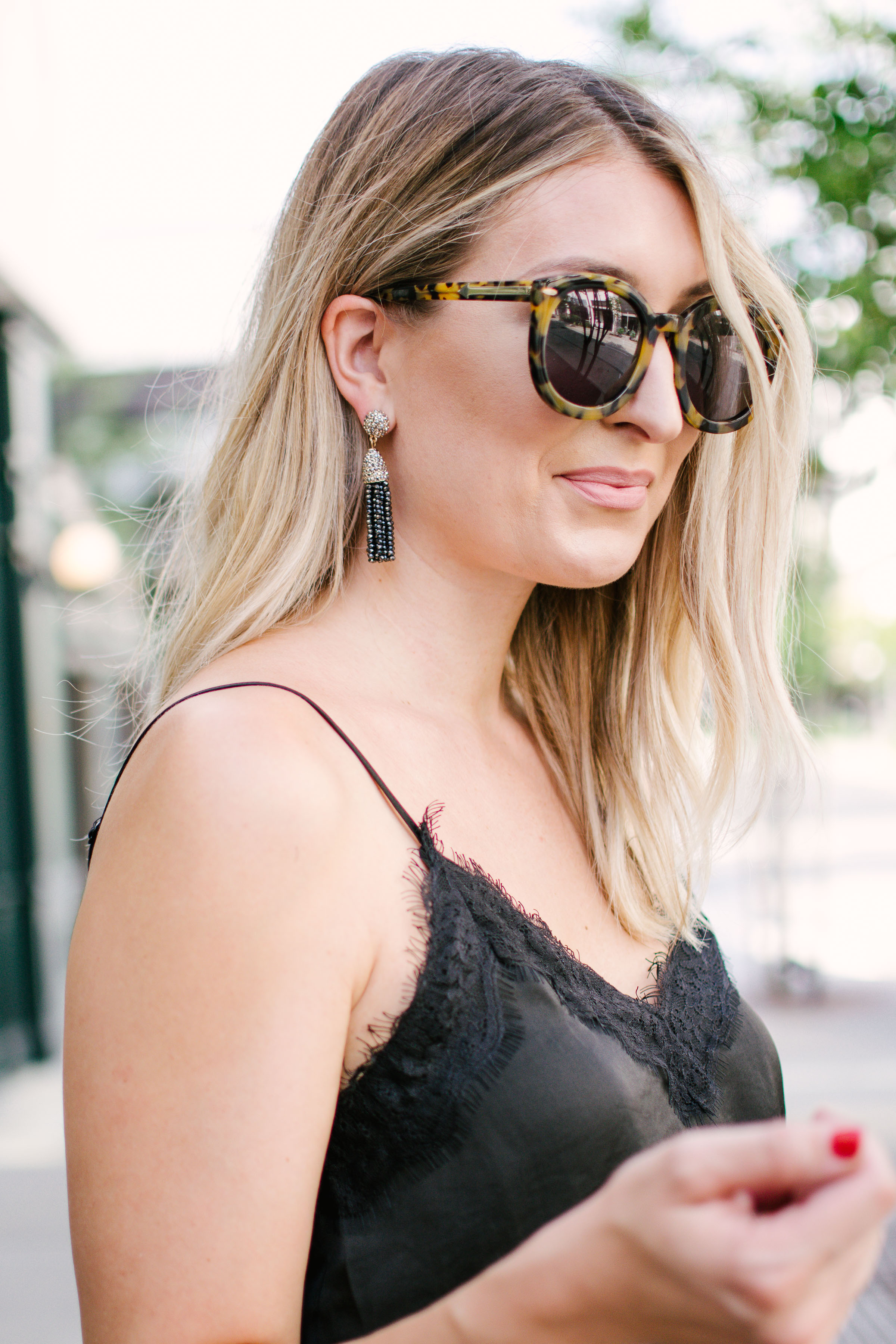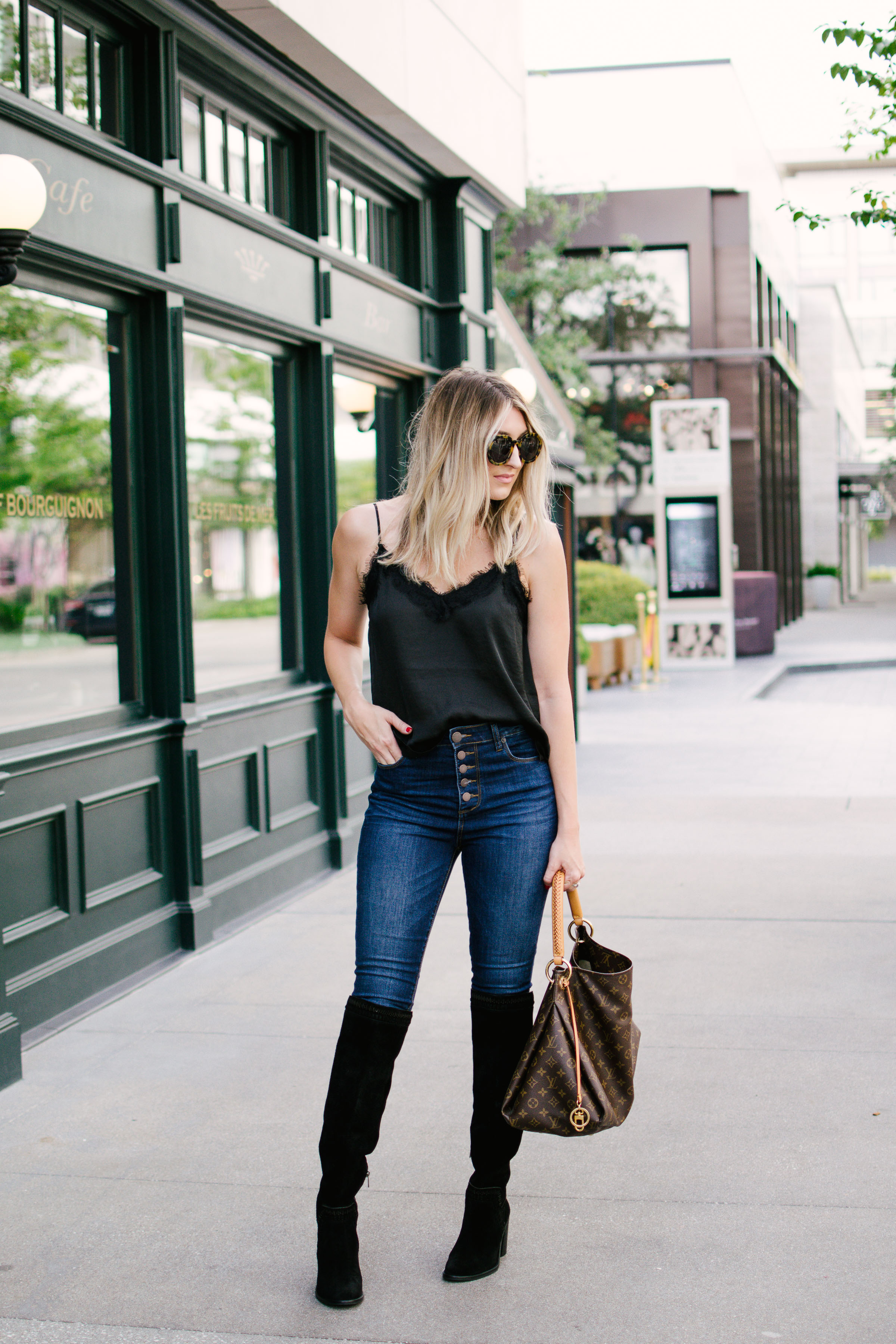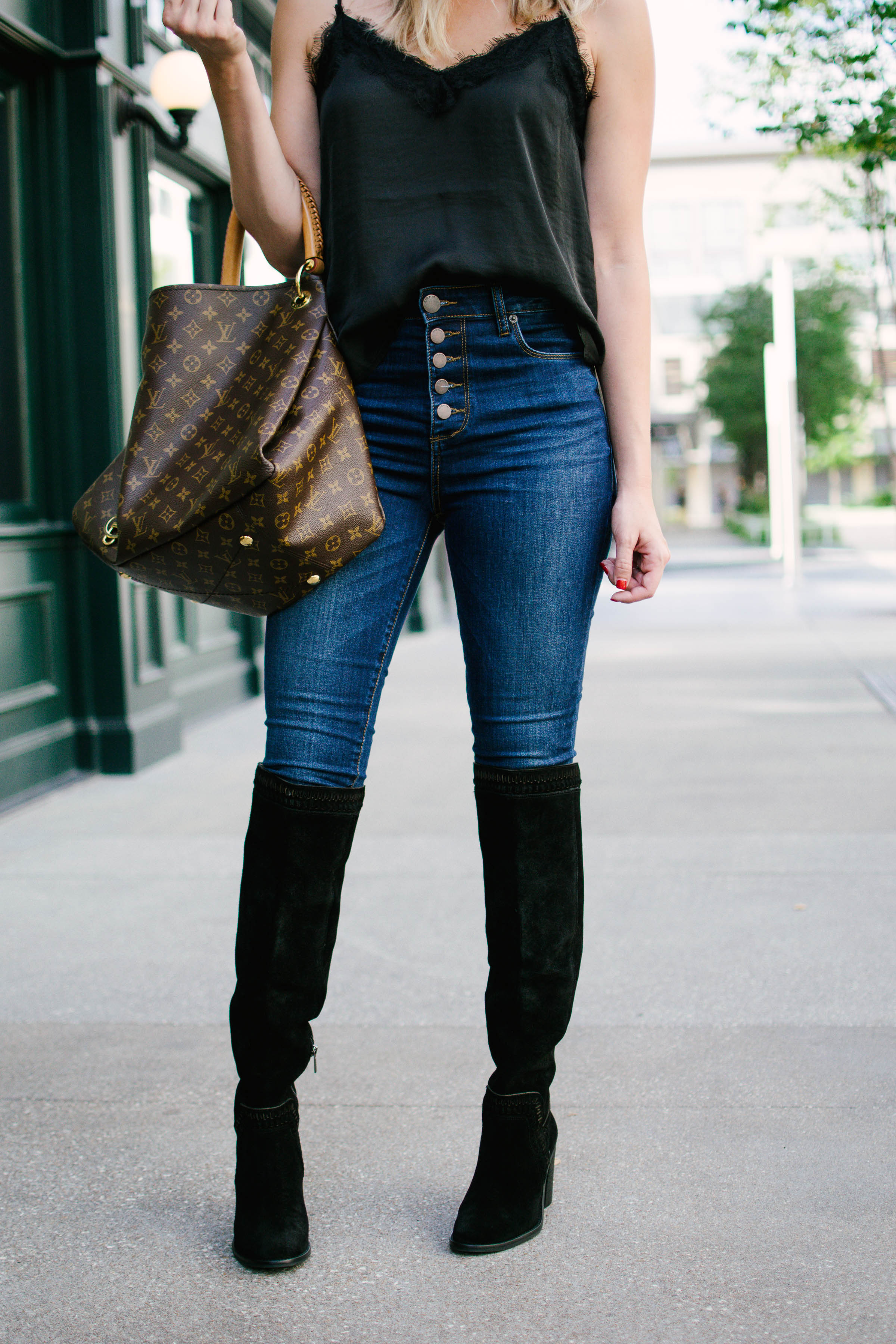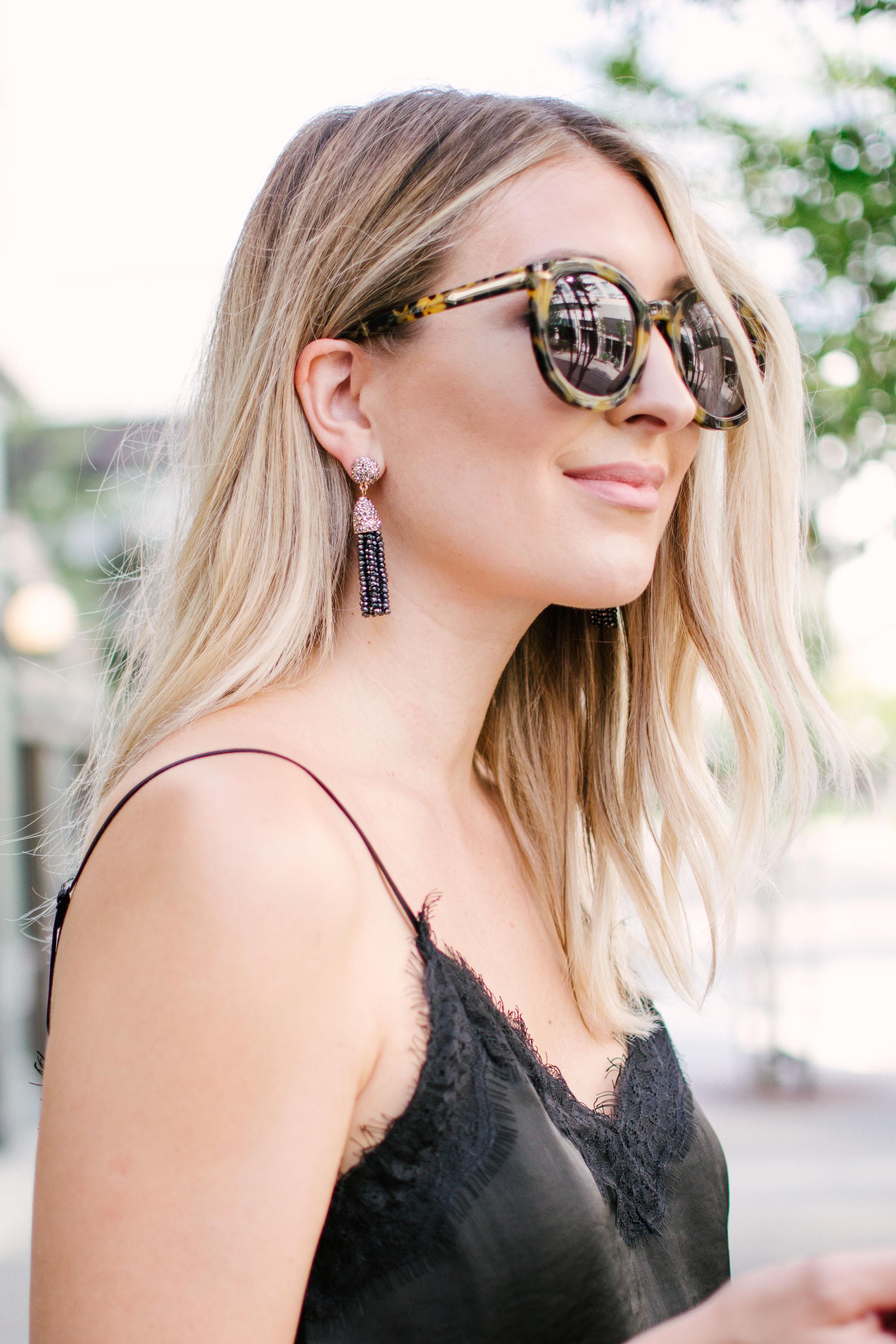 Jacket: BLANK NYC / Cami: BP. (similar here and here) / Denim: STS Blue (also loving these) / Boots: Vince Camuto / Bag: Louis Vuitton Artsy MM / Sunnies: Karen Walker / Earrings: Bauble Bar (similar here)
Happy Sunday y'all! I hope you all are having a good weekend! We have had a fun weekend with our little family. Yesterday morning we tried out a new restaurant that is walking distance from our house, and y'all….it was SO good. I'm so excited to have such a yummy place for breakfast/lunch so close by! After breakfast I took Liv with me to "run errands" as she says. She is so funny, this has become her favorite thing to do. But I think she really just likes it because it's just the two of us and she doesn't have to compete with Mason for attention. Either way, I had so much fun with my mini yesterday picking up a few last things from the Nordstrom sale, checking out the Disney store, and eating cookies together.
I know tons of great things from the Nordstrom sale are selling out, but I have still have some great looks to share with you guys on here! So, since a lot of the pieces I bought have sold out, I'm linking them (incase they come back in stock), but I'm also linking some similar items as well. That way y'all can recreate these outfits even without the exact pieces.
This suede moto jacket was one of the things I had my eye on for the sale, so when I saw that they had only a couple left in my store, I grabbed it! I'm so glad they had my size, because I think I will wear this a lot come fall. I actually also have this jacket in burgundy from last year. I have a feeling that as we get further into the fall season, this jacket could get restocked, or even be available through other retailers. These were so popular last year and it seems that they will be this year as well. I think this one is currently available in a couple of sizes still. If you're size isn't one of them, check out this one and this one for a similar style.
Y'all, these lace camis sold out so fast, I'm so glad I grabbed it in black and ivory while I could. Hoping these get restocked as well, but for now, I'm really loving this option. And if you don't care for the sheer panel in that one, check out this one.
How fun is the button-front fly on these jeans?? I love this fun little detail to change up my everyday basic jeans. I am very much a jeans type of girl, and if I get dressed up I usually just dress up my jeans. I mean,  I love a dress, but jeans tend to be so much more practical for my life. And honestly, a lot of the time I feel prettiest in them! This pair was another steal from the sale ($46 y'all) and they are still available in a few sizes.
These boots are amazing y'all. I feel like I'm 10 feet tall when I wear them. Not that I'm short (I'm 5'8″), but I swear these give me legs for days. These babies were also a sale purchase, and they are on sale right now for $160 (will go up to $240) and come in several colors. It looks like a lot of size and color combos are still available too!
xo, Loren
Photos by: This Lavender Life Photography