I don't know about you guys…but I am constantly looking for ways to make my teeth look whiter. In fact, I always tell people that one of the reasons I love to wear dark or bright red lip colors is because they always make my teeth look nice and bright.
I've tried several methods before including whitening strips and laser teeth whitening. I am not a fan of either. The strips never stay put. They slide around the entire time allowing you to taste that yucky gel that's on the other side of them. Not to mention you can't really talk with them in because that makes them move around even more.
The one time I tried laser teeth whitening, I had a horrible experience. It wasn't anything that the dental office did, they were great. And the actual whitening sessions were fine. It was after that the trouble came. I ended up having such horrible tooth sensitivity by lunch time (my appointment that day was in the morning, I was probably done around 9:30 or 10) that I felt like I couldn't breathe. I don't mean like my lungs didn't work, I mean literally feeling air go through my mouth made my teeth hurt. So I tried breathing through my nose, but even that little bit of air still hurt my teeth so badly. I certainly couldn't drink water. I called the dentist's office and they told me I was having a rare reaction to it, that most people's teeth don't ever get that sensitive. They prescribed me Vicodin for the pain. I know…a bit dramatic, but all true.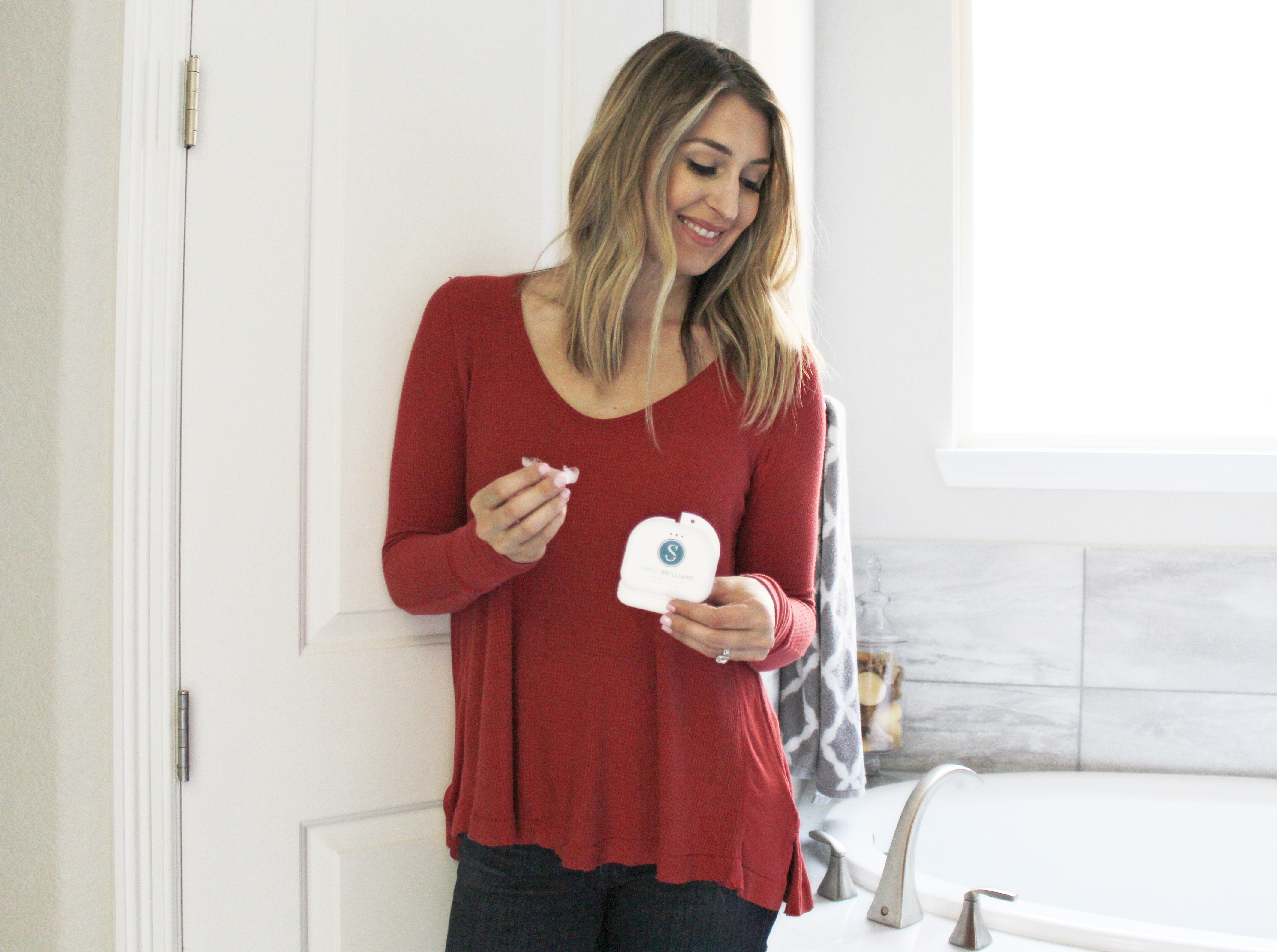 After that experience I had pretty given up on whitening my teeth. It's not like they were that yellow anyway. Enter: Smile Brilliant. You guys, this is literally the easiest way ever to whiten your teeth. They take away all the hard parts. With Smile Brilliant, you get the same level of whitening you would get if you went to the dentist. More on why I love this whitening system in a moment, but you should know that one lucky reader will have the chance to win a free whitening kit! Click here to enter: https://www.smilebrilliant.com/g/wearwhen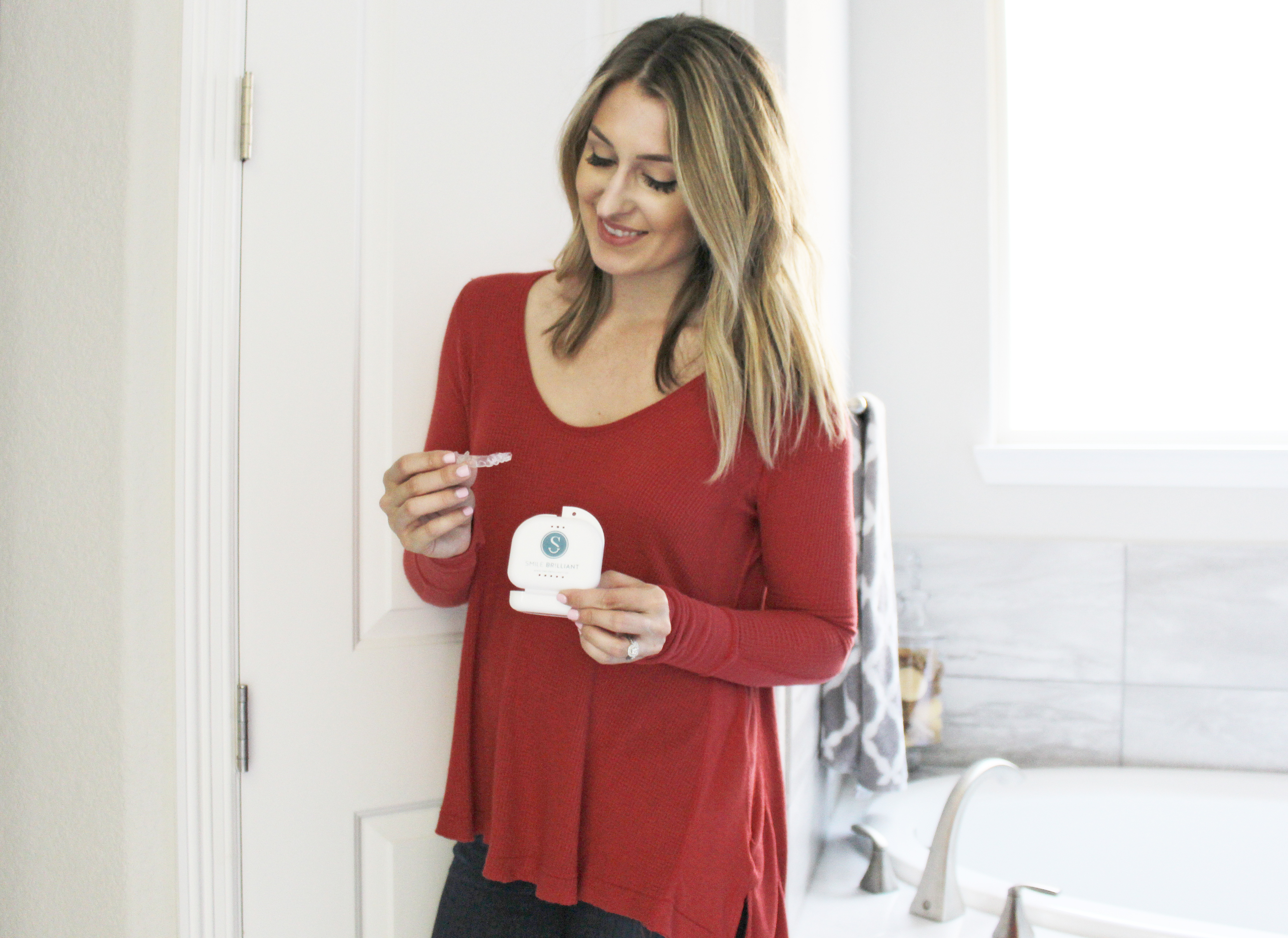 Okay, so here's how it works…They send you EVERYTHING you need all in one whitening kit. So the first step upon receiving your kit is to take impressions of your teeth. This is an important part of the whole process because after Smile Brilliant receives your impressions, they use those to create custom fitted whitening trays (so much better then whitening strips, am I right?!), which they mail to you upon completion. Taking your impressions is super easy too. You just mix the base paste with the catalyst paste, squish it into the impression tray, and take your impressions. The most important part about this process is making sure to sink your teeth deep enough into the paste to get a good, full impression of your teeth. I made that mistake the first time and had to redo my top impression. It wasn't a big deal though, they made it super easy for me to redo!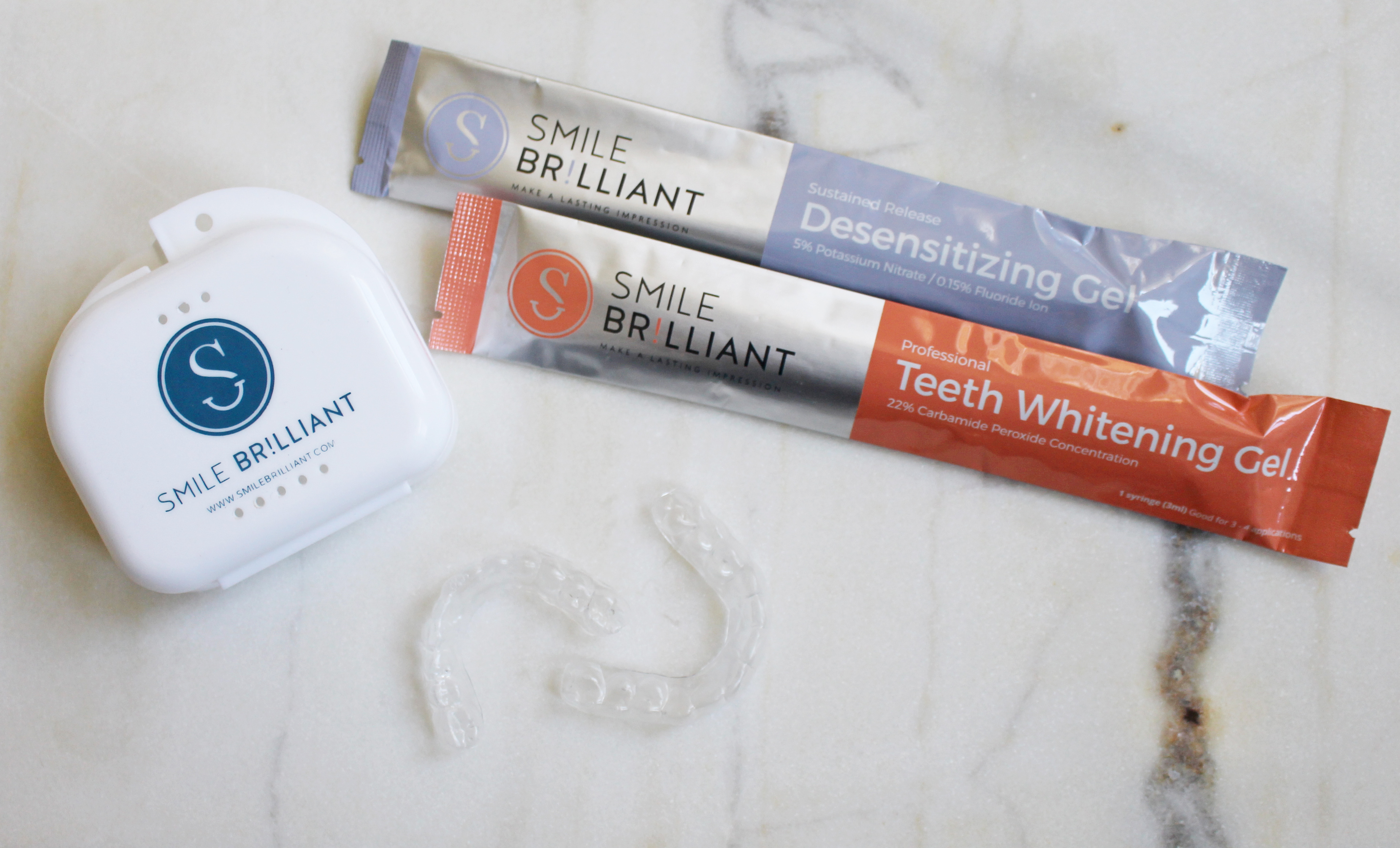 Once you get your custom-fitted whitening trays back, you are in business! The whitening gel comes in these little syringes so it's super easy to squeeze the perfect amount of whitening gel into your trays. Here's a tip: don't use too much. I did this during my first whitening session and of course whitening gel was oozing out of the trays (and let's be honest, it never tastes very good). After you apply the whitening gel, just pop in your tray and chill for about 45 minutes to an hour while your teeth get pretty! I like to do mine at night while I'm getting ready for bed. I always take a bath before bed (it's my kid-free quiet time) so I whiten my teeth during my bath.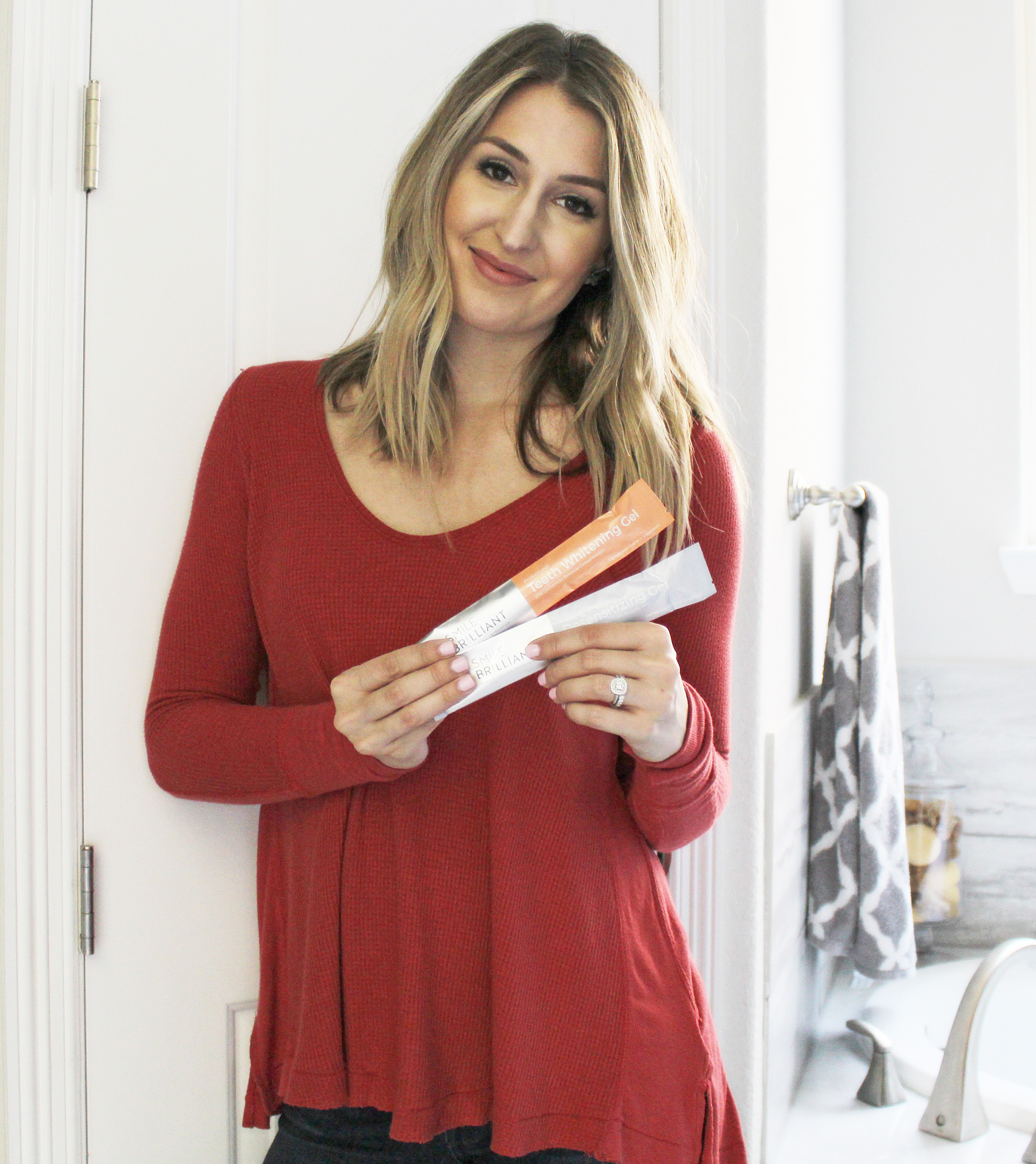 Now, like I mentioned before, I apparently have super sensitive teeth. So my whitening package included desensitizing gel to use after whitening. You just use this the same way as the whitening gel. Just apply a small amount to the trays and wear it for about 45  minutes. I'm actually wearing the trays in the photo below, and you can't even tell!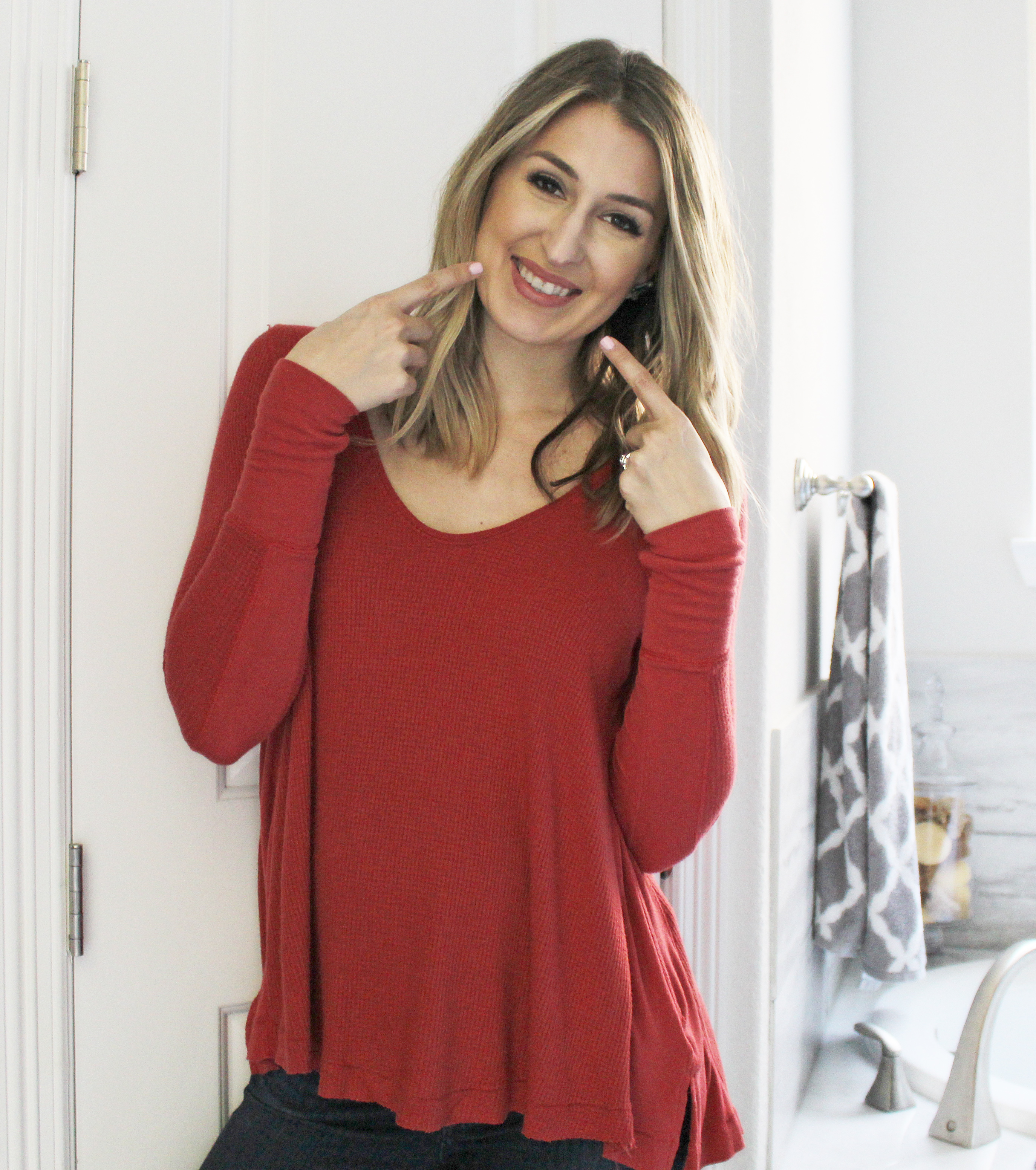 If you're interested in having gorgeous white teeth, you should definitely give Smile Brilliant a try! It saves you quite a bit of money compared to getting whitening through your dentist, and it's so much easier because EVERYTHING is on your own time. No appointments needed! Head over to www.smilebrilliant.com and use code "wearwhen" to save 5% on your kit!
And don't forget, you have the chance to win a FREE whitening kit! Just click the link below to enter!
https://www.smilebrilliant.com/g/wearwhen
xo, Loren