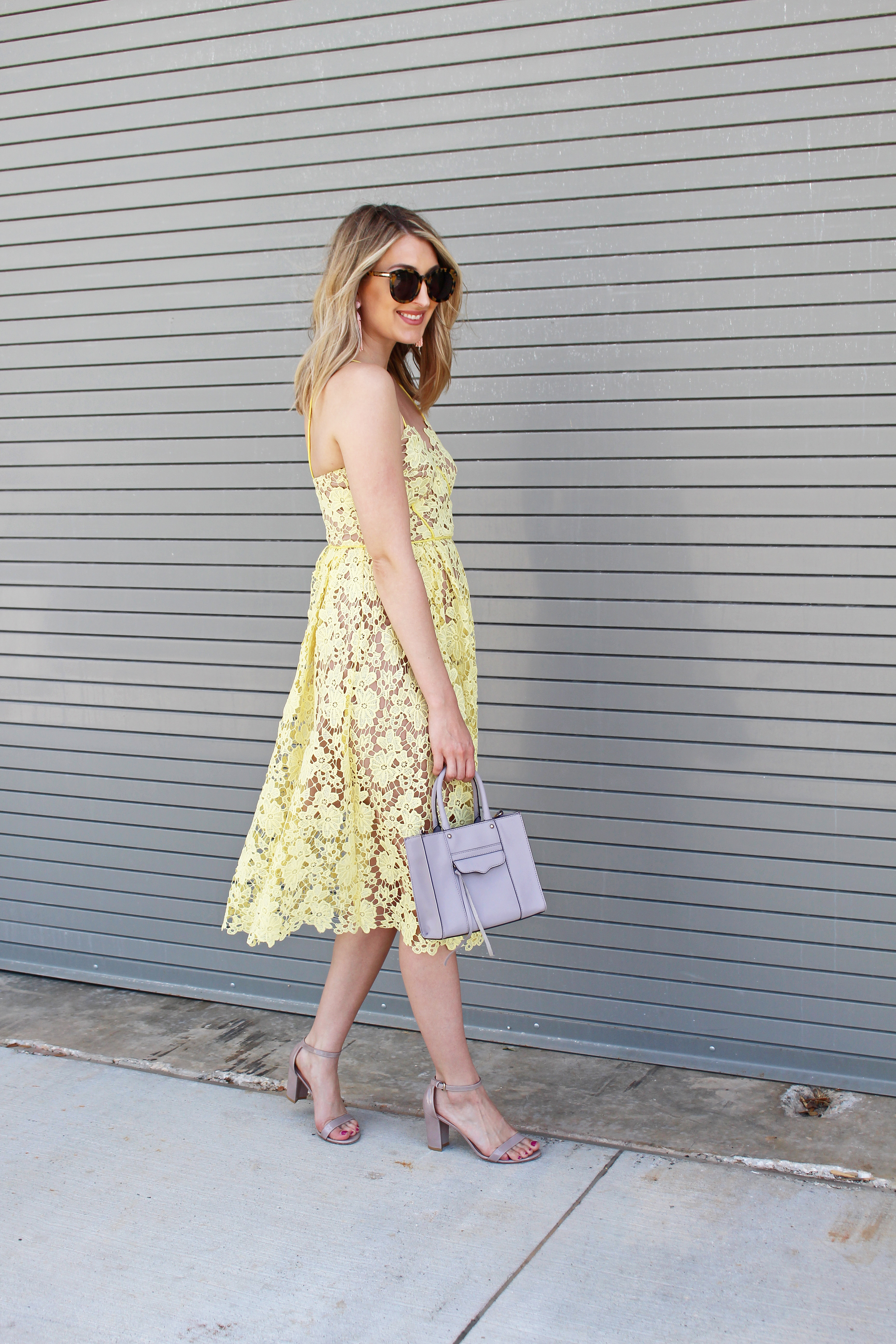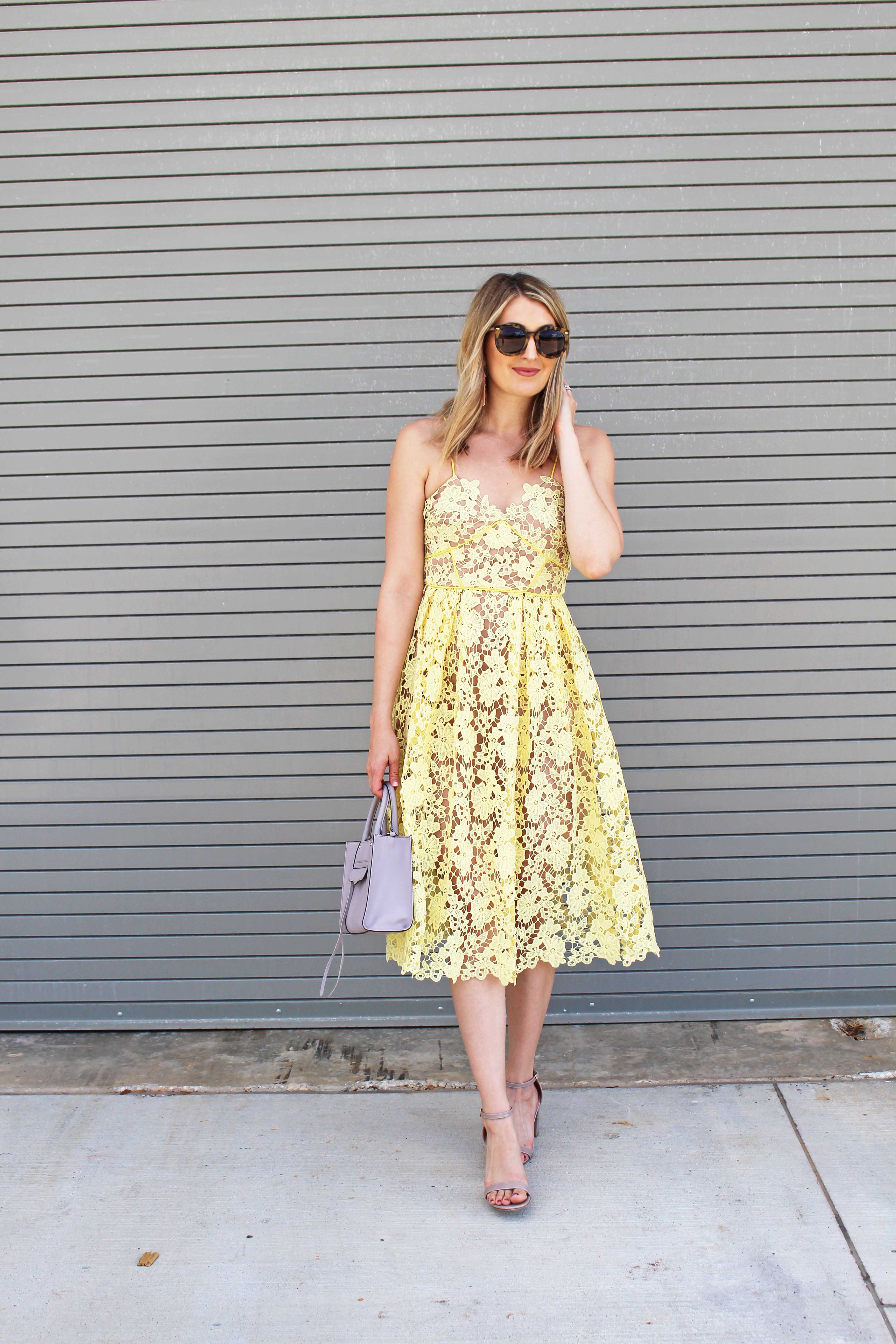 Happy Friday babes! Hope you all have had a good week! I know I'm ready for the weekend! Well…sort of. We are going to try to get Liv potty-trained this weekend. She is already three (her birthday was on Tuesday), so it's kind of late in the game. I was so afraid I missed the opportunity months ago, but she seems to actually be interested in it now (finally, we've only been trying to get her to use the "big girl potty" for like 8 months). Anyway, fingers crossed! This is my first child to potty train so I pretty much have no idea what I'm doing! Haha!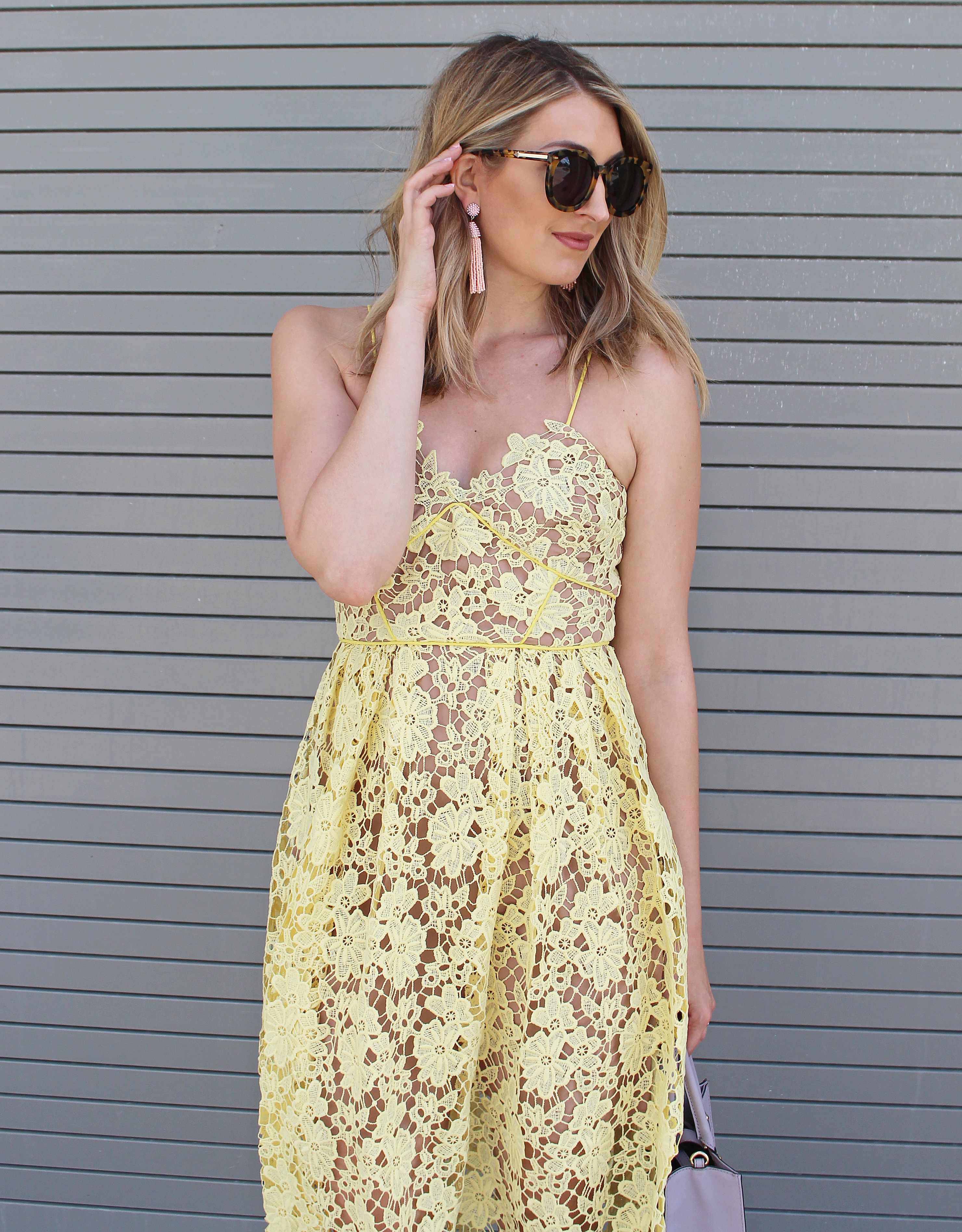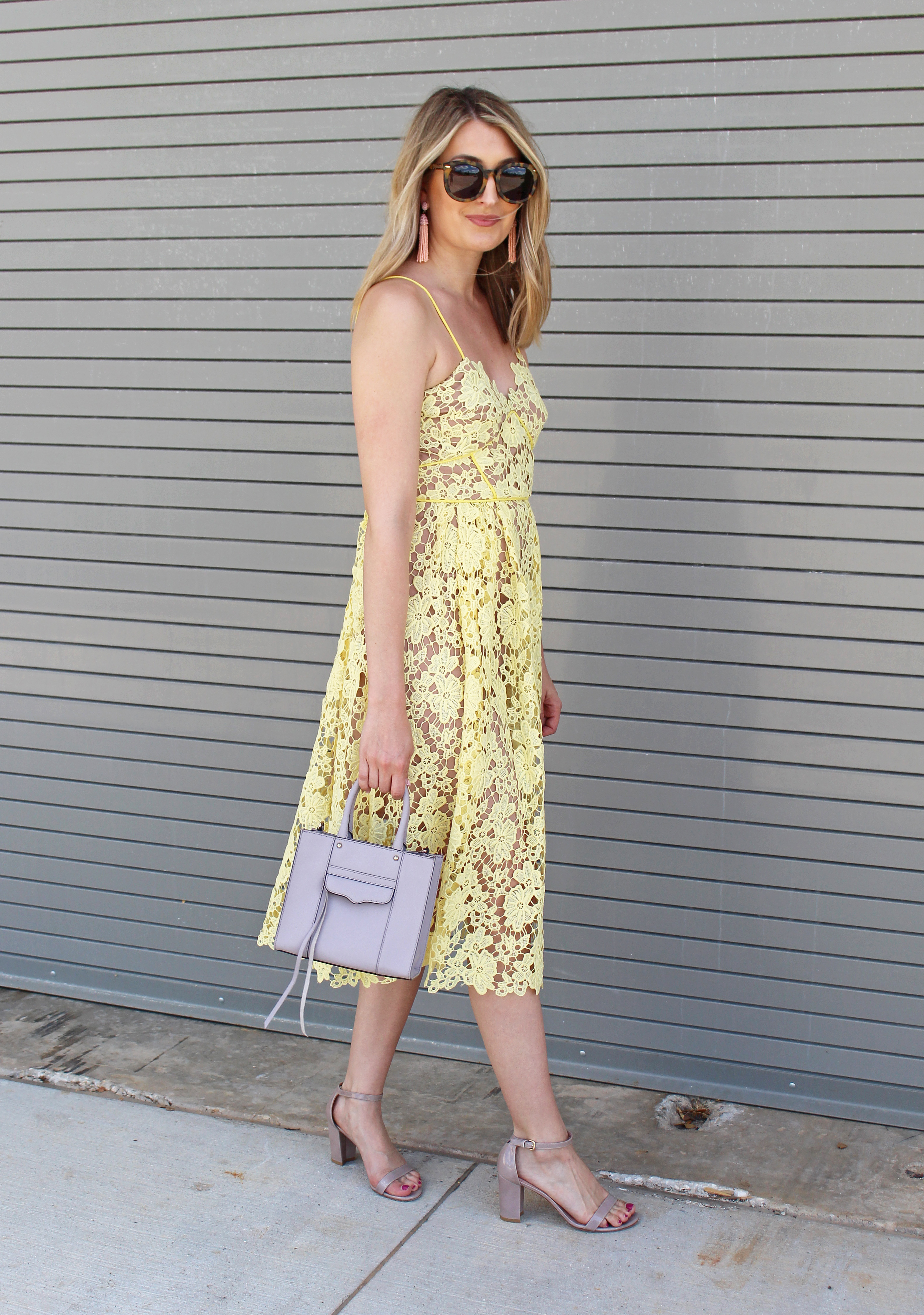 Now, about this dress. Because I know y'all don't read my blog to hear about my attempts at parenting milestones. How gorgeous is this little yellow lace number?! I had been searching for the "perfect" Easter dress for a couple of weeks. I actually saw a dress like this in a really pretty light blue color, but it was sold out at the time, so when I saw the yellow version I snatched it up as fast as I could. And I am so glad I did! I love the color, the lace, the cut of this dress…everything about it. I don't usually dress in clothes that are quite this girly, but I love how I feel in this dress. I feel so pretty and feminine, and it feels GOOD!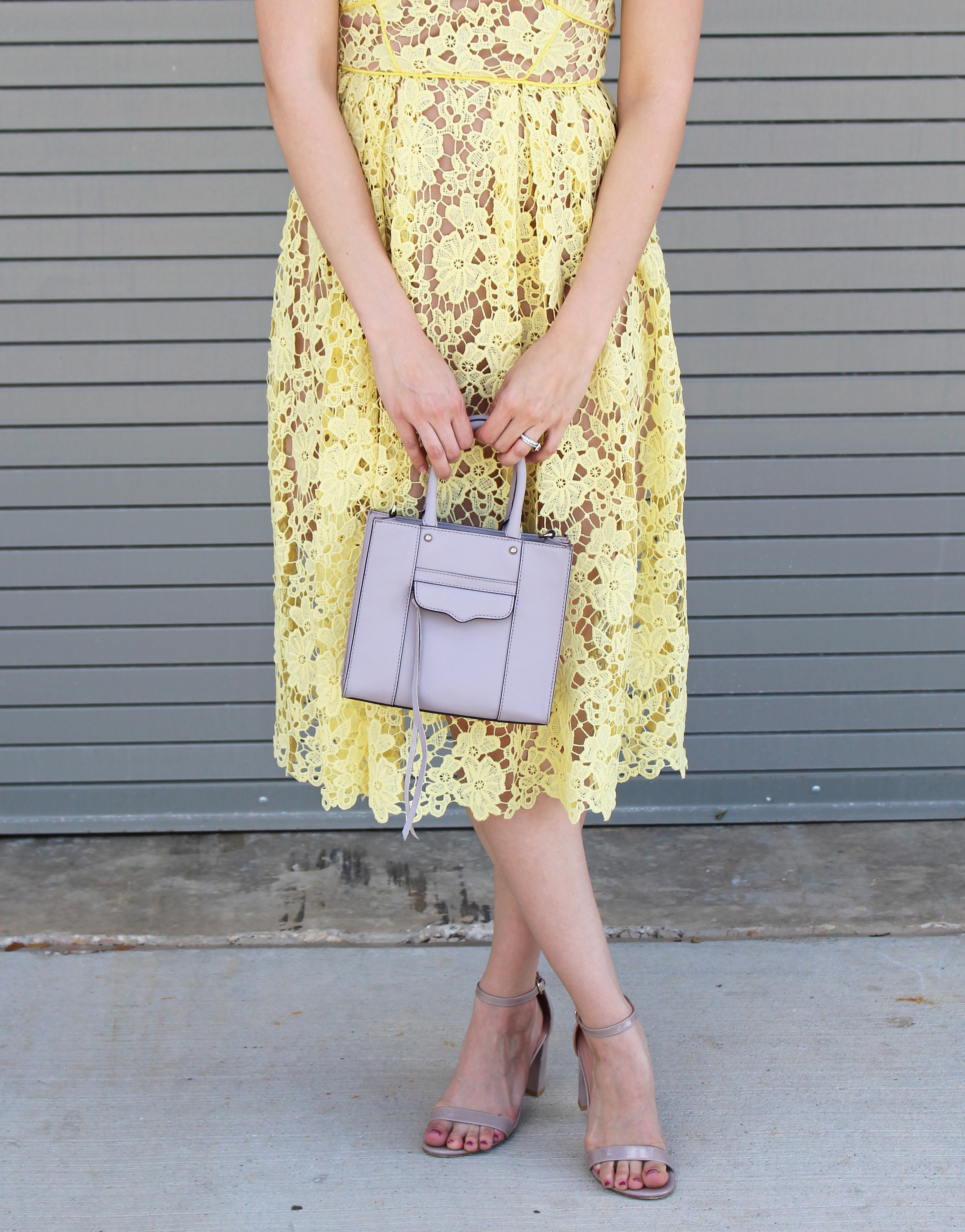 This dress just screams "spring" to me, so I really wanted that to show in how I styled it. I wanted to make sure my accessories were pastel as well, so they weren't too harsh against the pastel yellow. I couldn't resist pairing my favorite earrings these days, these pale pink tassel stunners, with this pretty yellow for a fresh spring look. I have been wearing these earrings SO much lately…I just can't get enough of them! I should probably order another color just to change it up a little, but the pink seems to go with a lot!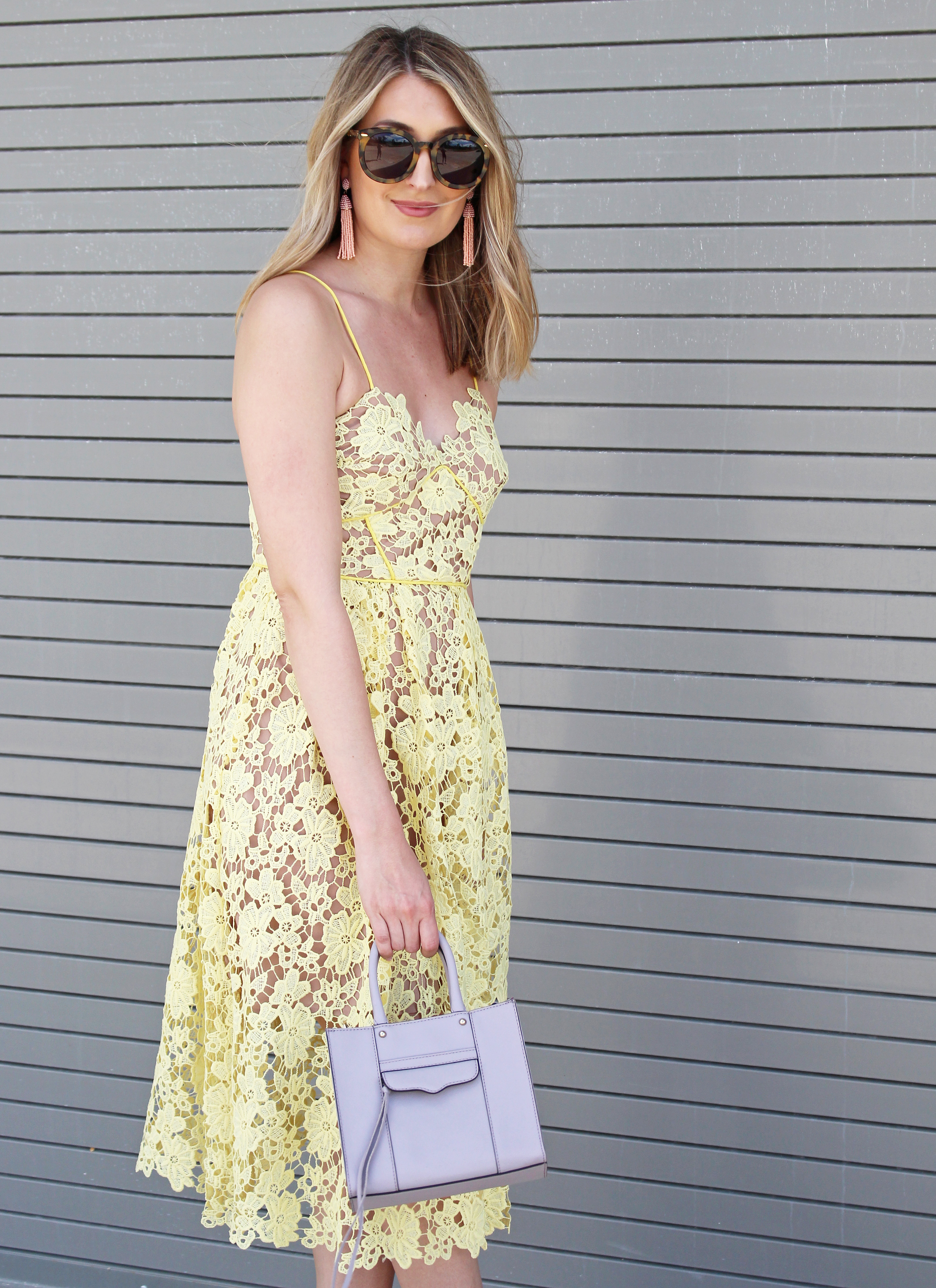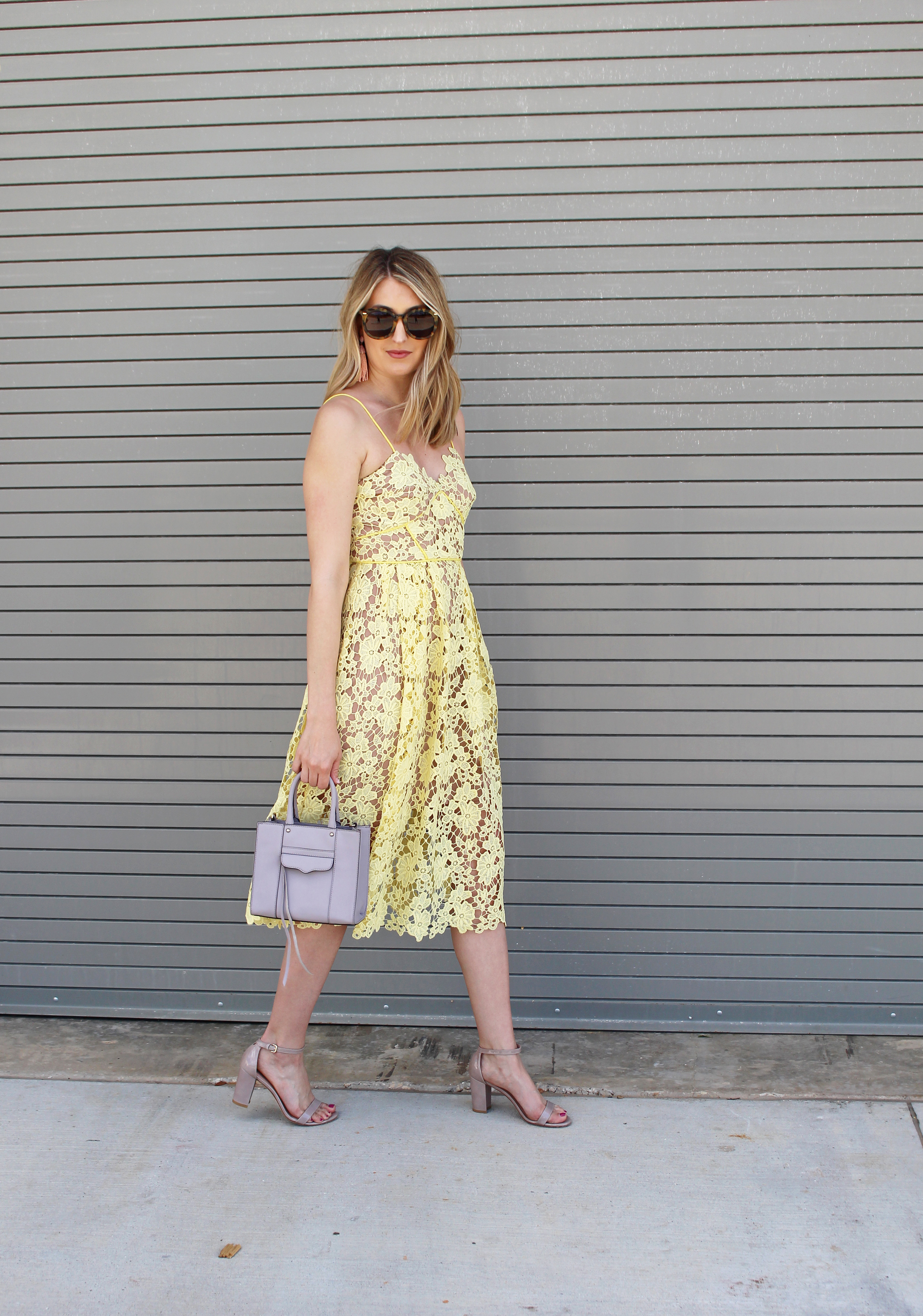 As far as shoes, I opted for these sort of grayish, nude sandals. You guys, I can't say enough good things about this shoe. I know it's an expensive one, but it's the best shoe I've ever owned. I LOVE heels. I really do. Of course, my feet don't. Add that to the fact that my life consists of chasing around a three year old and a one year old, and, well, a lot of my heels never see the light of day. I can wear this pair ALL DAY LONG y'all…and my feet don't hurt. I can walk super easily in them too, so that's a nice plus haha! Seriously though, if you ever splurge on a pair of shoes, these are worth it!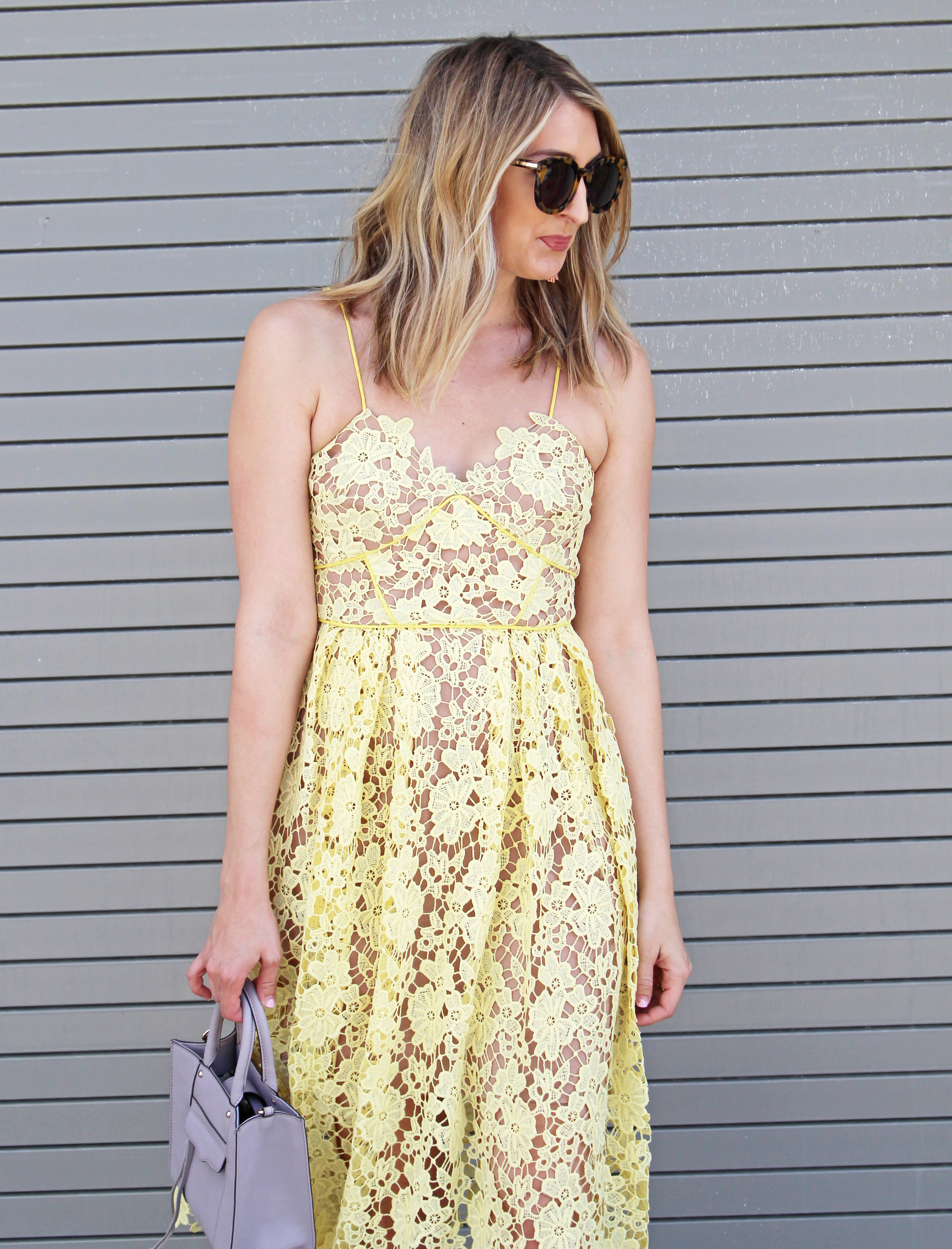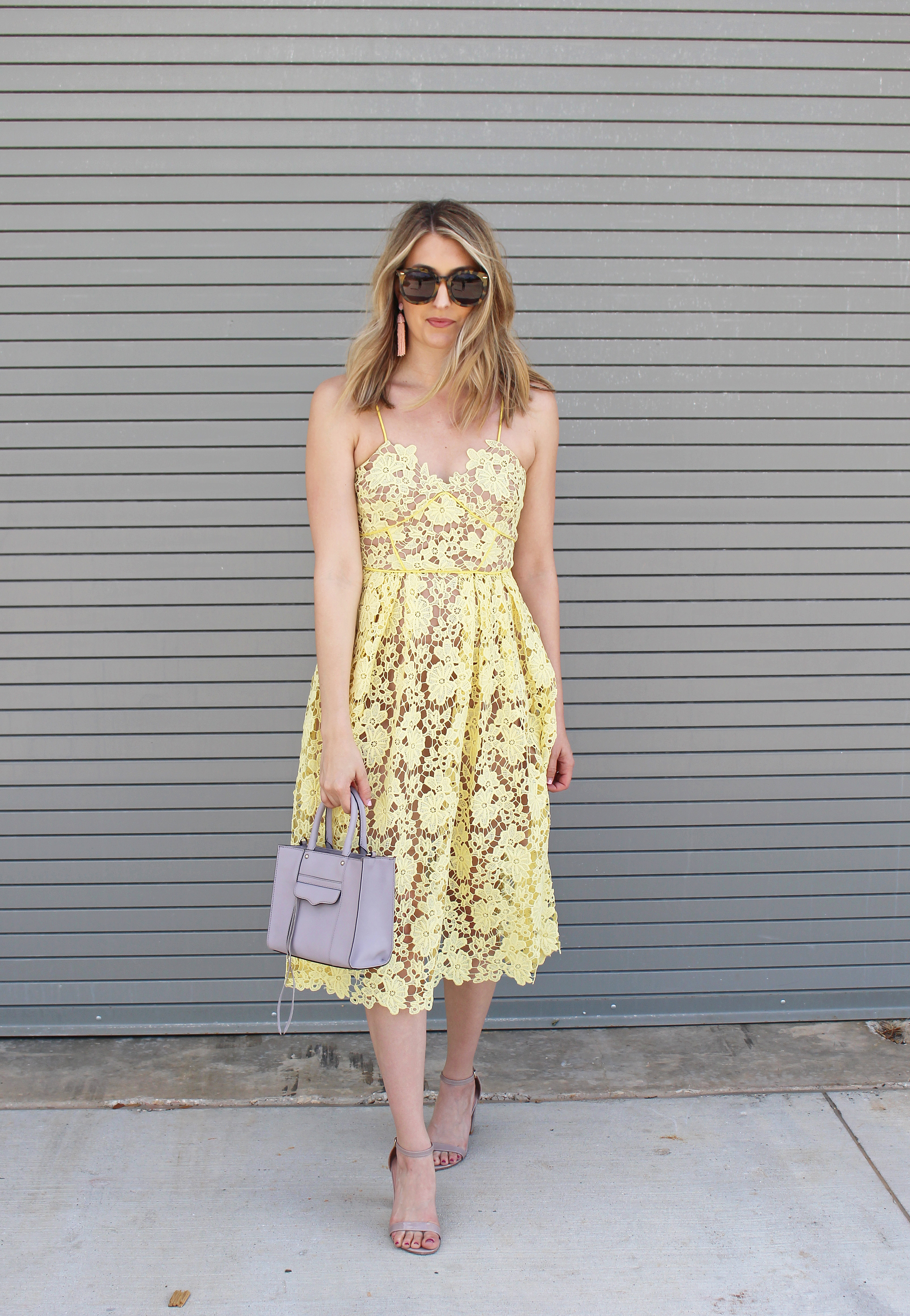 Because of how dainty and feminine this dress is, I didn't want my handbag to overwhelm the look. I don't own a clutch that I felt like would look quite right with this dress, so I went with this mini bag I bought a few years ago from Rebecca Minkoff. They no longer carry this exact color, but they still carry the bag in quite a few color options. I love this bag because I can dress it up or down. It also makes for the perfect crossbody because of it's roomy, but not too large, size.
Hope you all have a great weekend!
xo, Loren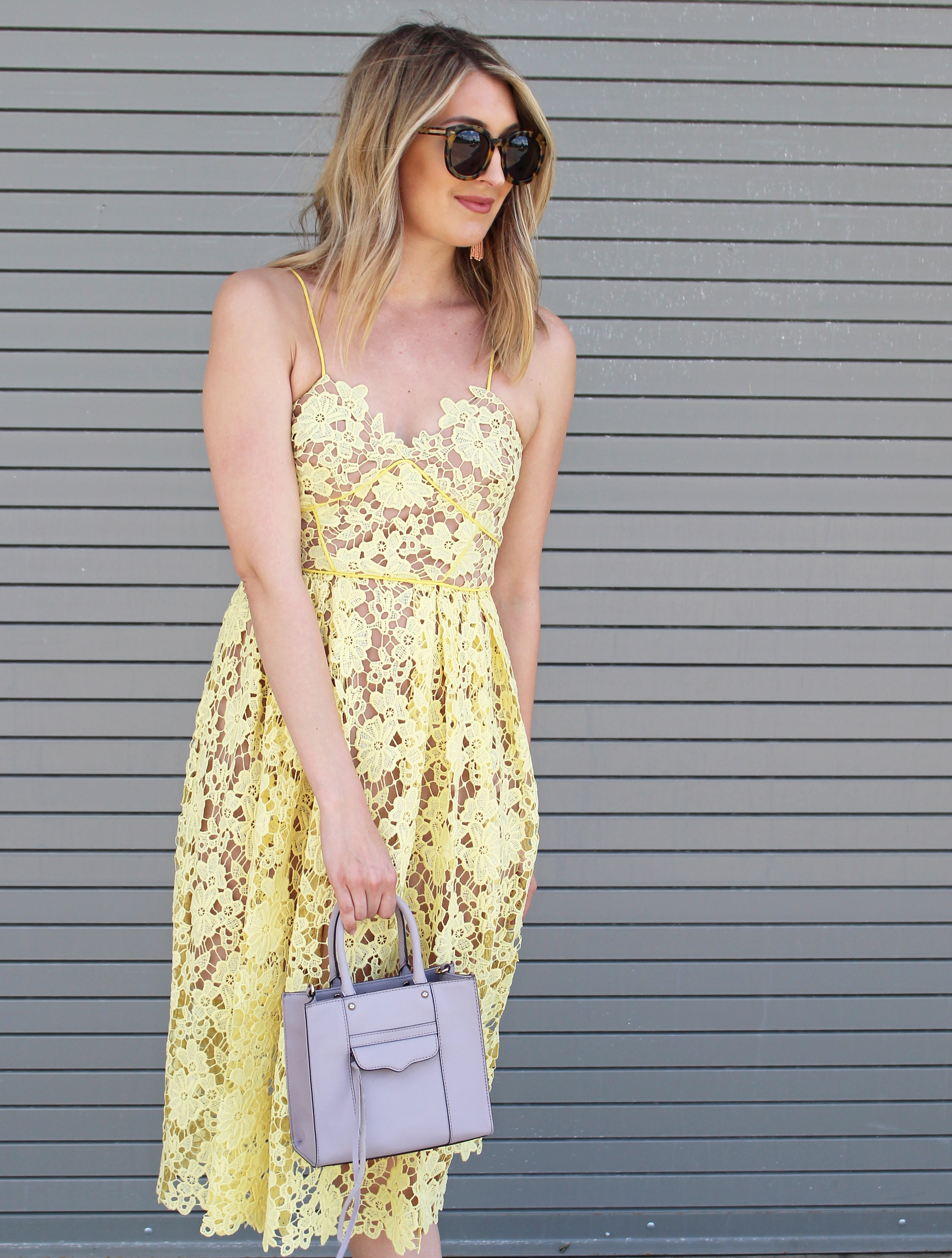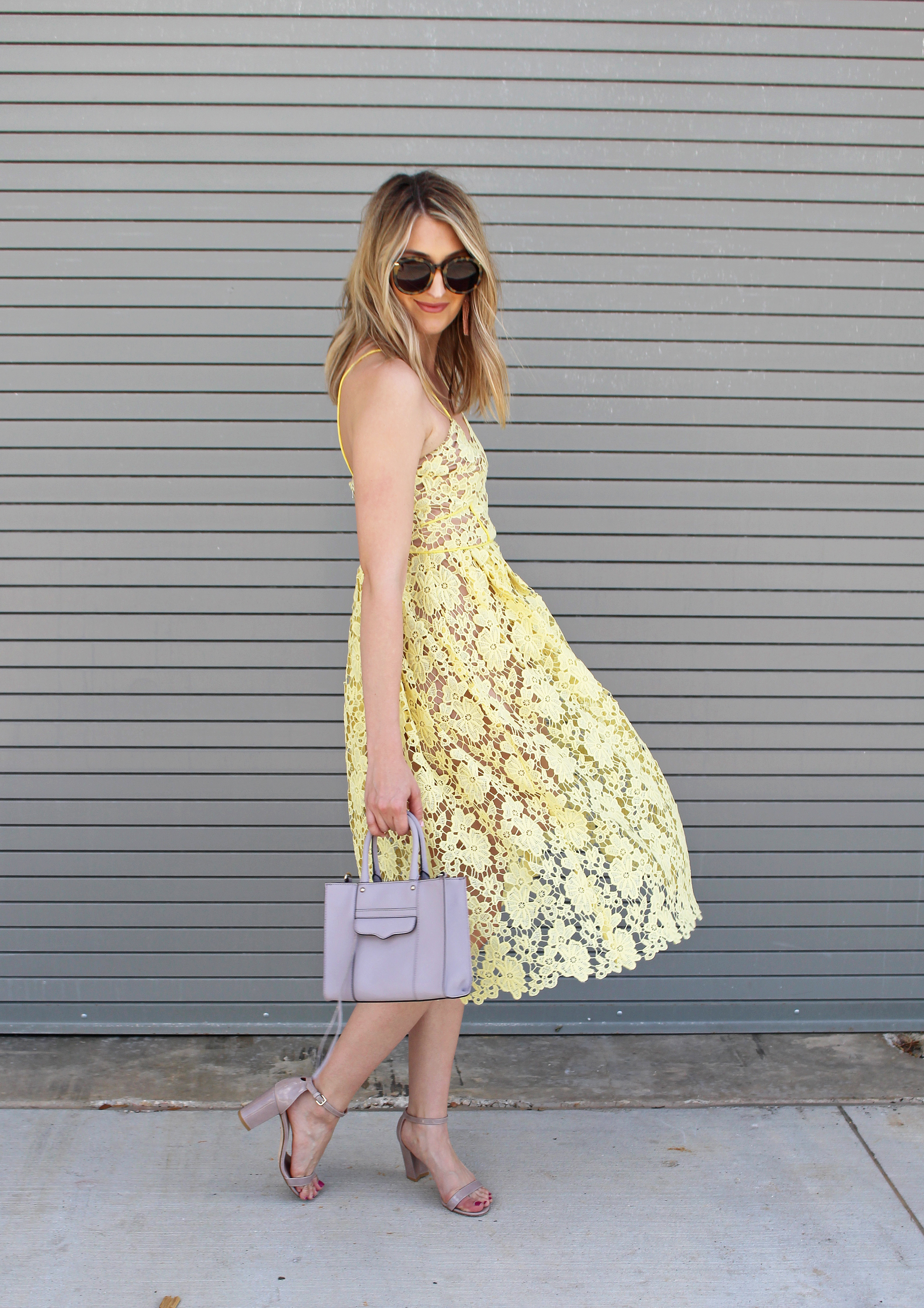 Dress: Donna Morgan (also here) / Sandals: Stuart Weitzman (under $100 option here) / Bag: Rebecca Minkoff / Sunnies: Karen Walker / Earrings: Bauble Bar