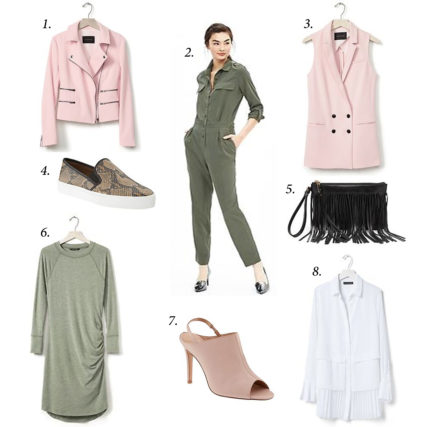 1 // 2 // 3 // 4 // 5 // 6 // 7 // 8
Banana Republic had their friends & family sale this weekend, something I can never avoid, so I definitely hit up the store to check it out. I was so impressed with their fall collection! As you can see, I am loving the blush and olive trend that Banana Republic is certainly carrying right now. They also had a lot of cobalt and black (another favorite of mine), but I think this color combination is so flattering and is a perfect transition from summer into fall. These are just a few of my favorites!
This pale pink moto jacket is perfect. It also comes in black if you're looking for a neutral option, but I sort of feel like this blush color can be neutral. It goes with so much more than you realize! I love how they took a delicate, girly color and made it a little cooler with an edgy silhouette and zipper details.
This jumpsuit y'all…if only I weren't pregnant and could squeeze into this right now! Unfortuntaely, I can't, but I can still admire it. I love the idea of this jumpsuit because you can pair it with flat sandals for day time, and some sexy pointy-toe heels to go out in. And of course, it's just one piece, which makes getting dressed a breeze!
This pale pink vest is one of the purchases I made this weekend. I know it's a bit more of a "work" appropriate piece (and being a stay-at-home mom you may think I have no use for it), but I thought it would look cool with just a simple tee and some distressed jeans, with either flats or heels.
I also bought these snakeskin sneakers. I was leaning toward the blush color, but for one, they were sold out, plus I decided these snakeskin ones could go with literally any color since they are a combination of black and brown. Whichever color you choose, I like these sneakers because they aren't too wide. I bought a leopard pair from Target last year and never wear them because they are so wide that I feel like I'm wearing boats on my feet. This narrower style makes me feel a little more polished and streamlined, even if I am wearing a sneaker.
I had to throw in this black fringed wristlet as a favorite because I am loving fringe lately. I think if you pair it with more straight-lines and polished pieces then it can look more chic than bohemian. I just think it's a fun accessory to add on to any look!
I love the idea of this olive green knit dress! Since I am pregnant, these types of dresses are my go-to style for comfort and still feeling put together. I love the color of this one, and think it would look amazing with my snakeskin sneakers and that blush pink moto jacket!
How perfect are these mules? I have been dying for a pair of shoes like this but haven't found a pair yet! I love these! I feel like I could wear them with SO many different things, from flowy chiffon dresses to distressed denim and a slouchy t-shirt.
Last, but not least, is this gorgeous white blouse. I bought this piece this weekend as well. I love that I can wear it now while pregnant, but still love it after my bump is gone. I have always been a fan of a classic look, but what I like about this piece is that it takes a classic white blouse and makes it a little more fashion-forward with that gorgeous pleated hemline. This top could easily be dressed up with some skinny pants for work or dressed down with jeans for a casual day-time look.
Of course, Banana Republic's friends and family sale ended Sunday, but they are always running amazing sales. Make sure you check out this collection! There are so many more gorgeous pieces!
xo, Loren