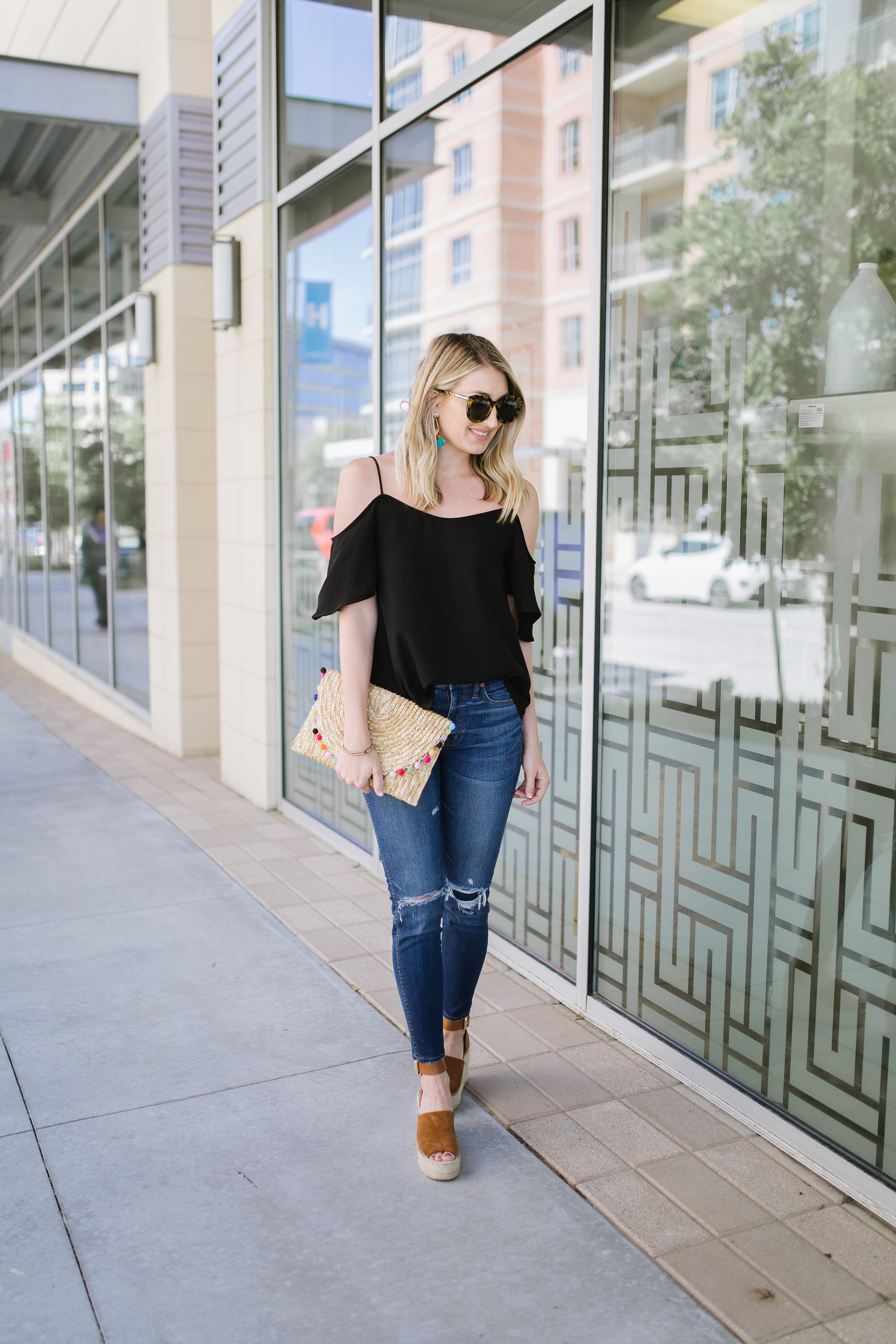 It feels like I am ALWAYS buying black and white tops. I love the ease of a simple top, but I usually want something more than a t-shirt. When shopping for tops in the spring/summer,  I also try to keep in mind how hot it is going to get July through September. I pretty much only wear sleeveless or shoulder-bearing styles once the heat becomes that intense, because well, it's just about all I can stand! Thankfully, it's only April, so Houston isn't a sauna yet (though it's definitely getting warm). This top is quickly becoming one of my go-to pieces to throw on when I don't want to think too hard, but am trying to stay cool.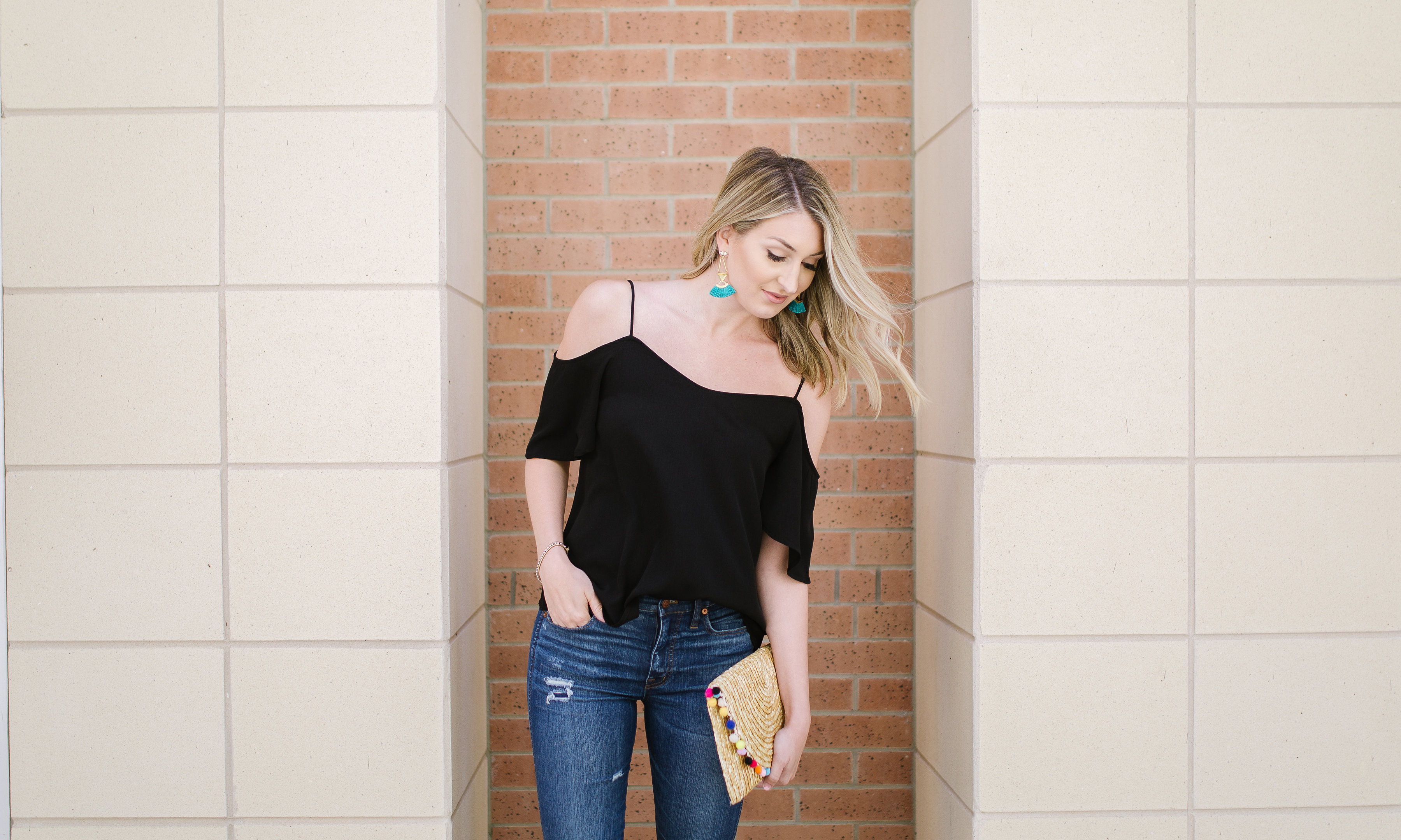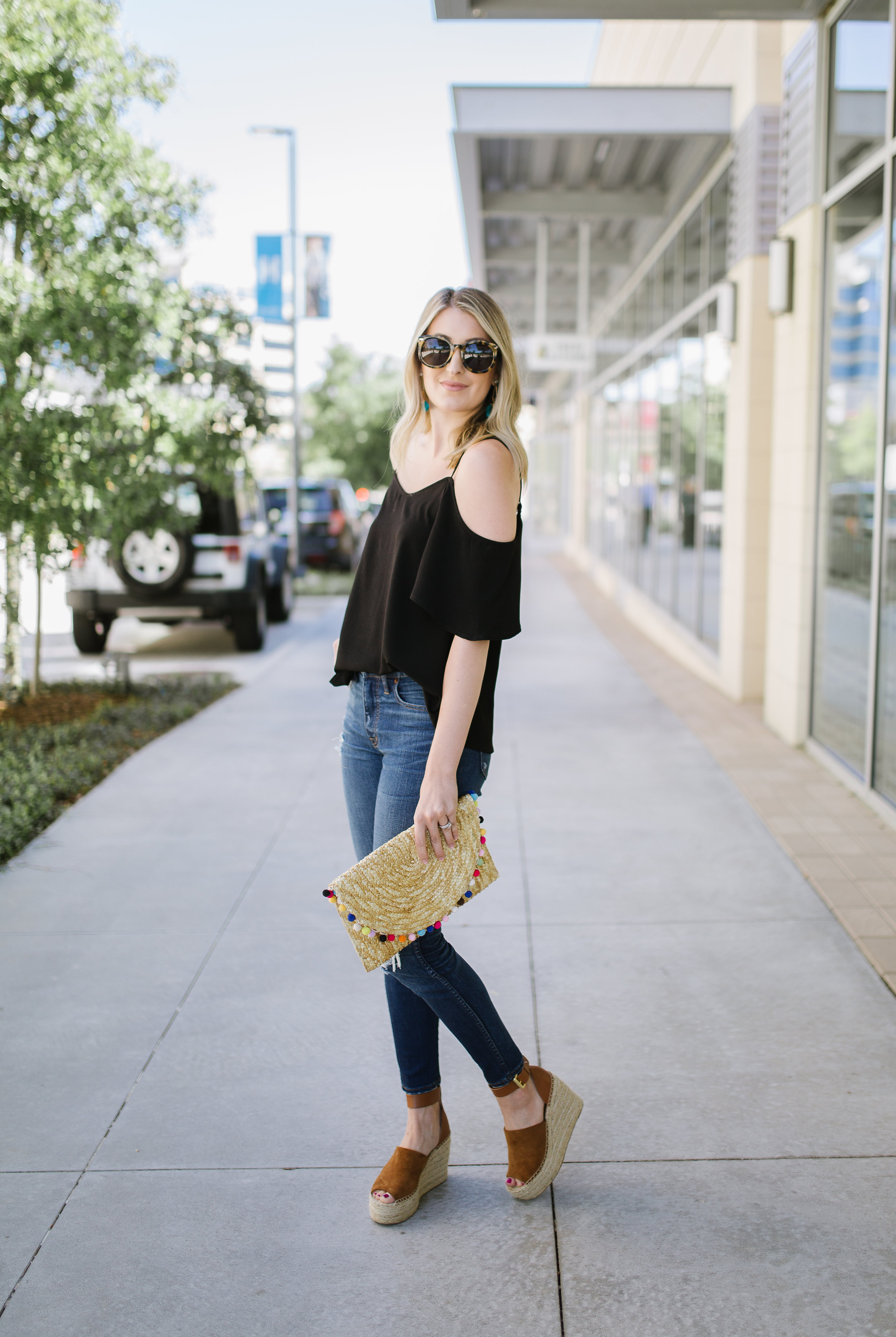 I love that it has a cold shoulder, because it keeps it from being too plain. Plus, who doesn't love a cold shoulder top right now?! There is also a really cute back detail on this top, which I unfortunately forgot to show during this shoot! This little cutie is only $35, which is perfect for my budget because I am ALWAYS buying tops. It also comes in 4 different color options.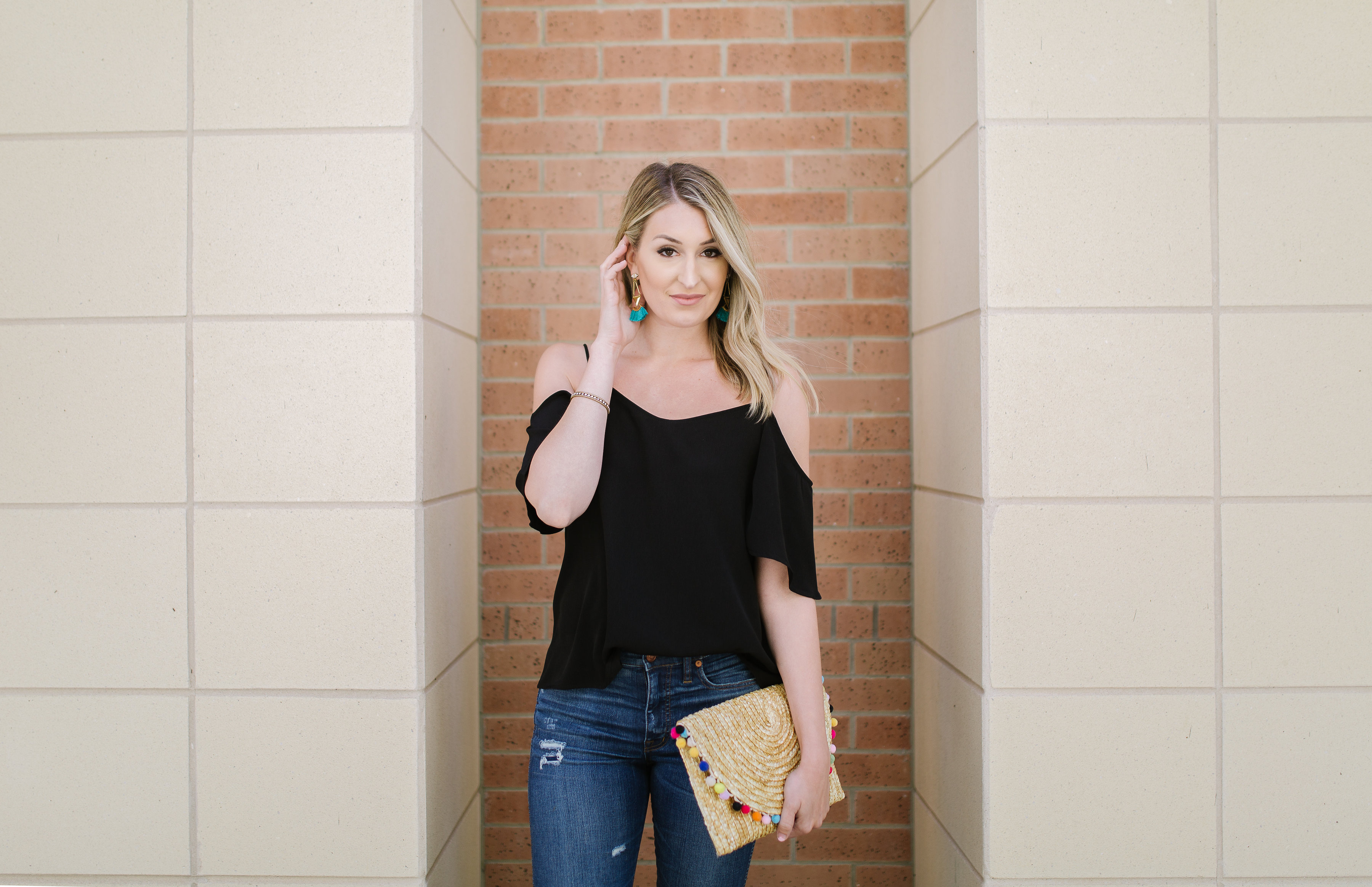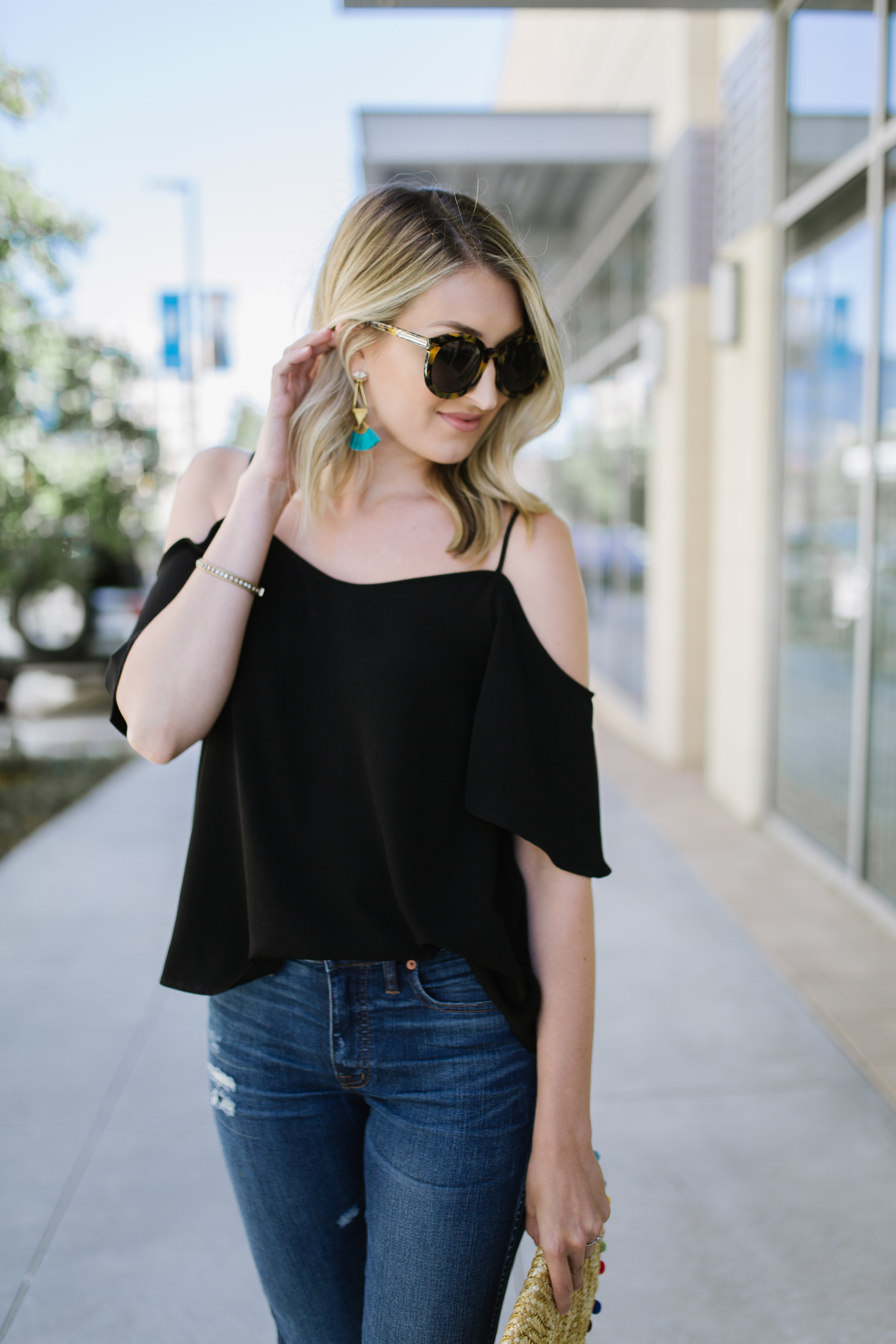 I have already worn this top a few different ways, but for right now I love styling it just with my favorite ripped skinnies. I change up the shoes and other accessories a lot depending on where I am going. For this look, I went with my favorite wedges of all time. Y'all, if you don't have a pair of these, I'm telling you, you need some. They look cute with just about everything, and are actually comfortable. I am wearing the Marc Fisher ones here, which retail for $160, but there are a few really great dupes out there for less than $100. These are my favorite! My sister-in-law has these, and they look exactly like mine!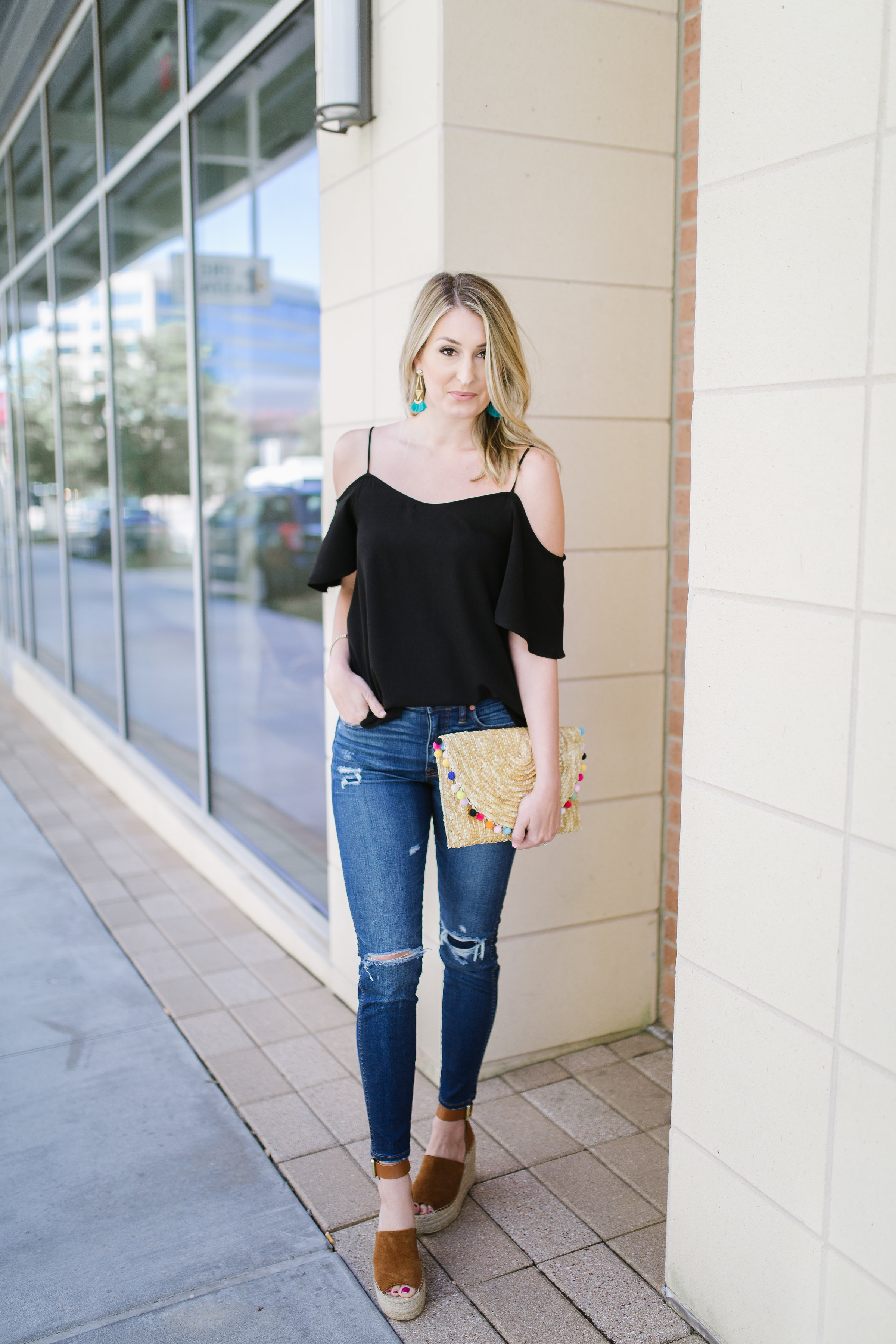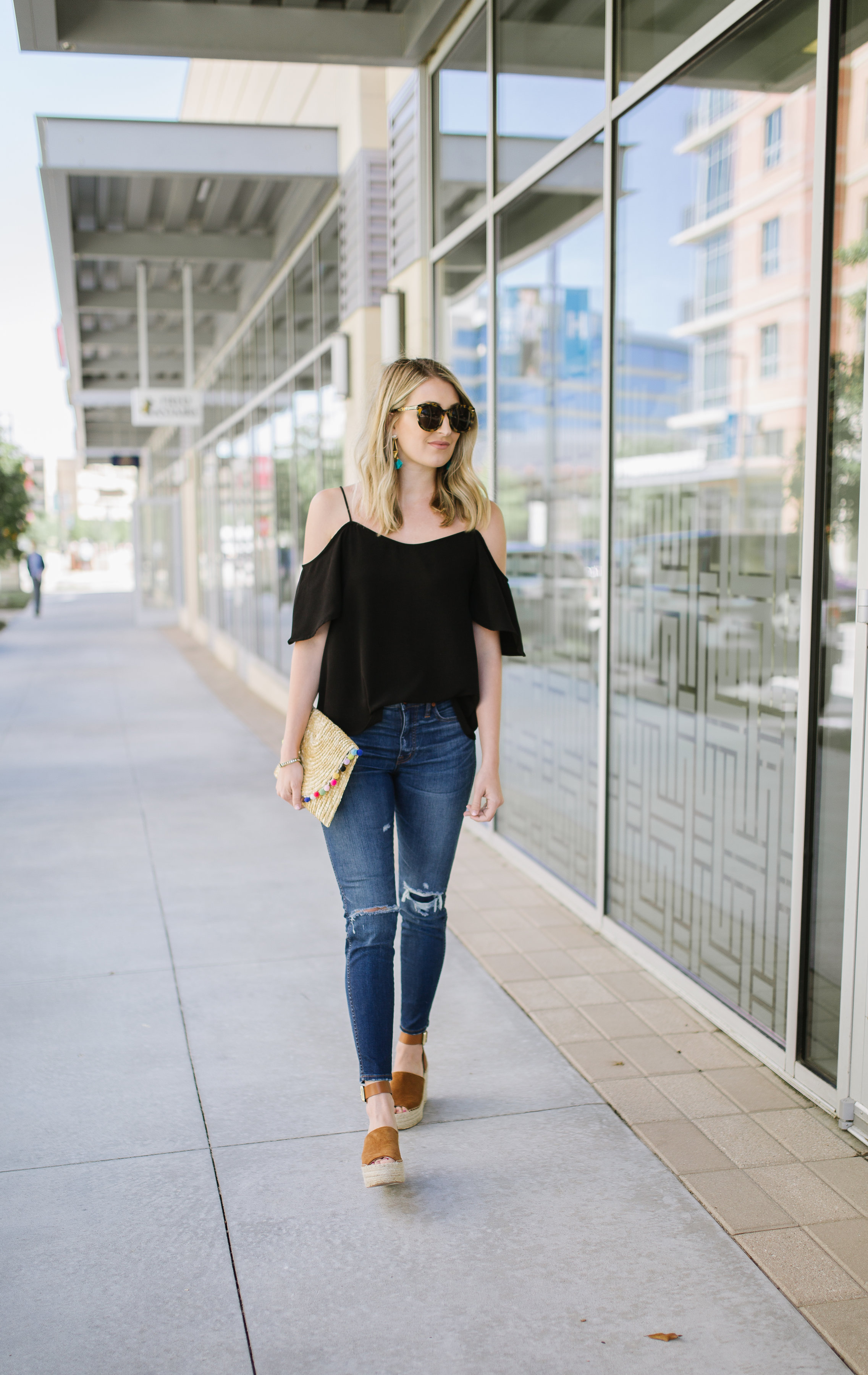 I wanted to add in a little color to this otherwise basic outfit with my accessories. I bought this adorable pom clutch last season. Good news, poms are still a trend, and I love this piece for a fun pop of color. I am also really loving this option (that may or may not be in my shopping cart right now).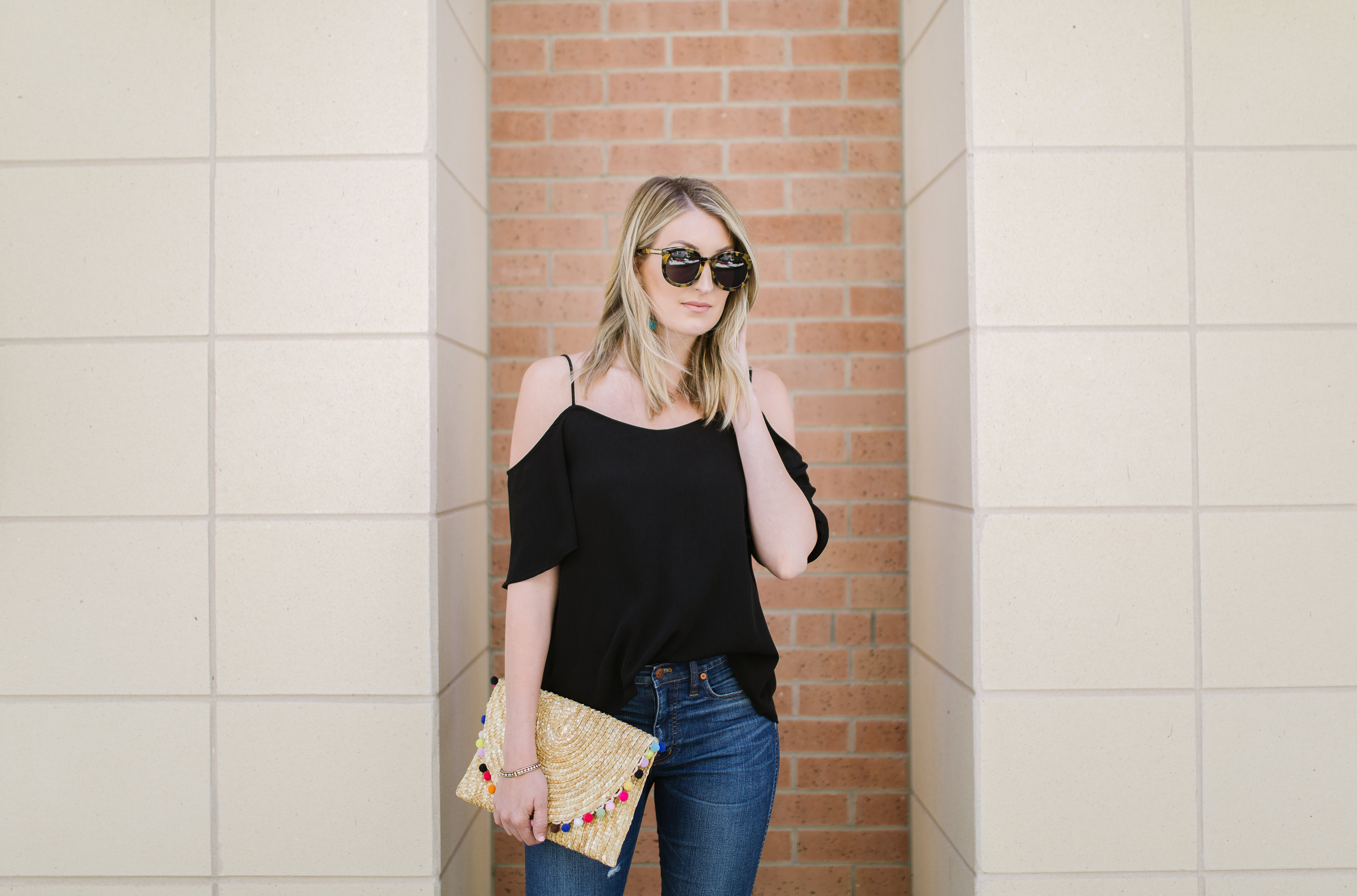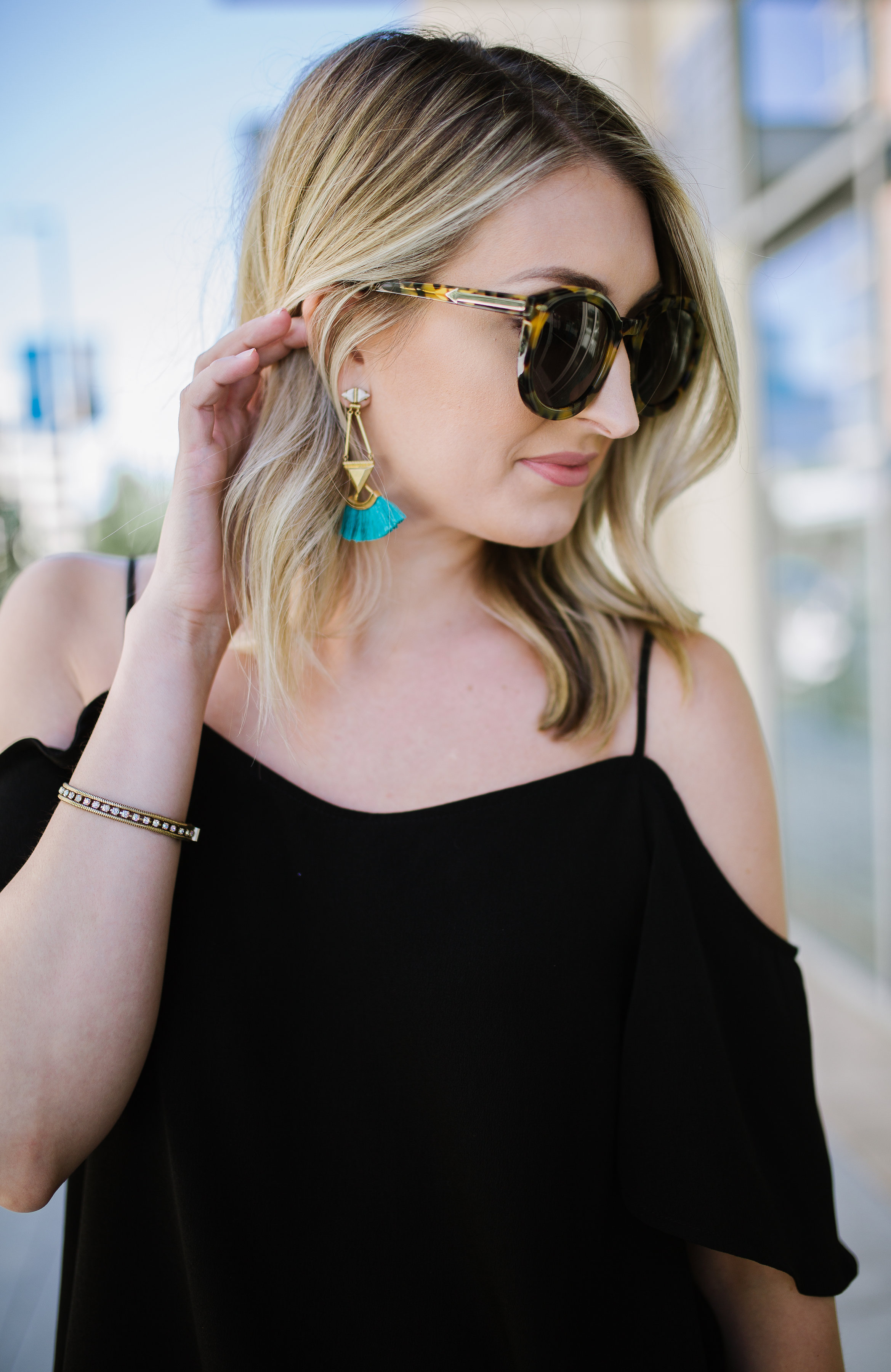 I love to wear a fun statement earring, especially with really simple tops. Tassels and fringe are a major trend right now and so cute for spring and summer. The earrings I'm wearing here are from Stella & Dot. These are super fun because they can be worn a bunch of different ways. Plus I just love the teal color of the fringe!
xo, Loren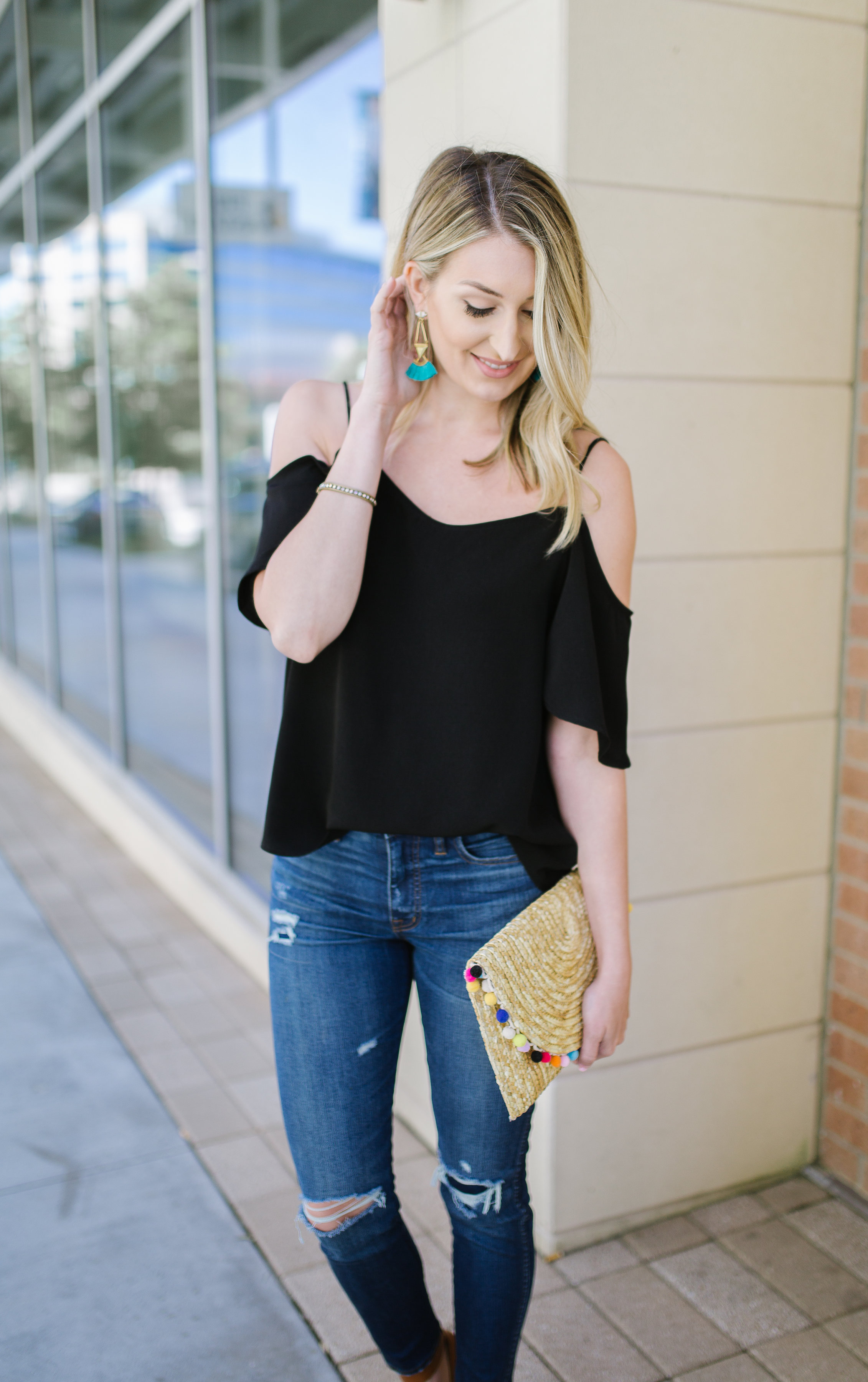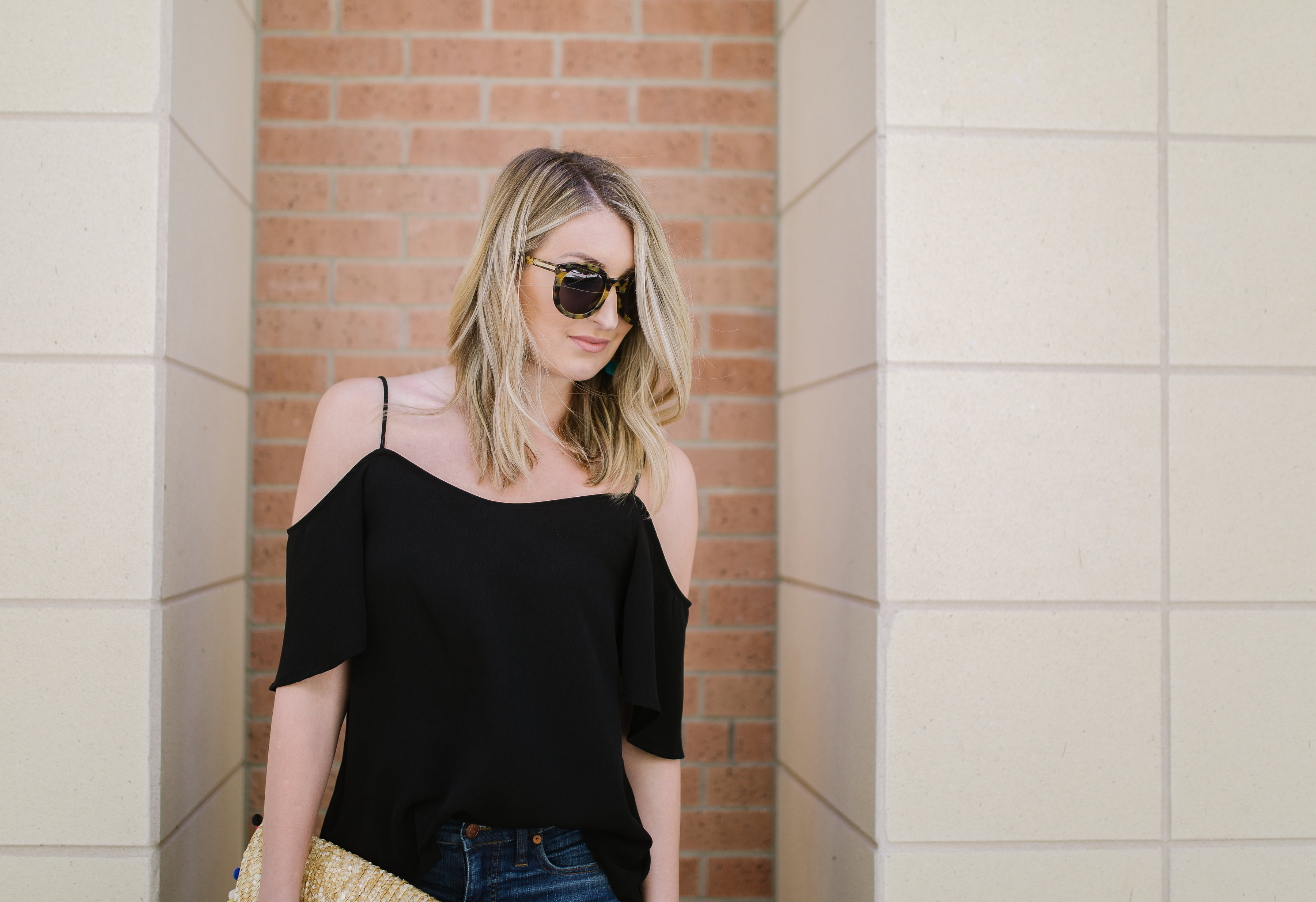 Top: Nordstrom / Denim: Madewell / Wedges: Marc Fisher (under $100 option here) / Clutch: Shiraleah / Sunnies: Karen Walker / Earrings: Stella & Dot / Bracelet: Loren Hope