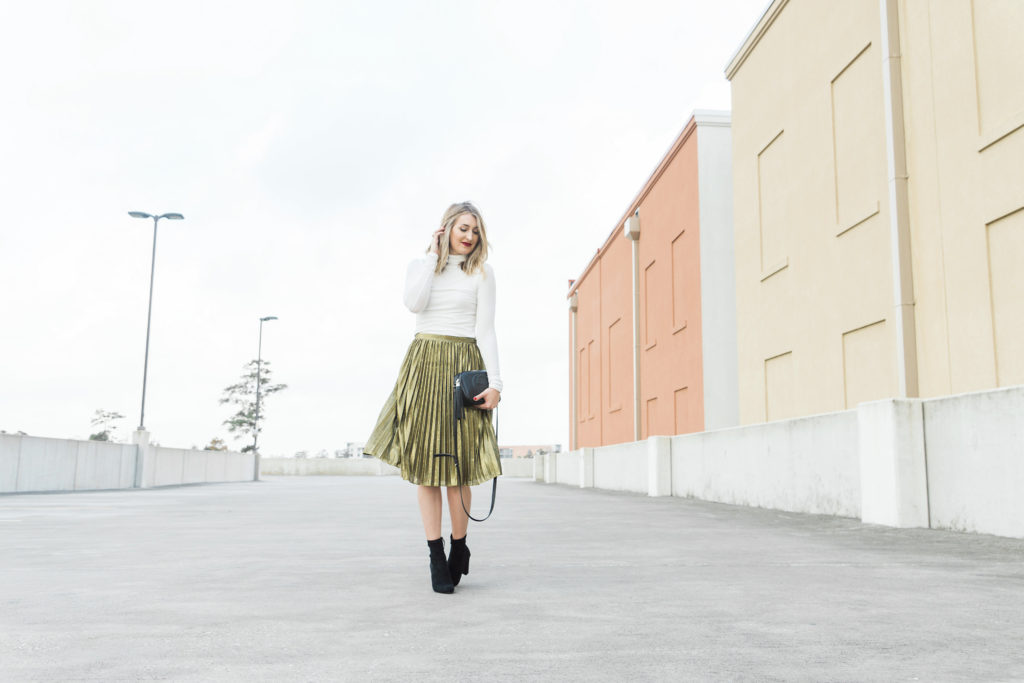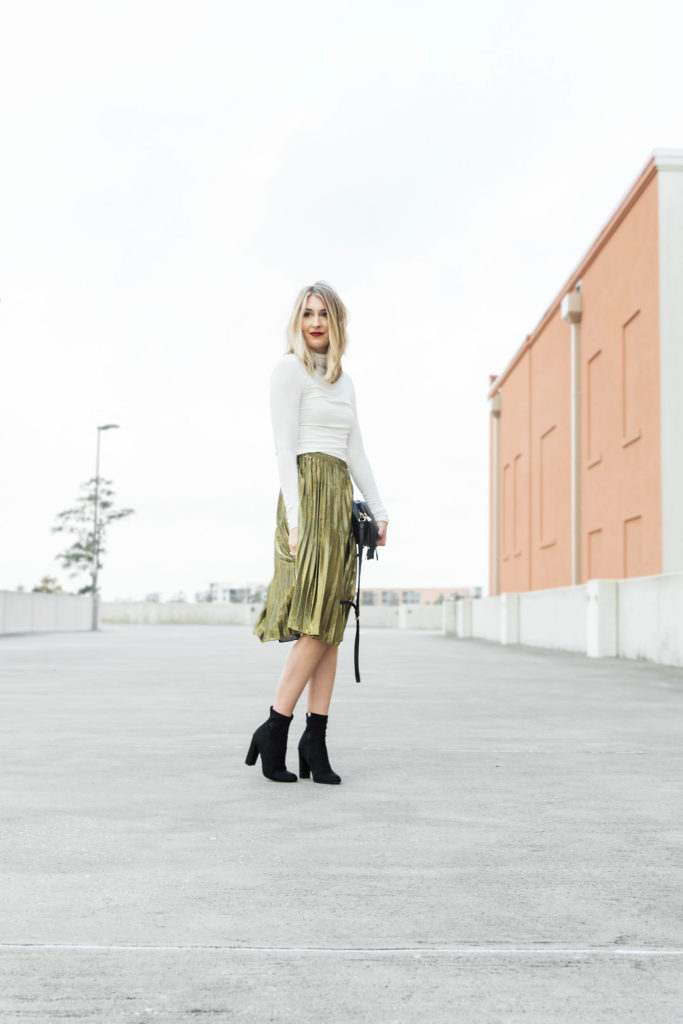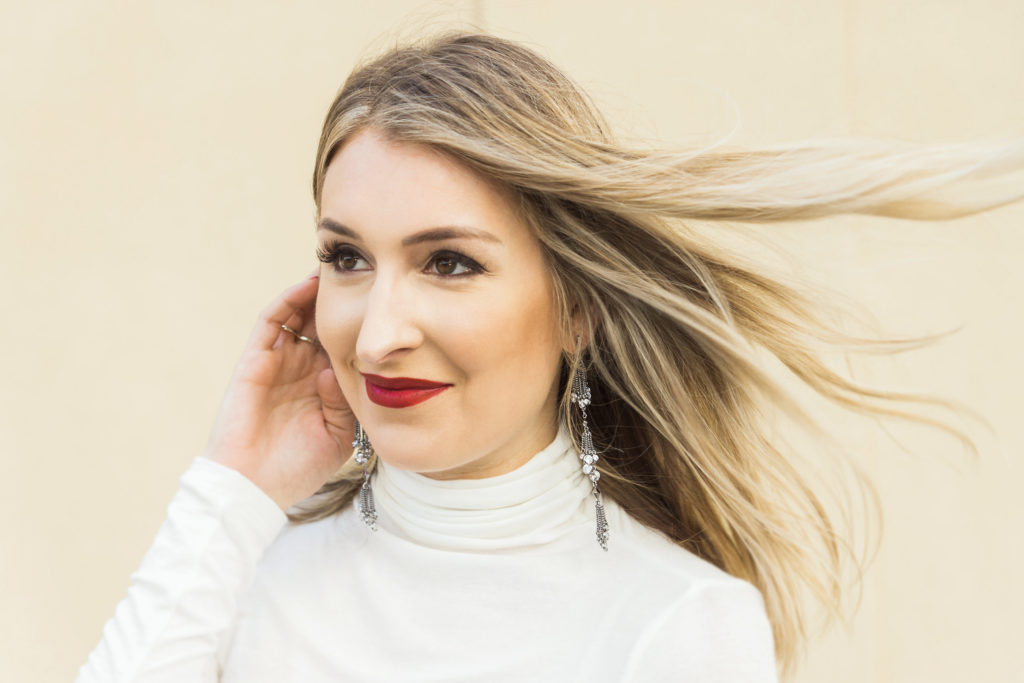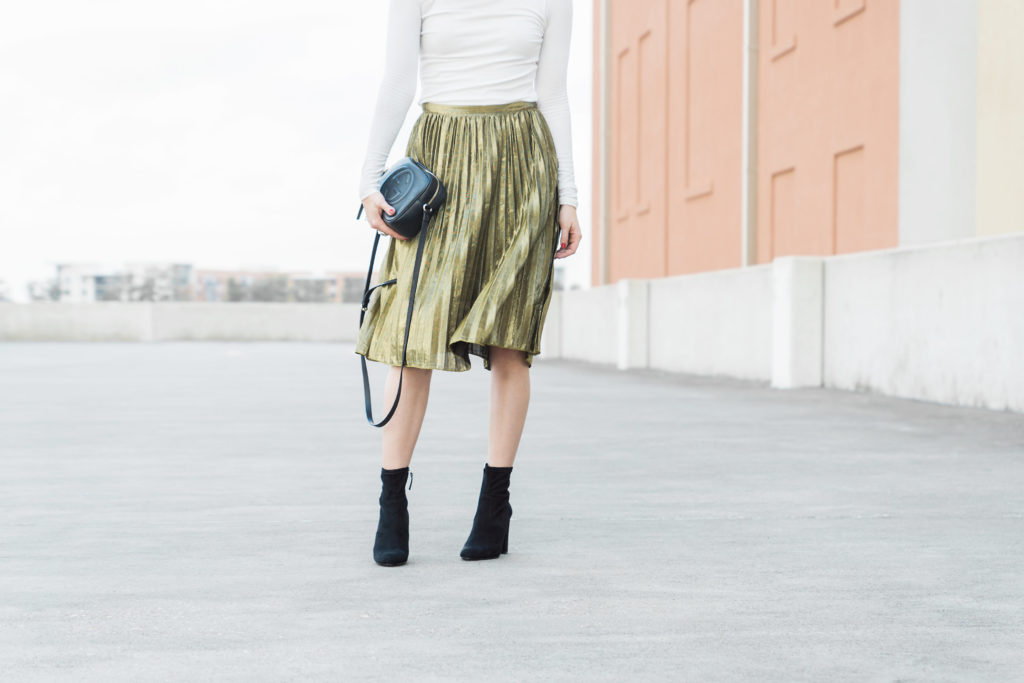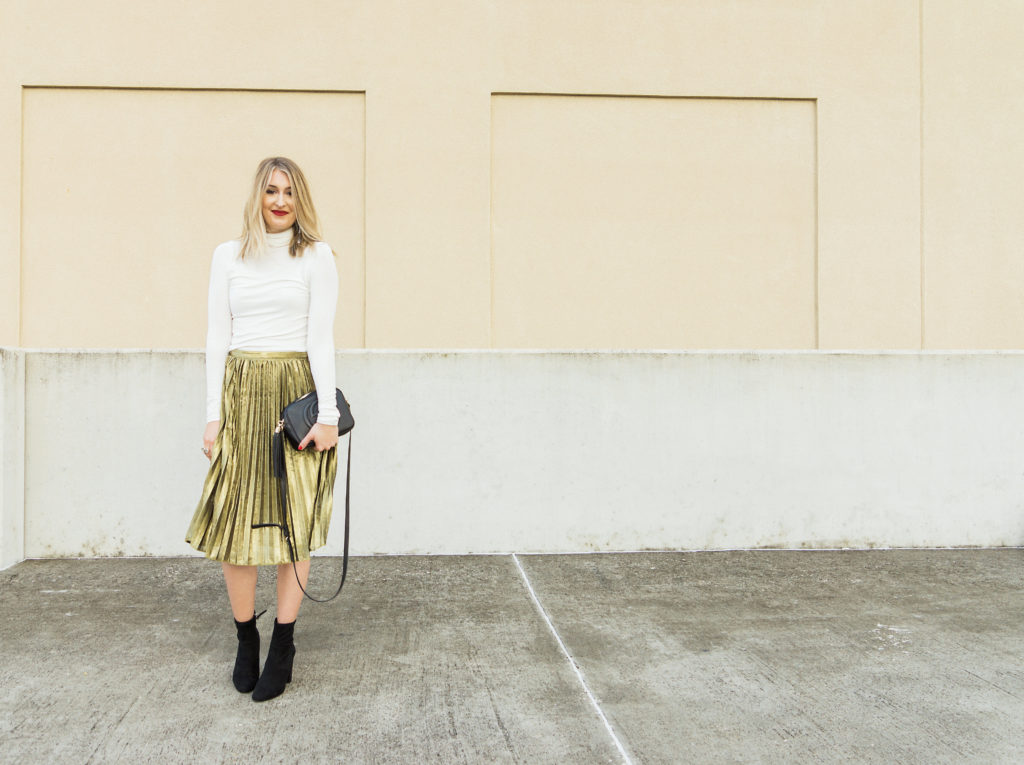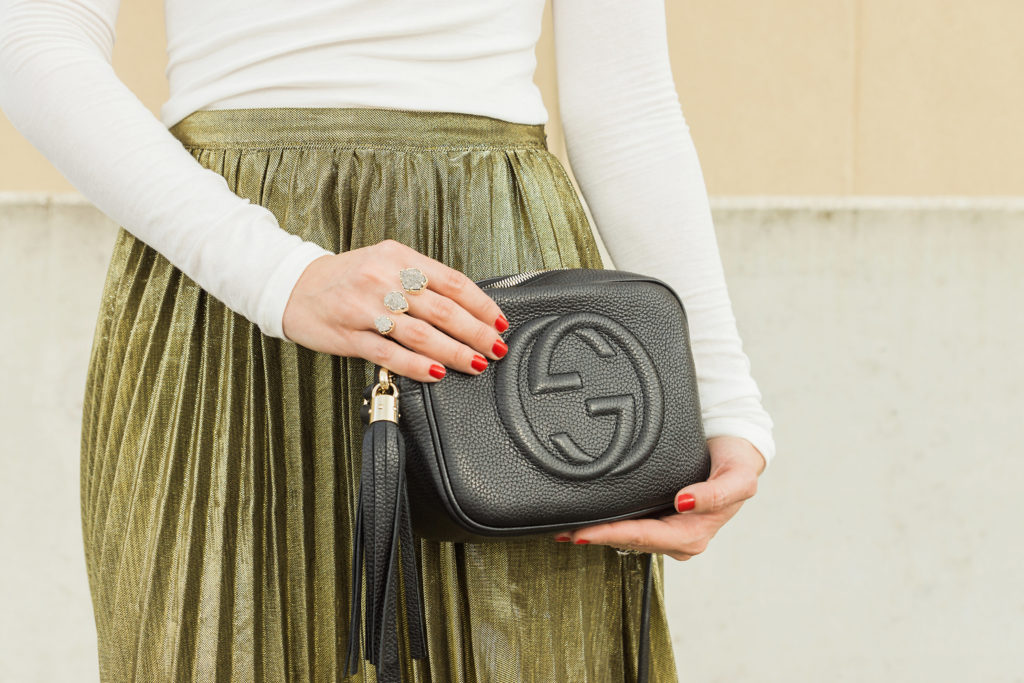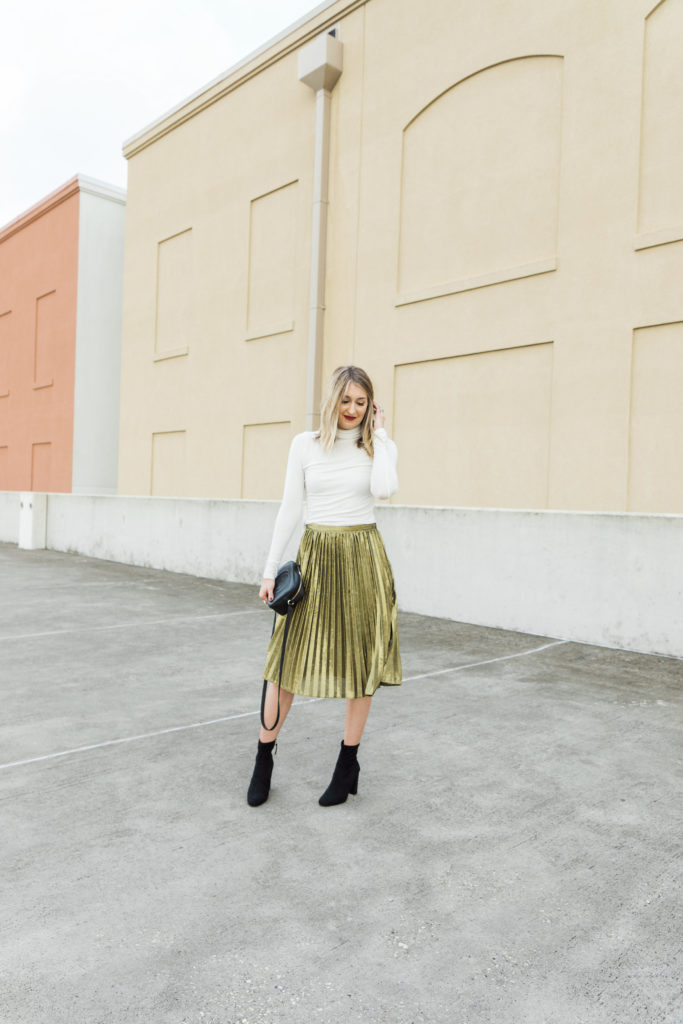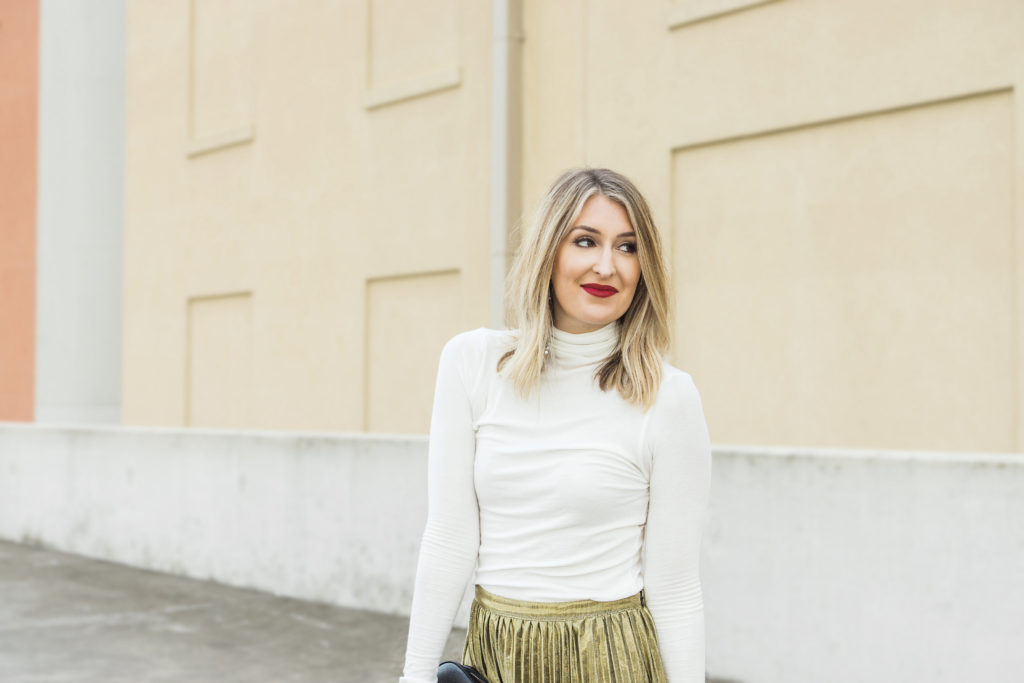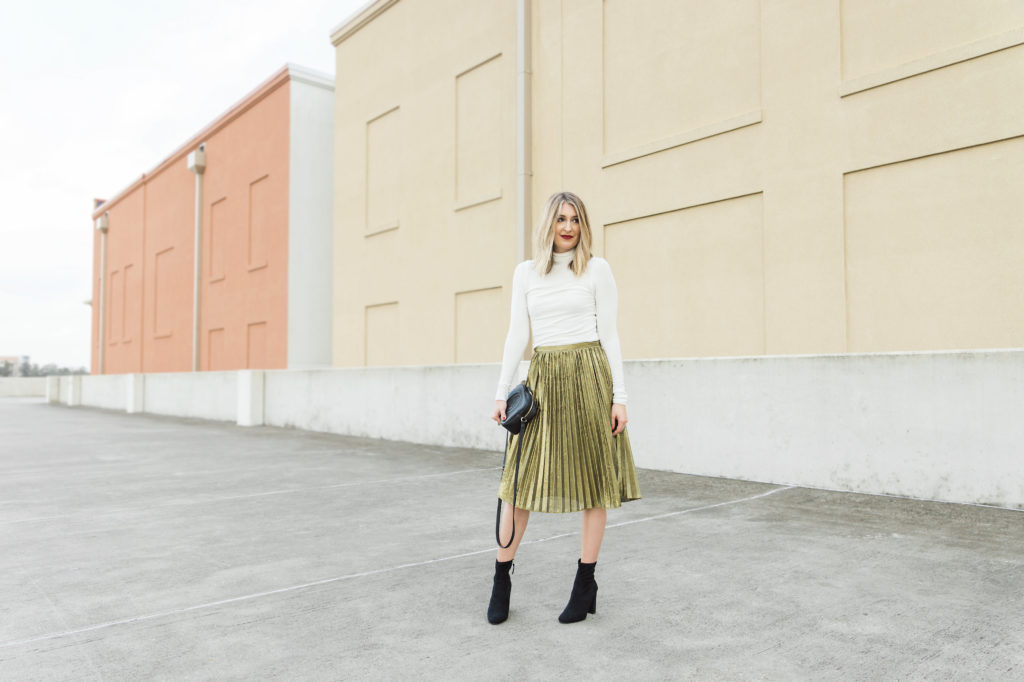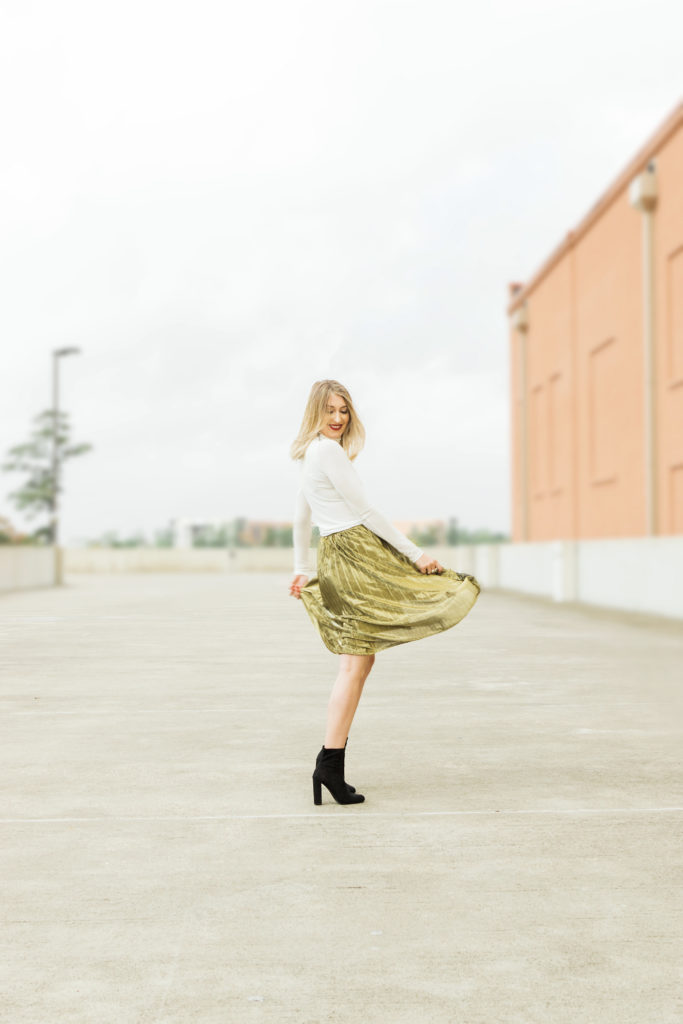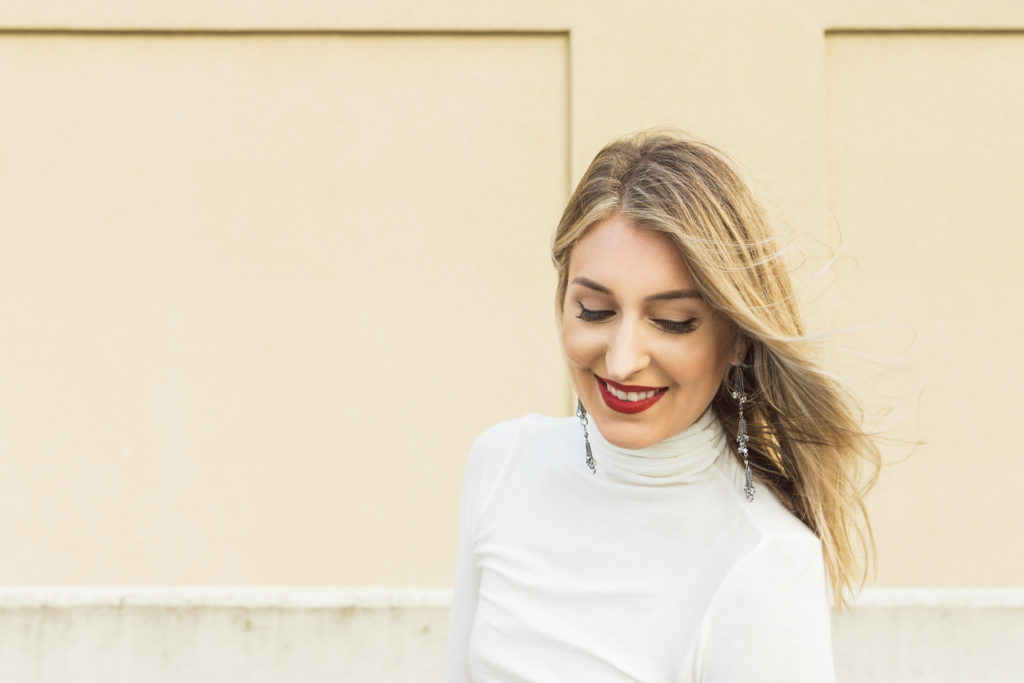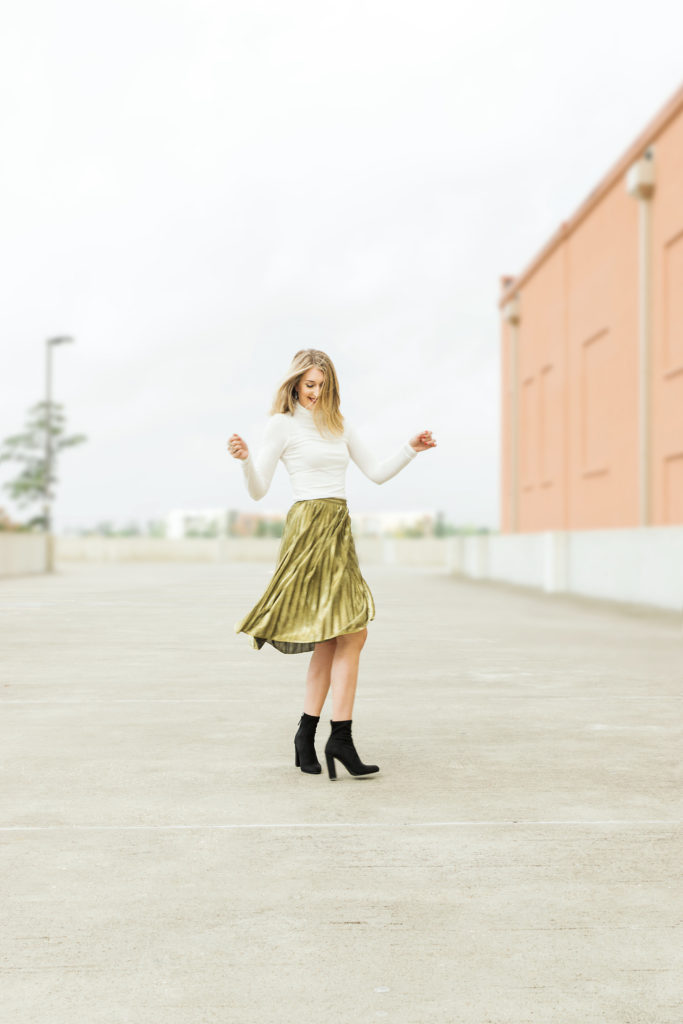 Top: Halogen / Skirt: Forever 21 (Only $25! Another option here) / Booties: Nordstrom / Bag: Gucci / Earrings: Kendra Scott / Ring: Kendra Scott
Oh my goodness y'all, it was SO windy during this shoot! Haha! I have my hand holding my hair away from my face in like every shot because otherwise I would have looked like Cousin It! Despite the wind, this was one of my favorite shoots I've ever done.
I actually bought this skirt after seeing a girl working at Kendra Scott in Kansas City wearing it with a white fuzzy sweater, and it looked so cute! So I bought the same skirt and a similar style sweater to wear it for Christmas Eve with my black booties. I feel like the obvious choice for a shoe would have been a strappy sandal, but she had on booties and it was adorable, plus I felt like a tad less dressy, so I wanted to give it a try.
Once I had all the pieces to recreate her look, I tried them on. Oh my goodness y'all, I looked SO frumpy. I don't know what it was exactly, but I sort of think that because my waist is no longer the smallest part of my body, it made it hard to make this skirt work. Because of it's length, the waistband needs to go in at the waist to create a feminine looking silhouette. Well, I've had two kids (and hate working out) so my waist doesn't exactly go in at the moment. Adding to this issue by putting a shapeless sweater on top was doing me absolutely no favors. So I temporarily accepted defeat and decided I would return everything.
But I just couldn't let this skirt go. It was too fun. I was determined to find a way to wear it haha! I had purchased this super thin turtleneck tee a while back and thought I'd give it a try, and definitely liked it much better. Though I will say, I did still feel like I had to suck in quite a bit to make it look right! (Don't judge me.) It worked out though for sure. I loved shooting this and this skirt really is so fun to wear. Now I just need to find another reason to wear it! I'm thinking New Year's maybe…
I didn't wear a ton of accessories with this look because I feel like the skirt was already so shiny, I didn't need too much. Plus, I feel like the ones I chose were sort of more statement pieces anyway, so too much other jewelry would have been a little busy. I purchased these fun dangly earrings from Kendra Scott with my birthday discount this year. For those of you who don't know, Kendra Scott gives you 50% off one item of your choice during your birthday month! So fun, right?! I also threw this double finger ring my husband got me for Christmas last year. I felt like it was the perfect finishing touch for this look!
xo, Loren
Photos by Diamond Oak Photography
Shop the Post:
[show_shopthepost_widget id="2267864″]