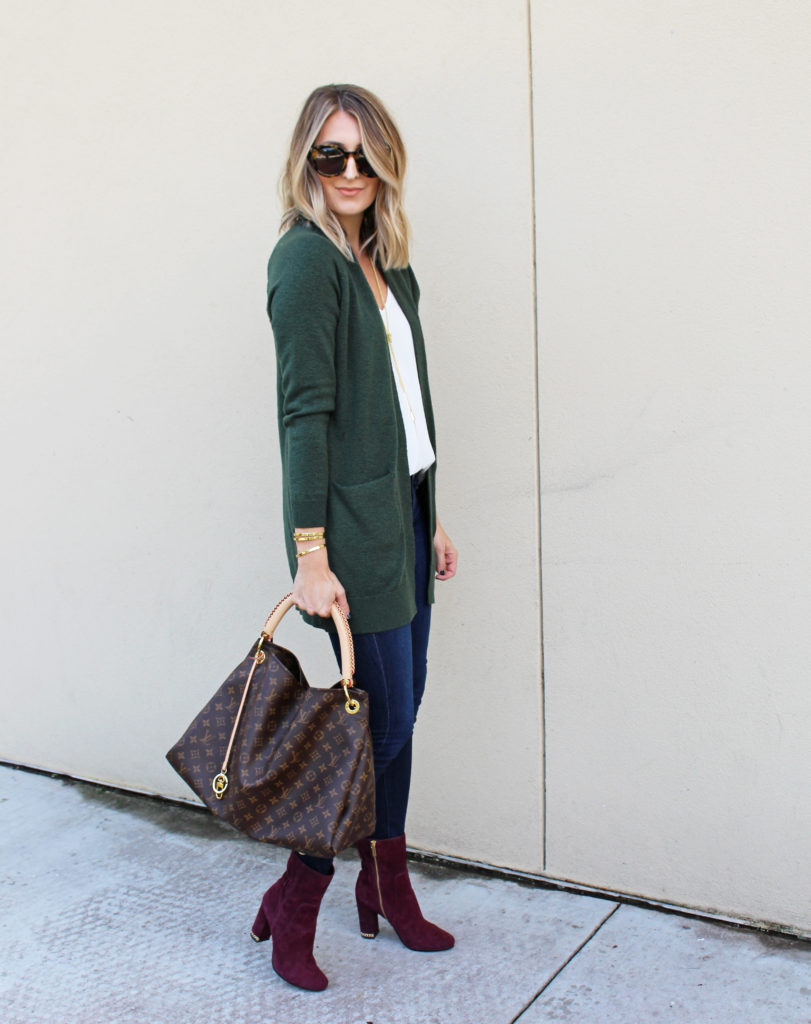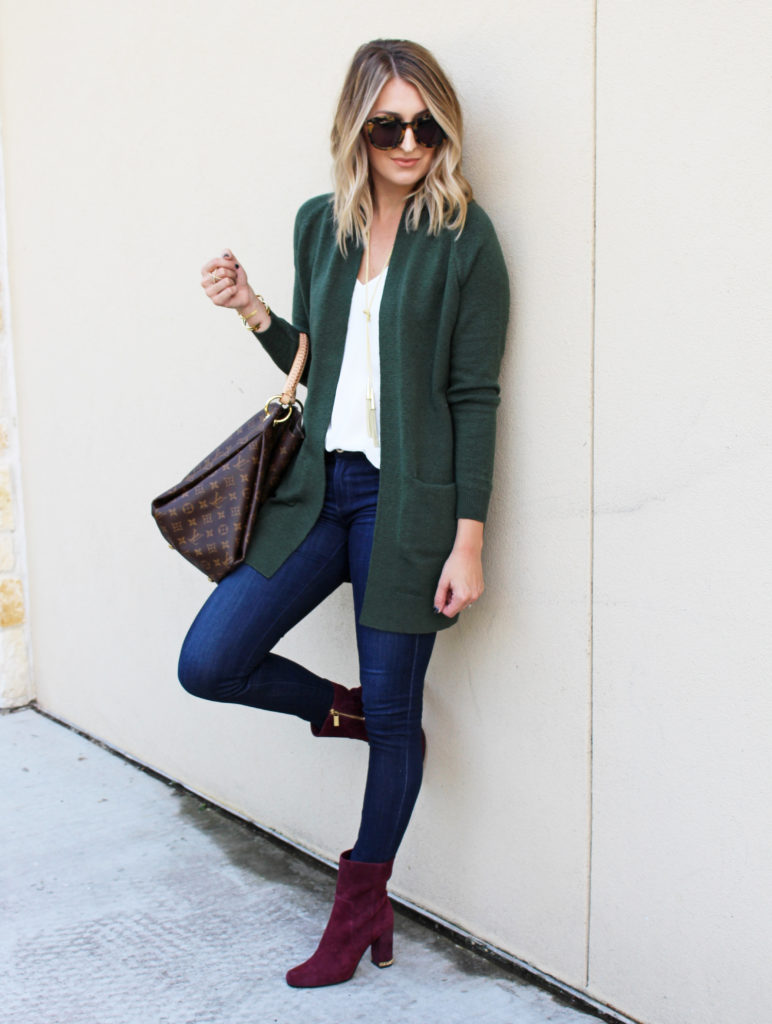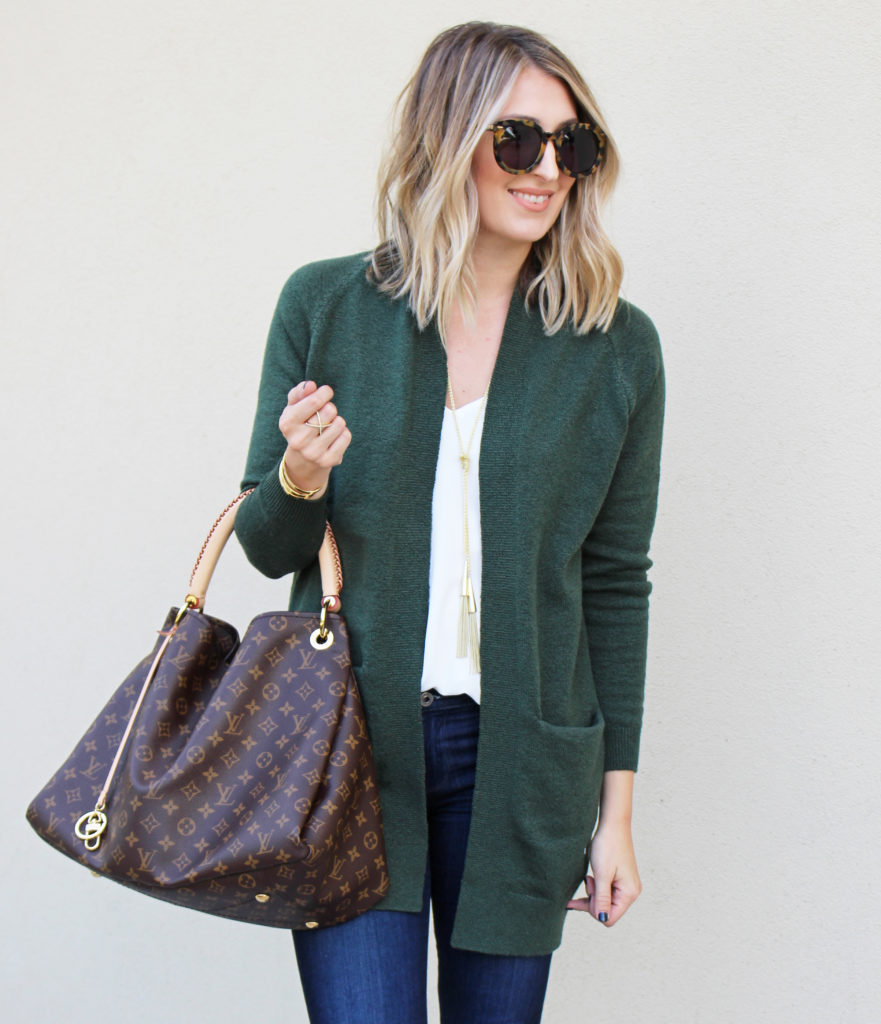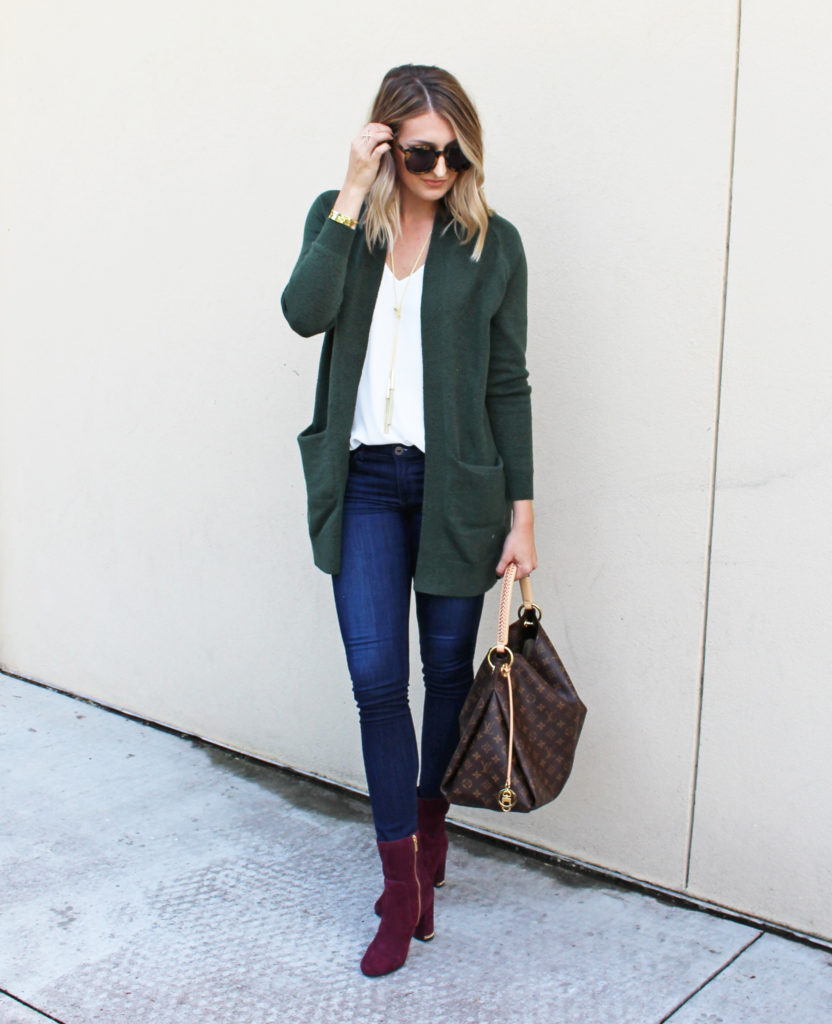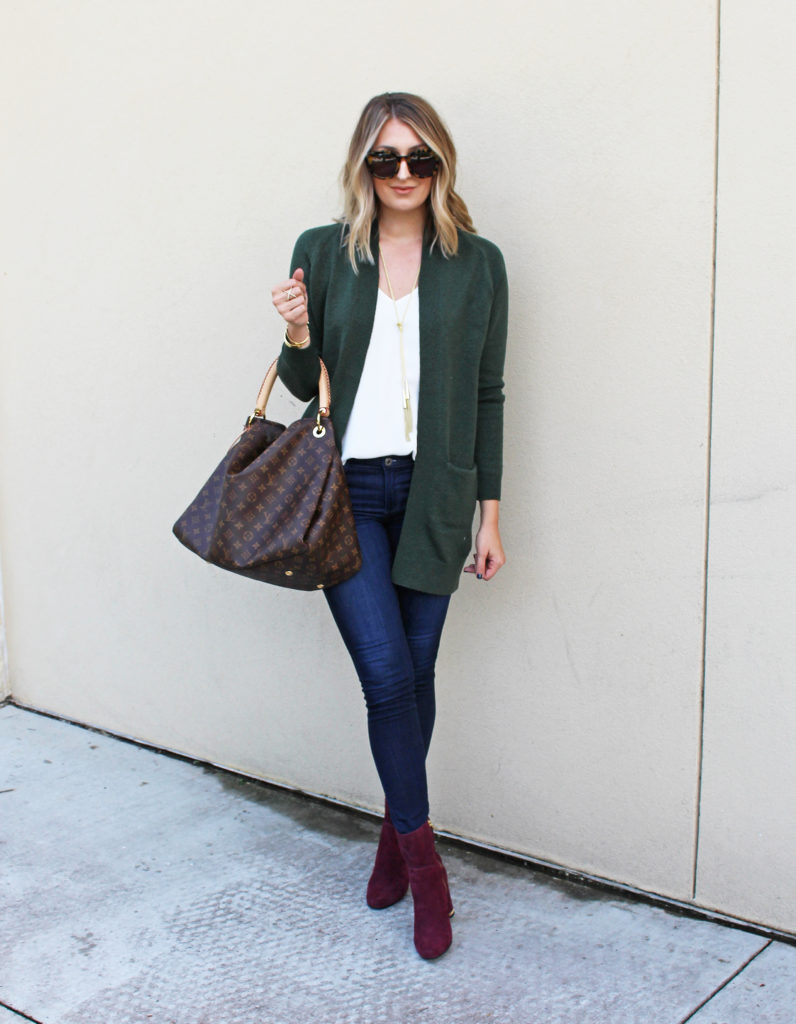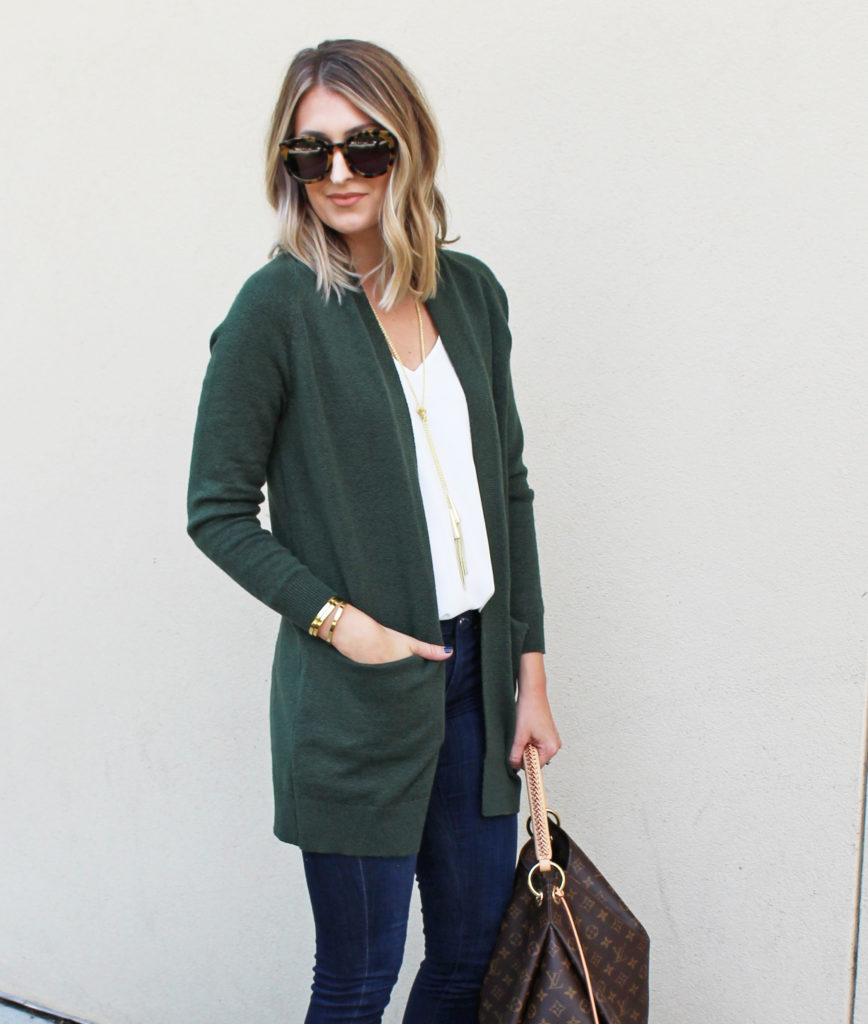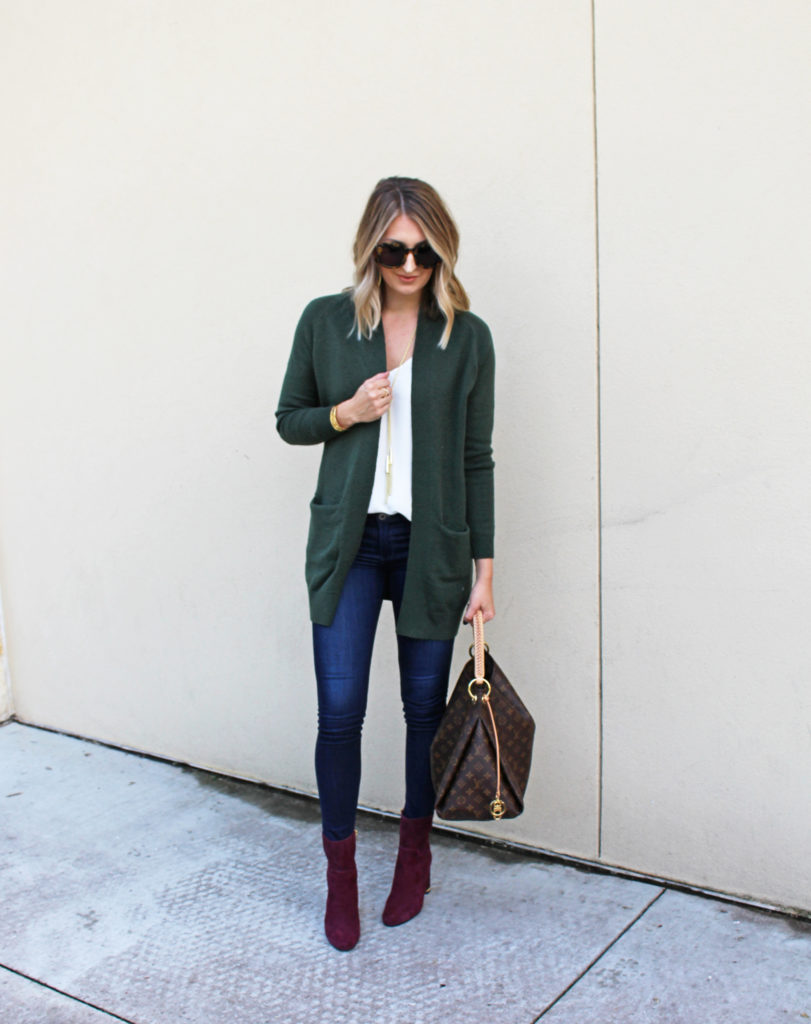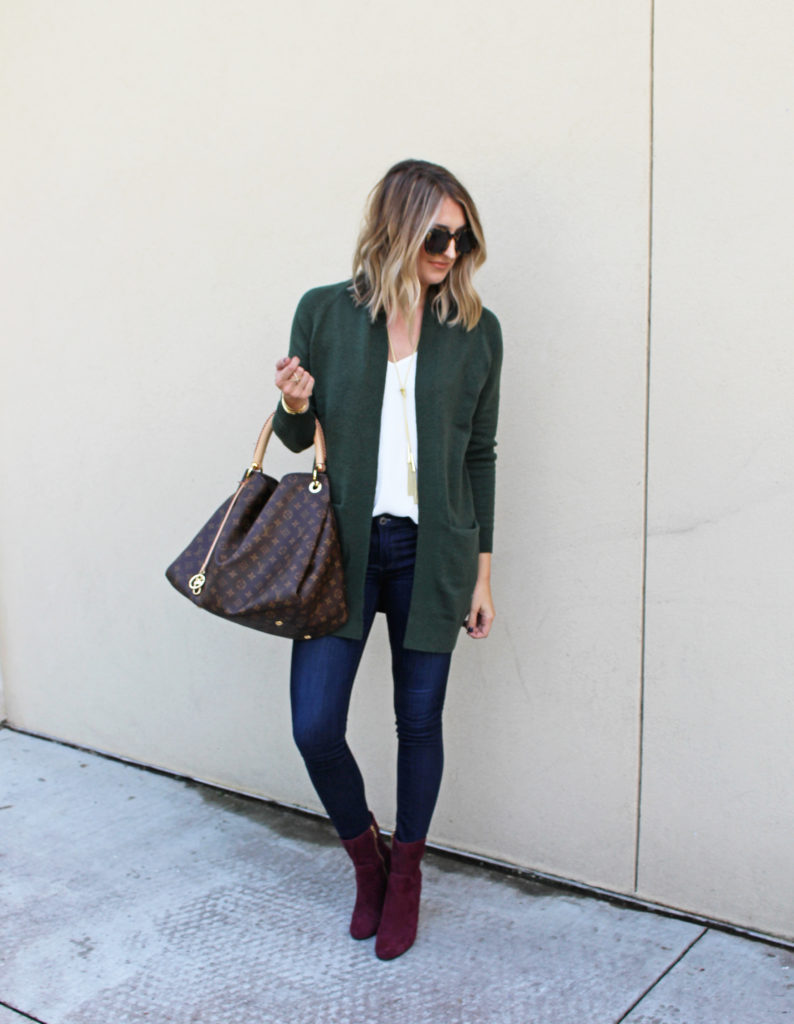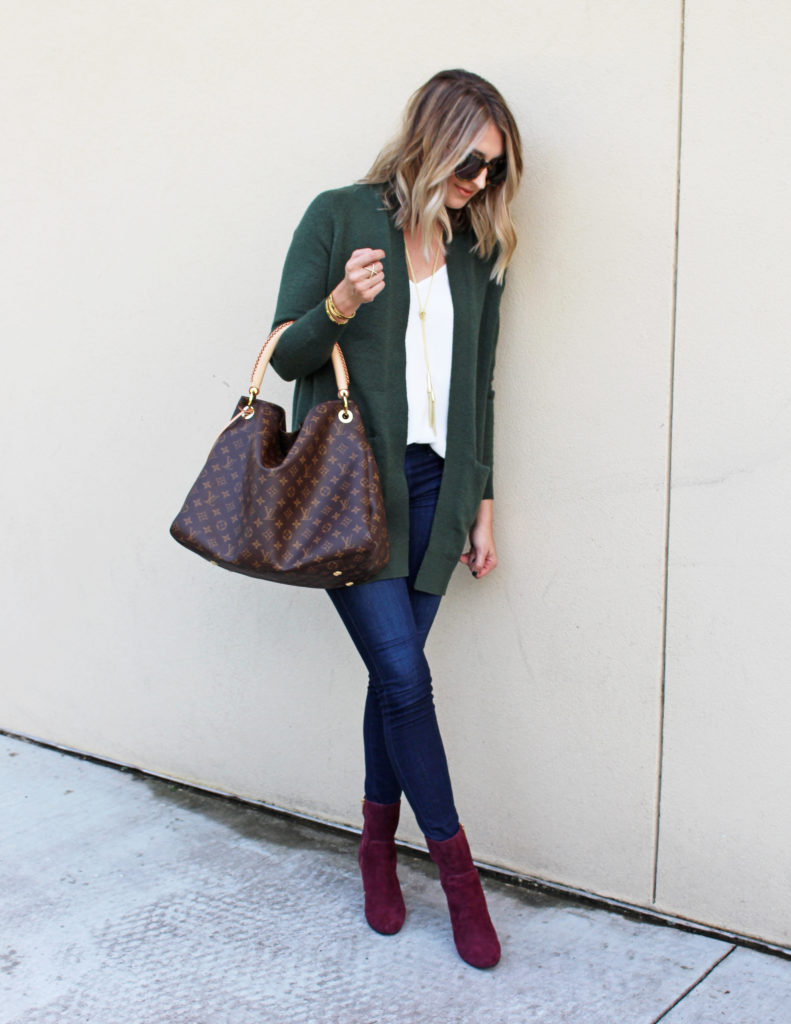 Cardi: B.P. / Cami: Topshop / Denim: AG Jeans / Booties: Michael Kors / Bag: Louis Vuitton / Necklace: Kendra Scott / Bracelets: Bauble Bar / Ring: David Yurman
So I'm pretty sure this gorgeous shade of green my be my new favorite color to wear. Just this past week, I had my hair re-highlighted (it had literally been 6 months…thank goodness the "rooty" look is still a thing), and I went for more of an ash-blonde color this time. I was a bit nervous about it, but I love the way it turned out. And I think the color of this sweater makes it look even better haha!
My husband loves to joke with me about always buying long, cozy sweaters like this one. He refers to them as "airport" sweaters. When we first got together I would ALWAYS wear jeans or leggings with a tank and a longer open cardigan for flights. But let's be honest, if he knew how comfortable they were, he'd be wearing them too! 🙂
Another piece I want to talk about in this look is the cami I'm wearing underneath my cardi. You guys, this was such a good purchase. In fact, I might go purchase another white one and maybe a black one to have these to wear under, umm…EVERYTHING. I hate tight shirts. It is so hard to find camis or tanks for layering purposes that aren't tight, or even clingy. Often if I find one with a more relaxed fit, it's a jersey material that is super clingy, sticking to whatever I've layered over it, or my bra, or just showing off flaws in my mid-section. This tank is a smooth, chiffon type fabric, so it drapes effortlessly over your body without clinging to anything! Seriously, so perfect for layering.
I totally could have paired almost any neutral shoe with this cardi (gray, black, brown, tan, leopard…whatever you want!), but I am still obsessing over these gorgeous burgundy boots I purchased last weekend so I wanted to incorporate them into whatever I could. Plus I love that it is sort of a more unexpected color combination. I finished off this look with some gold accessories oversized sunnies, to keep it chic but easy. This outfit will be on repeat this season for sure!
xo, Loren
P.S. – I need to give a special shoutout to my BFF, Barbara, for being so wonderful and taking so many of my pictures lately! Love you girl!
Shop the Post:
[show_shopthepost_widget id="1983363″]