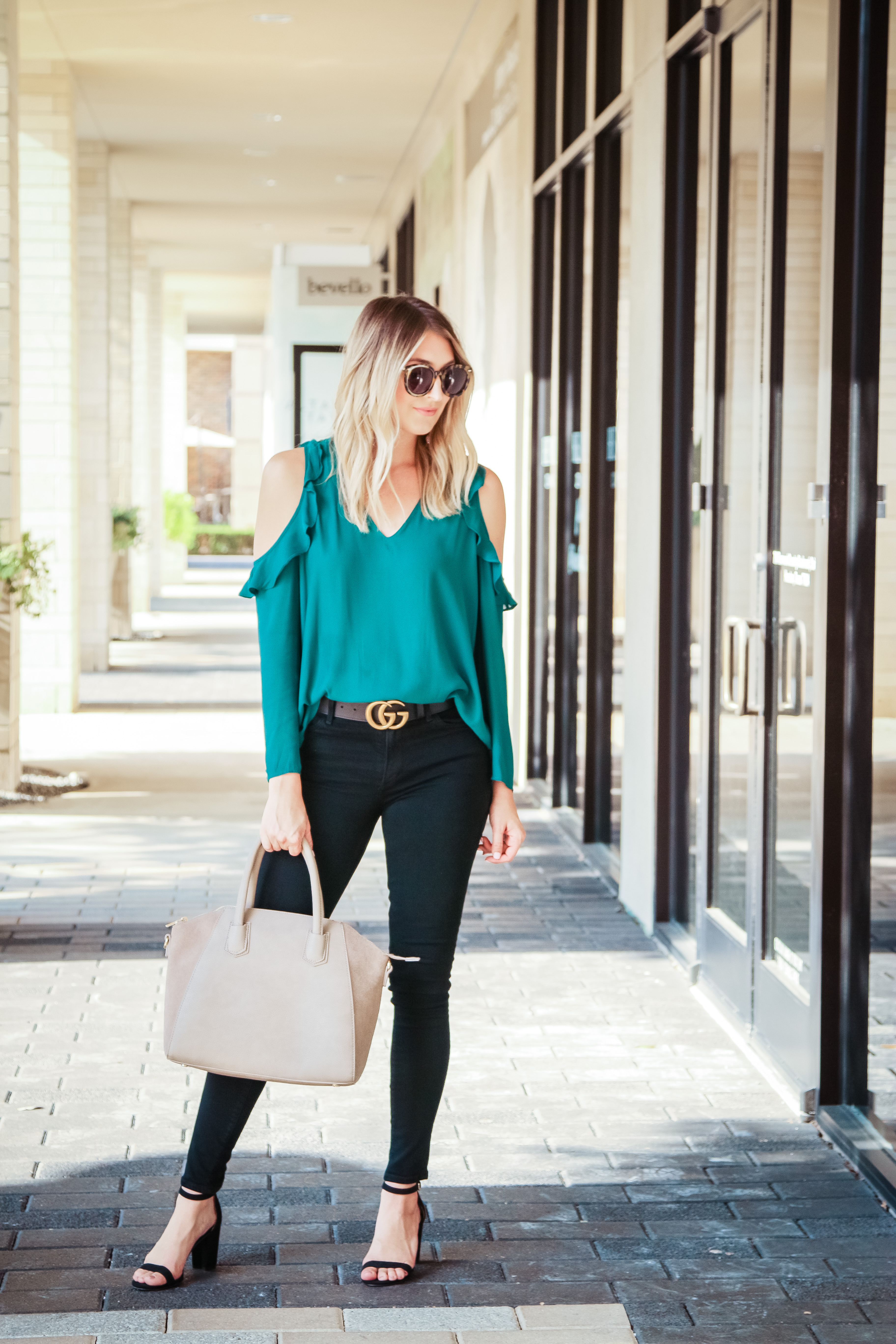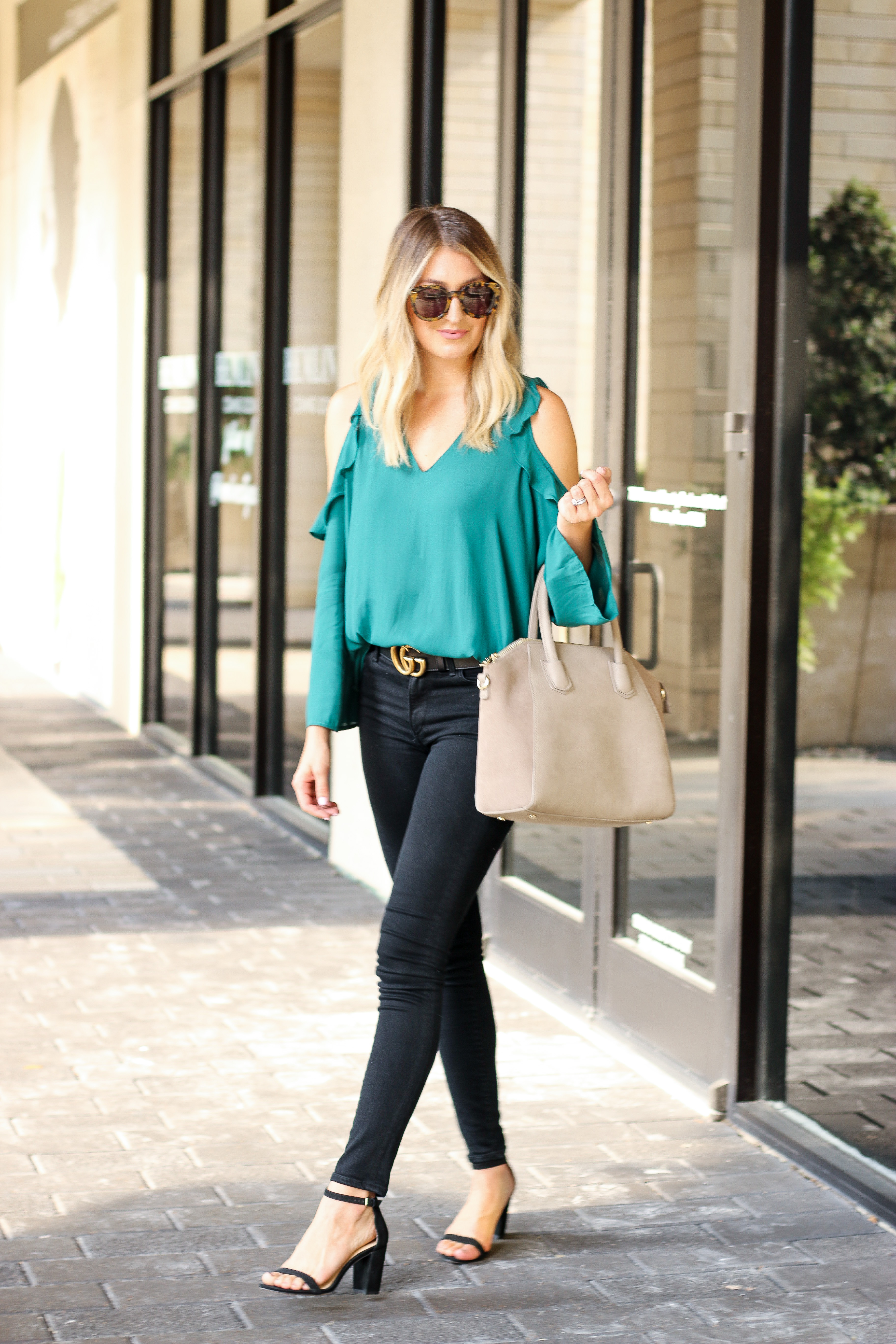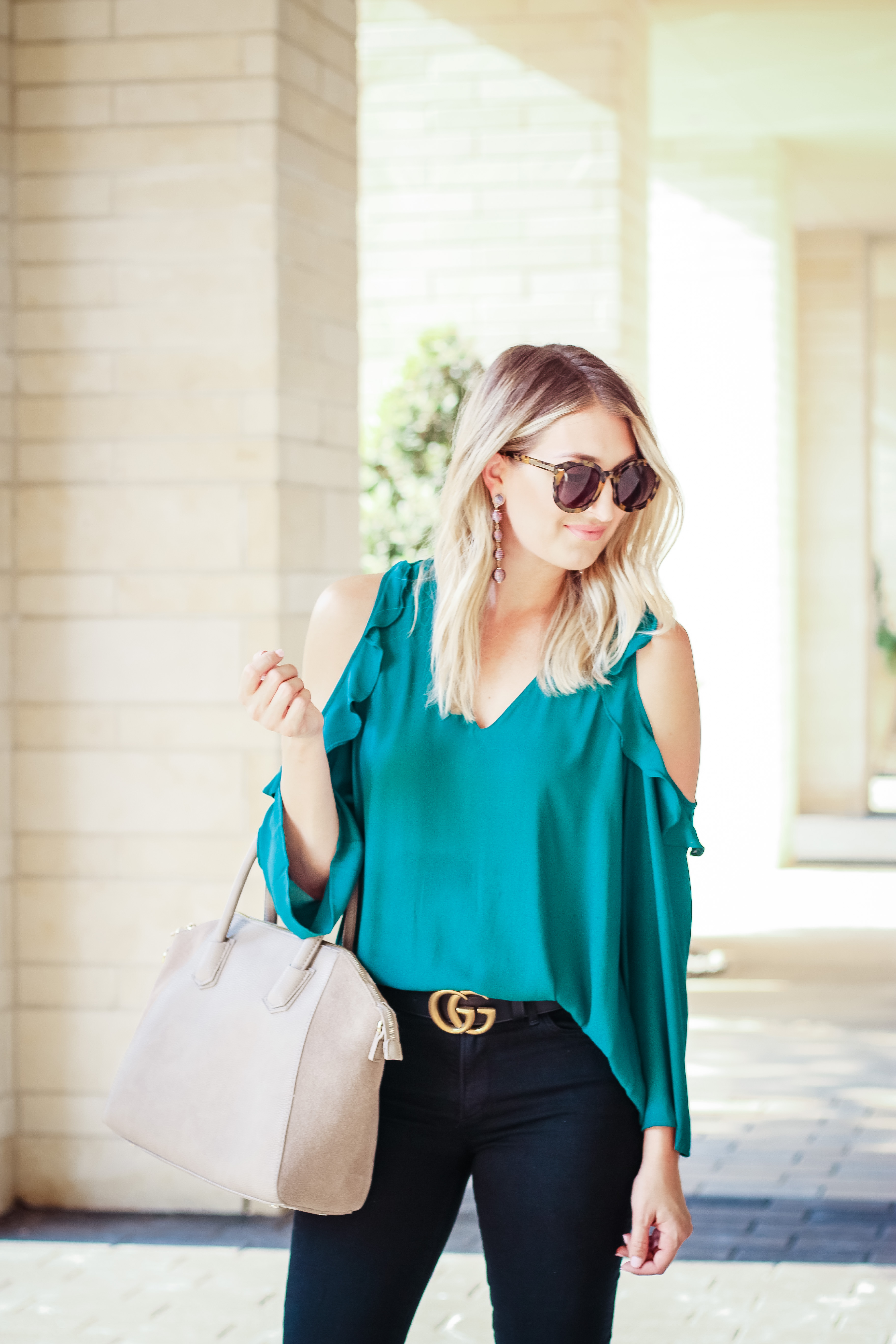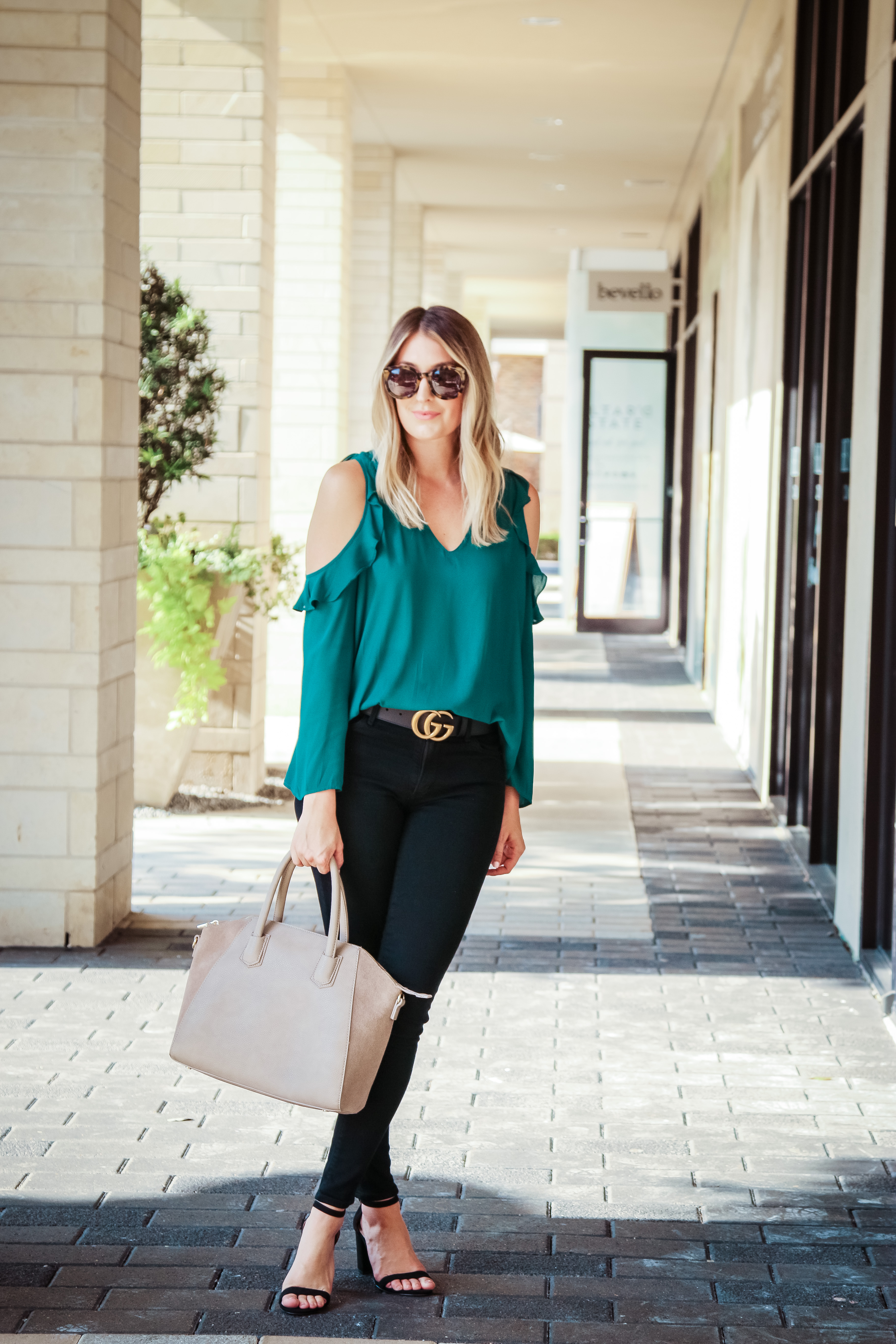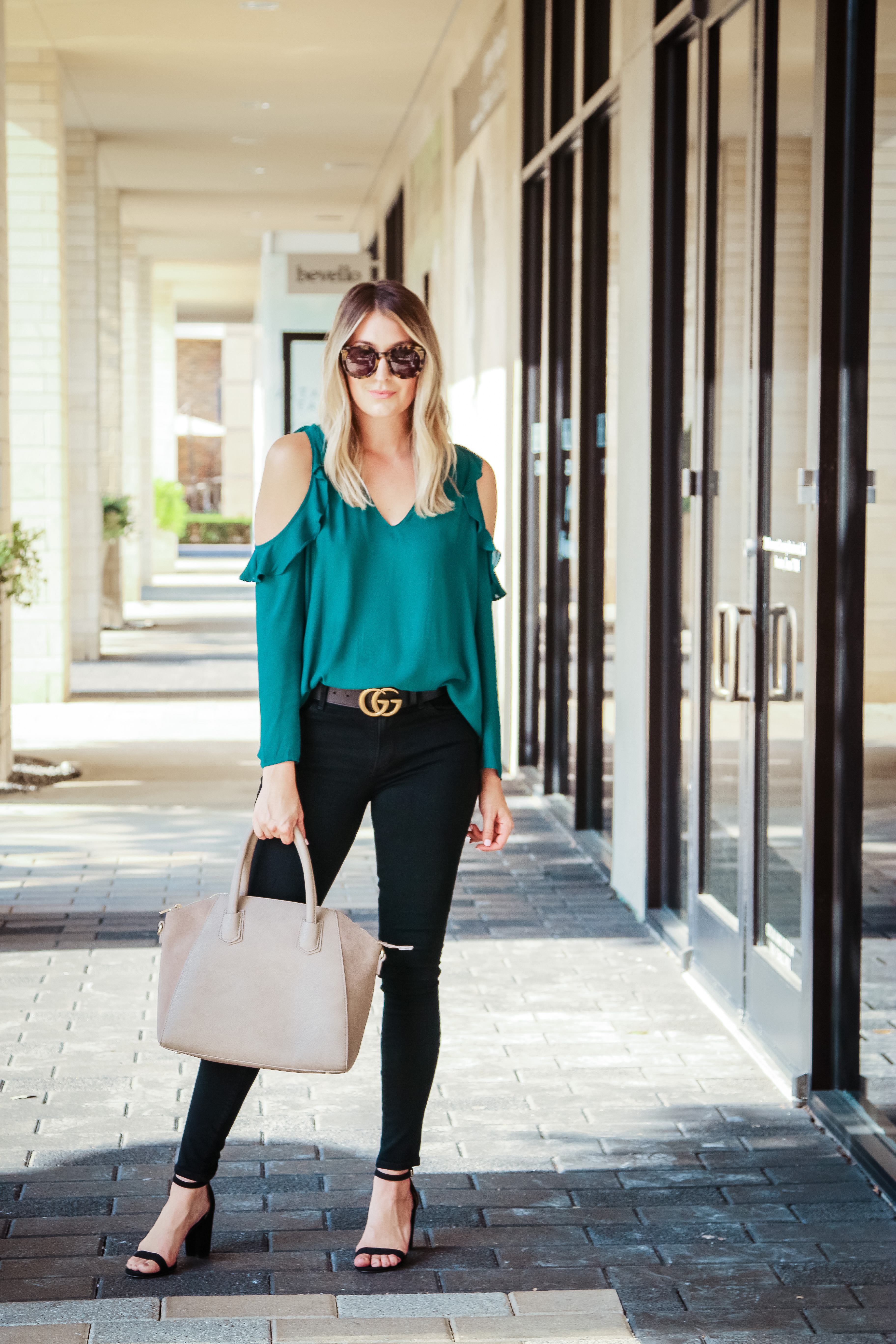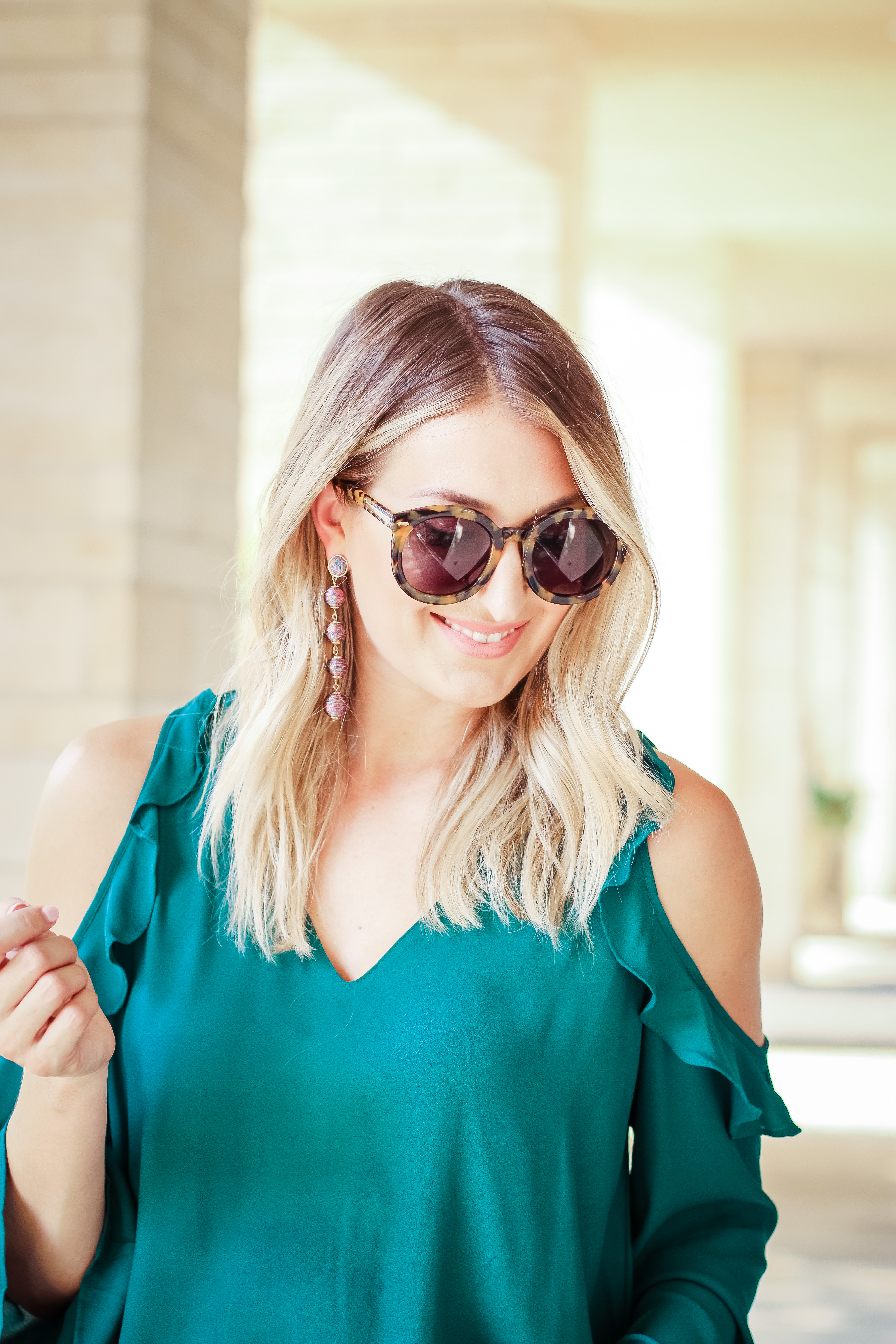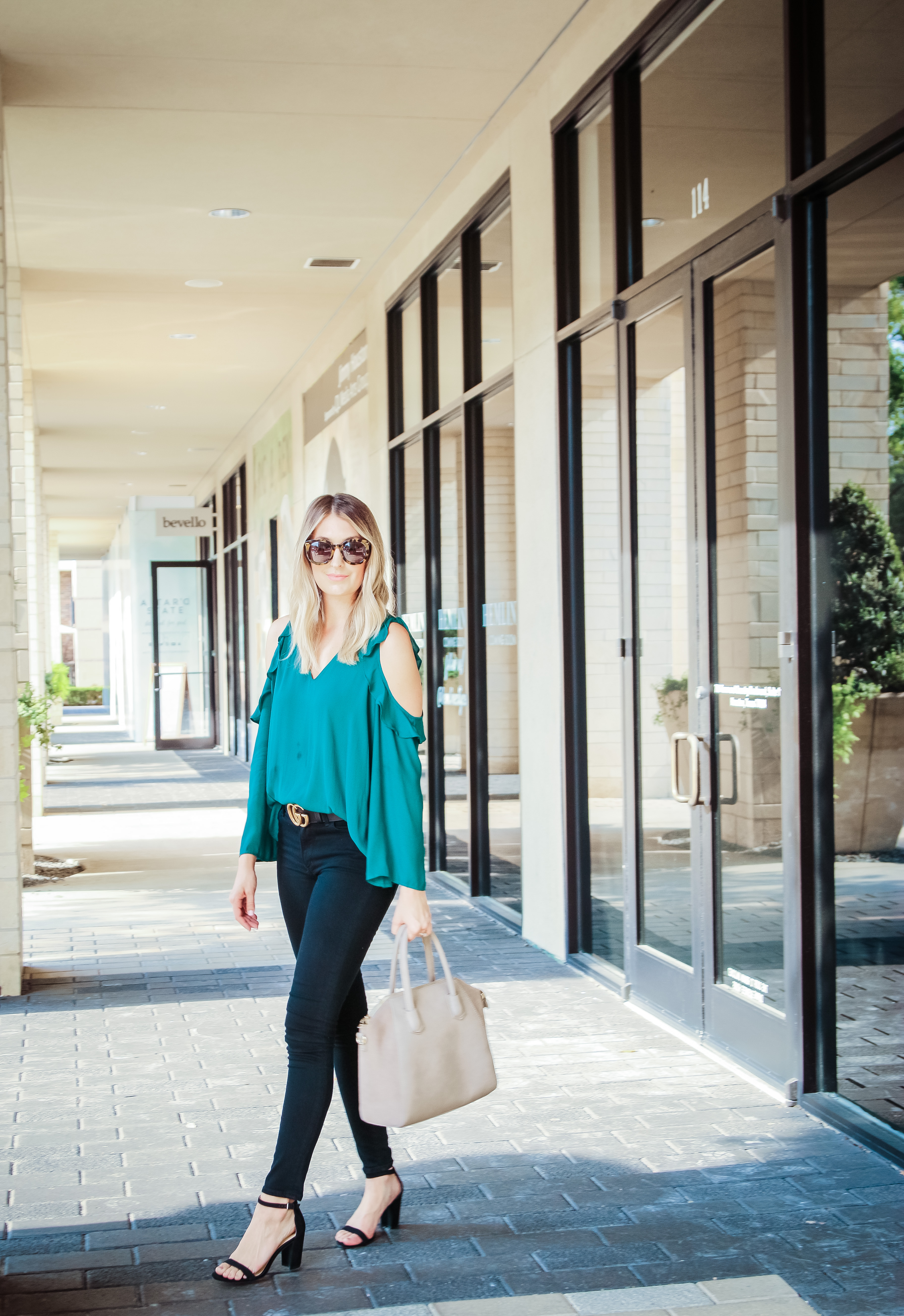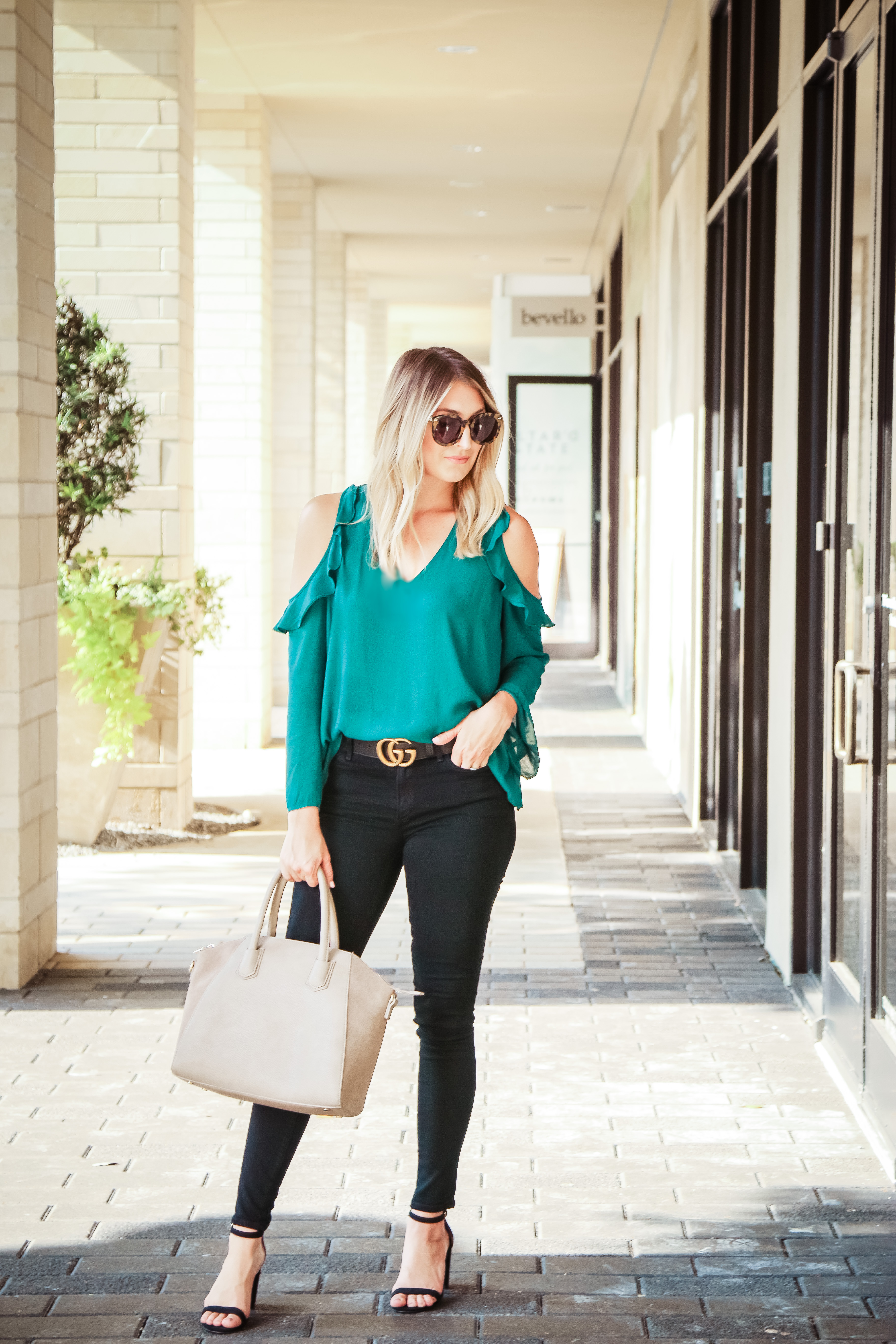 Top: Nordstrom (under $50) / Denim: Citizens of Humanity / Sandals: Jessica Simpson (only $60!) / Belt: Gucci / Bag: Sole Society / Sunnies: Karen Walker / Earrings: Bauble Bar
So many of you have reached out to me on social media sending your thoughts and prayers and asking how we are doing during hurricane Harvey. I am happy to say that right now, we really have been so fortunate and haven't had to deal with much, just lots and lots of rain and a few tornado watches/warnings since Friday evening. The rest of the city is a complete disaster. So many people I know have water in their homes as most of the city is under water.
I am pretty sure our old house in West Houston is probably flooded, so I'm thankful that we no longer live there. I know the highways nearby are completely underwater. There is a creek near where we live now in North Houston that is expected to flood in the next 24 hours. We are prepared and fully expect to be stranded in our neighborhood for a couple of days. We are hopeful and don't think that our house will get any water since it is built up like 3-4 feet off the street. Worst case, we do have a two-story house so we can hang up stairs if any water comes in. I have lived in Houston for the majority of my life (except for when I was in college basically) and I have never seen anything like this. This city has had many issues with flooding over the years but this is on another level. So please say a prayer for this city and the southwestern part of Texas as well as we still have about 3-4 days of rain ahead of us.
It feels so silly at this point to talk about my outfit. To be honest, at this point I am just so bored from sitting inside for 3 days that I figured I'd get a post up. Anyway, I picked up this top earlier this week after falling in love with this gorgeous emerald green color. I love this color for fall, and it will be so pretty for the holidays as well. The ruffle details and cold shoulder cutouts didn't hurt either, since I love both of those trends. The best part about is that it's super lightweight so it's perfect for Houston winters and can easily be layered under a jacket. And (bonus) it's under $50!
My black jeans are an oldie, but a goodie. I bought these several years ago and they still sell this exact style if that tells you anything about how amazing they are. They are super soft and stretchy, and the fit is so flattering. I went with a strappy block heel for the shoes, and I love this pair because they are comfortable and affordable.
Okay y'all, I just recently splurged on this Gucci belt, and I am so glad I did. I have actually wanted this thing for about a year, and finally pulled the trigger. But here's the thing, Gucci has been sold out of this belt in most sizes (particularly the smaller ones) for MONTHS. I went into the Houston store on a whim last week to see if they happened to have it in stock. The salesgirl told me that most of her customers were buying whatever size was in stock and having them cut down. For example, I needed a size 85 and the only size my store had was 100. That's like 3 sizes too big! But the associate I spoke with at Gucci was able to recommend a belt cutting place that many of her clients had gone to. Sure enough, for about $35, they cut it down for me in about an hour, and you would never know the difference! And even better, it's now basically a custom-fitted belt!
Stay safe out there friends!
xo, Loren
Photos by The McRae's Photography