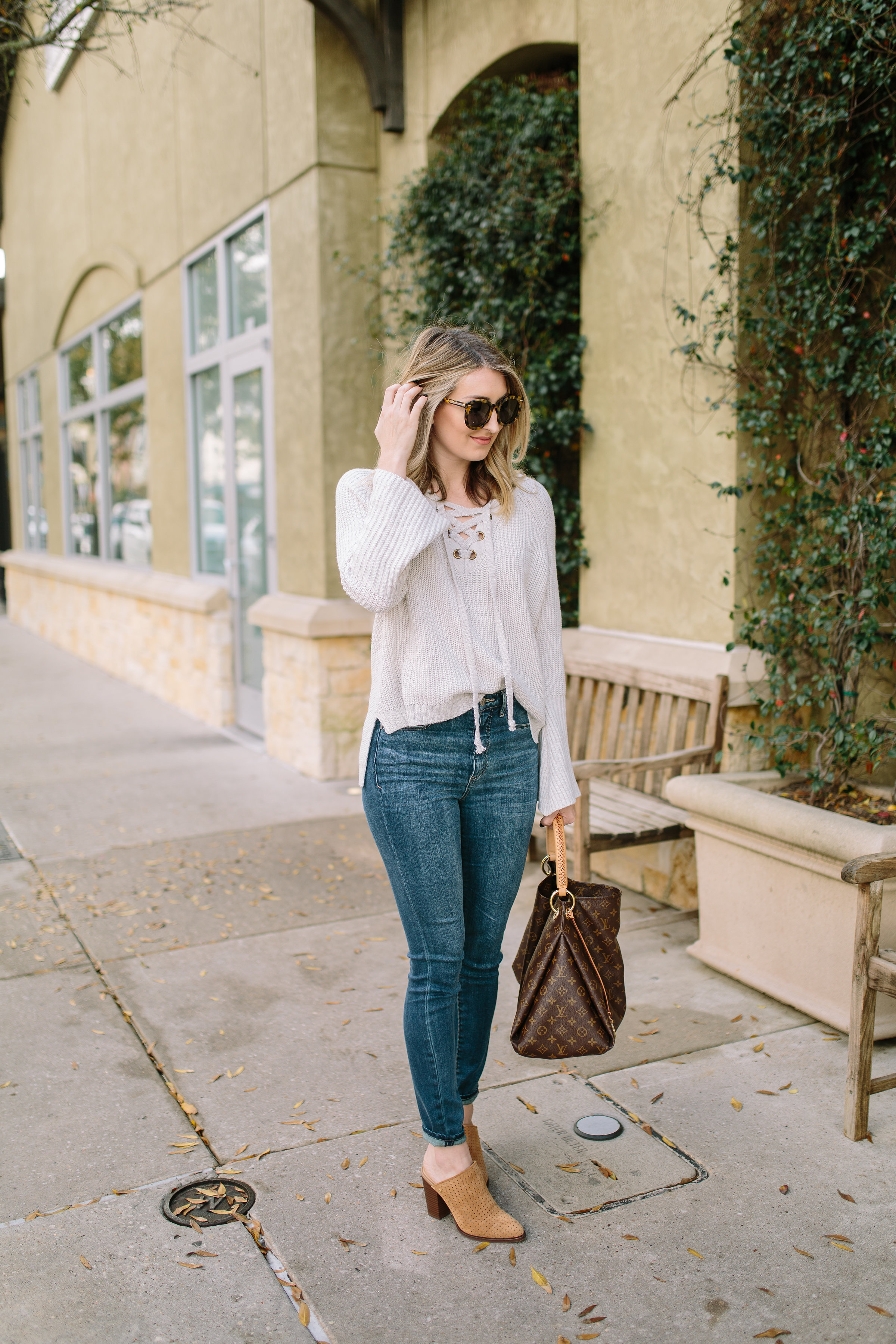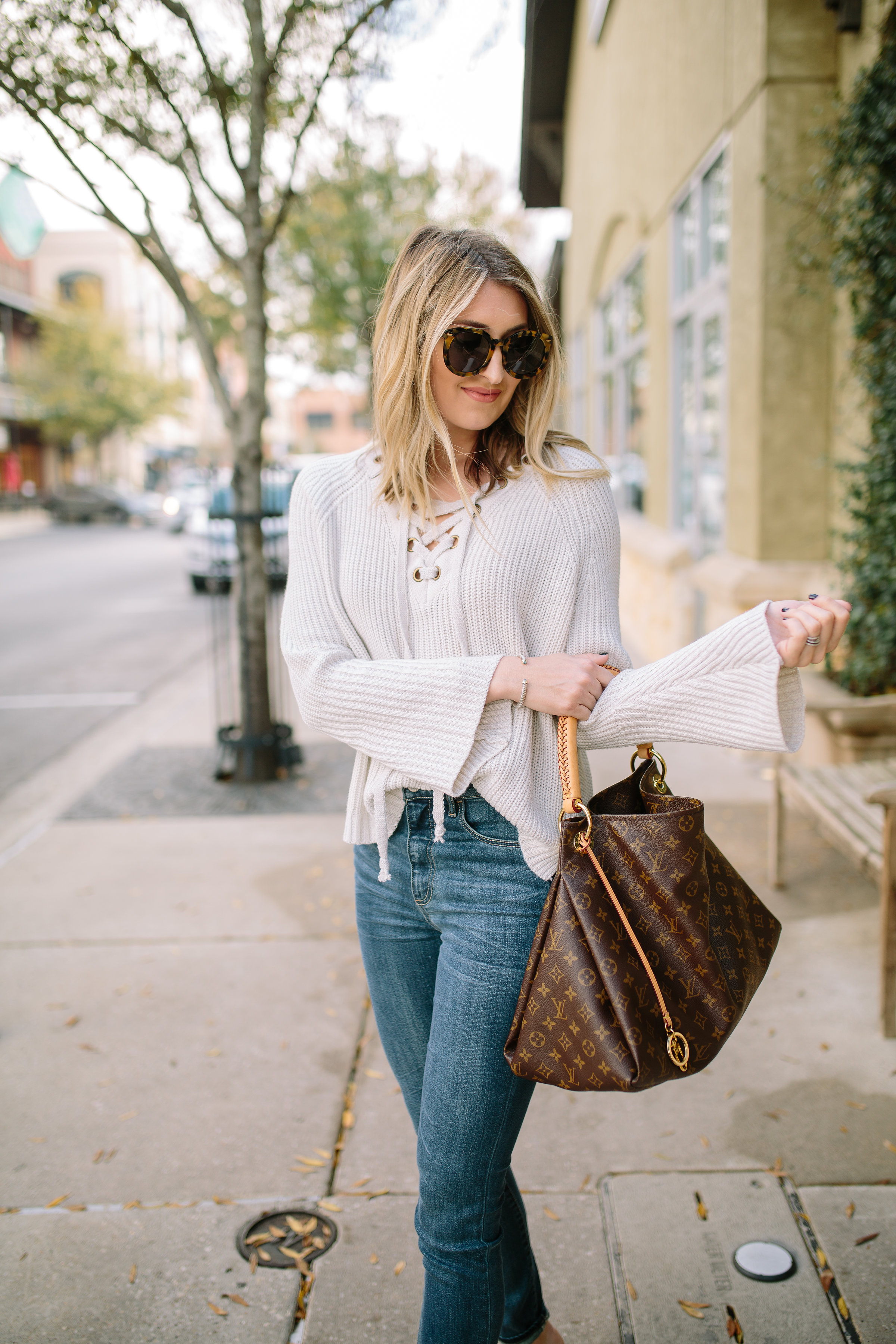 I bought this sweater so long ago, I can't believe I am just now doing a post about it! I'm sure you all have already seen this sweater (or one very similar) already, but I just love it, so I had to post! I actually snagged this from an adorable little local boutique here in Houston called Pomp & Circumstance. If you live in Houston, you should definitely check it out, I am always finding cute things there!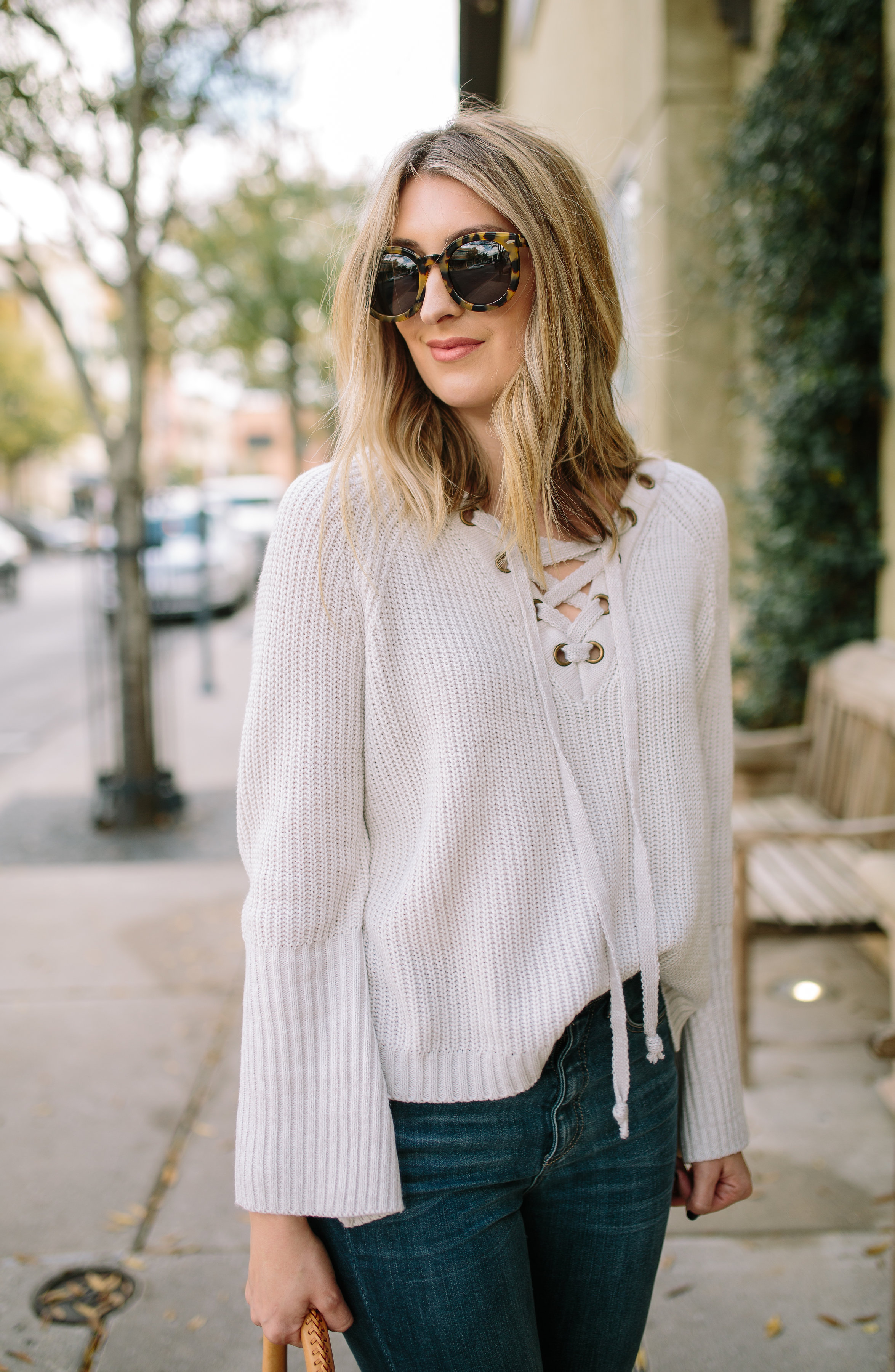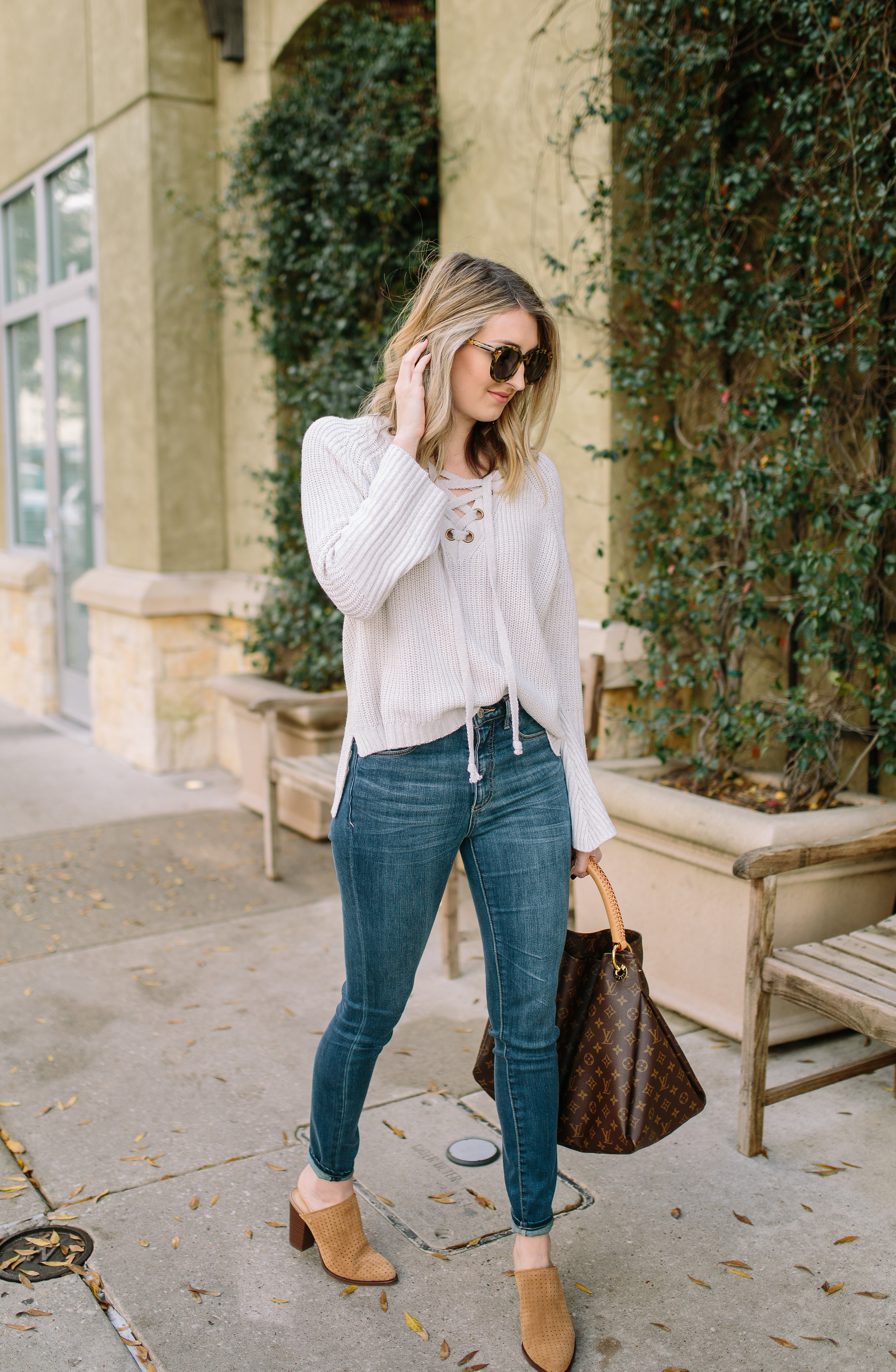 I paired this sweater with (you guessed it) high-waisted jeans. This is another one that is a little bit short on my long torso, so wearing it with high-waisted jeans makes me feel a little more confident that my "mom" belly won't show if I happen to raise my arms or anything. And yes, I'm serious, I think about these things. Because of the fact that I am always chasing after my crazy toddlers, I am always trying to make sure that my outfits are at least somewhat kid-friendly.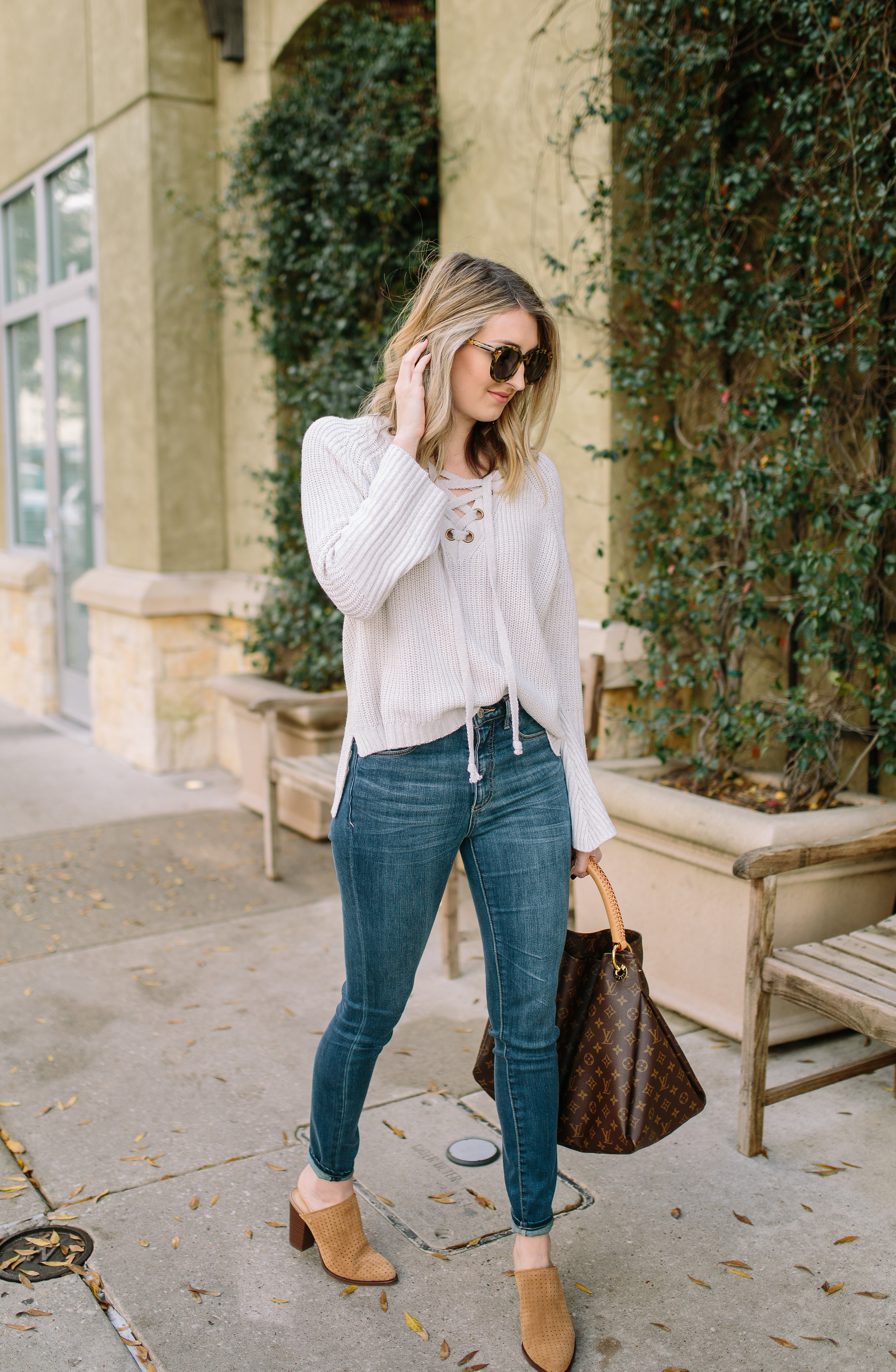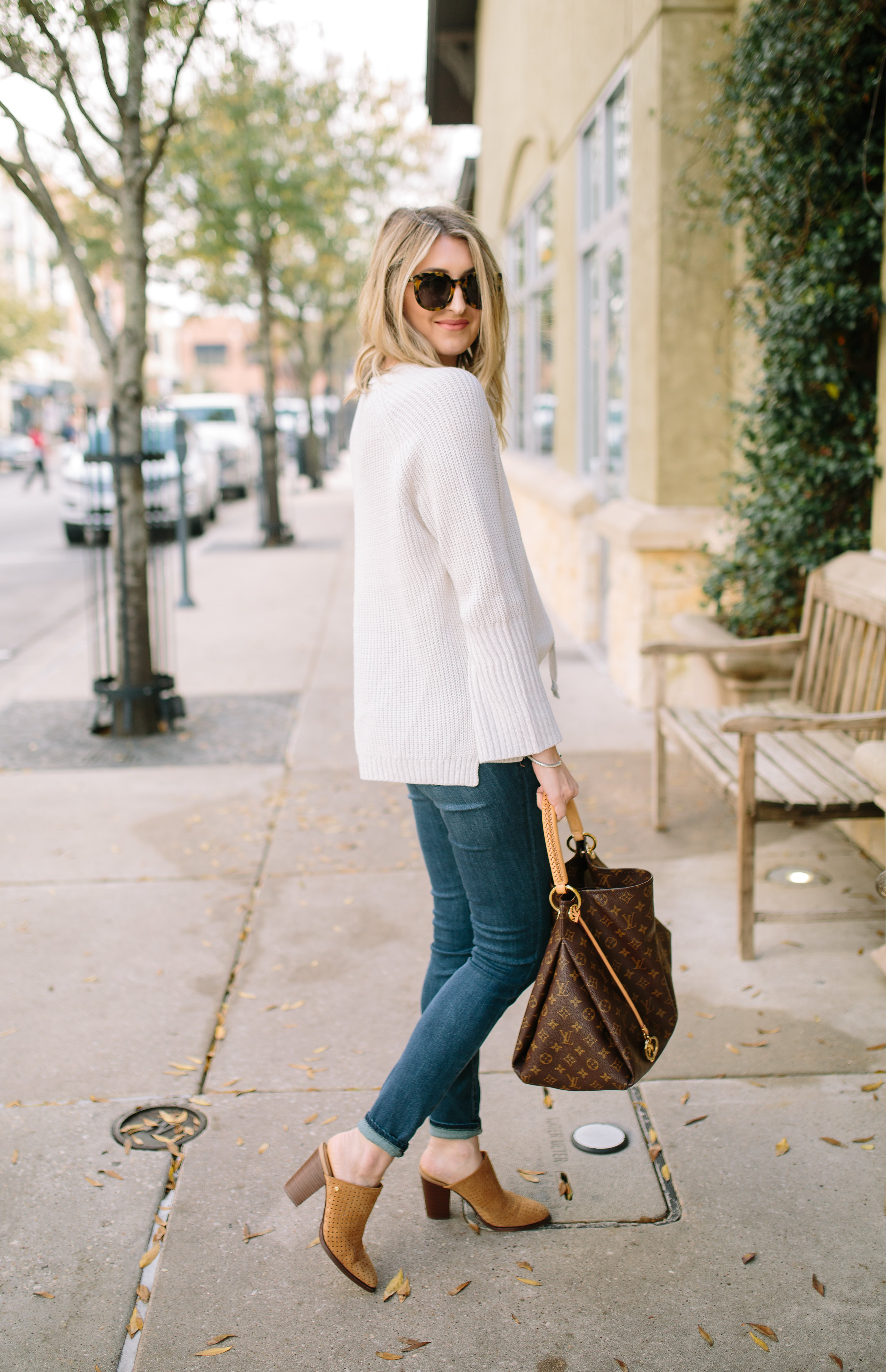 Speaking of trying to make outfits kid-friendly, you might be wondering why I am wearing heeled mules with this casual, everyday look. So here's the thing. I love a good heel. Most of my favorite shoes have a heel. And here's the other thing, like I mentioned, I'm usually chasing my toddlers around. I mean, I am a stay-at-home who is trying to be a fashion blogger, so this is my life. Lately I have been trying to do a better job of buying shoes that fit both needs. These mules have been one of my favorite pairs of shoes lately. They are perfect for transitioning into spring, they go with everything, and they are comfortable enough for "mom life". Sam Edelman is the genius behind these and I have noticed (I have quite a few shoes by him), that he does a great job of adding a little extra padding at the ball of any heeled shoe. So no, don't wear these around Disney World for a week, but they are fine for a day out with your crew for sure.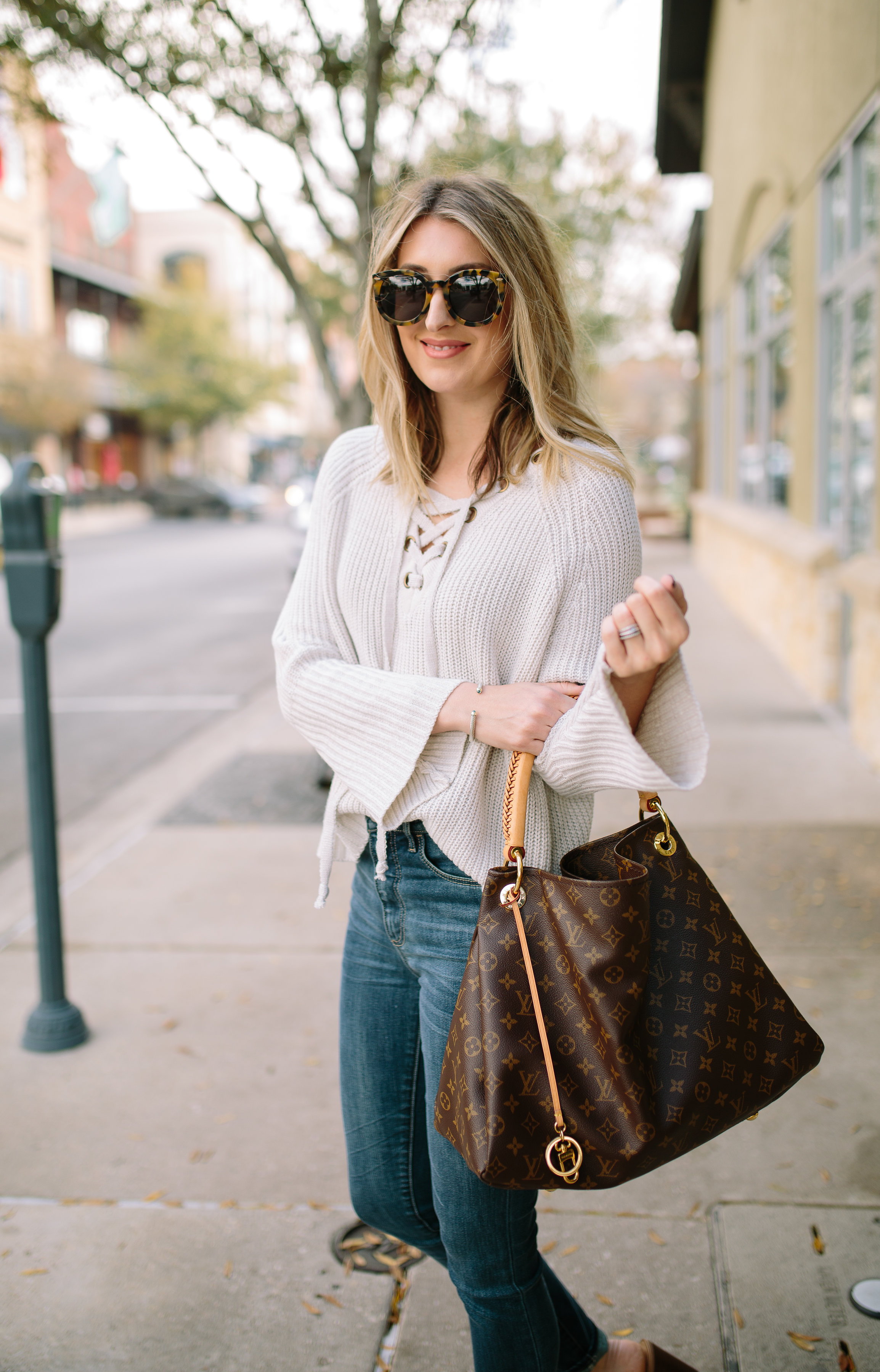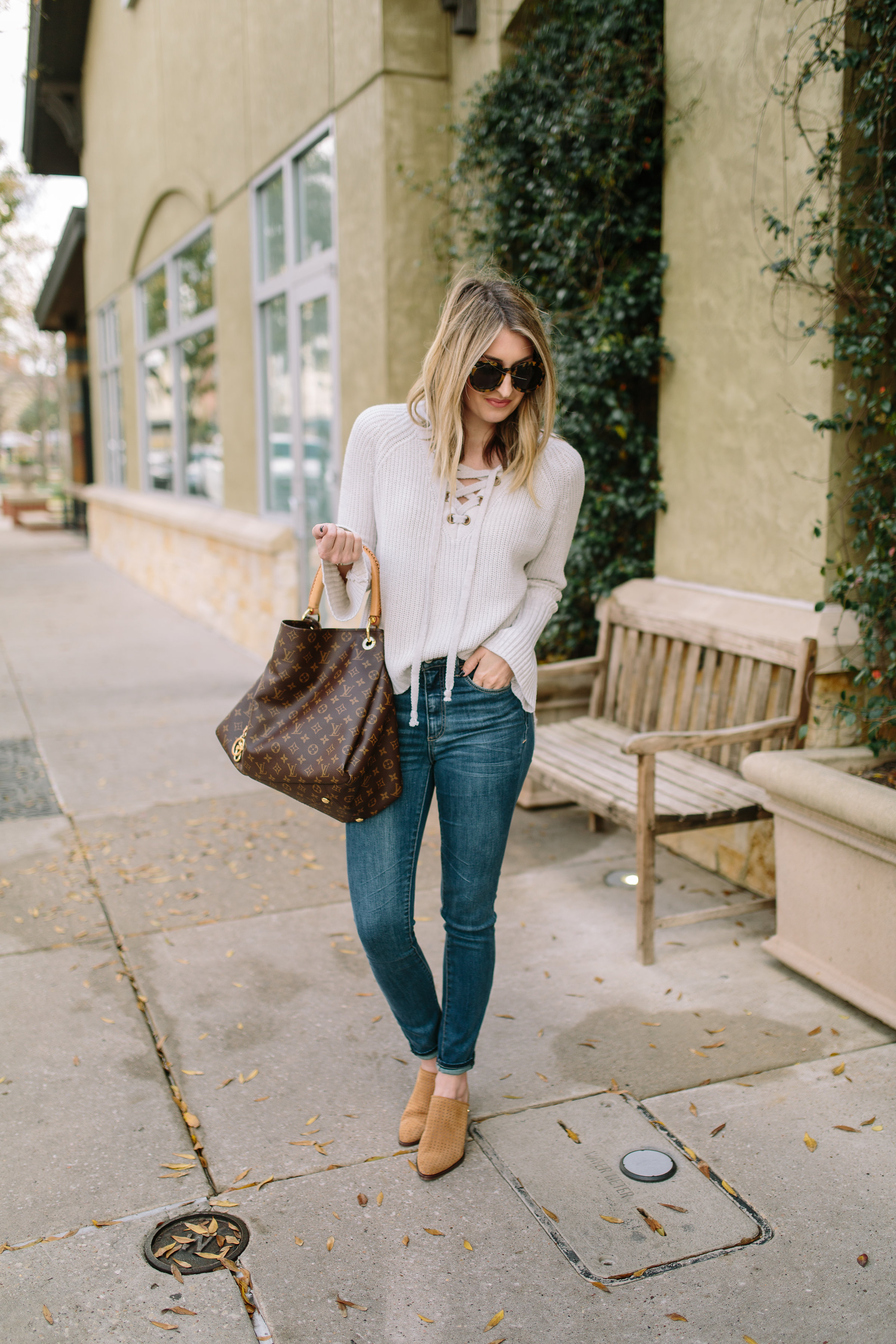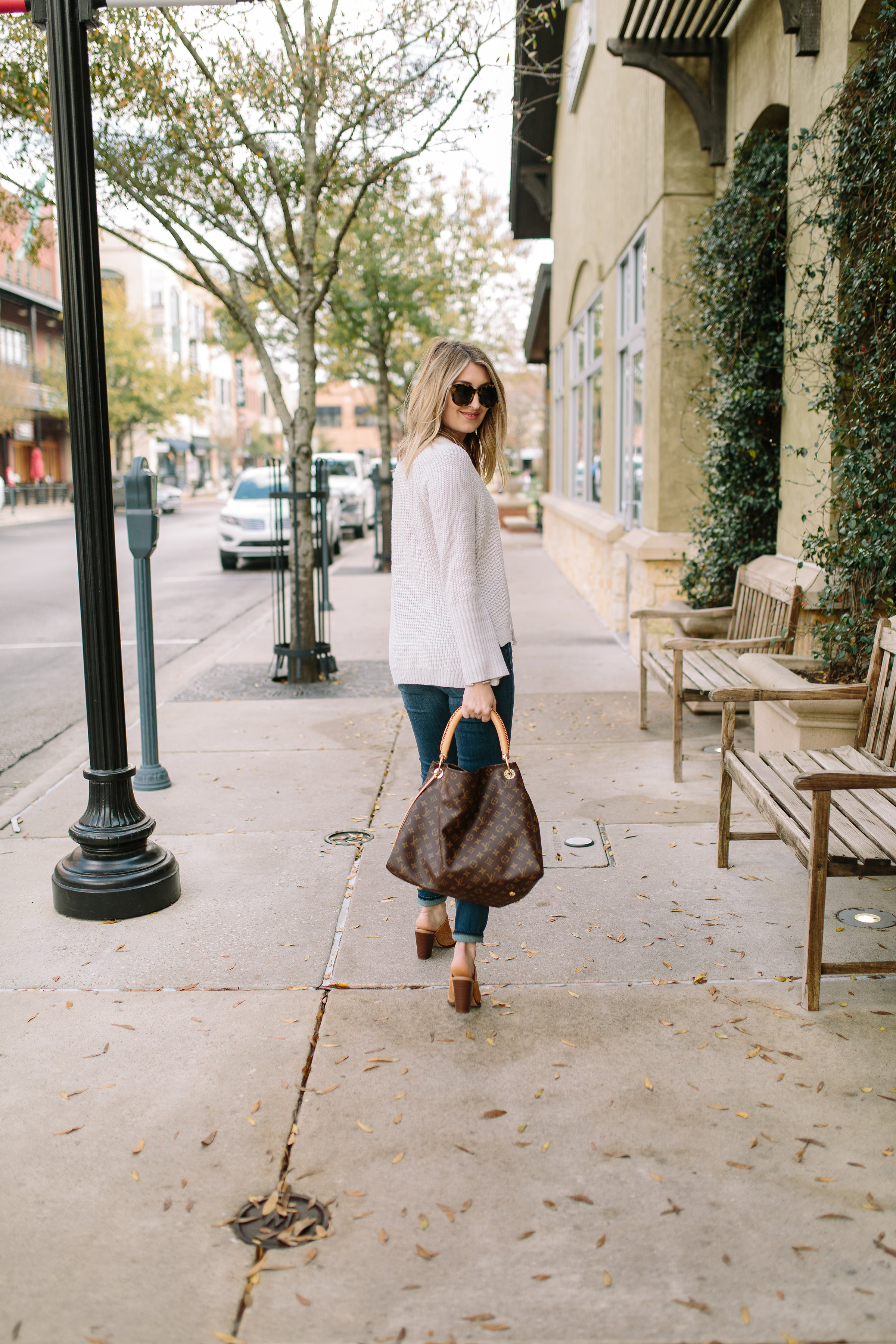 I kept the accessories pretty simple for this look. This truly is something I would wear on a random week day while out and about. I use my Louis Vuitton Artsy bag as a purse/diaper combo. I am sort of over carrying a diaper bag unless I'm going to be gone all day long with my kids, so I usually throw a sippy cup for each kid, and pack of wipes, and a diaper or two for each into this purse with all of my necessities and it works just fine! Now, I do make sure to have sippy cups that are pretty leak-proof, otherwise I wouldn't dare. Haha!
Hope y'all have an awesome week!
xo, Loren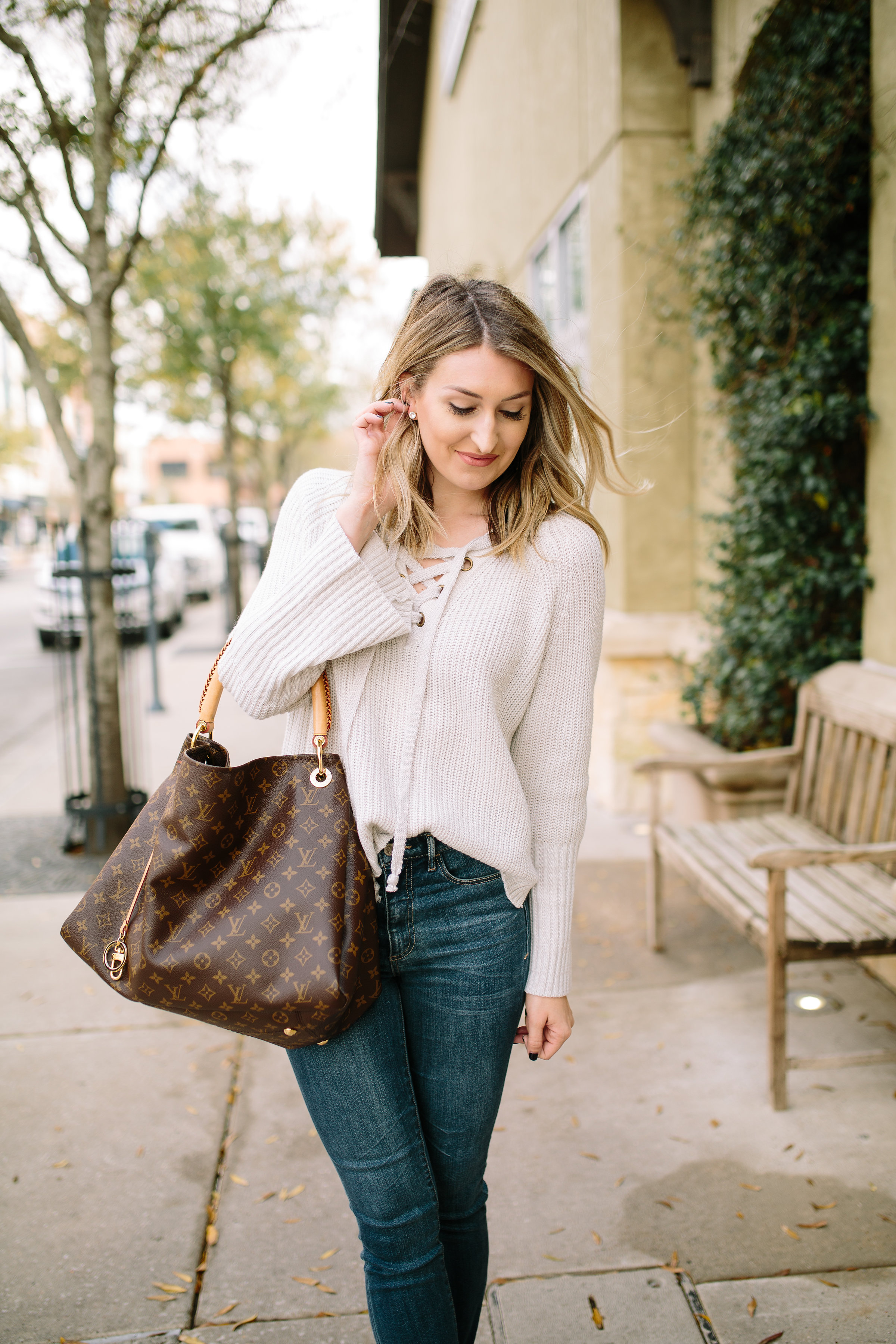 Sweater: Pomp & Circumstance (similar here and here) / Denim: Anthropologie (similar here) / Shoes: Sam Edelman / Bag: Louis Vuitton / Sunnies: Karen Walker
Photos by: Julia Gozman Photography