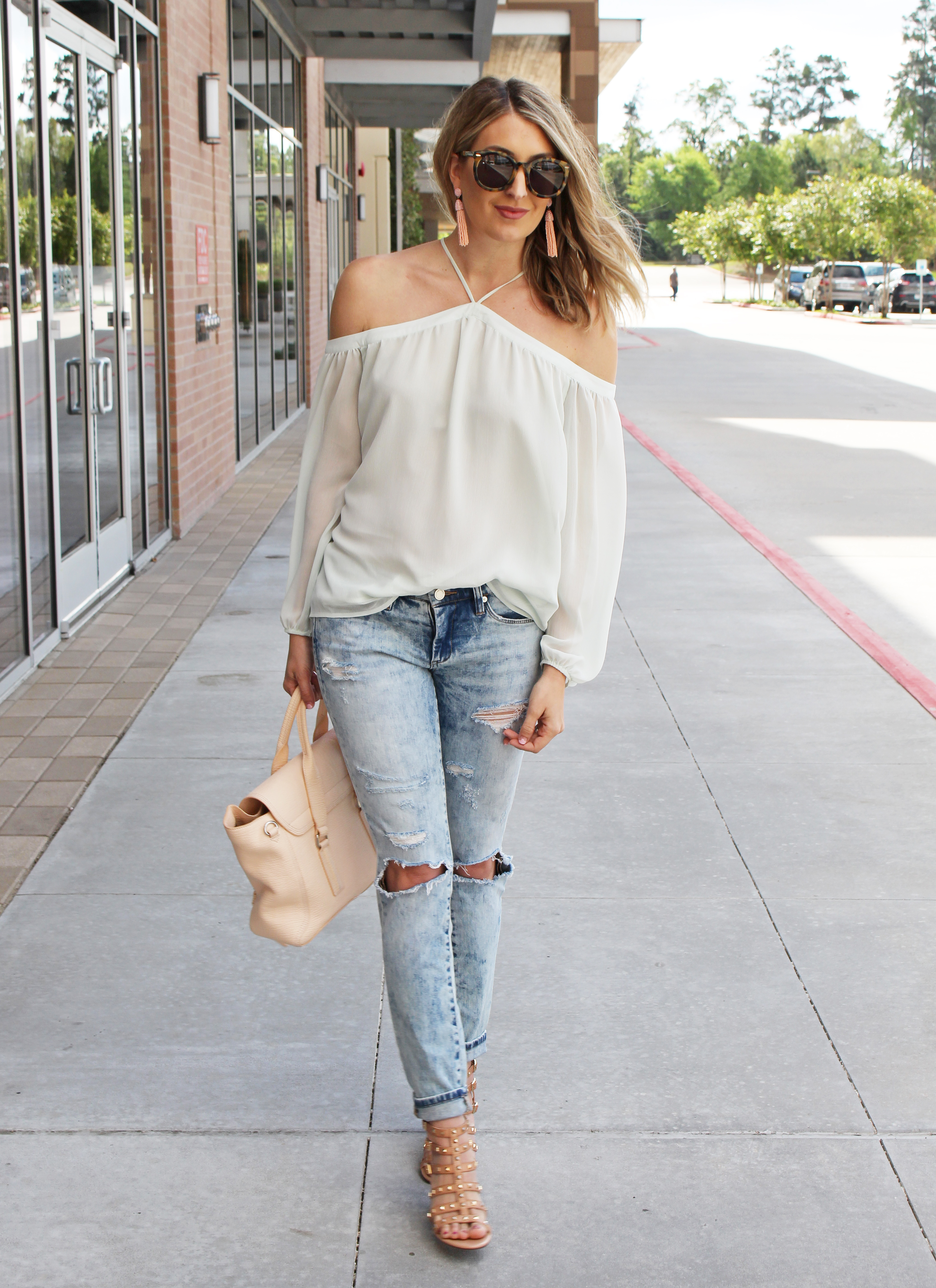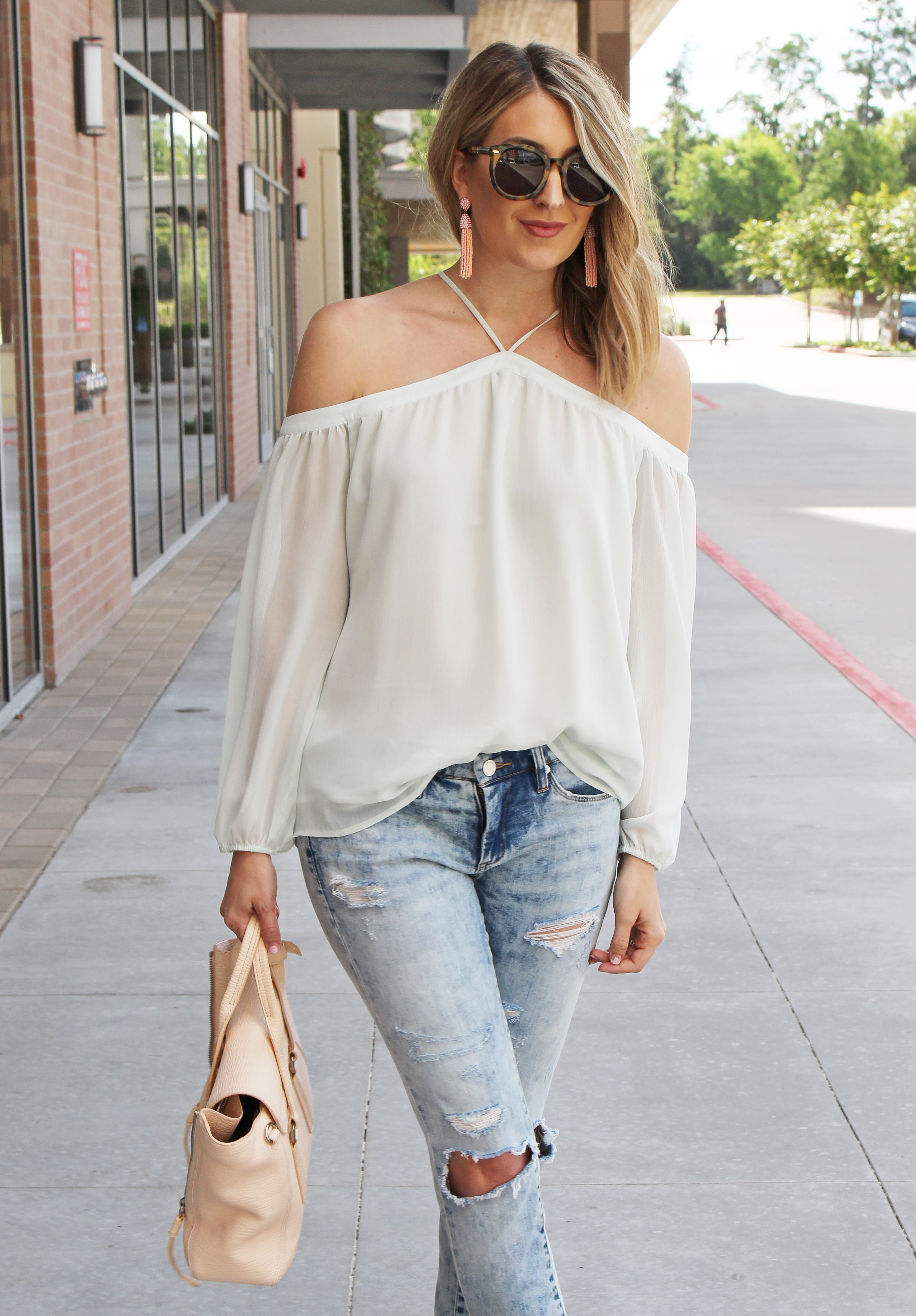 Happy Monday y'all! I hope you all had a good weekend! It was GORGEOUS here in Houston this weekend. We spent lots of time outside enjoying our backyard for once. AND we like (almost) have Liv potty trained (without even really trying!)…so yeah, we had a pretty good weekend.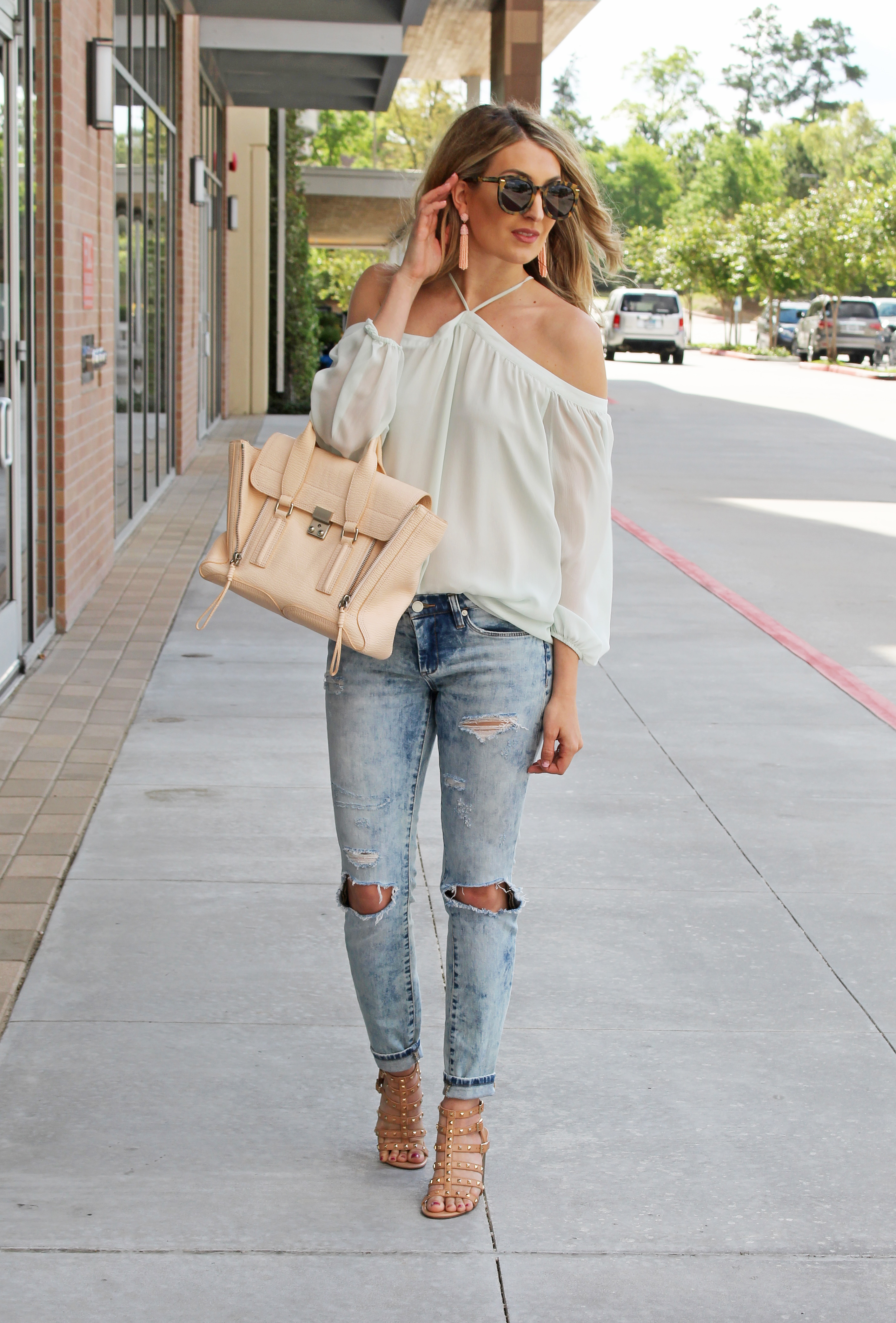 So…I think I have found a new favorite neckline. Off the shoulder style seem to just be so flattering for whatever reason. But here's my issue (and if you've followed me for a while you know I have said this before haha), I find them to be a bit uncomfortable. Maybe uncomfortable isn't the right word, but I find it hard to keep them in place. I have broad shoulders, but a small chest. So I always size up in off the shoulder styles to the neckline doesn't look like it's about to bust at the seams. But if I go too big, then the shirt is a little too boxy. I mean, don't get me wrong, I have found plenty that work for me (since that is like the only shirt style in stores right now, it's not that hard), but they just aren't the most practical shirts for my lifestyle if they are always moving around on me. THIS style though, I love! It stays in place much better and is equally as flattering!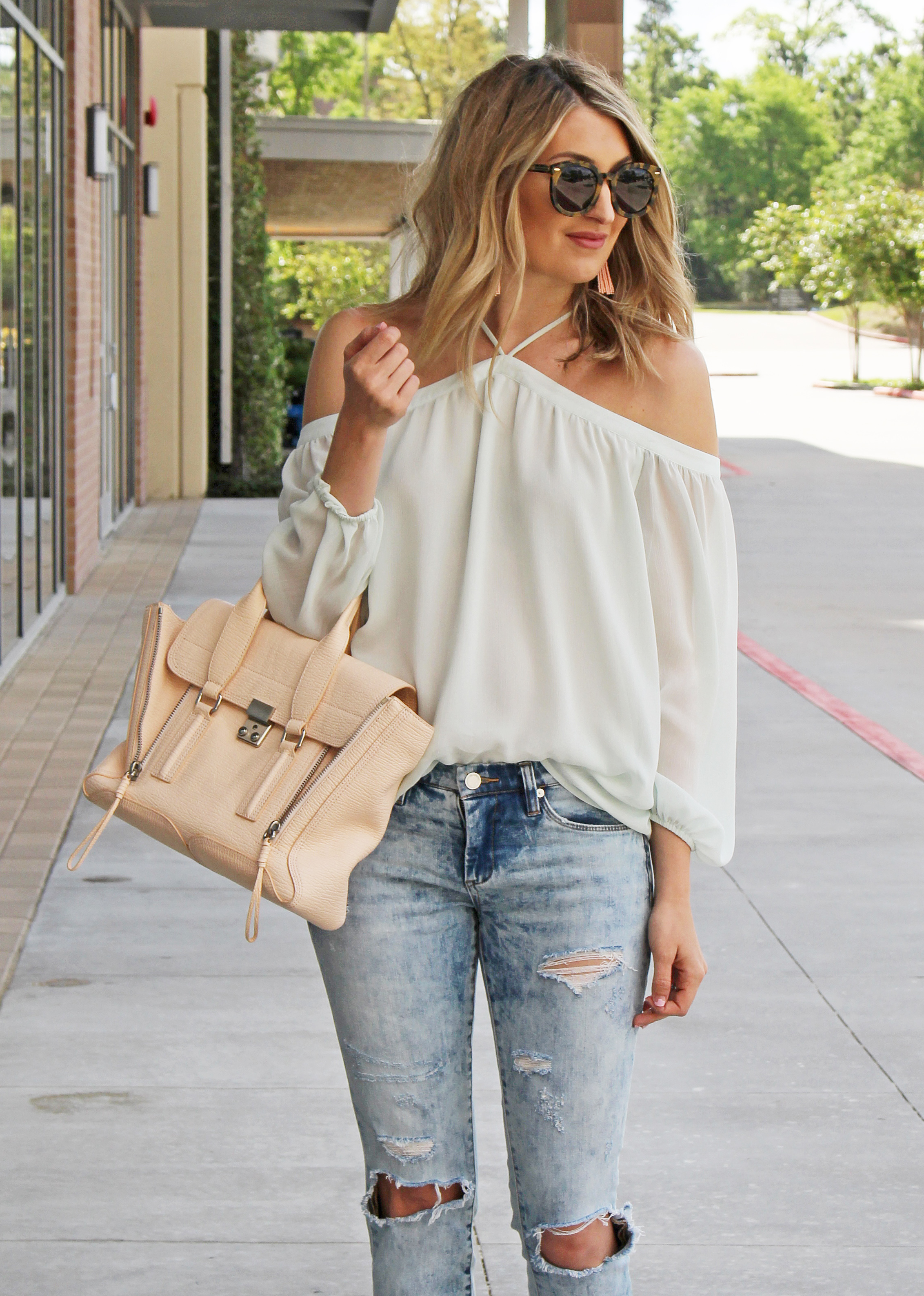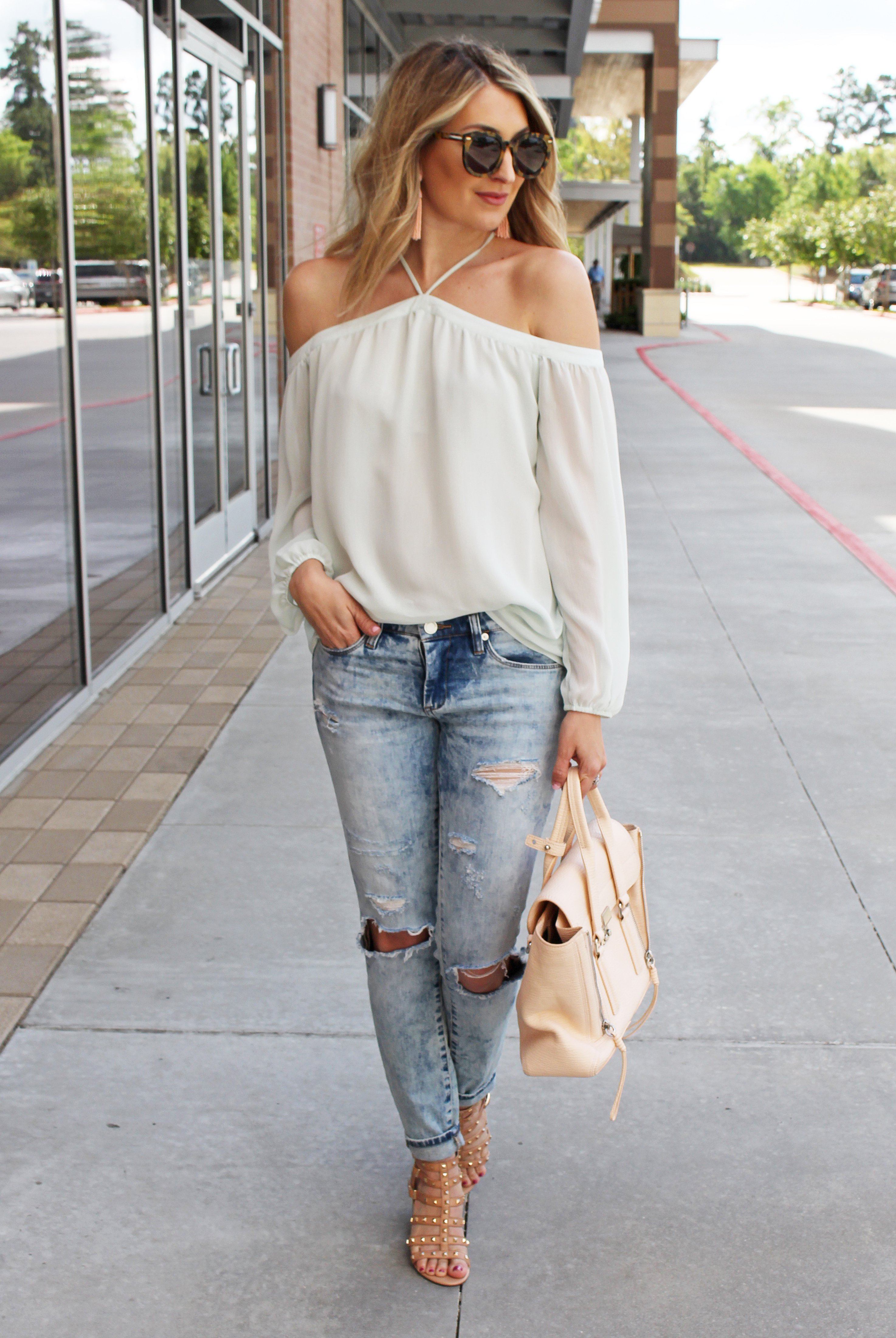 This gorgeous top comes in this pretty mint color, as well as a printed option, both of which I love. I opted for the mint because I've been crushing hard on pastels lately, and this color is so light it's almost a neutral. I will warn you, this top is kind of sheer. I'm wearing it with a nude bra so it doesn't show too badly. But the other day I wore white jeans with it, and the brightness of the white denim did show through a bit…not enough to bother me personally though!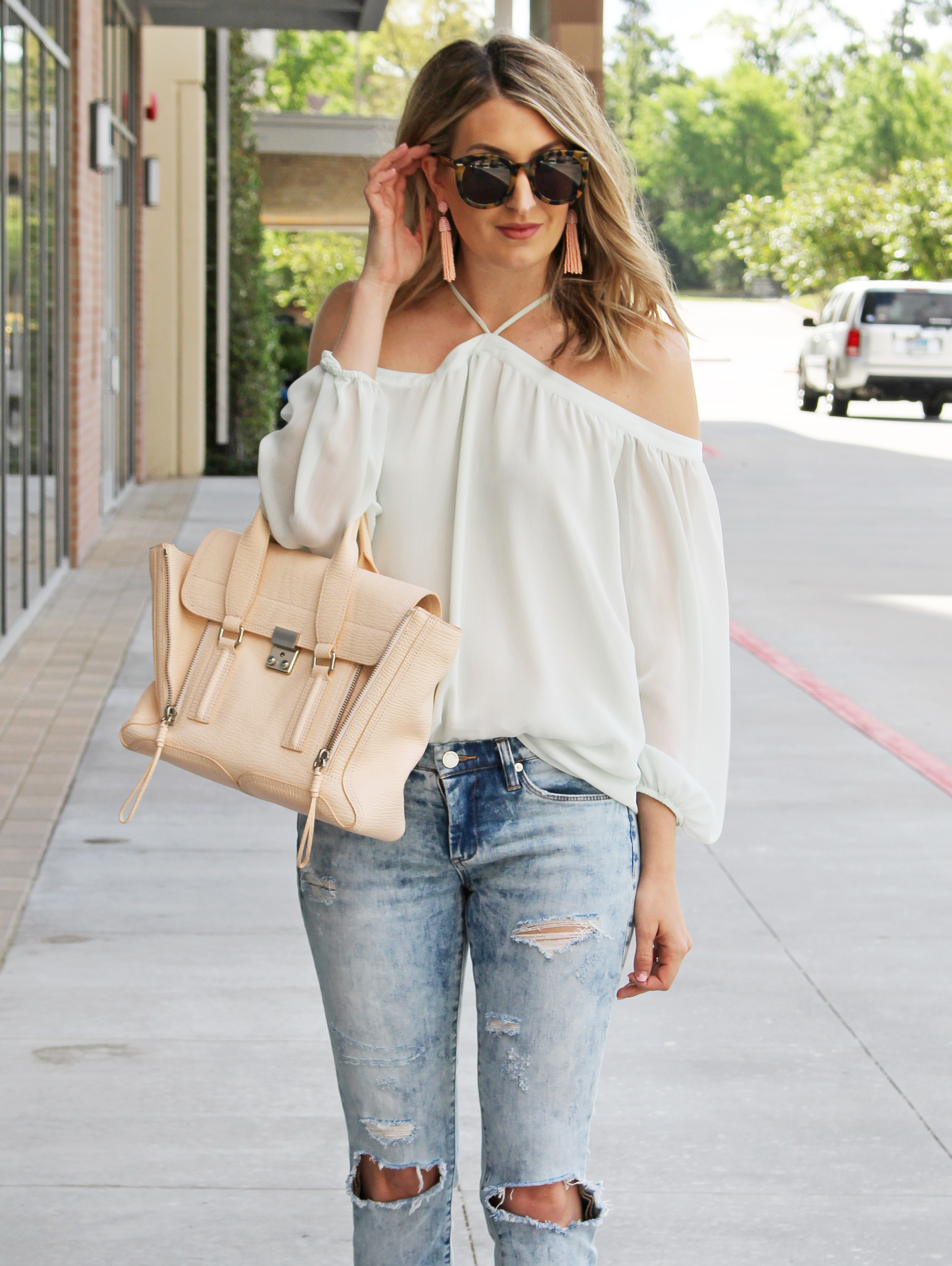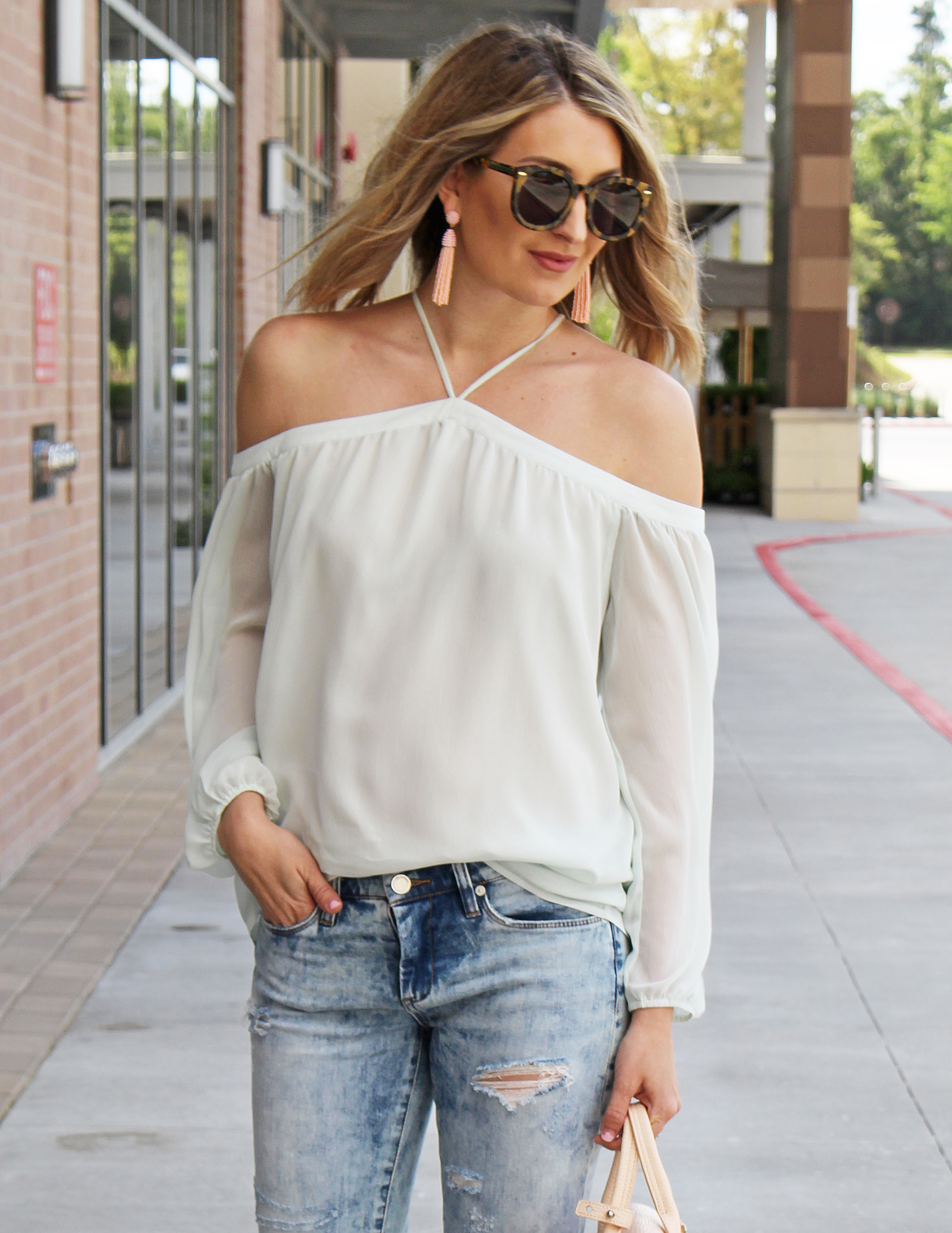 For this look I went with these super comfy light wash ripped jeans. Y'all…these are the softest jeans I've ever owned. And you don't have to wash them 100 times to get them there. The best part? They are on sale right now for $53. $53…For a pair of ridiculously comfy jeans. Do yourself a favor and snag these while they are still in stock. You won't be mad about it.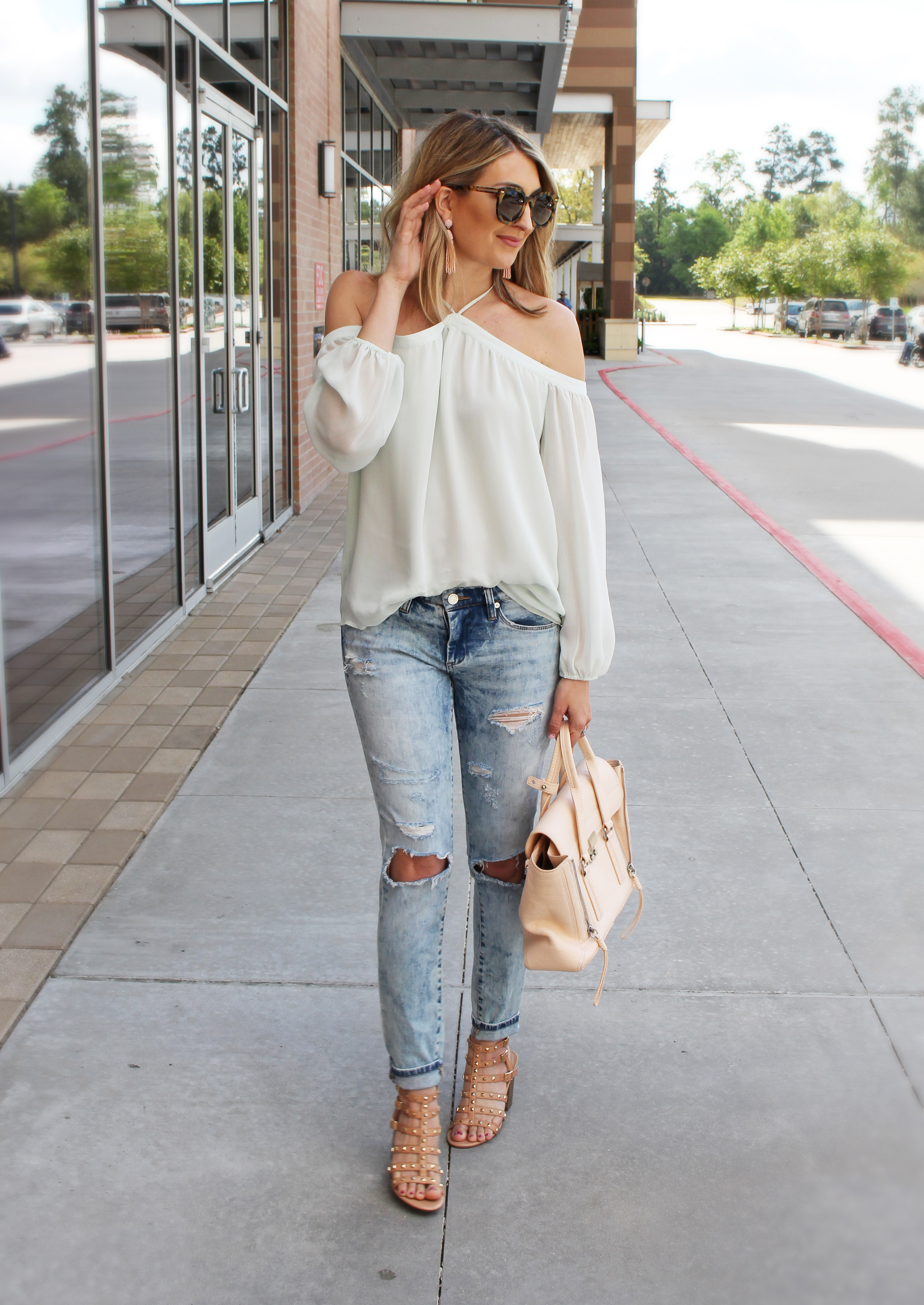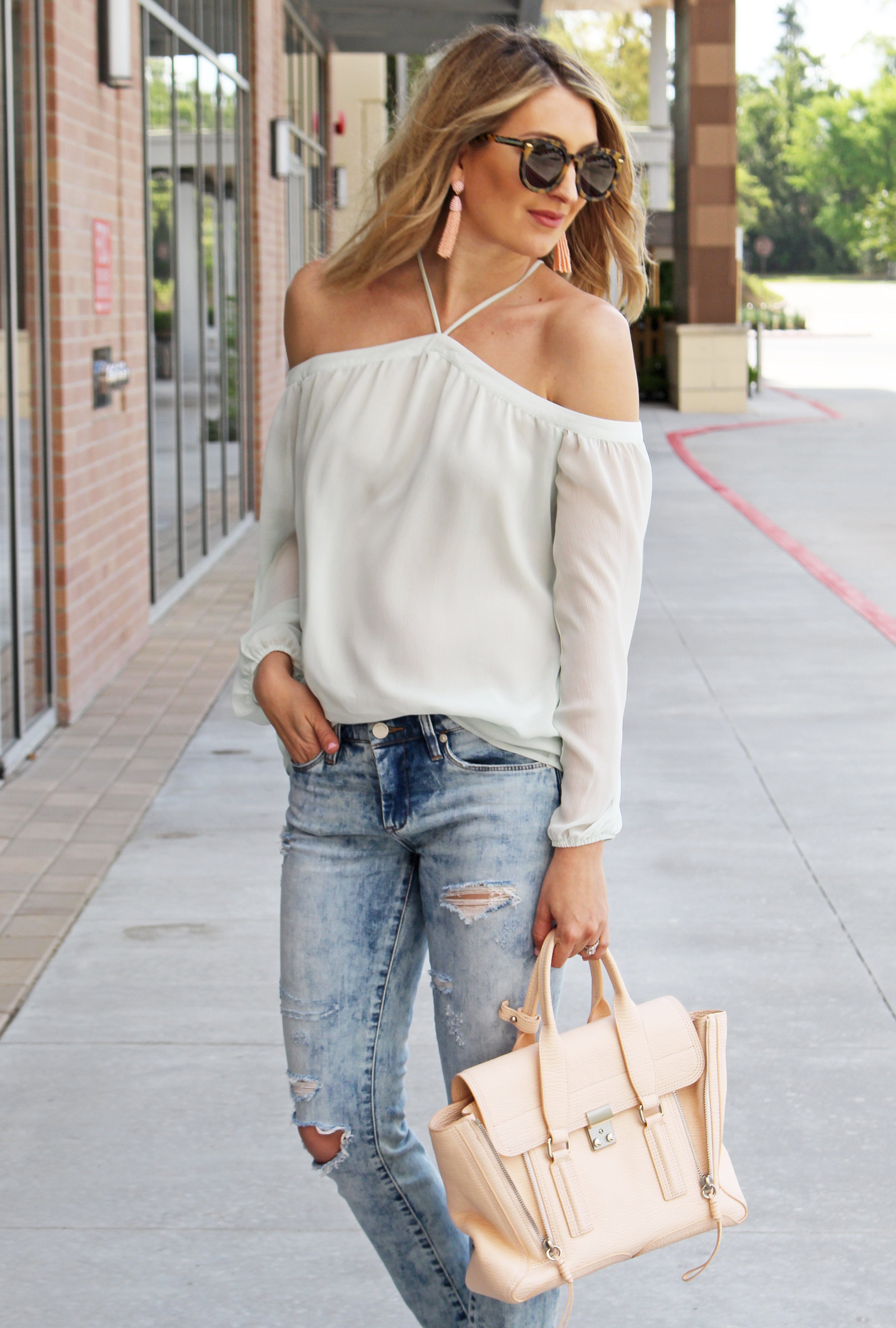 I have been loving pairing pastels with pastels lately, so I chose my pale pink tassel earrings and this blush bag to accessorize this outfit. This exact bag is from two seasons ago, but they still make it in other colors, so I've linked a couple below. I've also linked a more affordable option in this pretty pale pink color that everyone is loving for spring. As far as these earrings, well you guys know I'm obsessed with them. I swear, I've been wearing them with everything! Another thing I've been getting lots of wear out of is this pair of studded gladiator heels. Y'all…these are $33. So worth it.
Have a good week y'all!
xo, Loren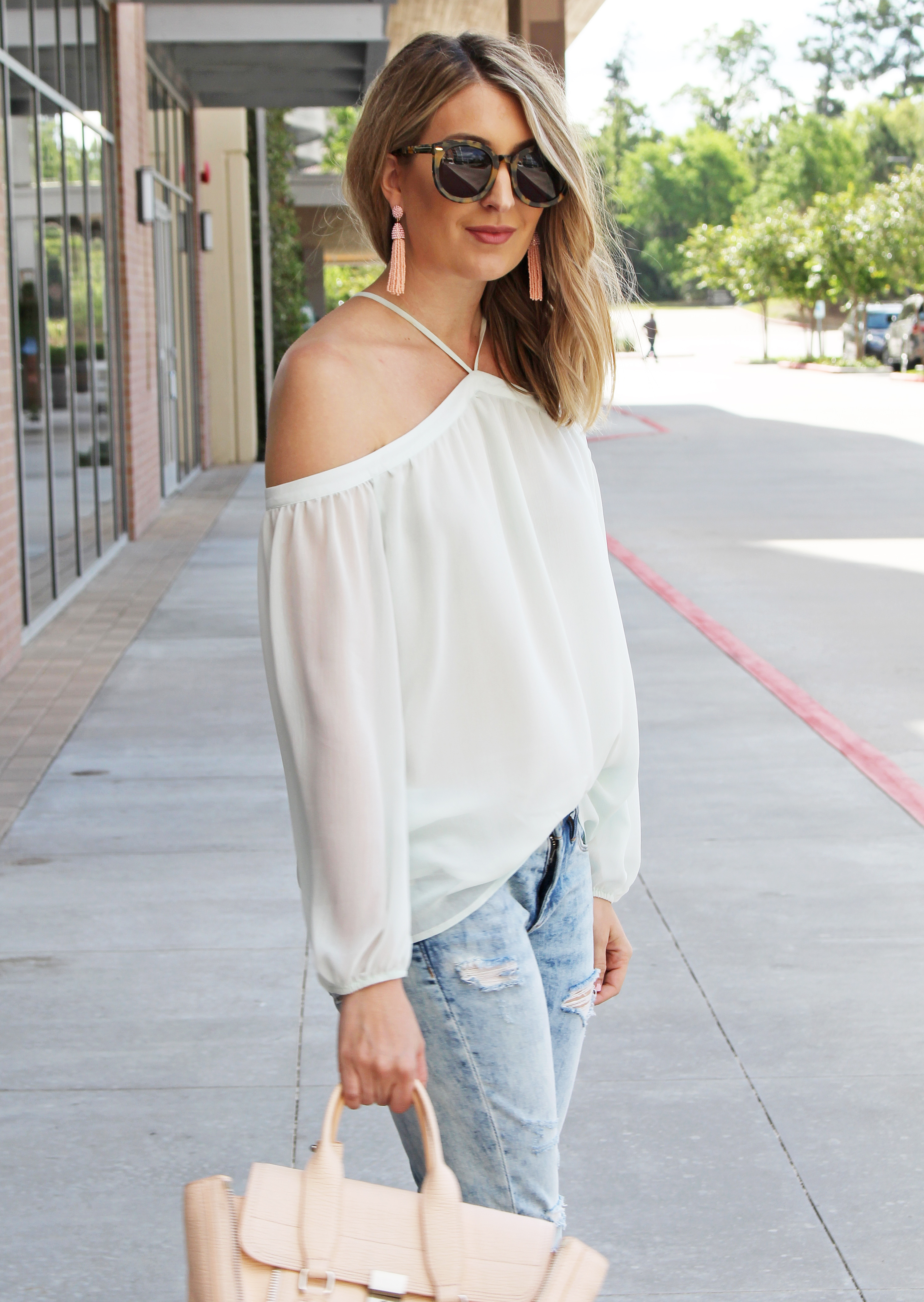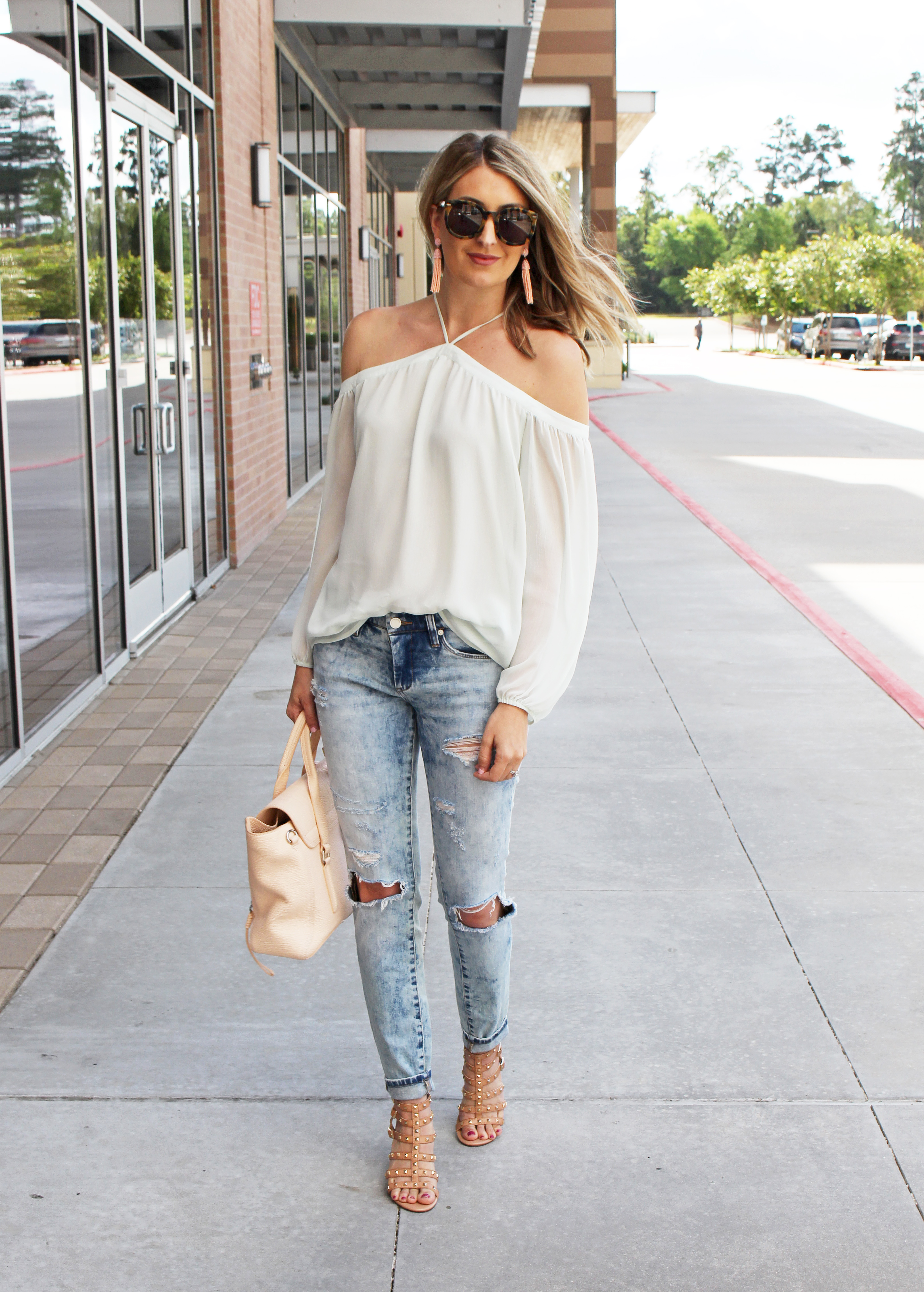 Top: Wayf / Denim: Blank NYC / Sandals: Target / Bag: 3.1 Phillip Lim (similar here and here) / Sunnies: Karen Walker / Earrings: Bauble Bar