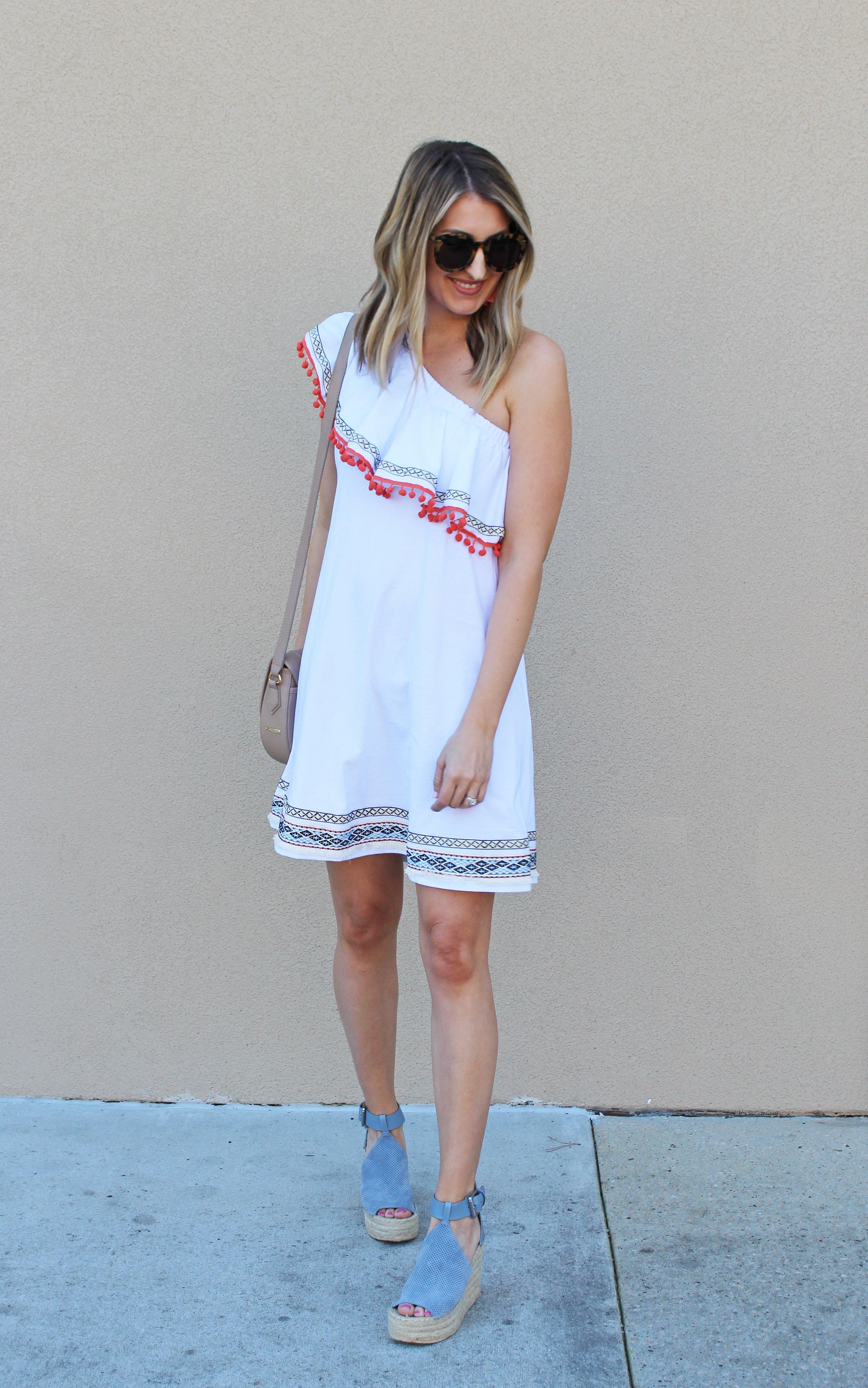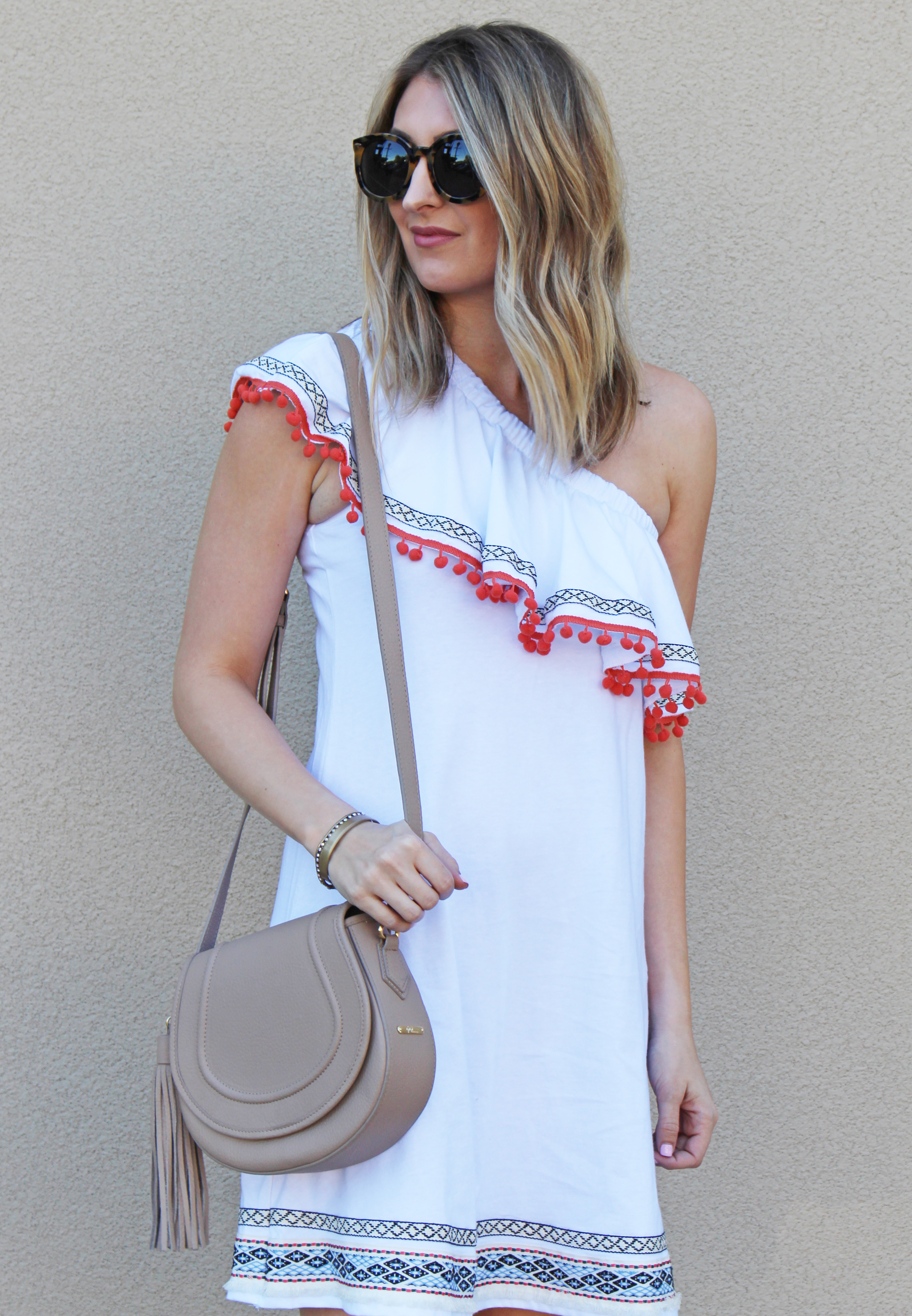 I am SO happy that tomorrow is Friday. It has been a bit of a trying week in our house…again. Haha. Everyone always told me when Liv turned two to brace myself, because 3 is worse. Well, she is about two weeks out from her 3rd birthday and y'all, the sass is strong with this one. I love that little girl to death, but MAN is she testing me lately! The craziest part is, she will go from sassy and mean to the sweetest and most loving child ever. Thank God for those sweet moments, we need them around here!
And then there's Mason, who loves to sleep…or so we thought. So his latest thing is to whine at the bottom of the stairs like he wants to go to bed. So we will ask him, "Mase, do you want to take a nap?" or "Mase, do you want to go night night?" and every time he nods his head to say yes. Then we get upstairs and it's like trying to wrangle a chimpanzee to change his diaper or put his pajamas. To top it off, when we finally get through all of that and put him in his crib, he screams. And meanwhile, I am so confused because he told me he wanted to go to sleep. Kids, man. (Insert eye roll emoji here.)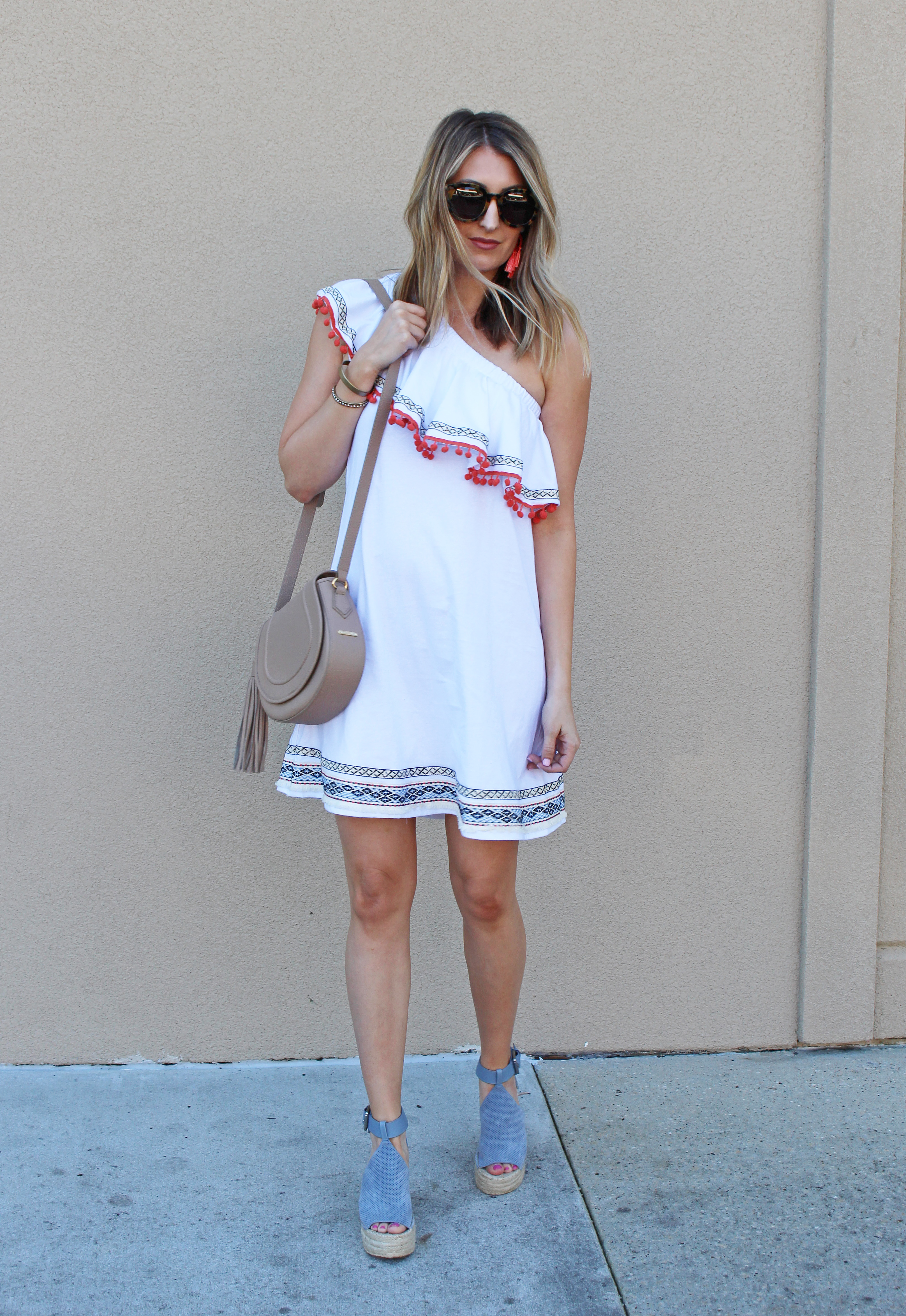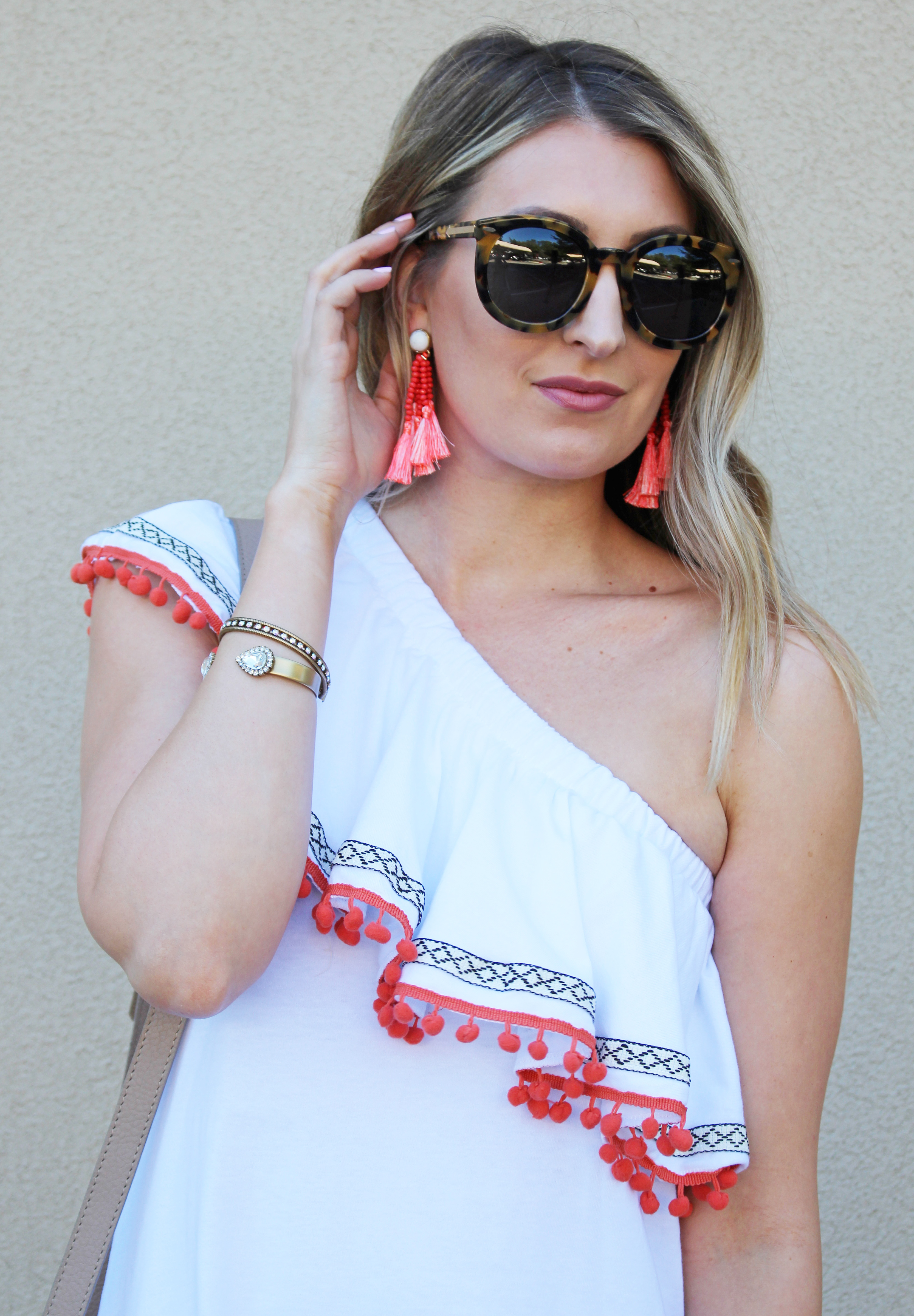 Okay now let's talk about this dress! How fun is this for spring and summer?! The poms are my favorite part! I'm actually super disappointed that it took me so long to share this one with y'all because a lot of the sizes are sold out. There is good news though. This dress also comes in petite, tall, and plus size. In fact, I am actually wearing a 6 tall here. I originally ordered the regular (because at 5'8″ I'm on the taller end of average, but on the shorter side of tall, so I can go either way), and it was super short so I was so happy when I saw it came in tall sizes! Oh, and it's under $50 by the way!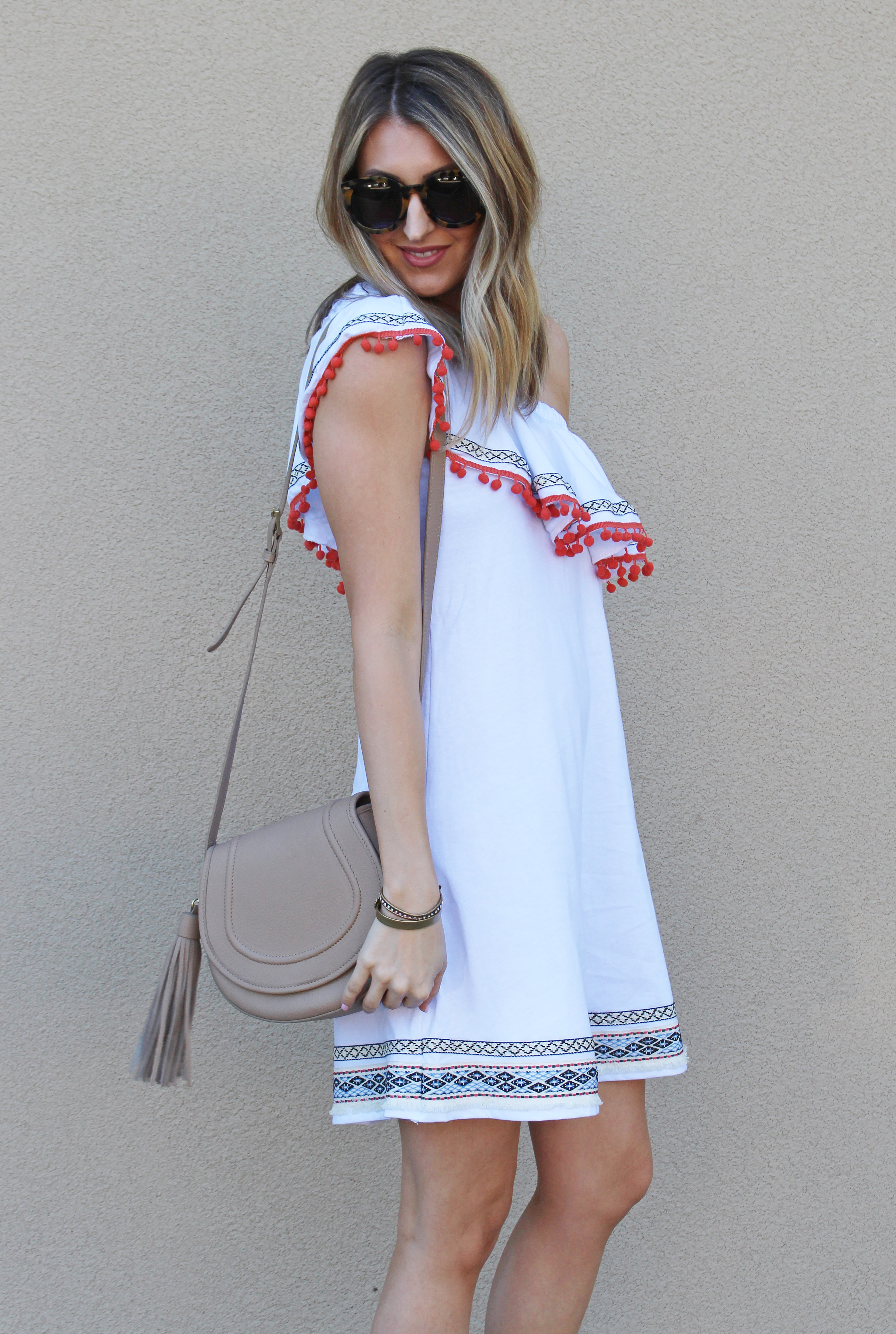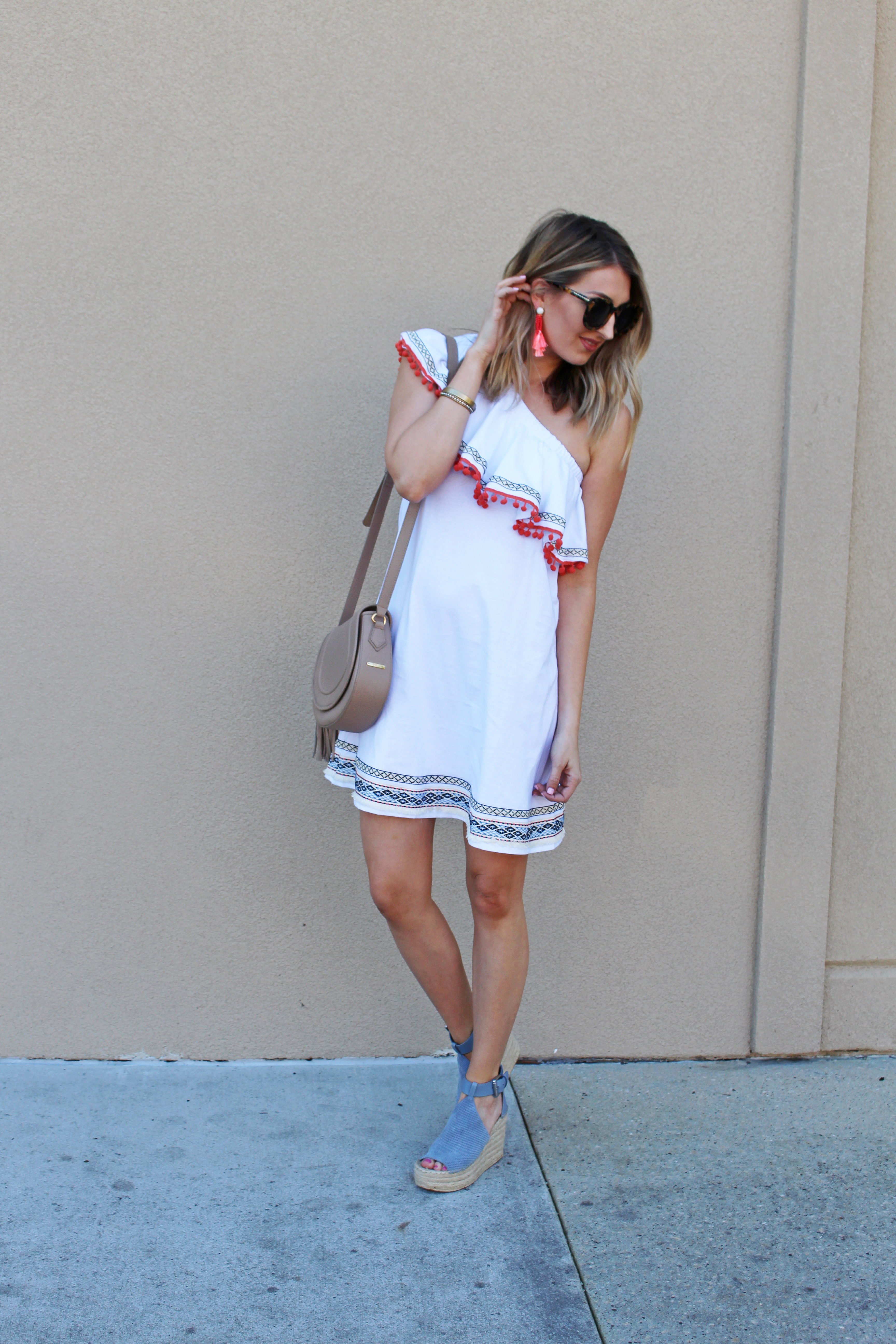 I couldn't resist styling it with these baby blue wedges that I have been loving lately. There is a tiny bit of this color in the trim at the hem so I figured, why not?! These wedges are so comfortable y'all, I could wear them all day. I think the blue color is actually sold out right now, but they come in so many other gorgeous colors for spring too!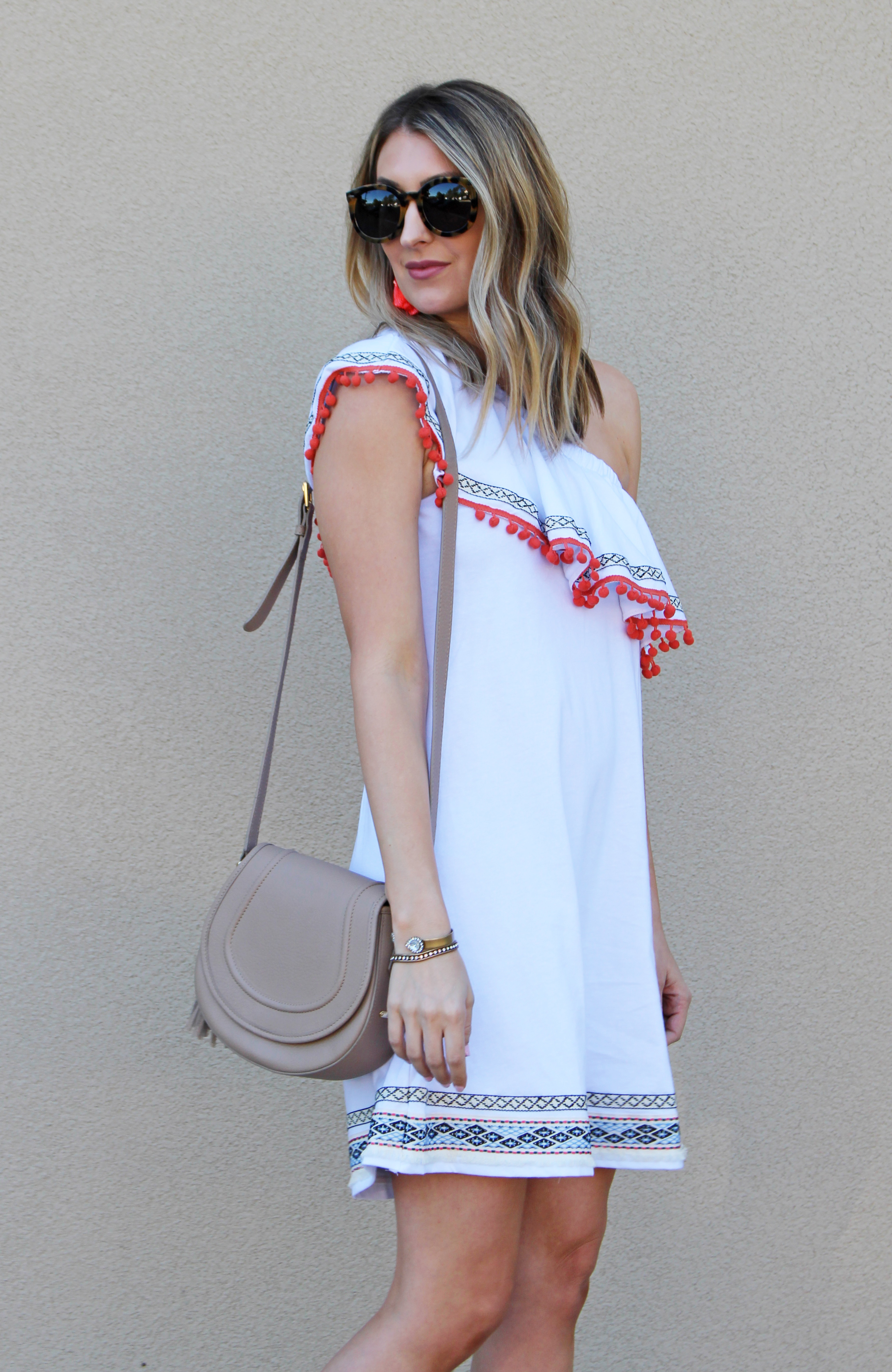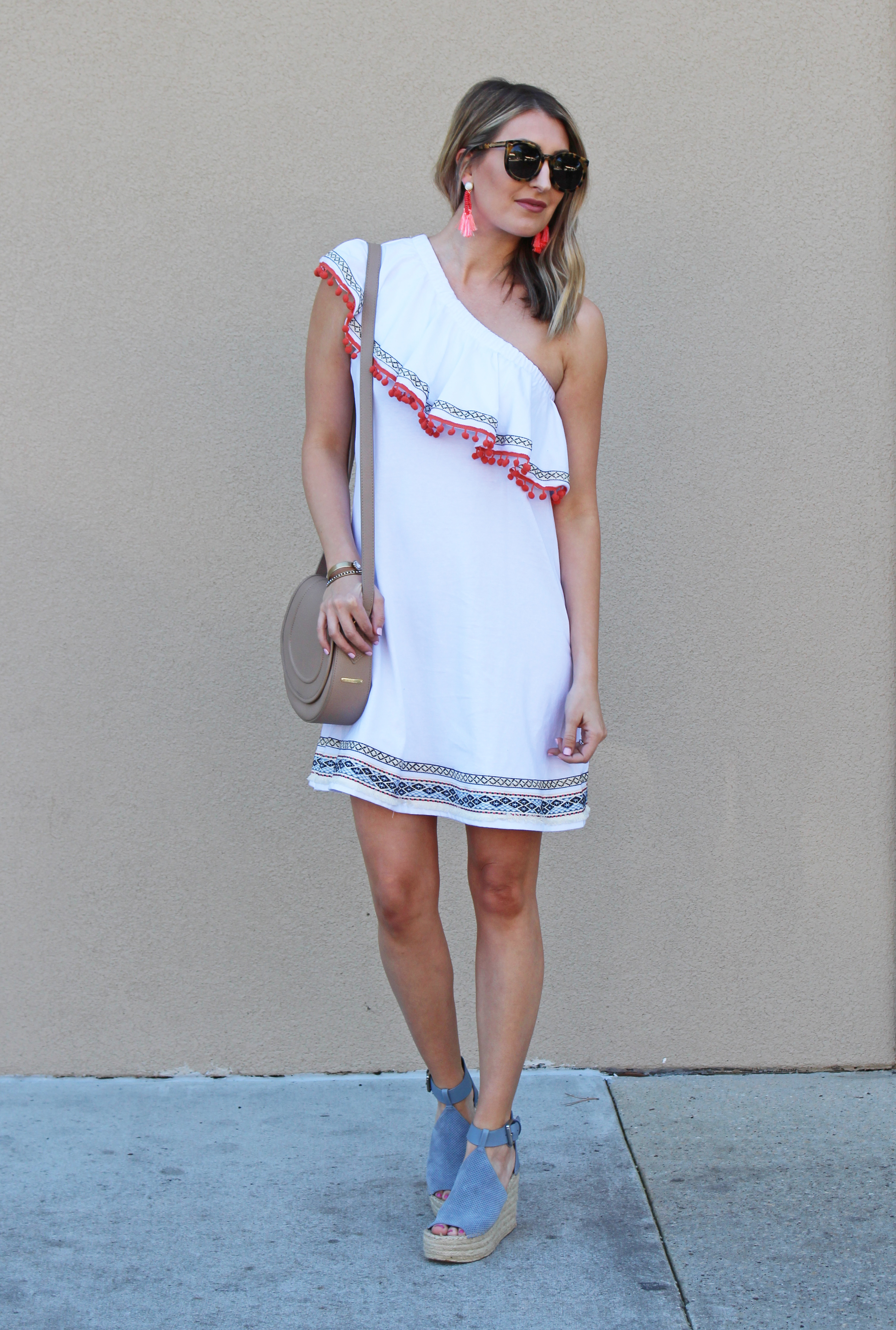 Another trend I've been loving lately is the tassel earring trend. Beaded, fabric, whatever, they are so fun and colorful. The pair I'm wearing here is actually from last year, but I found these that are a similar color, and I have to say, I might actually like that style better! (Excuse me while I go order them in a different color…haha.)
Have a good weekend loves!
xo, Loren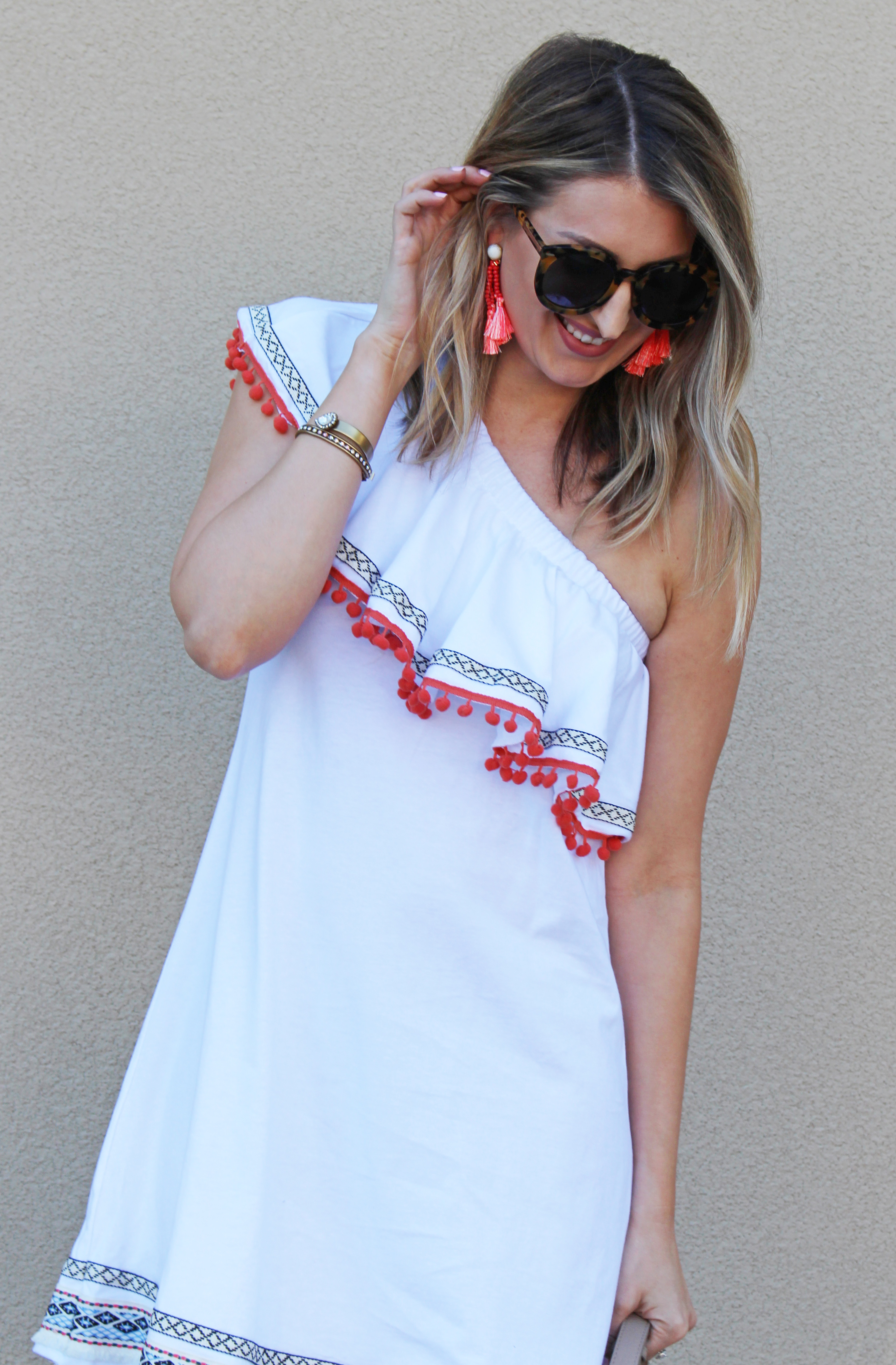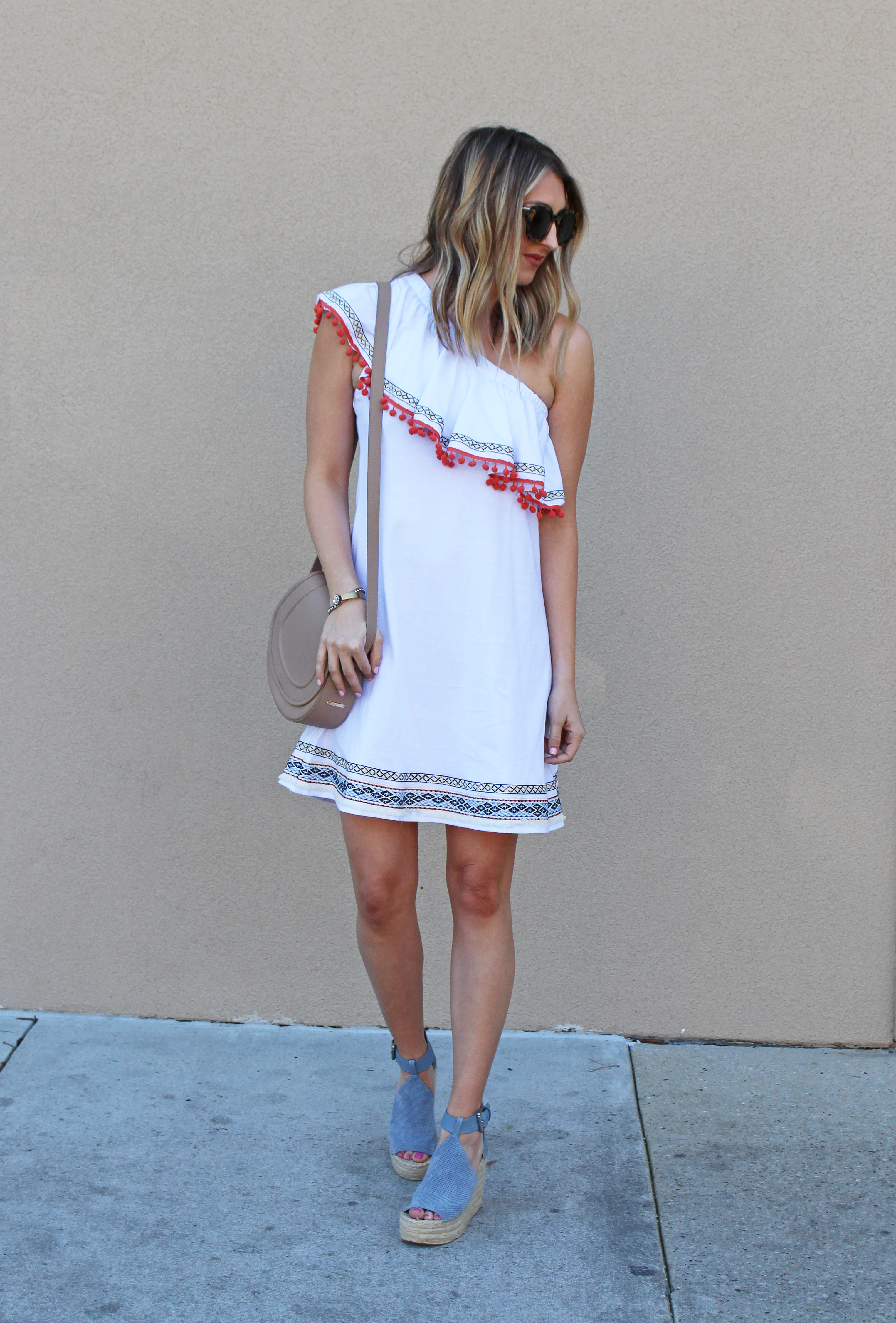 Dress: Asos (also comes in petite, tall, and plus-size) / Wedges: Marc Fisher / Bag: Gigi New York / Sunnies: Karen Walker / Earrings: Bauble Bar (similar here) / Bracelets: Loren Hope (here and here)