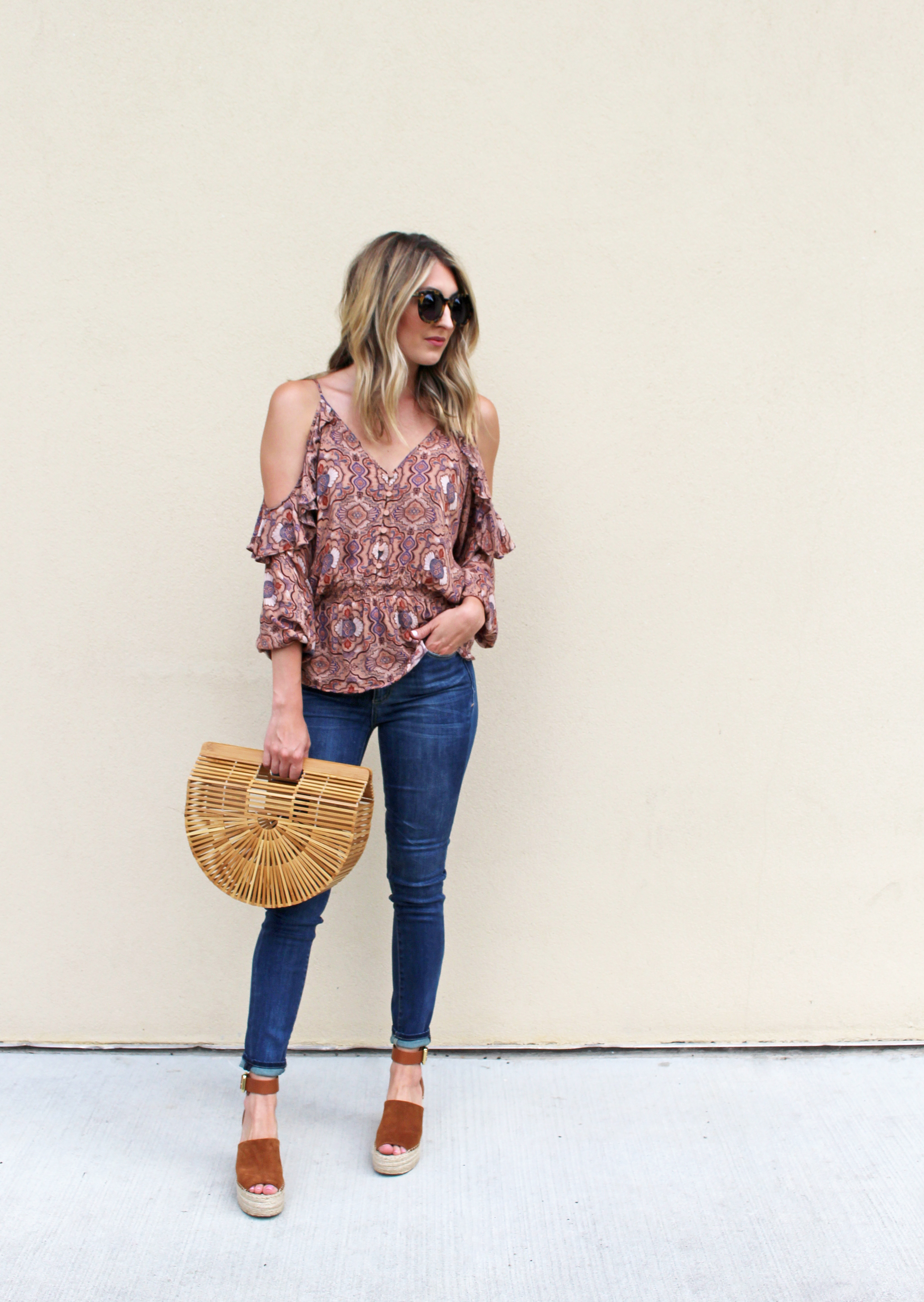 I feel like I rarely wear prints, especially in a top. I don't know why, but it seems like I always gravitate toward tops that are solid, or have texture as opposed to a print. I'm not really counting stripes though, because I have a ridiculous amount of striped shirts, and will always buy more if I find a good one. Haha!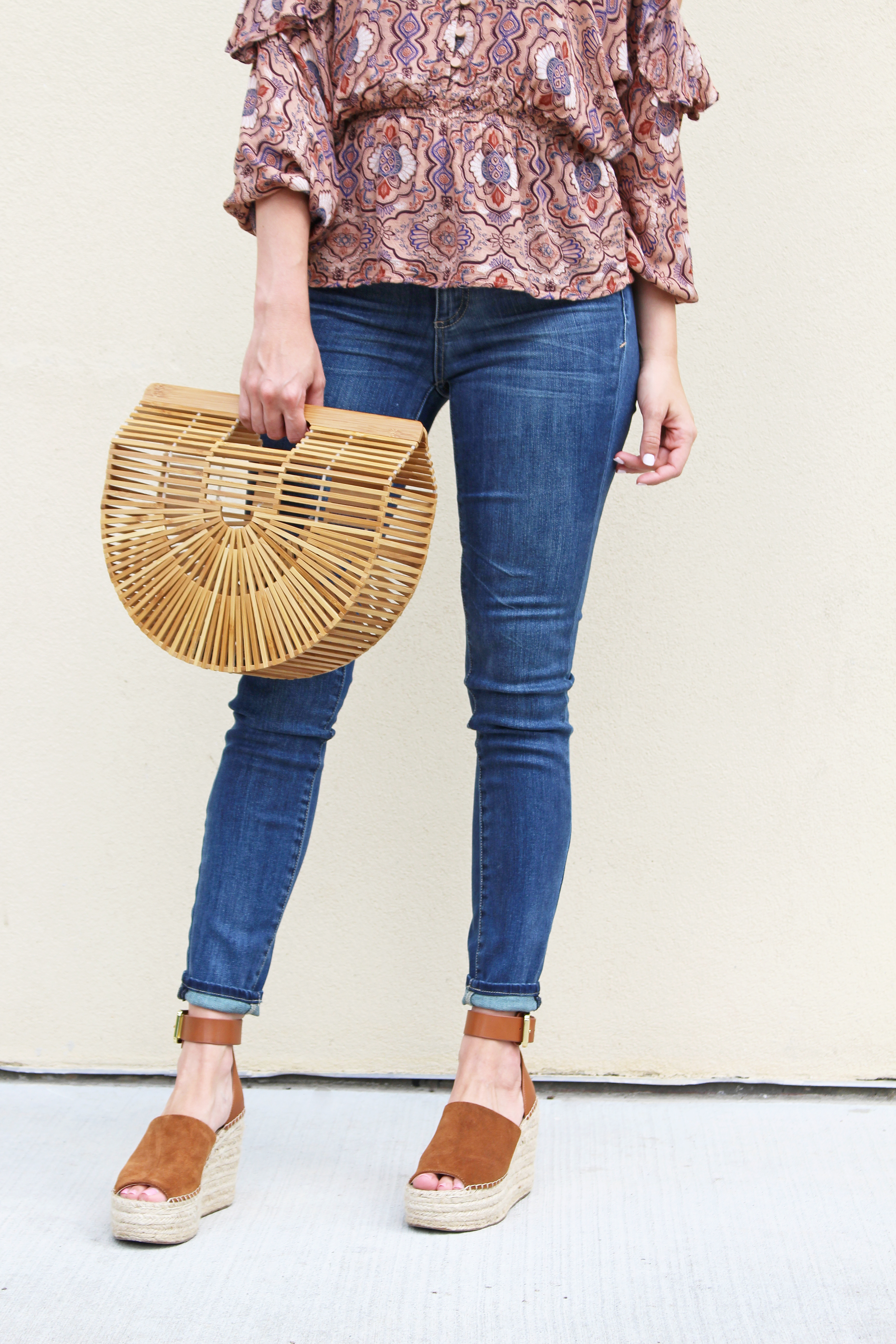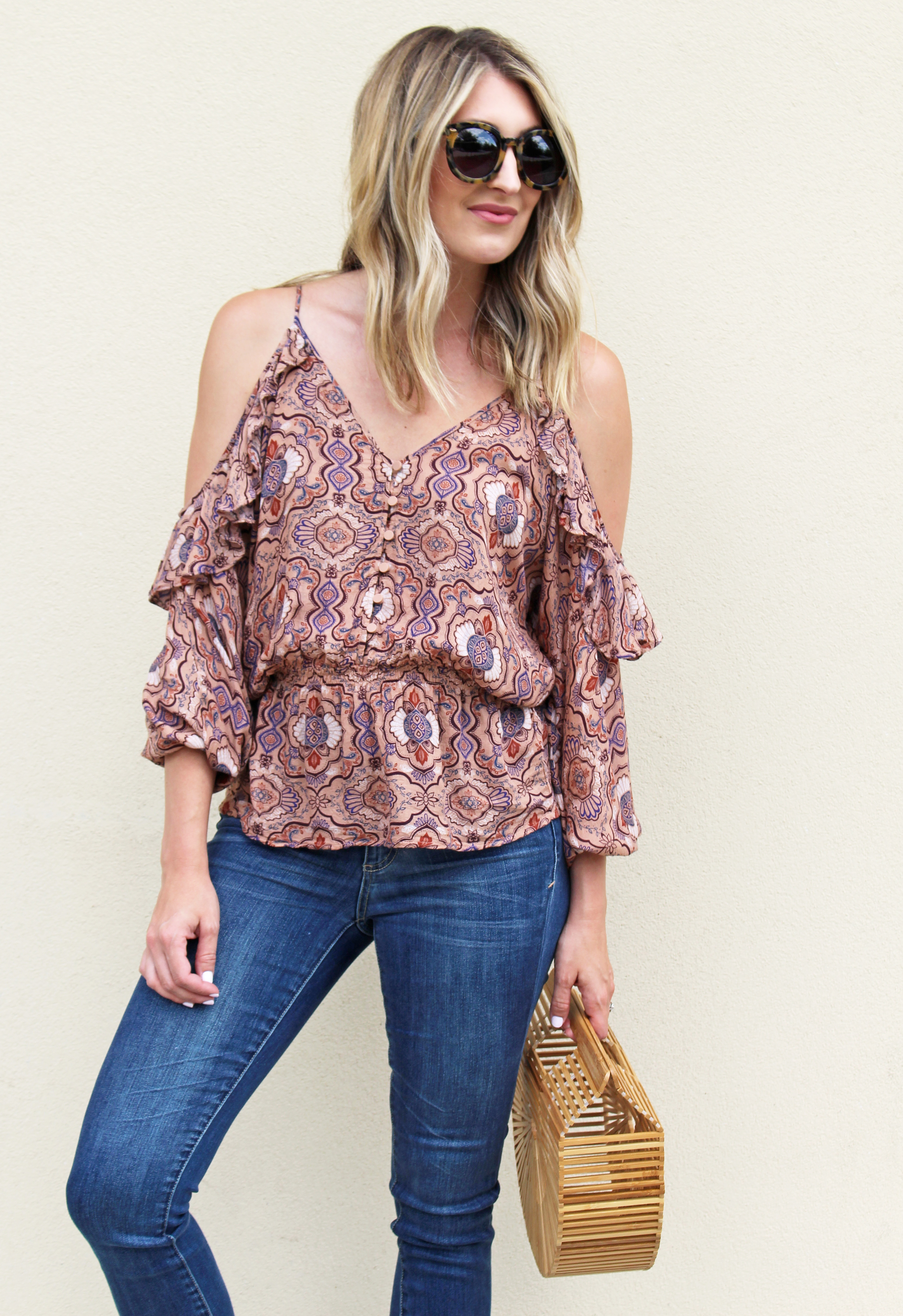 For whatever reason I was really drawn to this printed top. I don't know if it is, in fact, the print, or the adorable cold shoulder detail, but I kept coming back to it when browsing online. It has so many cute details, like the peplum waistline and the ruffles lining the shoulder opening. It's basically all of my favorite things in one top!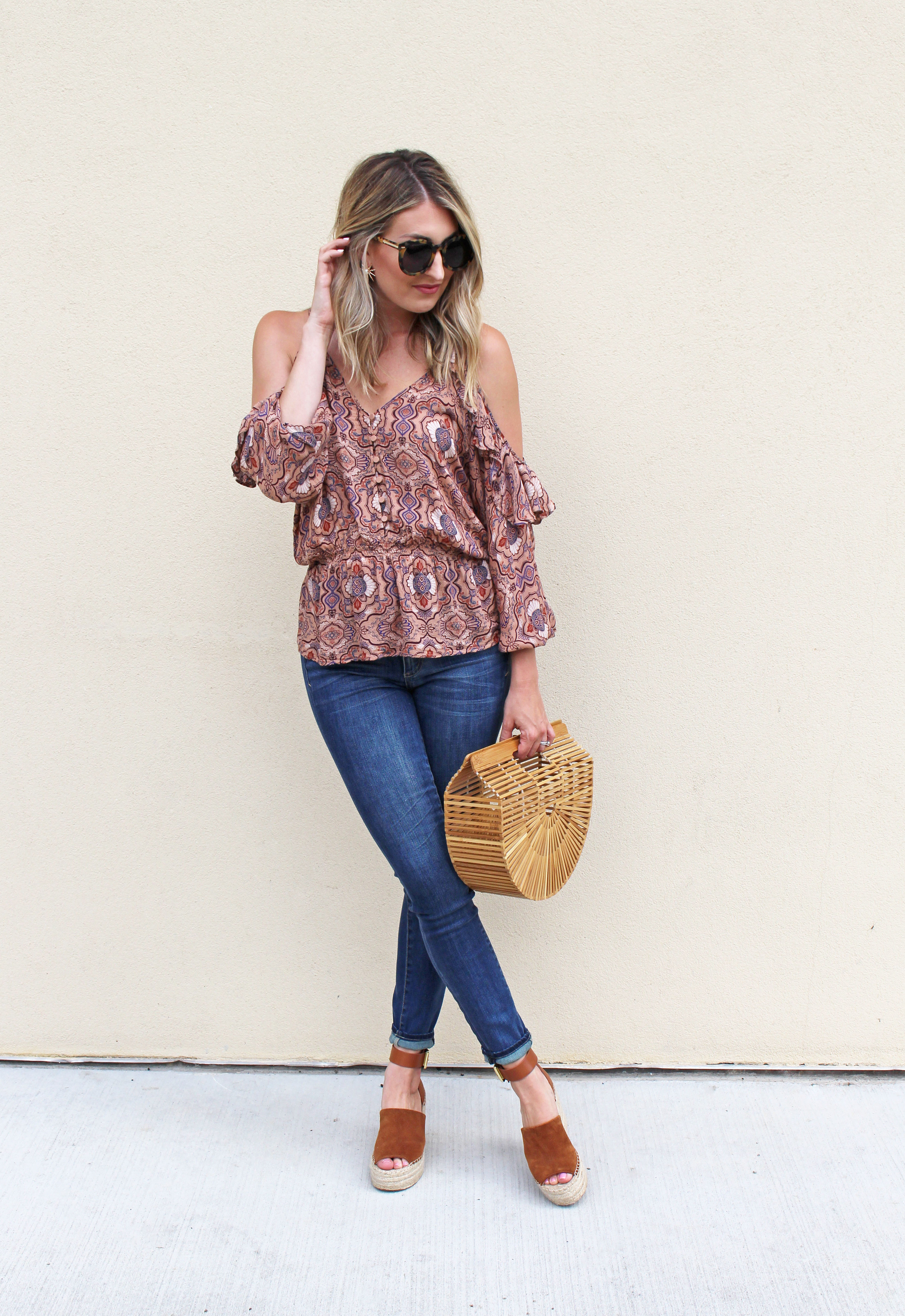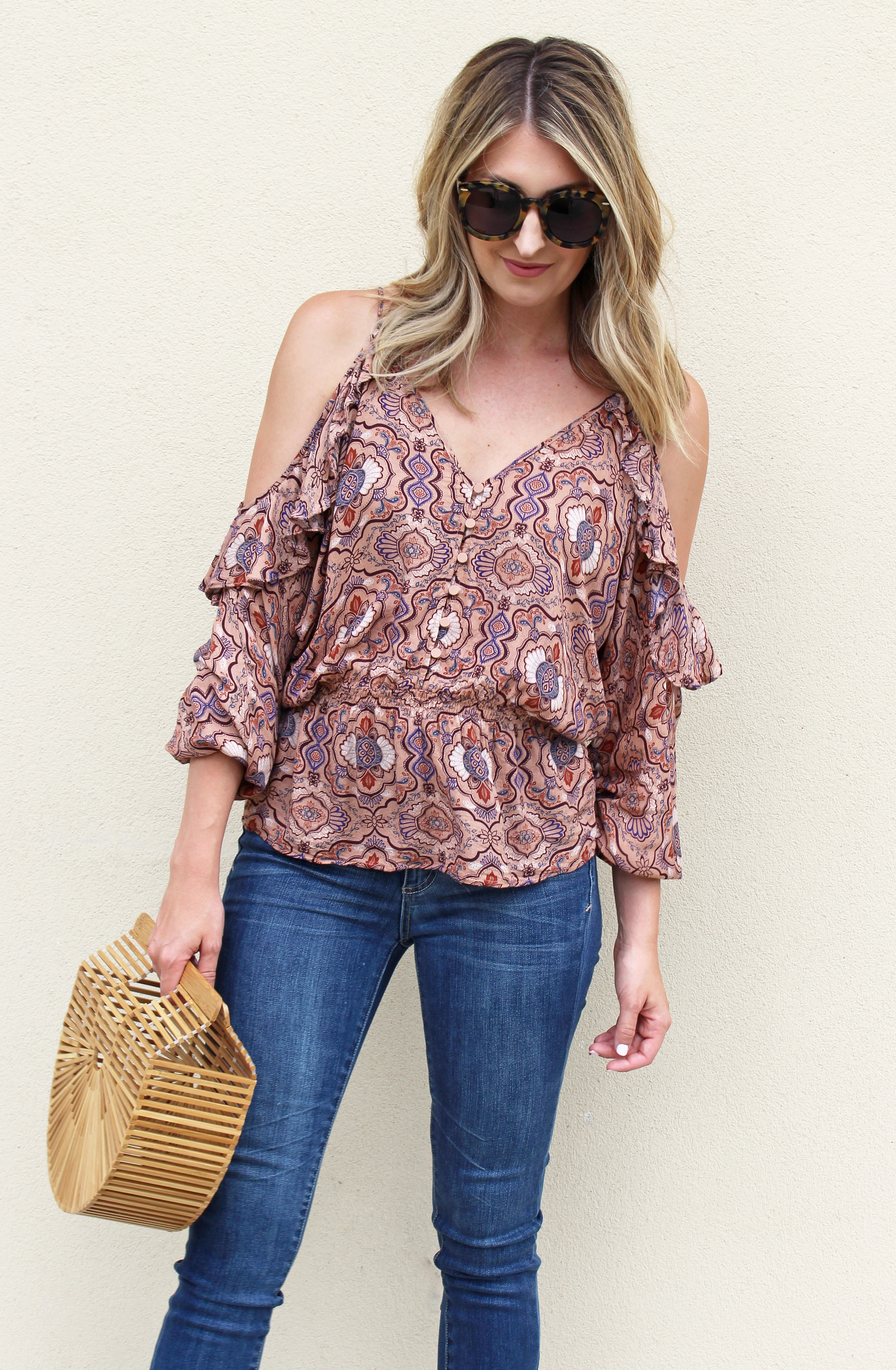 I think the reason I love this print and color combination so much is because it can go with basically any wash of denim. (I say denim, because that's pretty much all I wear.) I have already worn it with black and this medium blue wash. But it would also look really cute with white, a dark denim wash, or even a super light wash.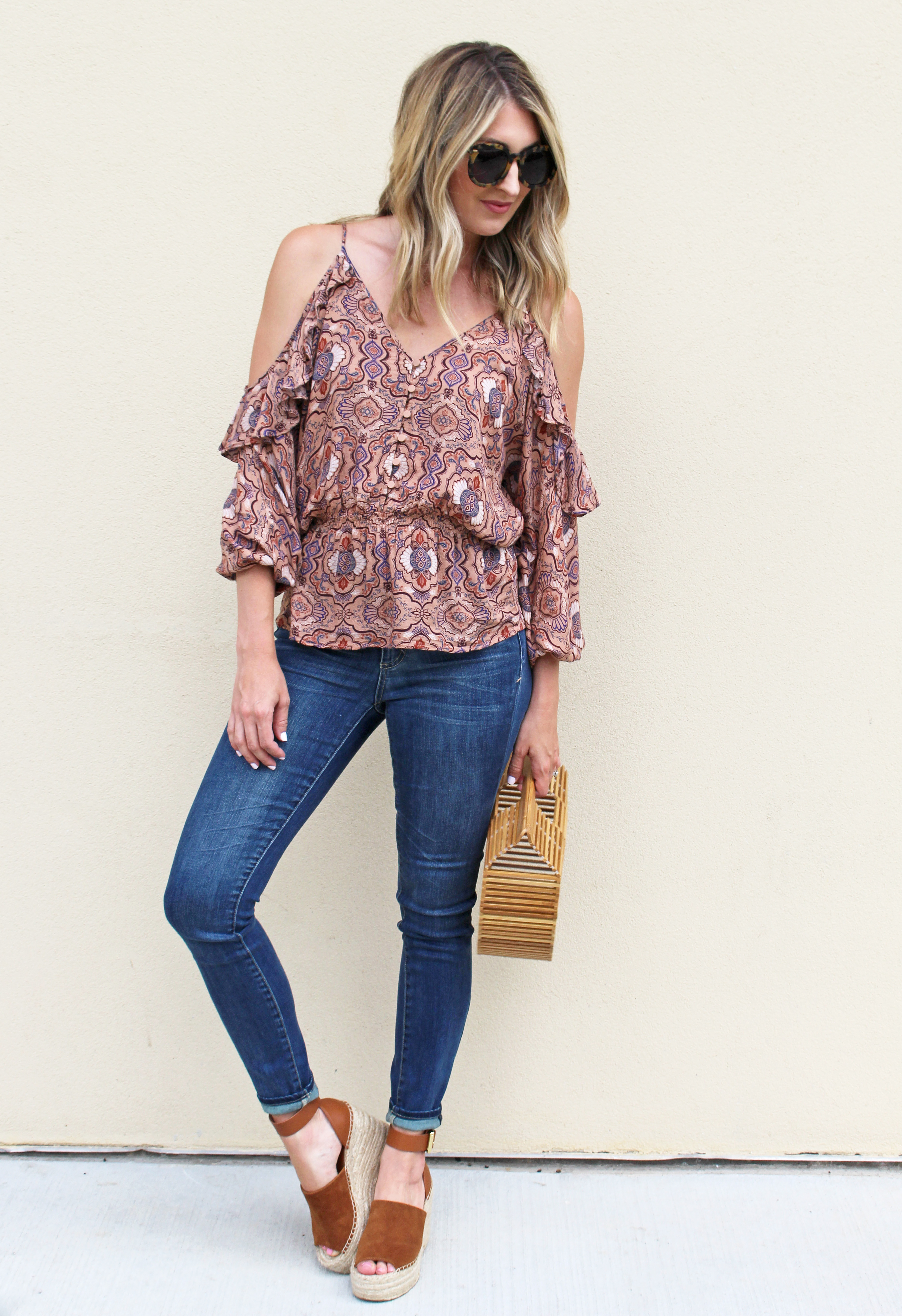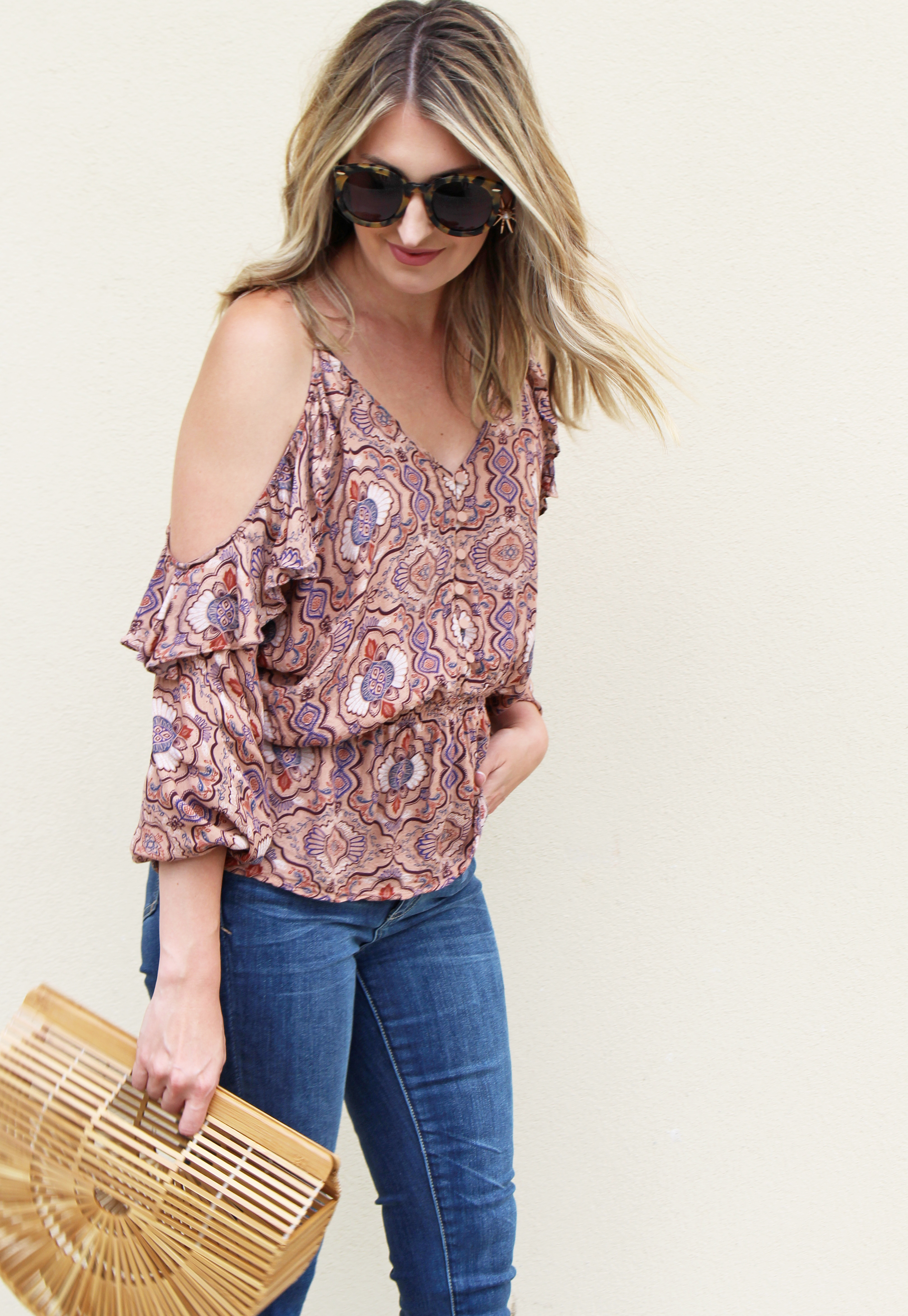 You all know I am also a fan of tops that can be dressed up or down. Here's the reason: I am a stay at home mom. Most of my life is pretty casual. And quite frankly, I probably dress up more than most stay at home moms, just because I love clothes. However, there is the occasional (at least once every other week really) date night, or girls' night outing where I want to look a little more dressed up. So tops like this one (and many of the ones that I own and post about) can be worn with shorts and sandals, or jeans and heels/wedges, which is perfect for my lifestyle. I love versatility, and its really what works best for my life!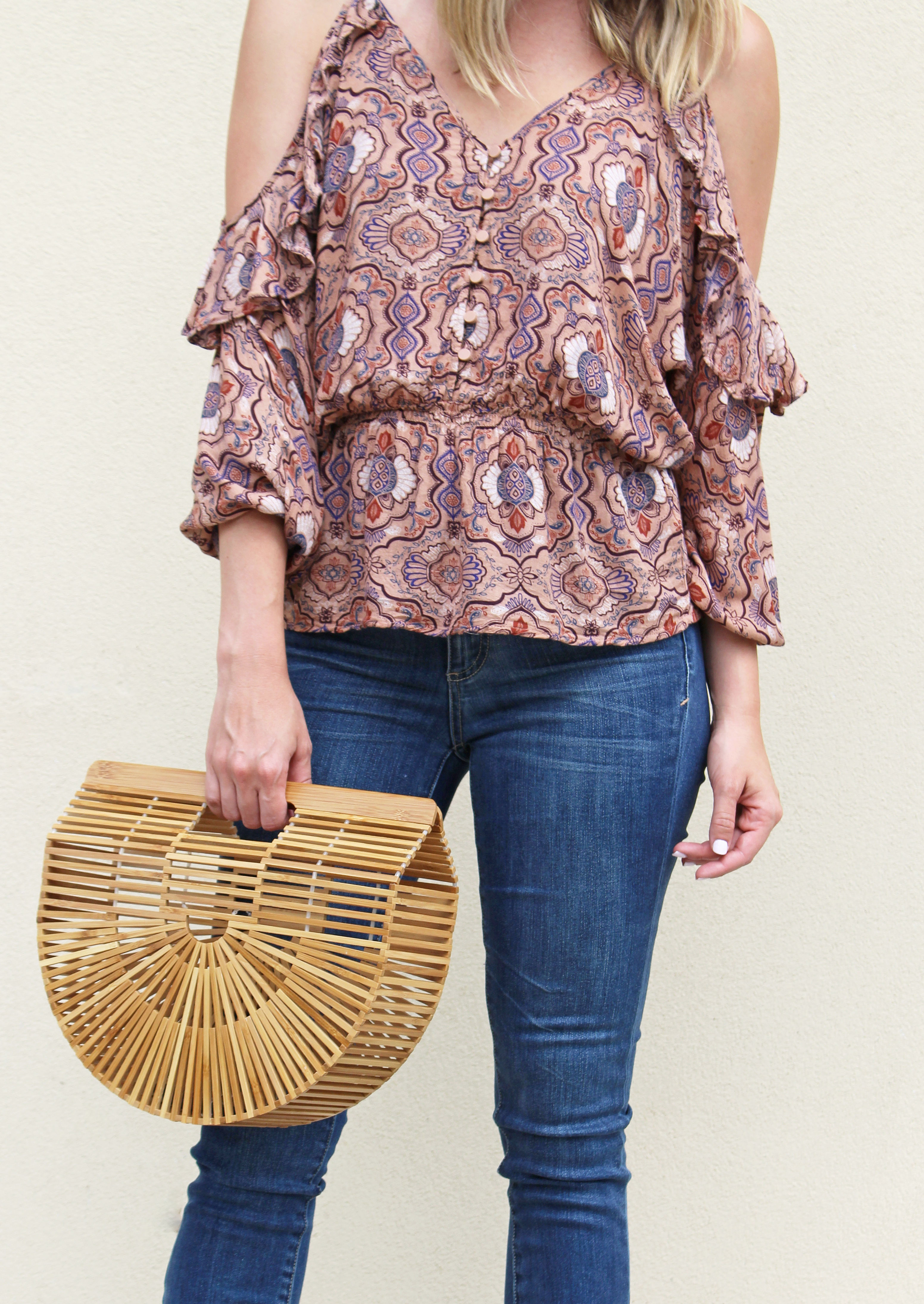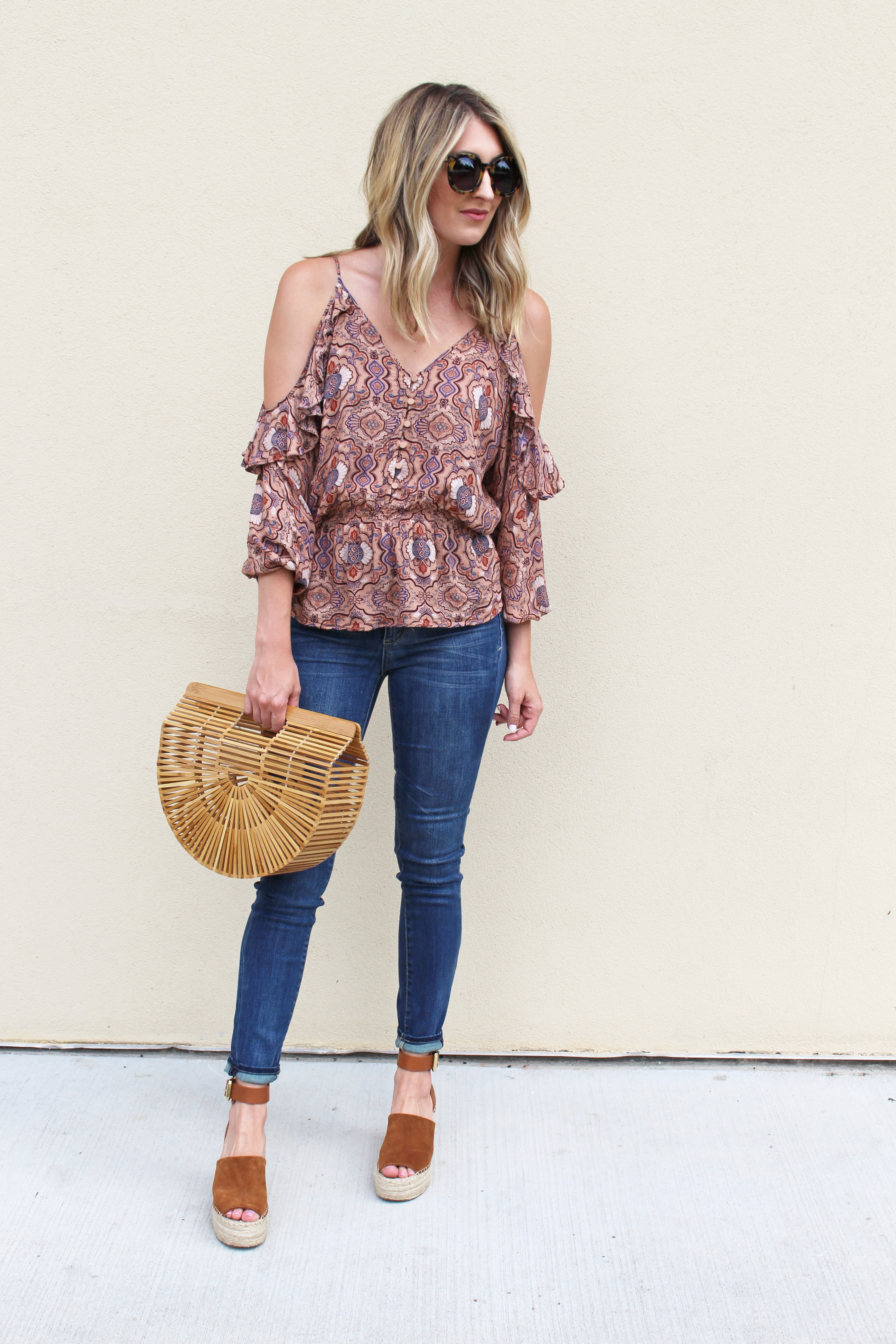 For this look I went with my super high-rise skinnies. It's funny, this top isn't that short, but it feels that way because of the elastic waist that creates the peplum hemline. So for whatever reason I just feel a little more comfortable in high-rise jeans with it. These have kind of a medium blue wash, which I think contrasts well with the rust and deep red colors of this top.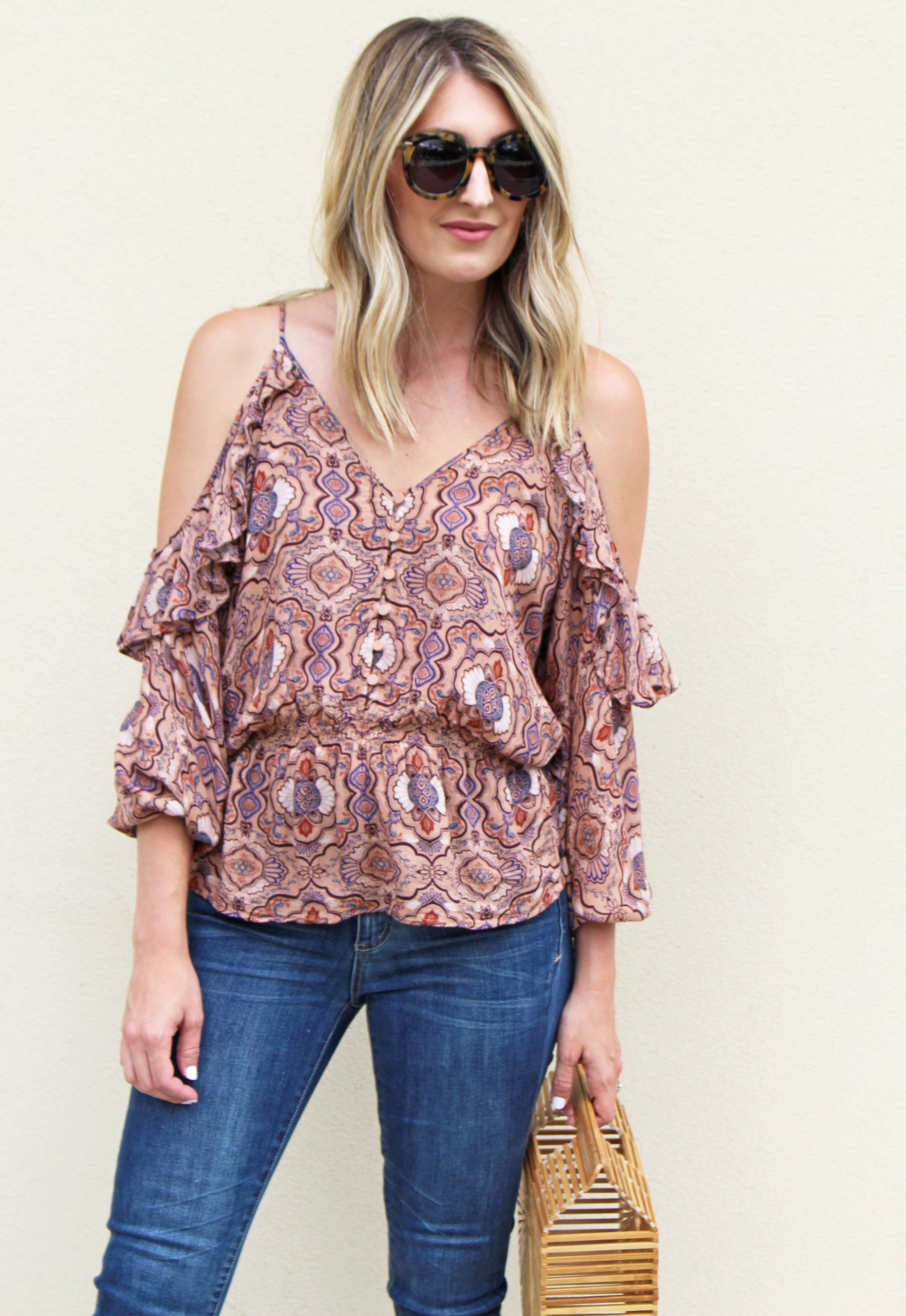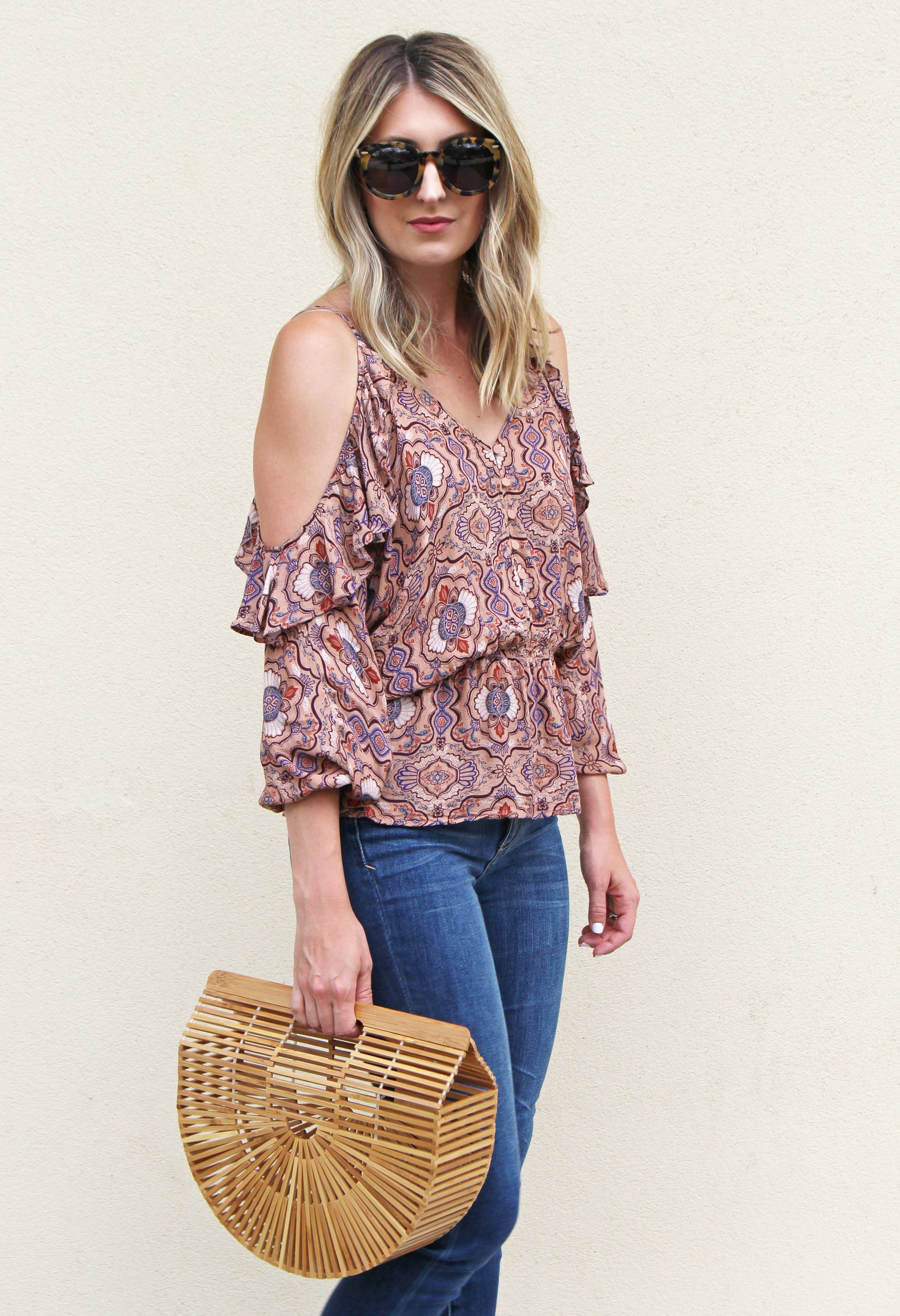 I went with wedges for no reason other than that these are my favorite wedges, and whenever I can find a way to wear them, I will. I'm sure you all have seen these shoes all over blogs and Instagram, but there is a reason. They are so good. They go with everything and are actually comfortable! I finished off the look with another item you've probably seen all over the place, my ark bag. I'm pretty much obsessed with this bag and will also use it whenever I possibly can. Haha!
xo, Loren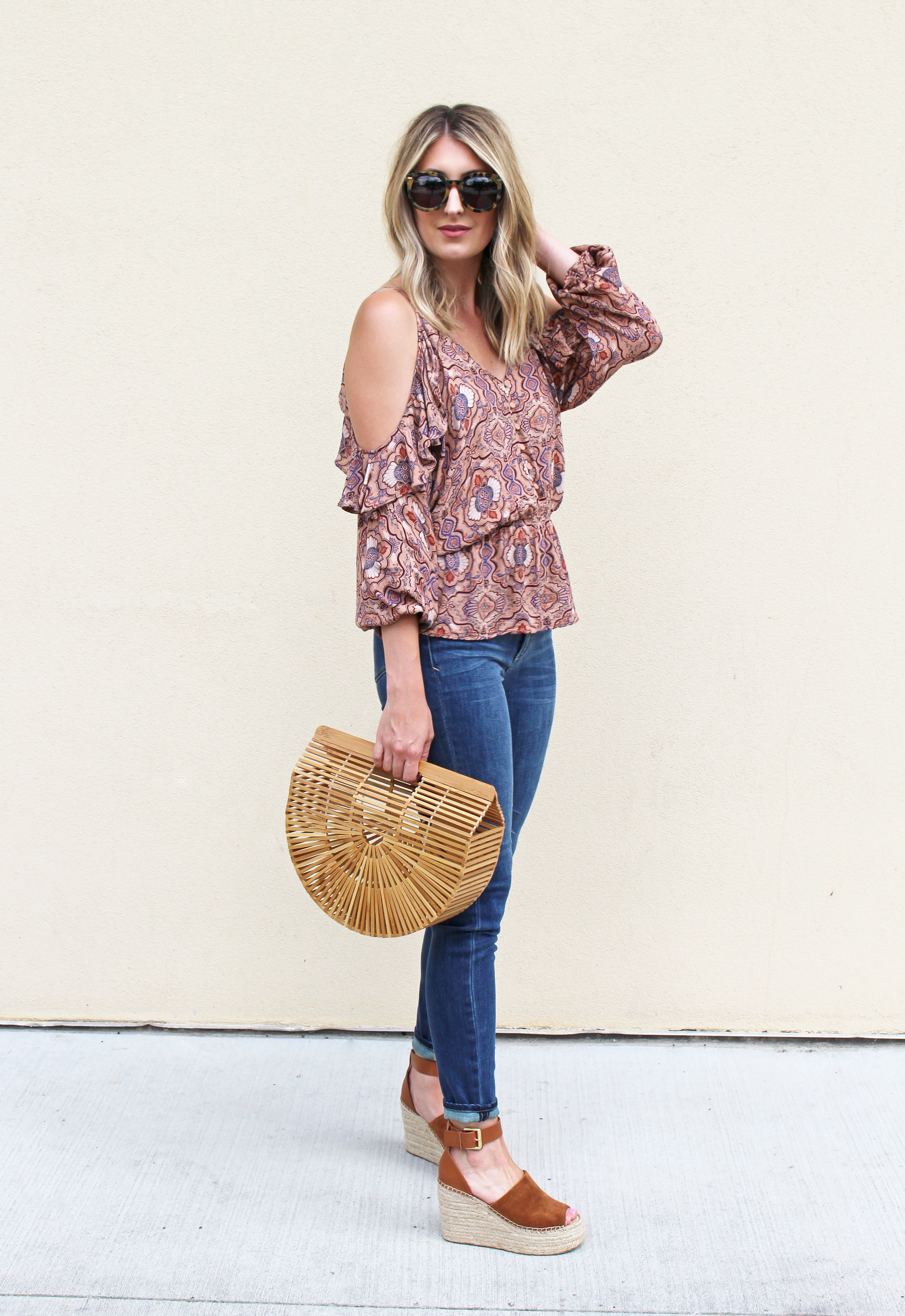 Top: Sun & Shadow (only 59!) / Denim: Anthropologie (old, similar here and here) / Wedges: Mark Fisher (under $100 version here) / Bag: Cult Gaia / Sunnies: Karen Walker / Earrings: Kendra Scott (old, similar here)